BLOG
Introducing the Yieldify Holiday Season Checklist 2017
Published: Sep 27, 2017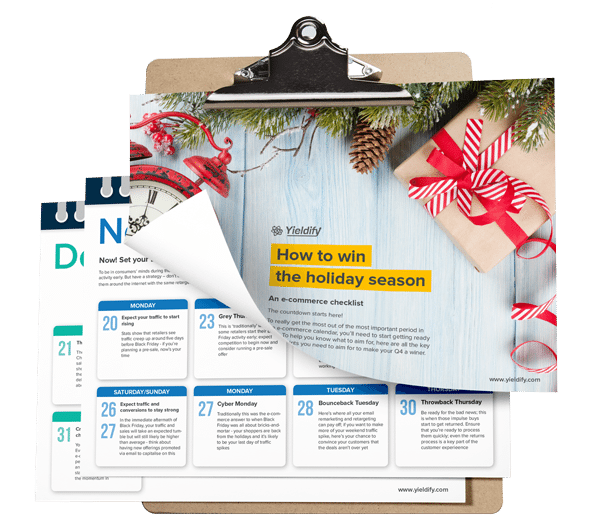 Get your free guide to making the busiest time in the e-commerce calendar your most successful yet
Halloween. Black Friday. Cyber Monday. Bounceback Tuesday. Throwback Thursday. Super Saturday. Free Shipping Day.
Q4 in e-commerce means you've got your work cut out for you.
It's a make-or-break season for the retailer and with that comes an ever-growing calendar of key shopping days and events that seems to change rapidly from year-to-year.
Help is at hand.
We crunched the numbers (thousands of them) in order to draw out some data-driven tactics to make your holiday season its best yet, and have whipped up a simple (and rather pretty) planning checklist that will keep your Q4 on the straight and narrow until 2018 rolls around.
Of course, these aren't just cut-and-paste 'tips and tricks', but real insights backed up by patterns on e-commerce websites around the world. So grab your copy today and find out: when your Black Friday traffic should start arriving (hint: it's not Black Friday), what's so special about December 21st and when you can go to bed on Black Friday.
Prefer your tips in video form? Not a problem – check out our Black Friday masterclass with Conversant, which draws on the same data to call out five key secrets to making the start of Q4 go off with a bang:
Need some more help getting Q4-ready?
Fair enough – every site's a little different.
Yieldify offers free Customer Journey Optimisation (CJO) consultations – simply sign up here to learn how to get the best holiday season your website has ever seen.