"Yieldify enables StickerYou to drive more value from each website visitor and decrease our dependence on paid media. By giving us the power to capture more first-party data, we can provide better customer experiences and grow our owned revenue substantially."

StickerYou is one of the world's best platforms for B2B companies to create affordable, high-quality labels, stickers, decals, iron-ons and more.
StickerYou's story began in 2008. During a walk on Los Angeles' Manhattan Beach, founder Andrew Witkin noticed the influential role stickers played in local culture. Despite their ubiquity, Witkin knew how expensive it was to create awesome die-cut stickers. He set out to change that – and so StickerYou was born.
Today, the brand empowers businesses across a range of sectors – from food & beverage, to health and beauty – to create stickable products in any quantity, size and shape.
Challenge
StickerYou has grown into a major player in the B2B labels and sticker industry by enabling businesses to bring their brands to life in a cost-effective way. Now they're on a mission to become the market-leading, one-stop shop for both custom and ready-to-print stickable products.
Highly effective in brand-building, their products remain in high demand among businesses, but increased competition has made it more challenging for StickerYou to continue growing sales through their organic search and pay-per-click (PPC) advertising channels.
Recognizing how personalization technology could help them navigate this, StickerYou leans on Yieldify to drive more email marketing revenue using its advanced Klaviyo integration, lift new customer acquisition, increase conversions and strengthen loyalty. 
Strategy
Yieldify identified numerous personalization opportunities for StickerYou using its advanced analytics, testing and optimization capabilities, which included:
Drive high-quality email and SMS sign-ups with a layered lead capture strategy optimized for UX and brand consistency
Tackle browse abandonment and funnel first-party data into Klaviyo profiles by asking shoppers to complete StickerYou's product quiz in response to website exit intent behaviors
Recapture sales from shoppers who have items in their shopping cart but are exhibiting comparative shopping behavior by re-engaging them with tab change technology
Drive same-day sales on product pages with countdown timers that spotlight time remaining for guaranteed delivery dates
Boost average order values among non-subscribers using progress bars that incentivize spending with tiered discounts based on shopping cart value
Increase email marketing revenue by segmenting customers into personalized Klaviyo flows that respond to key on-site shopping behaviors
Result
StickerYou improved lead generation by 580%, increased revenue from email marketing by 41%, and lifted conversion rates and average order values between 2% and 27% with users that were served the experiences.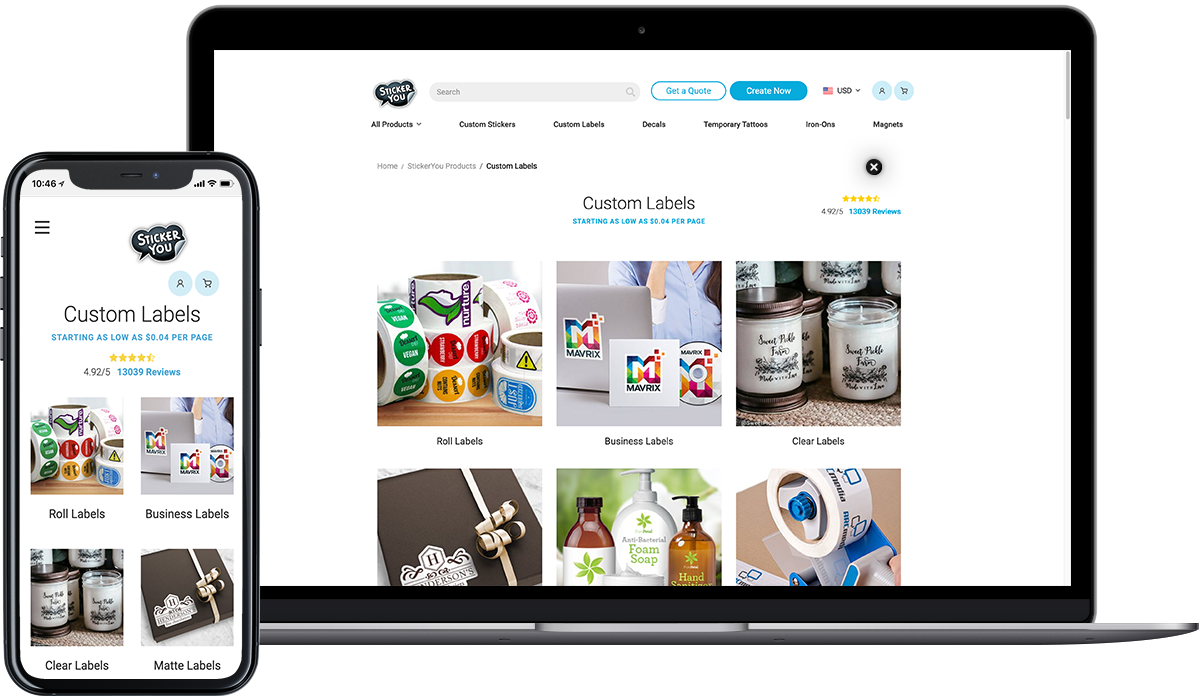 580%
Improvement in lead generation
41%
Increase in revenue generated from email marketing
2% to 27%
Lift in conversion rates and average order values