BLOG
9 Best Google Optimize Alternatives After the Sunset
Published: Apr 5, 2023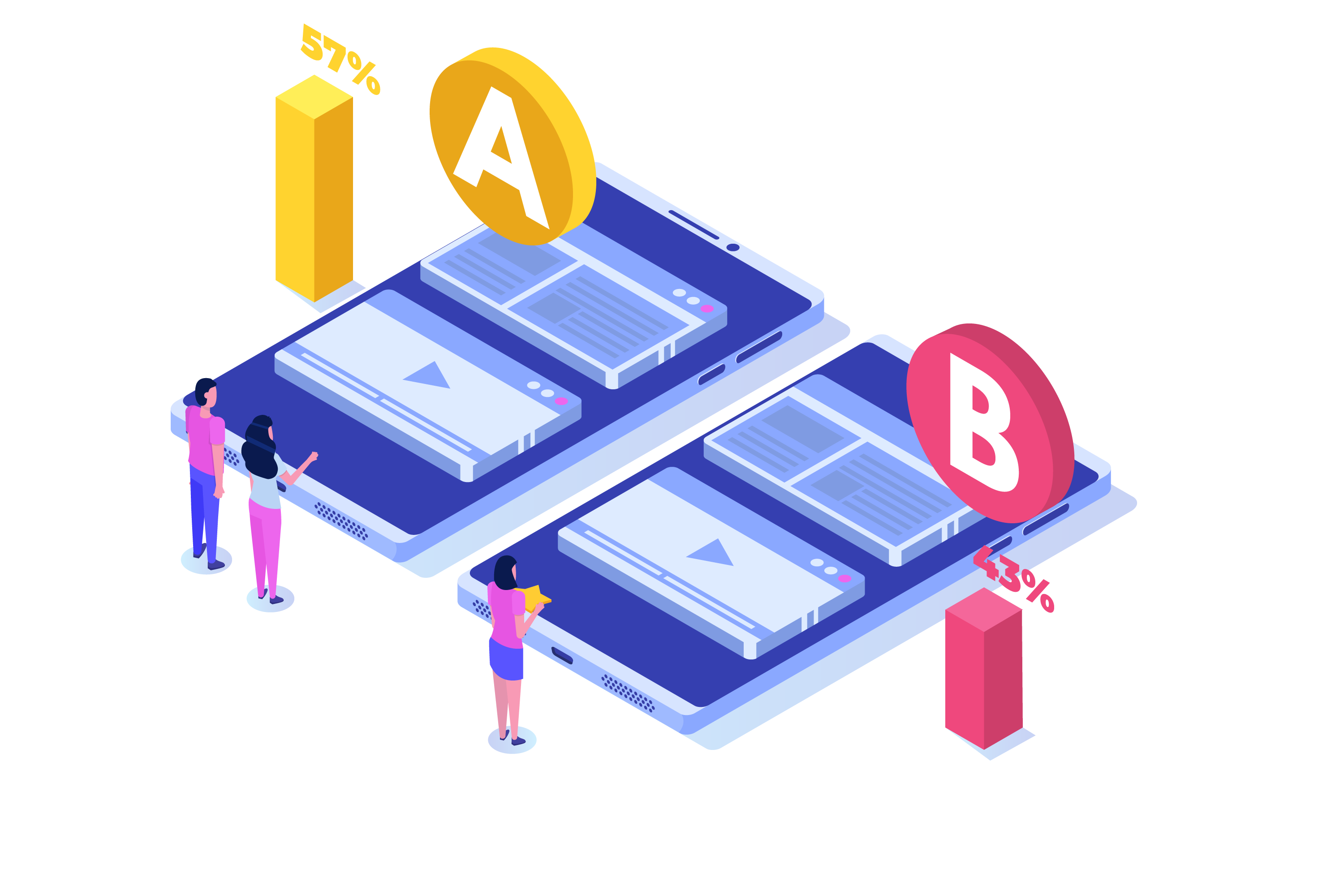 Google's decision to sunset Google Optimize might feel like a problem.
But take a step back and you'll see the end of Google Optimize is actually a huge opportunity.
It's a chance to re-evaluate your long-term website testing goals, switch to a tool that's more sophisticated, and multiply the ROI you're getting from your on-site traffic.
Whether you're a developer or a marketer using Google Optimize, you'll likely have faced at least one of these problems:
No on-page testing: Google Optimize only offers in-page testing. This means you can test different versions of the same webpage, but you can't add new content to see how it impacts your metrics.
Restricted testing capacity: You can only run five tests at the same time with Google Optimize, and for a maximum of 35 days. That's simply not enough to gather audience insights that help you accelerate revenue growth. Most mid-market and enterprise brands need to run tests for 2-3 months to confidently find a winning variant.
No service team to launch & optimize tests: Google Optimize is a self-service tool designed for beginners to A/B testing. Without a service team to help you launch and optimize your tests, it's impossible to scale your testing strategy.
Limited audience segmentation capabilities: Because Google Optimize has restrictions on how many characters you can add to custom code, it's impossible to deeply segment your customers when launching A/B tests.
In this post, I'll compare nine of the best alternatives to Google Optimize. I'll start with our platform, Yieldify, which provides on-page testing solutions to drive measurable results quickly.
We don't currently offer an in-page testing feature, but we've worked with thousands of marketers that use Yieldify instead of an in-page testing tool like Google Optimize.
That's because on-page testing is a more effective solution for personalizing your customer experiences and increasing conversion rates. Typically only 10% of A/B tests reach statistical significance with an in-page testing tool. With an on-page testing tool, that number is much higher. With a platform like Yieldify, at least 50% of the tests we run reach a positive and statistically significant result.
So, if you've only ever used an in-page testing tool, now is the perfect time to switch to an on-page testing platform like Yieldify. As well as Yieldify, I'll also walk you through eight more testing solutions for your ecommerce website.
If you'd like a preview of how you can optimize your CRO strategy with Yieldify, feel free to schedule a discovery call here. An advisor from our sales team will be delighted to share more.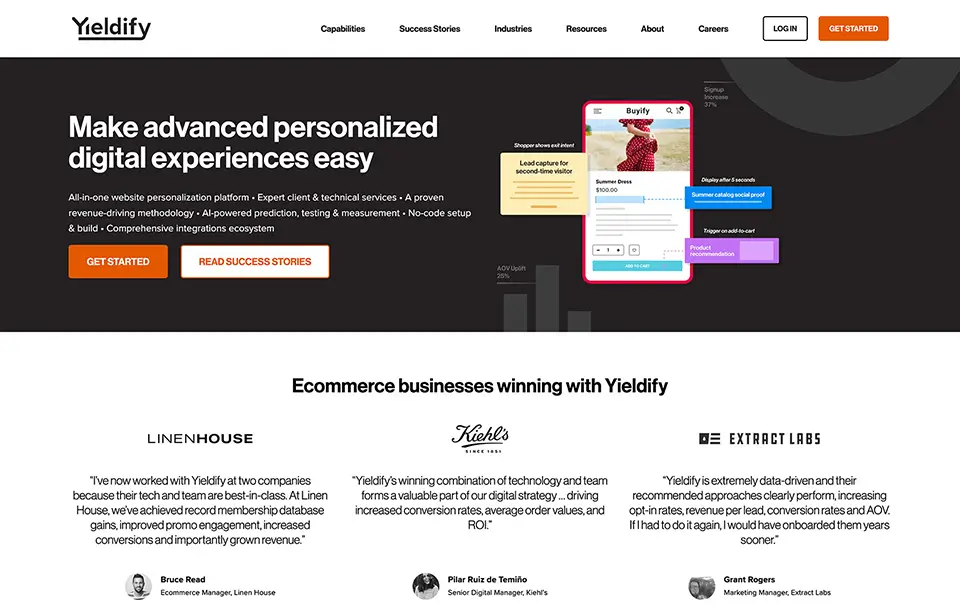 Yieldify is a no-code alternative to Google Optimize built to help marketers multiply the ROI they get from their on-site traffic – helping you to increase email & SMS leads, conversion rates and average order values.
By leveraging Yieldify's deeply segmented and highly targeted on-page messaging, you can personalize your customers' on-site experience at every stage of their journey – from entry to sale and repeat business.
Here's how Yieldify addresses the problems you've probably encountered with Google Optimize:
Yieldify launches and optimizes on-page tests. We can add new elements to your website and measure how they impact performance. Your CRO consultant will ideate, launch and optimize your on-page tests to increase email leads, conversions and AOVs.
Yieldify has limitless testing capacity. Our enterprise customers run 100-200 tests per year on average – but we'll launch as many tests as you need to hit your goals. We also run every test until it reaches statistical significance. That way you'll only push experiences to 100% of your website visitors when you know it's performing better than the baseline.
Yieldify can plan and execute your entire testing strategy for you. That means you'll get round-the-clock service from your dedicated CRO consultant, data analysts, graphic designers and technical engineers.
Yieldify's deep range of customizable audience segments are ready to use straight out of the box. Segment your customers as narrowly or broadly as you like with Yieldify's highly targeted audience segmentation capabilities – no code required.

Here's an in-depth look at the features Yieldify customers love:
Drive More Conversions and Unlock Deep Audience Insights with Yieldify's Advanced On-Page Testing Methodology
Google Optimize's in-page testing methodology is great for understanding how subtle tweaks can impact your website's performance.
But what if you could transform customer journeys by running on-page tests that bring new experiences on your website, instead of just changing what already exists?
Through our incremental, A/B and A/B/n testing technology, that's exactly what we offer. By testing and optimizing new website elements, such as social proof, embedded USP banners and custom-made overlays, our on-page testing methodology has helped ecommerce brands drive 79:1 ROI with Yieldify's platform.
And because 50% of our tests reach statistical significance, we glean data-driven insights for our customers 400% quicker than they do with standard testing tools.
Here's how we run on-page tests:
1. Incremental testing
If you don't test your website optimizations against a baseline, you won't know if you're actually improving performance. That's why we always run optimizations as incremental tests before running an A/B test. No smoke, no mirrors – just clear, actionable results.
In an incremental test, we change a single website element for 50% of your audience (the test group), and we don't change anything for the other 50% (the control group). With a test and control methodology, we can show you the actual performance uplift delivered by an optimization. It also guarantees that we isolate our impact on conversion rate and revenue from other factors such as seasonality.
2. A/B & A/B/n testing
When we know a website experience performs better than your baseline, we'll then optimize its performance through A/B testing. We divide your traffic into two groups of 50% and show them different experiences to uncover which variant drives the best outcome.
For example, we could test two different versions of a social proof experience – altering the design, placement, CTA, triggering, or targeting rules – to determine which drives the biggest conversion rate uplift.
If you're driving more than 100k monthly website visits, you can test up to 5 different variants with Yieldify's A/B/n testing technology. The inclusion of additional variants helps us uncover actionable audience insights quicker than a standard A/B test.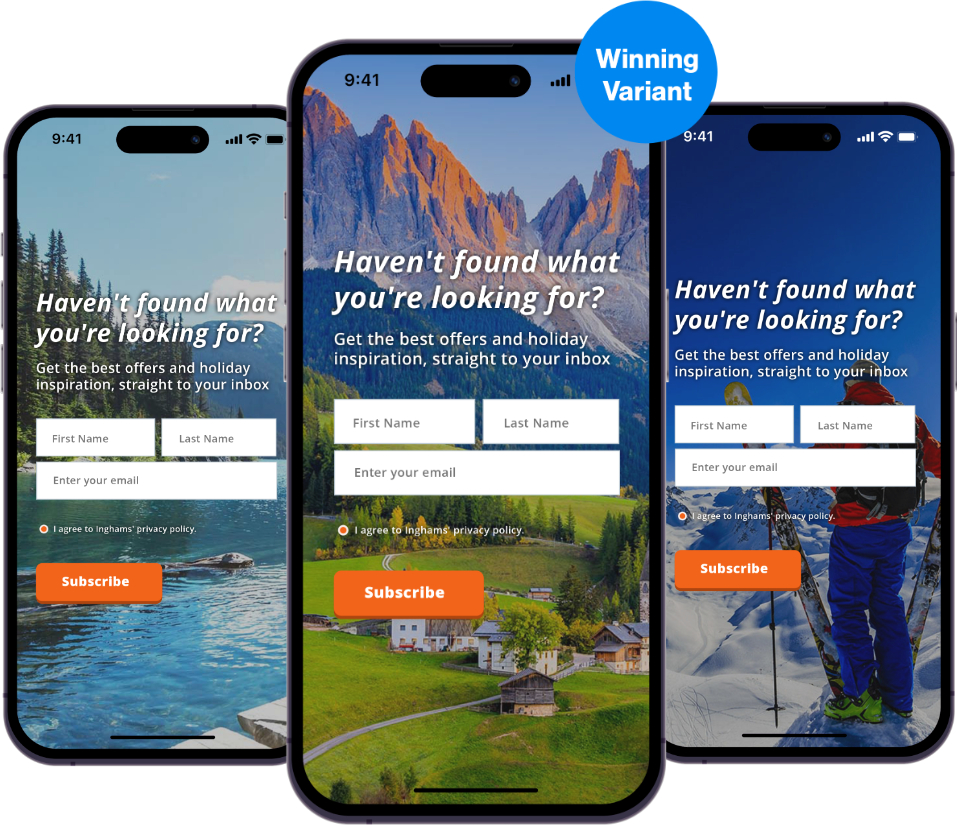 3. Performance Predictors
Yieldify's Performance Predictors can tell within days if a test will improve or hinder your website performance. That way you don't have to waste weeks or months to work out the impact of a website change.
When our AI-powered algorithm predicts negative performance, our account strategists end the test, review the data and amend the experiment – whether that's changing the copy, creative or audience segment. That way we help our customers turn a losing test into a winning one, ensuring they can resolve friction points faster and don't waste time on the wrong approach.
Build a Deep Understanding of your Customers' On-Site Behavior with Sunburst Analytics
Most of our customers are in the dark when they sign with us. They don't have enough data to build a solid website optimization strategy, and have tried to improve conversions based on gut feeling (in my experience, normally with very limited success) but don't know where to get started with a data-led approach.
The problem is that popular website analytics platforms like Google Analytics don't provide a complete picture of your customer journeys. They provide a good starting point for foundational insights, but lack the detail you need to increase conversion rates.
For example, Google Analytics can only report your customer journeys in one direction (aka mono-directionally). That means you can see what happens when users go down the funnel – for example, from homepage to checkout. But you can't tell if they go back up the funnel – for example, from product pages to category pages and back again.
In theory, you could manually map each journey type with Google's Users Flow reports. But that's a painstaking process most marketers simply don't have time for. Besides, we rarely come across customers who actually find them useful. The result? A substantial blind spot in your understanding of your customers' journeys.
To help you truly understand your visitors' behavior, at Yieldify we use sophisticated data analytics and insights tools – including Sunburst charts – to uncover 5x more customer journey insights than Google Analytics.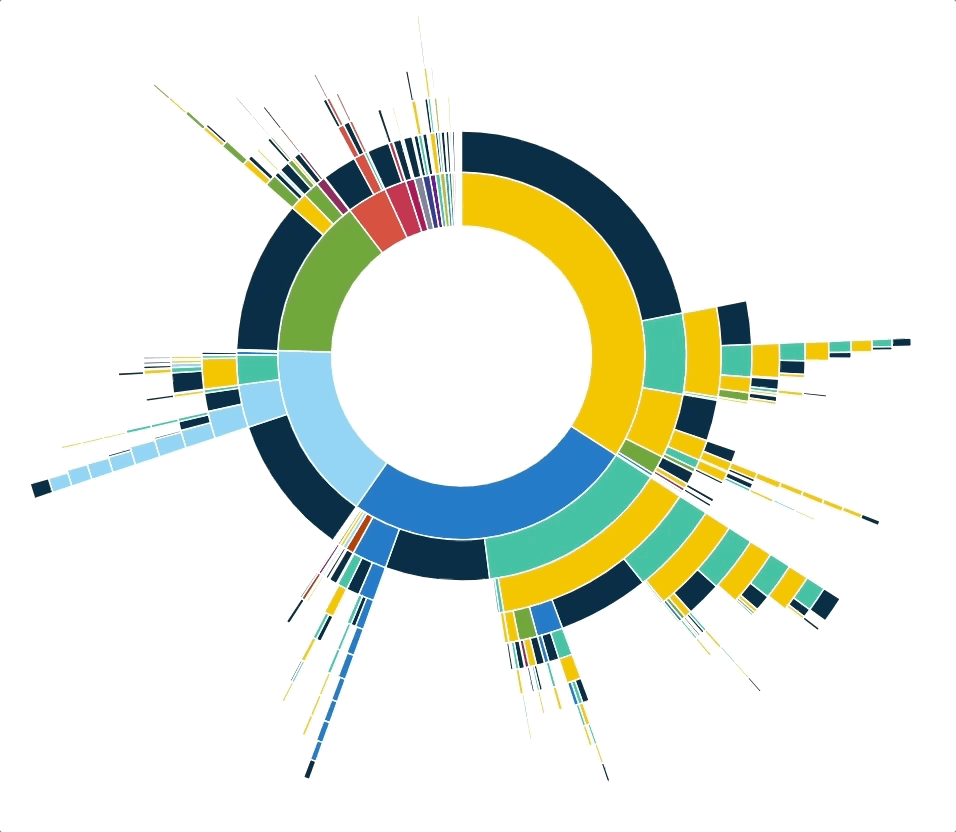 Yieldify Sunburst charts provide an interactive, 360-degree view of your customer journeys, so you can see exactly how your visitors advance through the funnel – regardless of what direction they take.
We break down journey types to find conversion opportunities, including by:
Traffic acquisition source
New and returning customers
Converting and non-converting journeys
And many more
The goal? To uncover funnel friction, signpost your visitors onto the best conversion path and improve performance – whether that's more sign-ups, logins or sales.
Fully Managed Customer Journey Optimization – Including CRO Expertise, Data Analysis, Graphic Design & Technical Engineers
Most marketers we work with simply don't have the right tools to reliably improve their website performance. They've got clear goals for their website and a raft of data to work with, but no direction on how to devise and execute their own optimization strategy.
If you're in that position, then Yieldify is the perfect solution for you. Our full-service team – including CRO specialists, data analysts, graphic designers and technical engineers – handles your entire customer journey optimization strategy for you.
Simply tell us your website goals and we'll do all the heavy lifting. That way you can:
Analyze customer journeys
Uncover deep audience insights
Define your CRO strategy
Personalize your customers journeys
Run A/B and A/B/n tests
See in-depth reports on your performance
Once you get started with Yieldify, your dedicated account strategist will analyze your website data to understand where your customers are bouncing and why. They'll inspect your UX, review your Google Analytics and evaluate your website's current performance against Yieldify's 30 billion benchmarking data points. Armed with that insight, they'll get your first data-driven tests live within 14 days and demonstrate performance uplift within weeks.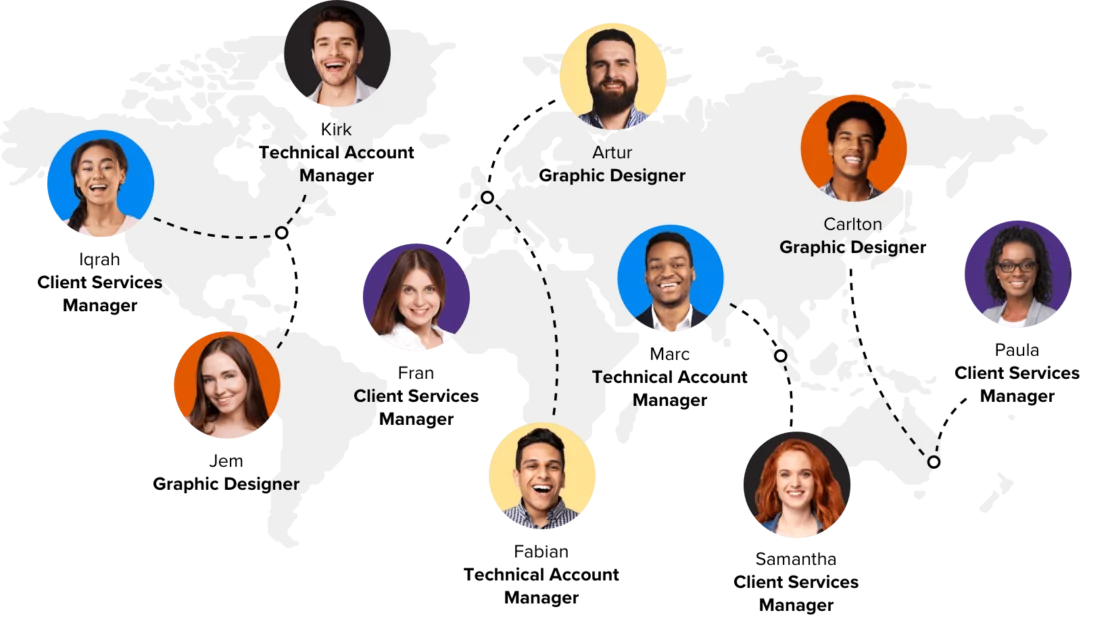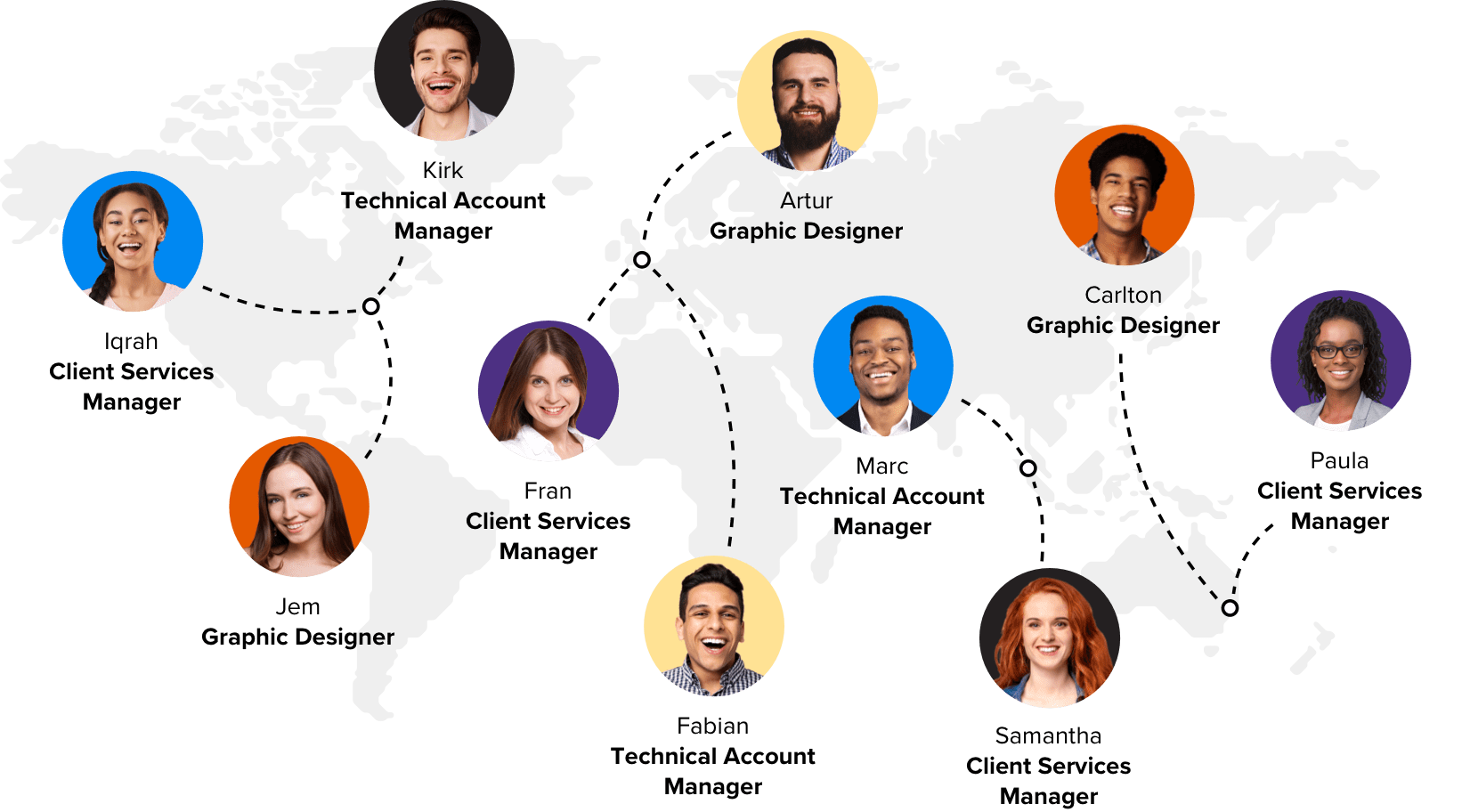 Your input? Simply install a single line of Yieldify code onto your site via a tag manager. After that, you can be as involved as much or as little as you like. You'll only need 30 minutes a week to approve strategic recommendations, sign off creative or review revenue results.
Go Beyond In-Page Testing with Deeply Segmented and Highly Targeted Personalization
If you're considering Google Optimize alternatives, it's likely you've used an in-page testing tool before. But in-page testing represents just one small aspect of website optimization, which is why many marketers use Yieldify instead of an in-page testing tool.
At Yieldify, we bring full-funnel personalization to ecommerce brands by launching website experiences that adapt to customer journeys. We do this by segmenting your customers into subgroups, before targeting them with in-page messaging that's most relevant to their on-site behaviors.
For example, we can show different on-site experiences to your customers based on:
New vs returning users
Purchase history
Time on site
Acquisition source
Product browsing history
Unlike Google Optimize, all of Yieldify's audience segments are readily available on our platform and don't require any HTML coding experience to build. Not only that, our account managers will define the best segmentation strategy for you after analyzing your website data.
Beyond segmentation, our deep range of triggering rules ensure that your experiences appear at the right time. Some personalization tools overwhelm customers with intrusive, ill-timed messaging. Rather than accelerate conversions, this damages the UX and pushes customers away from your brand.
But at Yieldify, we set all of our experiences to appear at the optimal moment in your customers' journey using a range of triggering rules – including on inactivity, scroll depth, and in response to exit intent behaviors.
Together, our deep segmentation and triggering capabilities help you build more personalized experiences for your customers. And thanks to our testing techniques, you'll always know if your audience segments and triggering rules are driving your key metrics – whether you're looking to increase leads, conversion rates or average order values.
Yieldify vs Google Optimize
Google Optimize was a great tool for understanding the basics of A/B testing. But now you're more experienced, you'll need an advanced platform to achieve your conversion rate uplift and personalization goals. That's why Yieldify is a natural next step for Google Optimize users.
Yieldify is not a like-for-like replacement for Google Optimize because we use on-page rather than in-page testing. But if you're looking to multiply the ROI you get from on-site traffic, drive more email & SMS sign-ups, lift conversions rates and increase average order values, Yieldify has all the capabilities you need.
If you'd like a preview of how you can optimize your CRO strategy with Yieldify, feel free to schedule a discovery call here. An advisor from our sales team will be delighted to share more.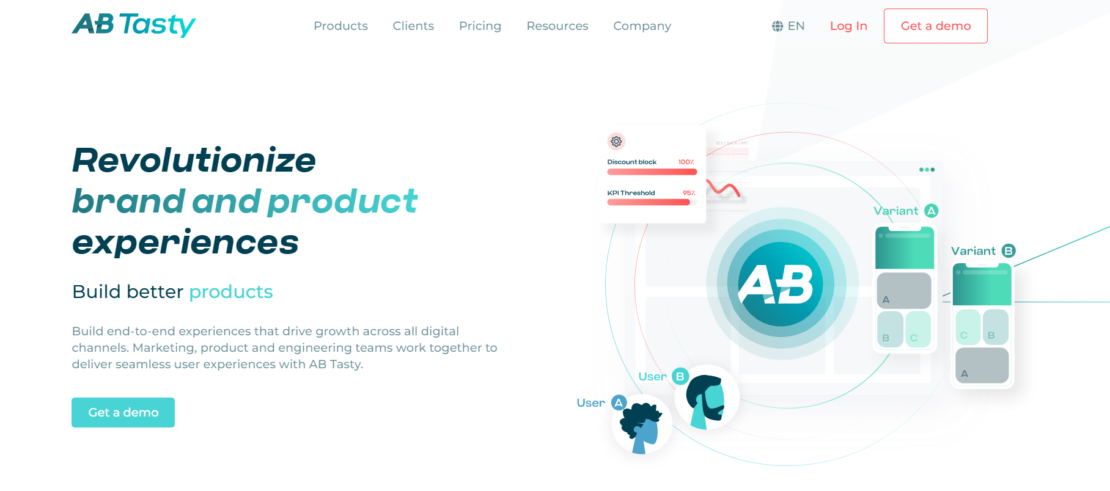 AB Tasty is a self-service, in-page personalization platform designed to test, optimize, and deploy web page modifications. Lots of AB Tasty's customers started using a free platform like Google Optimize before switching to a paid tool.
Like Google Optimize, AB Tasty lets customers run in-page tests to create more personalized customer experiences, but their on-site personalization functionality is limited because they aren't able to provide information on customer demographics.
Due to the limitations of AB Tasty's WYSIWYG editor, you'll need knowledge of Javascript or CSS to get maximum value from the platform. That's why it's not suitable for marketing teams with limited developer resources.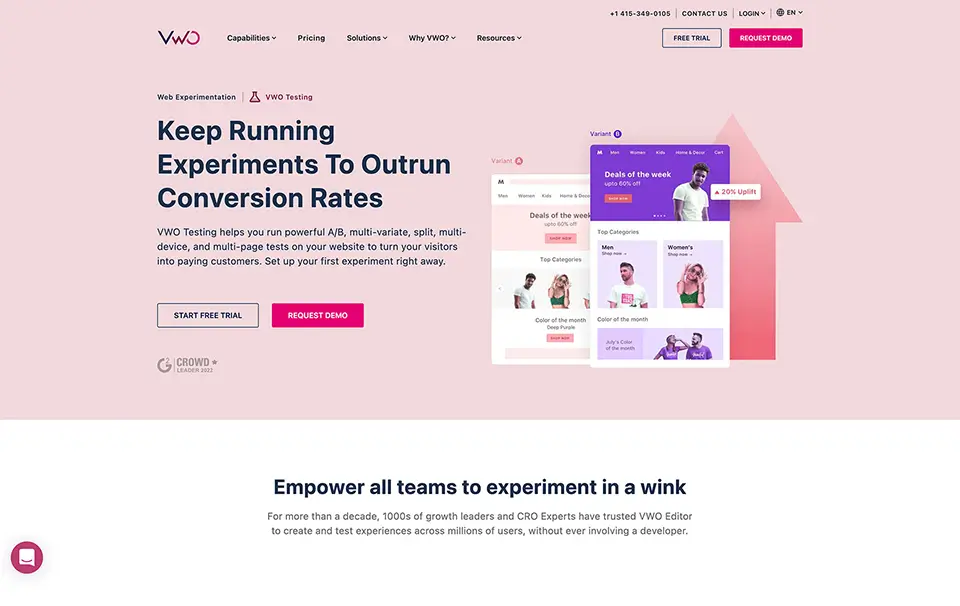 VWO is a web testing and conversion rate optimization platform designed for ease of experimentation. It's a direct competitor to AB Tasty because they also try to attract Google Optimize customers.
VWO offers a range of testing options including A/B testing, split URL testing, multivariate testing mobile app experimentation and server-side testing.
While VWO pitch themselves as a solution for both technical and non-technical users, we've heard from customers that the platform is difficult to use without coding experience. The learning curve is steep but VWO does provide training and ongoing support to bring new users up to speed.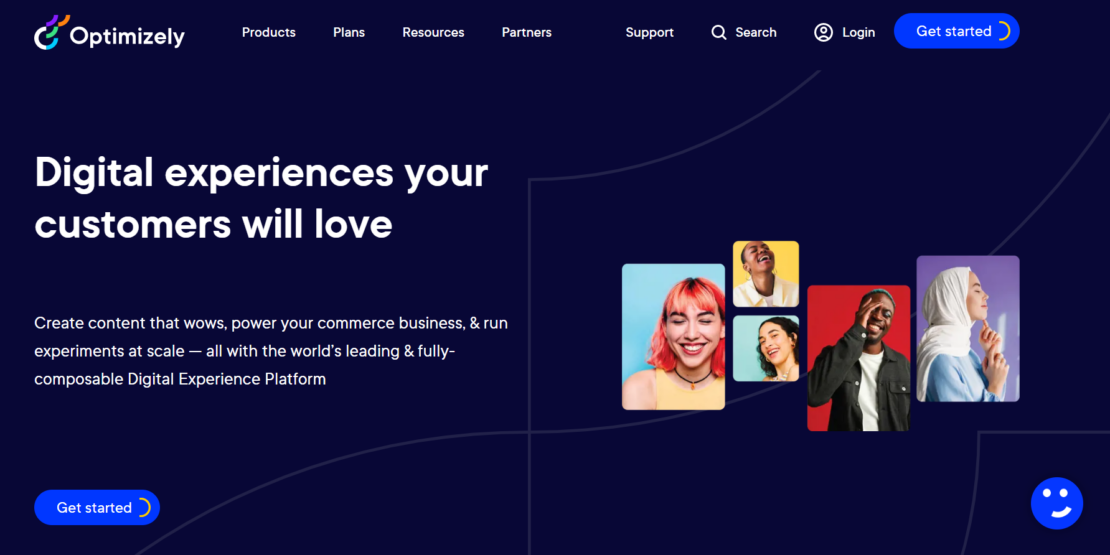 Optimizely is a self-service, all-in-one personalization platform designed primarily for in-page testing. One of its main advantages over Google Optimize is that it's much more scalable and has a visual editor for users without extensive coding knowledge.
However, Optimizely's visual editor will only take you so far and developers with JavaScript knowledge are needed to run more complex experiments. And because most experiences need hard-coding into your website, Optimizely users can typically only run 8-10 experiences annually.
The need for coding experience means Optimizely is best suited to technical product managers and development teams rather than ecommerce marketers.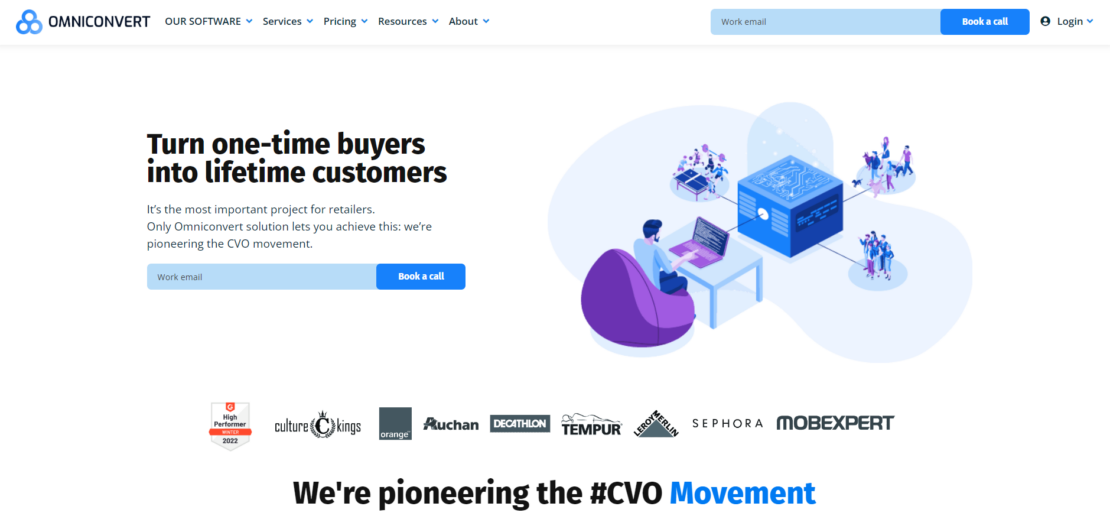 Omniconvert is a CRO tool for ecommerce that helps brands run A/B tests to improve UX, assess product features and lift conversion rates. It offers features like segmentation parameters and real-time customer data as well as Frequentist and Bayesian statistical models.
Omniconvert offers similar features to Google Optimize and, like many A/B testing tools, also requires coding experience to make the most out of the platform – a problem that's compounded by its basic knowledge base.
Some Omniconvert customers have found the user interface dated and complex. For example, there is no birds' eye view available to see all of your experiments in one single page. This makes it difficult to keep track of your testing strategy, especially if you're looking to scale up quickly.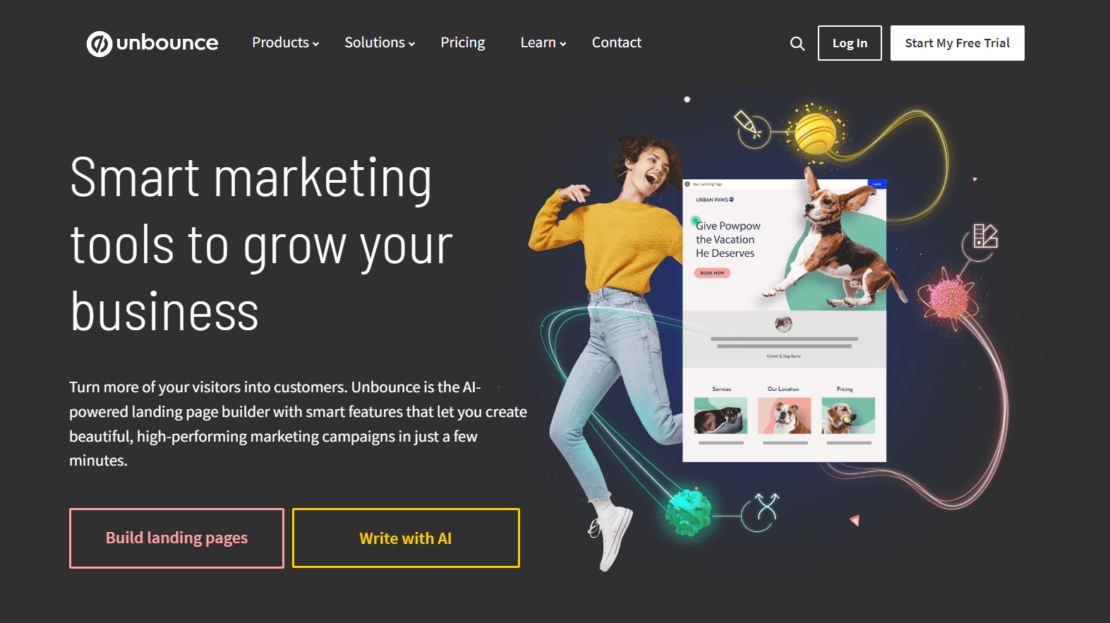 Unbounce is a landing page builder designed to help businesses drive more leads, sales and sign-ups. With access to a library of templates, Unbounce's core features include a drag-and-drop editor, AI-generated copy and A/B testing.
Unlike Google Optimize, you can't test your current website elements through Unbounce. It's built specifically to optimize conversion rates on your landing pages so you can drive maximum value from your PPC and social ads as well as email marketing.
Unbounce is a smart tool for landing page optimization, but many users have struggled to create landing pages that are optimized for both desktop and mobile. It's also worth bearing in mind that Unbounce's service team is based in the US and only responds to requests during North American working hours.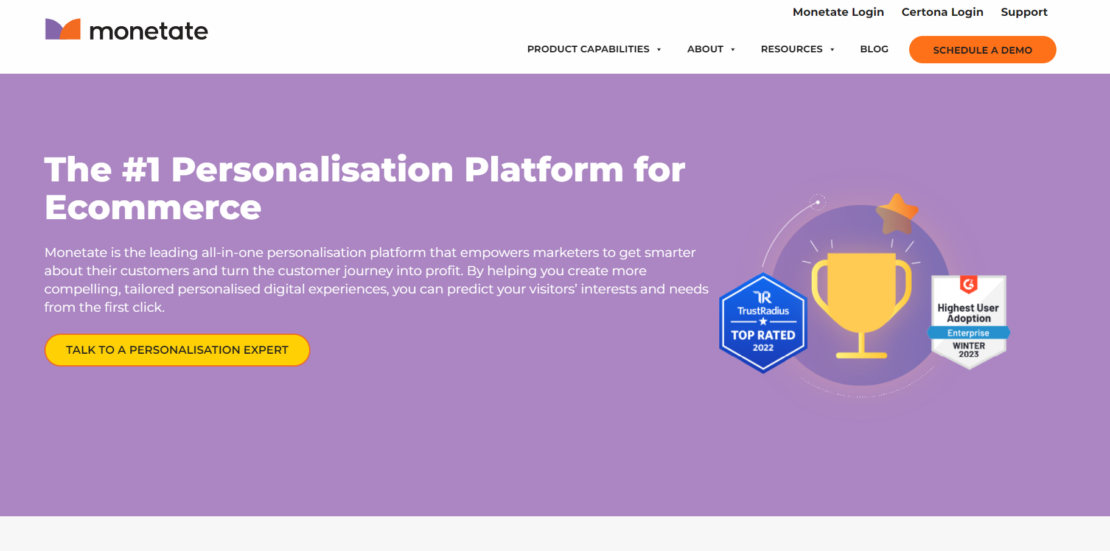 Monetate pitches itself as an all-in-one personalization platform that helps ecommerce brands create more compelling experiences for their customers. Alongside its A/B testing functionality, Monetate goes beyond Google Optimize with additional features like social proof and personalized search.
While Monetate has some interesting features, many users have been thoroughly disappointed by long waiting times, poor communication and high turnover rates within the organization. Some Monetate users have needed to wait several days before getting support from developers.
Monetate isn't marketer-friendly and is difficult to drive quick-wins through – even for experienced developers.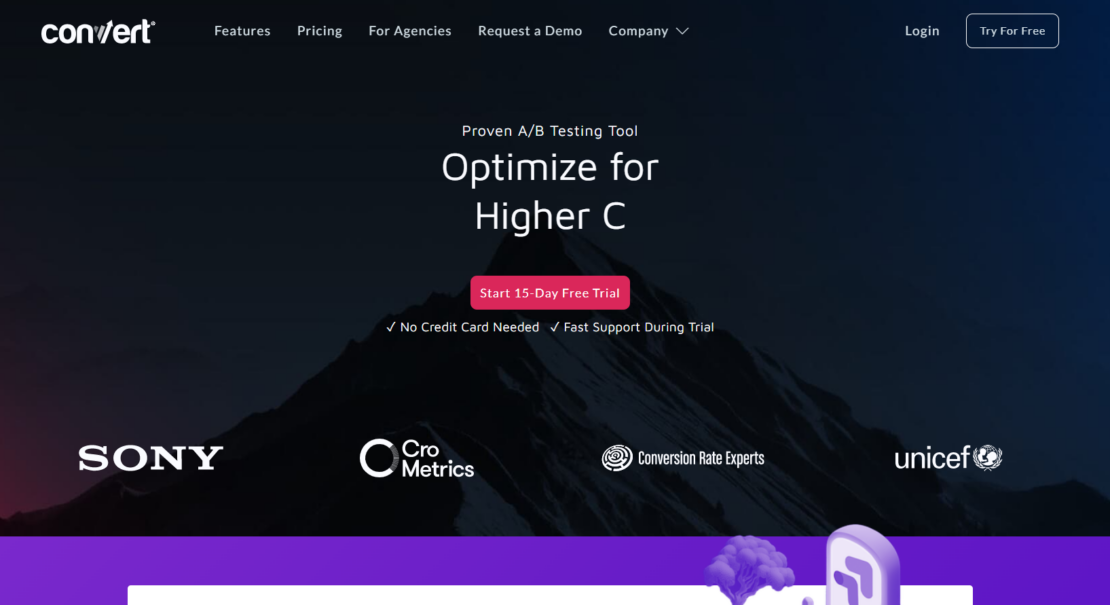 Convert is a website optimization tool that supports brands with client-side and server-side testing tools. The ability to test on both client and server side gives Convert an advantage over Google Optimize, but the learning curve is steep if you want to run tests through its Code Editor.
Convert's Visual Editor provides a low barrier to entry for anyone who's unfamiliar with A/B testing, though some users have found this to be glitchy – particularly when trying to preview their tests. There are also concerns about the quality of Convert's reporting dashboard.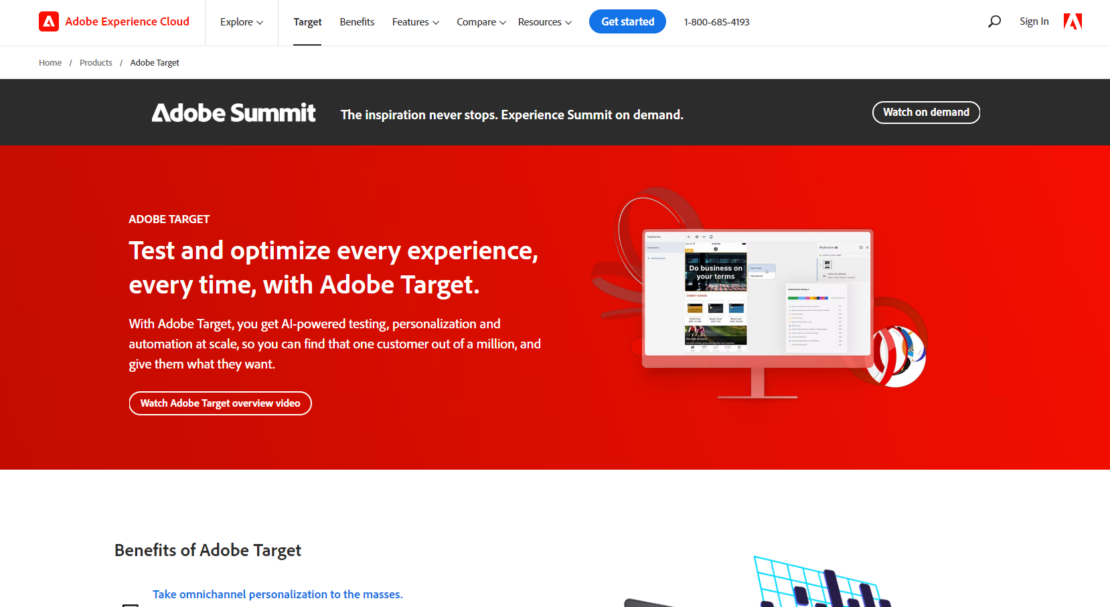 Adobe Target is a user experience testing tool that helps marketers conduct A/B and multivariate tests. The platform is designed to improve the customer experience and provide relevant content through data-driven insights.
Like most testing tools, Adobe Target is a complicated platform to le3arn. It's possible to upskill yourself with Adobe Target's documentation, but users claim it's difficult to improve your understanding because the support documents aren't well written.
Other users say the Adobe Target platform is buggy and tests can cause website page flickering.
Choosing a Google Optimize alternative
Google Optimize was an accessible short-term solution for your basic testing needs, but it was very limited for anyone looking to drive measurable results.
Now, the sunsetting in September 2023 offers a perfect opportunity to increase your testing capacity, gather more audience insights and accelerate revenue growth.
With a fully managed platform like Yieldify, you can achieve those goals by outsourcing every step of the testing process to a team of ecommerce industry experts.
---
Why is Google Optimize shutting down?
Google Optimize and Optimize 360 are shutting down on September 30 2023. The reason behind Google's decision is not totally clear, but they're planning to invest in third-party integrations for Google Analytics 4 instead of developing their own platform.
What is replacing Google Optimize? 
There is no evidence to suggest that Google are launching a replacement for Google Optimize. Instead, they are collaborating with other A/B testing providers as part of the transition to Google Analytics 4. 
What are the cons of Google Optimize? 
Google Optimize is a popular platform that's used by many ecommerce marketers and website developers. People are drawn to Google Optimize because it's free-to-use, but it's only useful for A/B testing beginners because of the following limitations: 

– You can only run 5 tests per year
– You can only set 3 goals per test
– You can only run tests for 35 days
– There are character limits in custom code