BLOG
17 Amazon Prime Day 2019 Stats and Facts
Published: Jun 24, 2019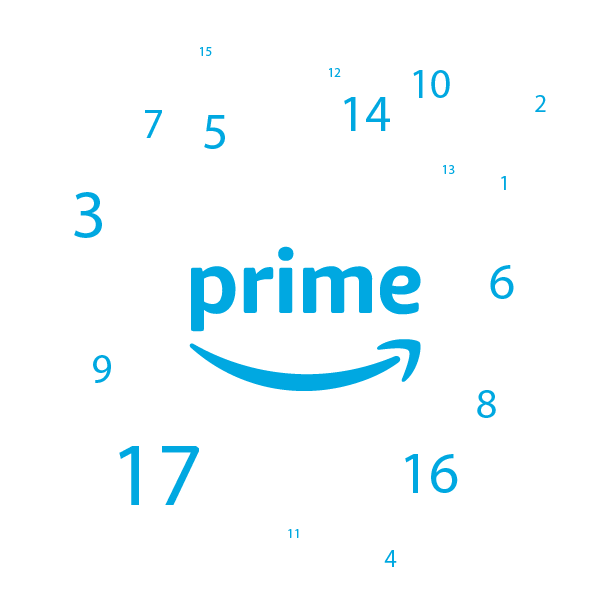 Amazon Prime Day 2019 is right around the corner. Here's everything you need to know about the shopping holiday!
In less than a month (on July 15th in fact) Amazon Prime Day 2019 will once again excite shoppers with plenty of can't-miss discounts and promotions. As always, there will be plenty of tactics e-commerce marketers can learn from, but ahead of the big day here are some key Amazon Prime Day stats you should know.
Amazon Prime Day 2018 Results
First up, what can we learn from Prime Day 2018?
1. The most popular Prime Day ever. Prime Day continues to get bigger every year, and in 2018 Amazon reported that they sold over 100 million products during Prime Day 2018.
2. Eclipsing Black Friday and Cyber Monday. Prime Day really is "Christmas in July", with Prime Day 2018 once again outshining these popular holiday season consumer bonanzas in terms of sales.
3. Amazon's own products rule Prime Day. Some worldwide bestsellers included Amazon heavyweights like the Fire TV Stick and Echo Dot.
4. The Echo resonates. Prime Day was another chance for Amazon's Echo devices to dominate the smart-home product market, of which Amazon now owns a 75% market share.
5. The launch of Prime Day Launches. Prime Day isn't just a good time to gain new Amazon Prime subscribers. It's also become a time for Amazon to premier new products. Last year some new Echo products made their debuts around the time of Prime Day and some are likely to this year as well.
6. A whole lot of Whole Foods deals. Amazon made the most of its new Whole Foods acquisition, offering deals in the brick-and-mortar stores. The bestselling Whole Foods product last year? Organic strawberries.
7. What else did people buy? Parents made the most of Prime Day 2018, snapping up over 500,000 toys. Not to be outshined, pet moms and dads bought 190,000 pet products. According to Amazon.co.uk, 287,000 items of clothing, 400,000 beauty products and 48,000 lawn-and-garden products were also sold.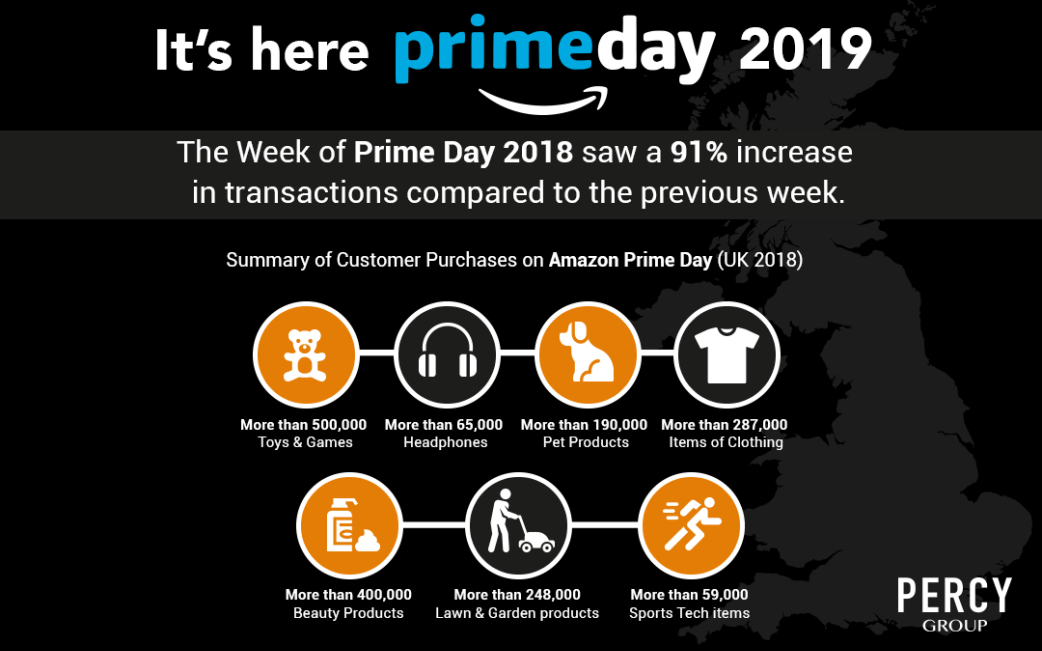 Amazon Prime Day 2019: What to Expect
And what should we expect from Amazon Prime Day 2019?
8. Prime Day becomes Prime Days. Last year, Prime Day extended to 36 hours. Rumor has it this year could go as long as 48 hours long.
9. Pre-Prime Day sales. Even if Prime Day 2019 goes longer than ever, Prime Day has stretched for weeks in the past, with sales being launched well in advance of the day itself. In fact, the Echo Show (2nd gen) is already $65 off.
10. Will it go off without a hitch? Last year some customers were disappointed to see the Amazon website crash at the outset of Prime Day. Still, this glitch didn't slow down Amazon from having an enormous day of sales.
11. Ripples across the shopping landscape. Not to be outdone, past Prime Days have encouraged retailers like Target and Wal-Mart to offer their own special days of rival deals. Look for that to happen again in 2019.
Prime Day Deals to Know
Which products and product categories will Amazon be focusing on this Prime Day?
12. Electronics will once again take the lead. While you can get a good deal on just about anything on Prime Day, past deals and early discounts indicate that Amazon will once again focus on marking down smart home products, kitchen gadgets, robotic vacuums and other high-tech products.
13. Apple enters the game. Amazon is now an authorized seller of Apple Products, so we may see markdowns on Macbooks and iPads.0
14. Gamers rejoice. Gaming products, such as premium gaming laptops and handhelds, have been significantly discounted in the past. As the gaming industry only grows, look for more of the same.0
15. Cooking up deals on kitchen products. Last year, the top-selling non-Amazon product during 2018 Prime Day was the Instant Pot. It's actually been a great performer for the past three years, likely encouraging more sales and incentives on other kitchen gadgets.
Prime Day: A Marketer's Perspective
What can marketers take away from Prime Day?
16. Mobile is the move. Prime Day continues to become more of an event on mobile, with the Amazon app being among the most popular across-app stores.
17. More deals, more conversions. In 2018, conversion rates on Amazon increased by 4.5%, up to 11.7% on the Monday of Prime Day. This number could spike even higher in 2019 assuming the servers hold up to all the traffic this time. Savyy retailers cashed in during 2018 Prime Day, running promotions at the same time to benefit from the Prime Day 'halo effect':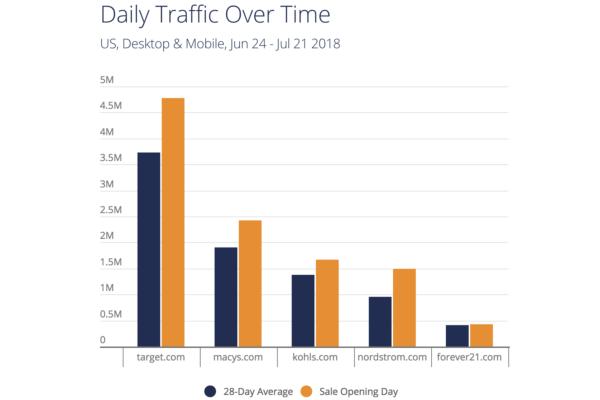 Shoppers around the world are already getting primed — and for good reason! Prime Day 2019 is already shaping up to be another game-changing day of deep discounts. Do you have plans to cash in on Prime Day this July?
As you begin to lock down plans for your own peak trading season, make sure to sign up to our mailing list for all the updates as we publish our latest resources. We'll be sharing data, tips and tricks to help you get the most out of 2019.