BLOG
#AskYieldify: Google Shopping
Published: Apr 30, 2019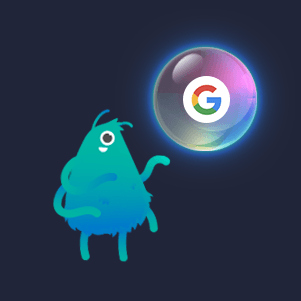 In this series, we put the big e-commerce questions to our team of expert consultants.
This month, we're focusing on acquisition, specifically, Google Shopping with Théo Devred, one of our Senior Consultants.
Last month's edition of #AskYieldify was all about loyalty and lifetime value. This time we're going back to the start of the customer journey, tackling one of the most popular acquisition channels, Google Shopping.
What is Google Shopping?
Google Shopping as we know it today has come a long way. When it launched back in 2002, it was known as Froogle and since then has been through various iterations. 2012 saw the shift toward a paid advertising model, and from then on it became a part of Google Ads, and another way for retailers and e-commerce brands to advertise their wares.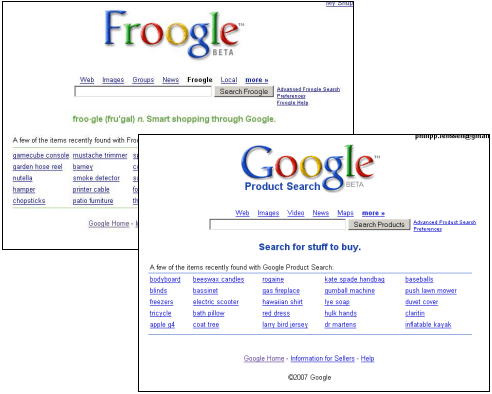 Why use Google Shopping?
There are plenty of good reasons to use Google shopping, not least that a visitor who clicks on a product ad is showing high purchase intent, and many of our clients invest significantly in it. But here's some data, if you're not convinced!
Product listing ads (PLAs) have been around for quite a while, but according to performance marketing agency Merkle, these, and other formats such as Showcase Shopping Ads, are the single biggest growth opportunity for online retailers in 2019. In 2018, Adthena reported that Product Listing Ads now drive over 76% of retail search ad spend, but win 85% of clicks: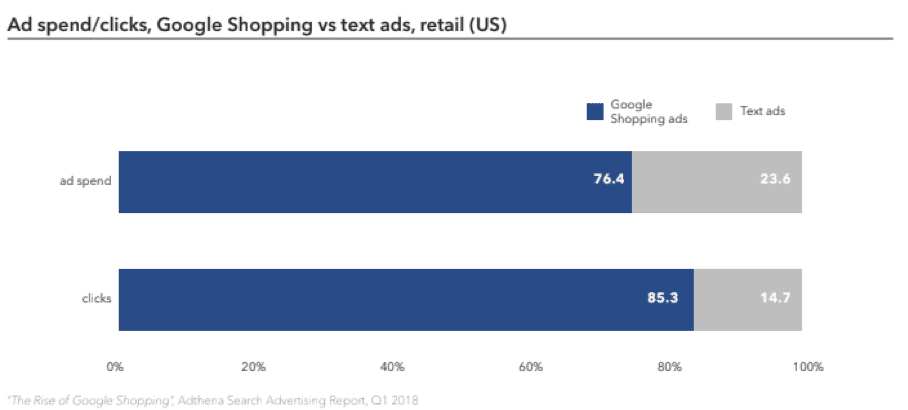 Other than the clear opportunity, here are some other reasons Google Shopping has become so popular with e-commerce retailers:
Google shopping brings a visual aspect to a text heavy searching and shopping experience. This visual aspect is so key that Google is even testing combining Google Shopping with its image search functionality.
The conversion rates are pretty, pretty good compared to text ads – 30% higher!
You can show up multiple times in Google SERPs – as a website result, text-only PPC and a Google Shopping result.
You can start to utilize additional information that you know boosts engagement, such as reviews, prices and promotions
What happens when Google Shopping traffic arrives on-site?
While the click-through rate for Google Shopping PLAs might be pretty compelling, that's not the end of the story. You need to also be paying close attention to the on-site journey that happens after a user clicks on an ad. Here's a few trends that we've noticed, that you should take into consideration.
Mobile: while traffic has continued to grow on mobile, conversions haven't always seen the same success. Google Shopping Product Listing Ads could hold the key – traffic from mobile product listing ads converts at a higher rate than other mobile traffic, and a higher rate than the e-commerce standard of around 2%, at 3.48%.
Landing pages: around three quarters of Google Shopping searches are broad, category searches, yet they land on product pages – this can create a disconnect, between a broad display of intent, which is met with quite narrow and specific content. This creates an issue for shoppers wanting to continue their journey, making a high bounce rate probable.
Conversions: data shows that over 75% of sales via Google Shopping are from users who navigated upwards to the category level away from the product page.
How can I get a better ROI from Google Shopping?
Many retailers worry about getting the most from their paid channels, and Google Shopping is no different. With the above knowledge, and our own benchmark data we're well-positioned to create a strategy to improve the ROI retailers get on Google Shopping.
First things first, you need to segment these visitors by traffic source. Then it's all about making sure the journey from there is as smooth, seamless and personalized as possible.
A good approach is to focus on creating a more effective landing page that will engage these users as soon as they hit the site, reassuring them they are in the right place, as well as providing them with a clear path to purchase if where they've landed doesn't quite align with what brought them there in the first place.
Shaping traffic using these various approaches can have a big impact on bounce rate. For example, sending Google Shopping customers to a filtered category page can reduce bounce rate significantly, from 75% to 40%.
What are some examples of optimized landing pages?
Below you can see an example of how to optimize a Google Shopping landing page that we created for one of our beauty clients. The visitor has arrived onto a product page, and if they show behavior that indicates they might leave, or become inactive we can re-engage them with a helpful message to help them find their perfect foundation i.e. redirecting them to the category level where they can discover more products and (hopefully) go on to convert.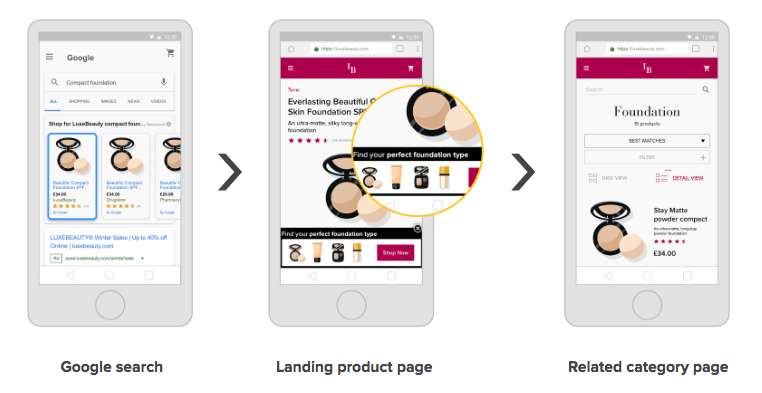 As well as aiding product discovery, another consideration is the fact that many visitors land on product pages and then bounce. Understanding the reasons for this will help you combat this behaviour. For example, highlighting the USPs of your brand or products is another way you might look to optimize your product page: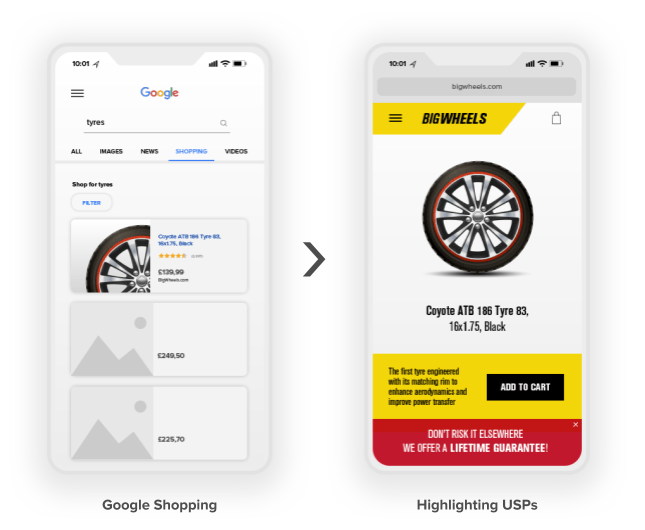 In the same vein, showcasing the fact that a product is a bestseller can induce urgency, and also direct users to discover more products in the bestseller category: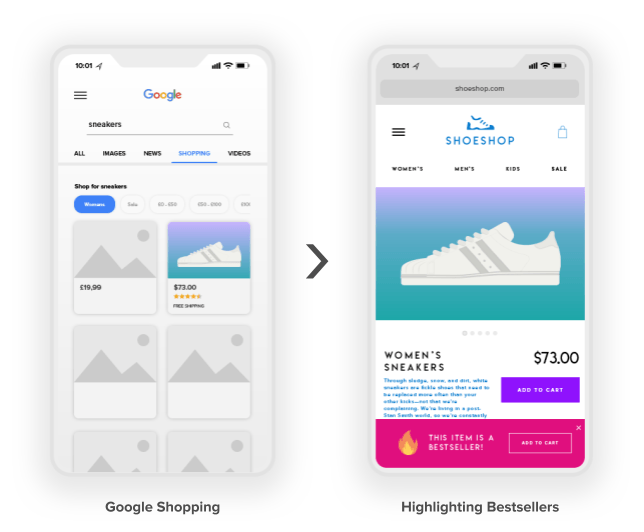 Finally you might also want to think about how you can leverage customer reviews. On Google Shopping, customer reviews are displayed when a product has at least three reviews and Google has determined that the information is accurate and relevant.
Reviews can have a big impact on conversion – up to 94% of online purchases are made on products with an average rating of 4 or 5 stars. Carrying this strong message through to your website is a good way to ensure that visitors continue toward conversion based on what brought them there in the first place.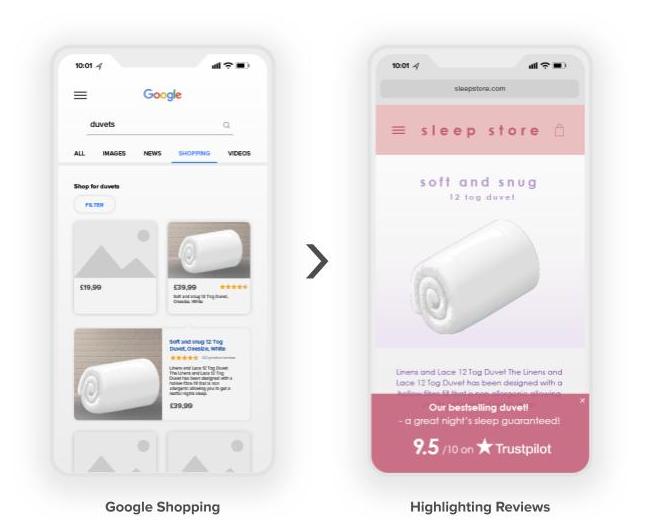 ---
If you've got an e-commerce question you need help with why not #AskYieldify? Tweet us or email us on info@yieldify.com, for a chance to have your question answered by our e-commerce experts.