BLOG
Customer Journeys 2020: US vs. UK
Published: Nov 26, 2019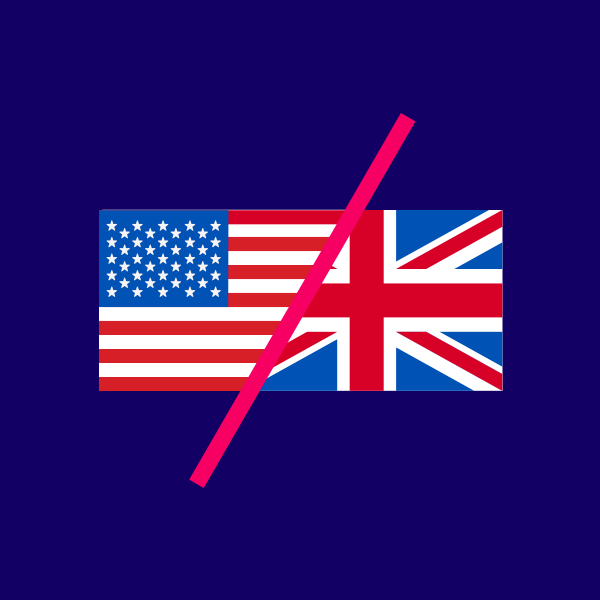 How have marketers in the US and UK been optimizing the customer journey in 2019, and what's in store for 2020?
Our second annual State of Customer Journey Optimization report, published last month, takes a look at how marketers are tackling customer journeys, and how these plans will evolve into 2020. For the first time, we split the data into segments, examining how different verticals (retail and travel) and markets (UK and US) are approaching things differently. In this second blog post in a series of deeper dives into the research, we're taking a look at the differences between marketers in the US and UK markets.
The State of Customer Journeys in the UK and US
One of the most striking findings from the overall data was the rise in satisfaction with customer journey optimization. We saw the same trends in both the UK and US, but there were a few areas where US marketers were more satisfied.
This is interesting because last year US marketers were less satisfied than UK marketers. Here's where US marketers made gains in 2019: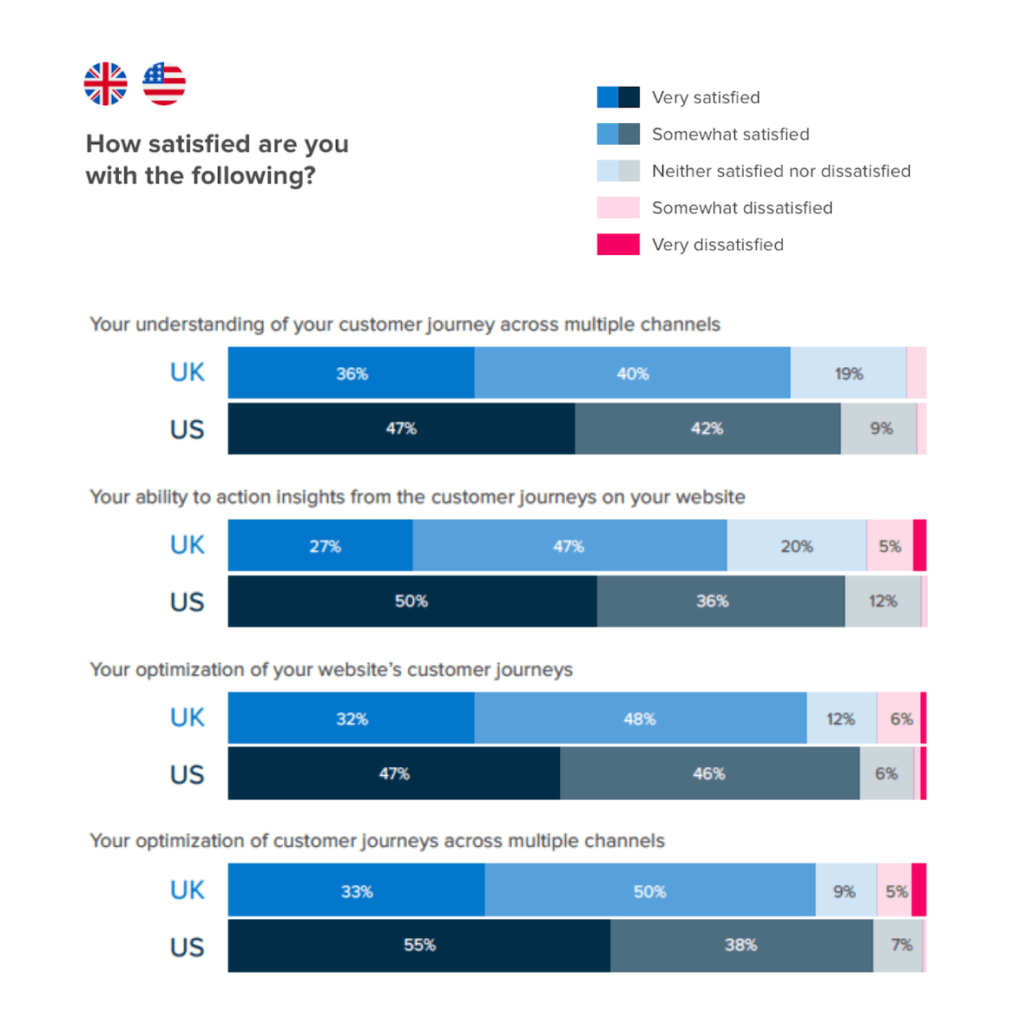 Last year, more than one third of US marketers were dissatisfied with their multichannel CJO efforts, compared to just 16% who said the same in the UK. This suggests that US marketers have made a good deal of progress with their customer journey strategies in the last year.
What customer journey tools do marketers use in each market?
In the overall results Marketing Automation and Website Personalization both featured high on the agenda for marketers in 2019. We saw the same when breaking down the results by market, but slightly more US marketers claimed to be using these strategies.

The two markets also diverged slightly when it came to their approaches to data. In the US marketers placed greater importance on artificial intelligence (AI) and testing, while in the UK the focus was more on data analysis via tools such as Google Analytics and Data Management, perhaps due to the implementation of data privacy legislation such as GDPR in the EU.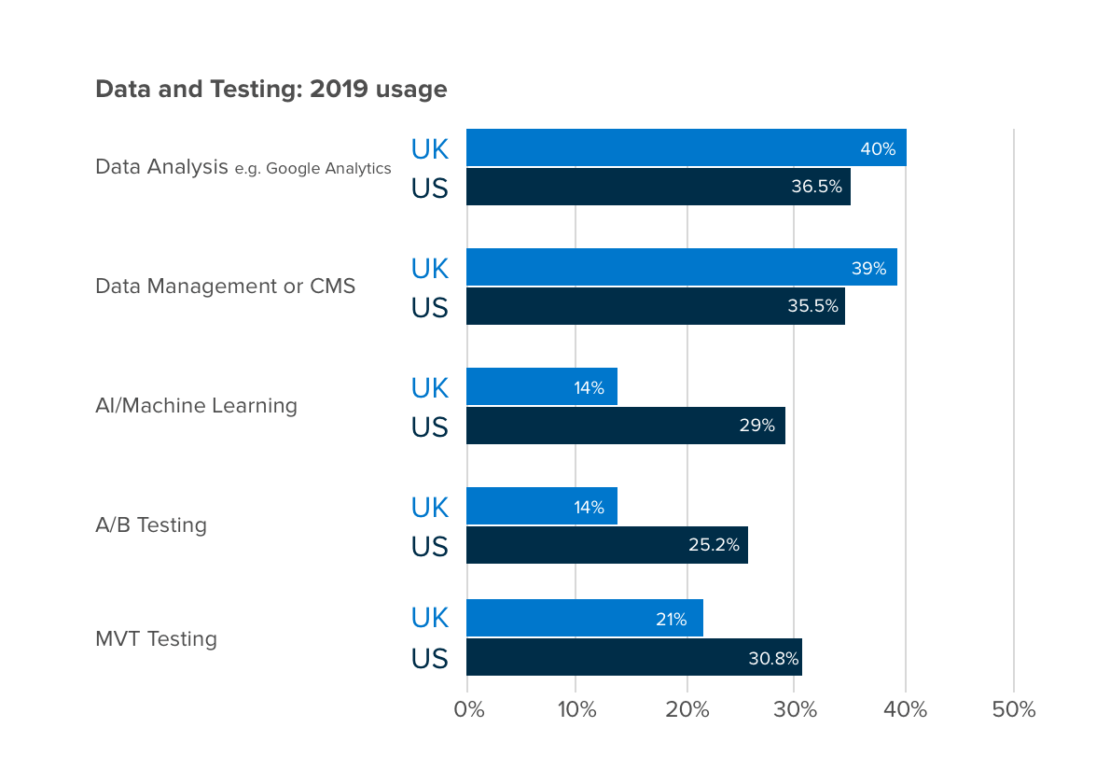 Challenges facing UK and US marketers
In the previous blog, we saw skills and privacy were areas that were troubling travel marketers, and we saw the same topics dominate when it came to the different markets. The US was unexpectedly perhaps, a lot more concerned than their UK counterparts about privacy regulations impacting CJO. This is perhaps due to the fact that the UK has already experienced GDPR, and had to get processes in place as a matter of business urgency: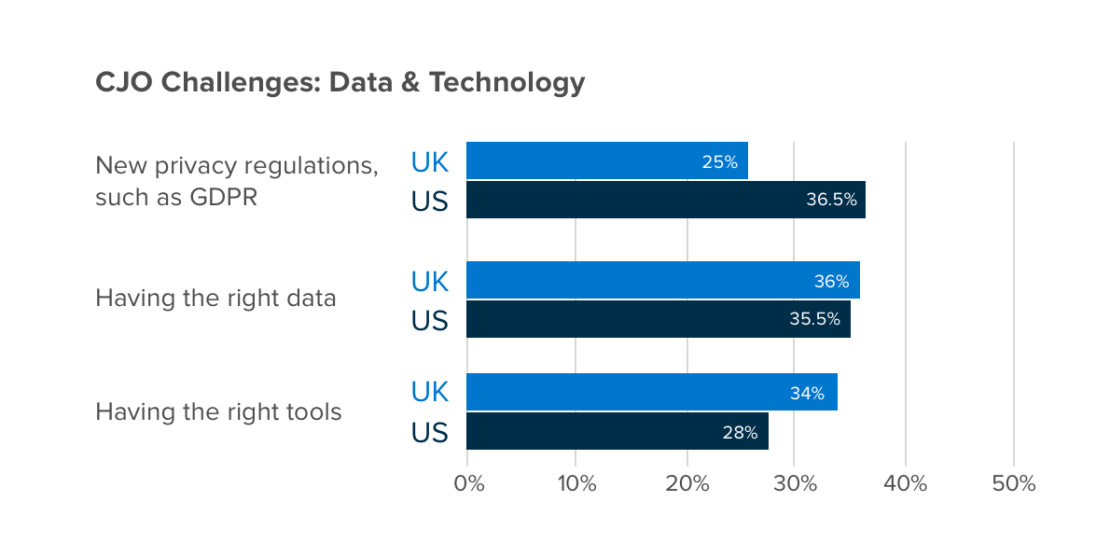 As new privacy regulations such as the California Consumer Protection Act (CCPA) come into effect from January 2020, the time has come for US marketers to ensure privacy is a foundation of their CJO strategy.
When it comes to matters of skills and people, both markets are under pressure but in different ways: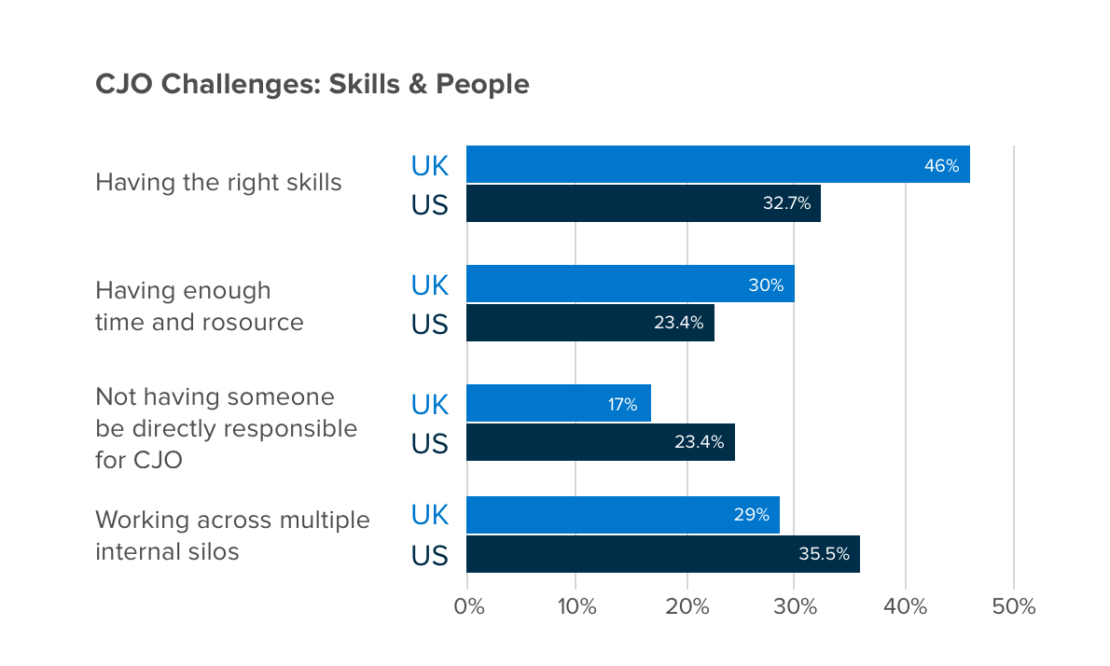 The UK is facing a major skills shortage, which will likely not be helped by geo-political issues such as Brexit. Related to the skills shortage is a real pressure on time and resources, with 30% rating this as a challenge versus 23% in the US. Where the US does have issues is in ownership of CJO, and by extension the problem this raises with working across internal silos.
Finally, like our travel marketers, the US marketers have money on their mind. There was a much bigger concern about demonstrating ROI with 35% seeing this as a top challenge, versus just 28% in the UK.
What's next for 2020?
So what does 2020 have in store for the customer journey? We saw quite a few differences between the UK and US when it came to planned 2020 investments. The top areas in the US for investment are tools and skills – is a little surprising when remembering that skills were rated a bigger challenge in the UK. The UK seems to be planning to plug the skills gap by working with consultancies and agencies, with 44% planning this versus 30% of US marketers.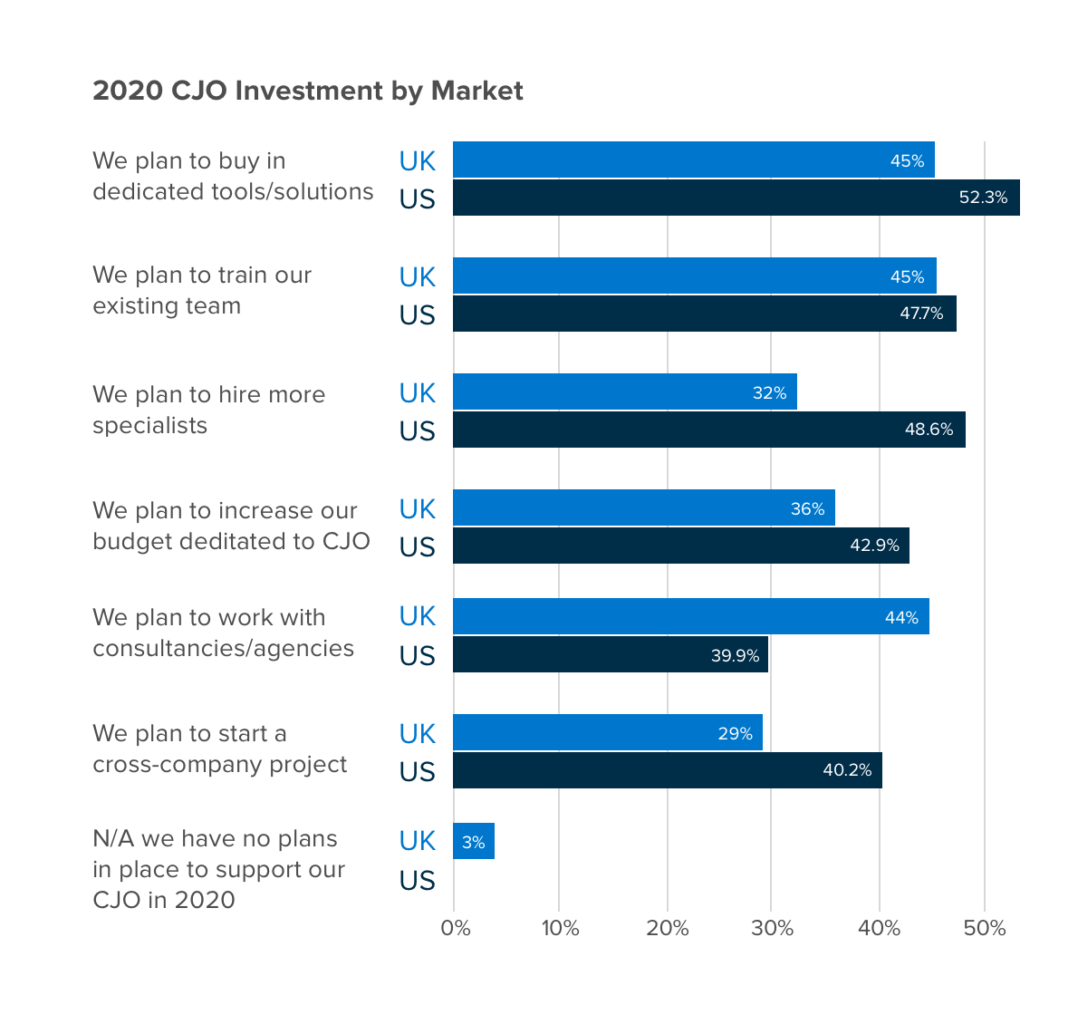 For 2020 customer journey tools and strategies marketing automation came out top for the UK (47% plan to use it), while customer feedback remained a priority for the US (45% plan to use it).
The markets diverged in relation to website personalization – this is a higher priority in the US with almost 40% planning to use it in 2020 versus 35% in the UK. In preparation for personalization, US marketers were also more focused on understanding their data via tools like Google Analytics.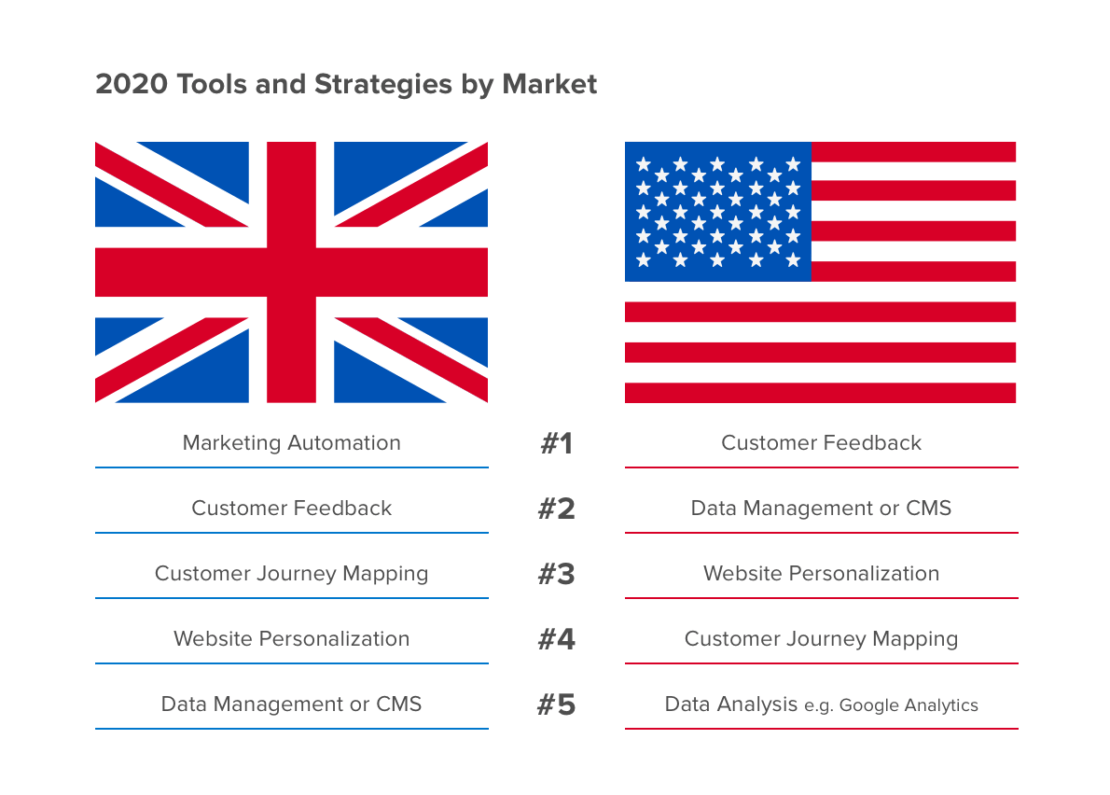 What else will 2020 bring? Well, if 2019 was the year marketers began to crack CJO, 2020 could be the year they start to master it. Just 30% of UK and 25% of US marketers are doing more than 75% of what they'd ideally want to when it comes to the customer journey, meaning there's lots of room for growth.
For the full report, featuring insights on the overall trends, and retail and travel click here.