BLOG
Best eCommerce CRM Software Tools
Published: 25/06/2020
Want to take your customer experience to the next level? Consider a CRM tool. We look at 5 best eCommerce CRM software tools on the market today and how to choose the right one for you.
For every eCommerce business, it's vitally important to keep track of customer relationships. Once your business reaches a certain size, that task becomes virtually impossible without a professional eCommerce customer relationship management system, ECRM for short.
Our Picks: The 10 Best eCommerce CRM software
What is an eCommerce CRM?
E-commerce CRM software is a system that helps eCommerce businesses manage customer contact information, purchasing history and behavior and other eCommerce analytics data. It's designed specifically for the unique needs of online stores to help them better understand and retain customers. In many instances, the CRM tool will directly integrate with the eCommerce platform to seamlessly capture and store customer data for future analysis and marketing campaigns.
The 10 best eCommerce CRM software tools on the market
1. Pipedrive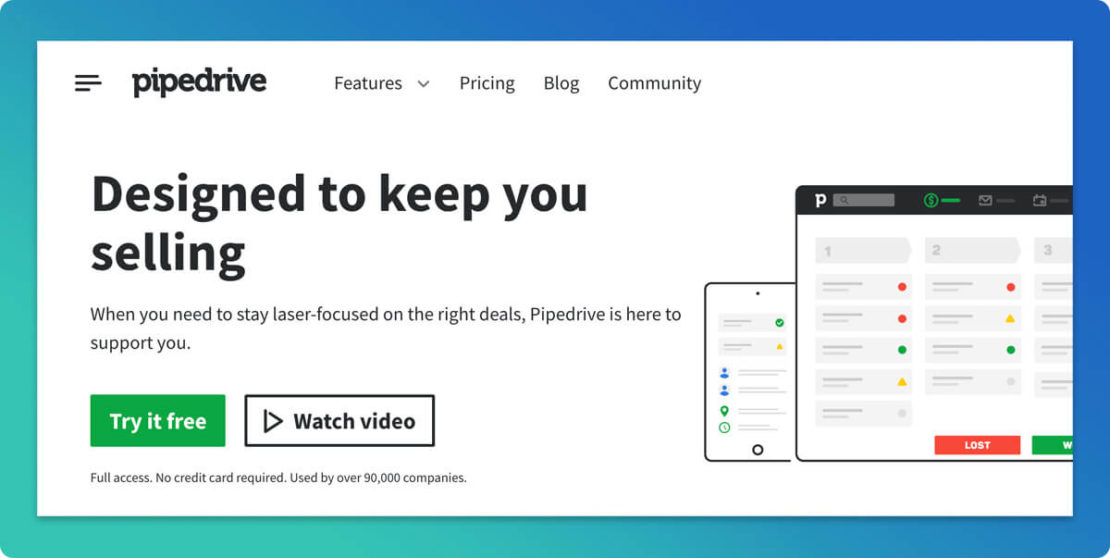 Pipedrive is a CRM tool that is very much focused on sales. One of the great things about this eCommerce CRM is that it has been designed for teams of all sizes. In fact, there are more than 90,000 businesses making the most of this tool across the world.
In terms of ease-of-use for eCommerce business owners, Pipedrive ticks all of the boxes. The dashboard is intuitive yet it is powerful, with usability being the number one priority. No matter whether you are a beginner or you have experience with CRM software, we are sure you will have no trouble getting to grips with it.
Pricing is very straightforward. Prices start from $15 per month for each user. This grants you access to all of the features. There is a free trial, though, to help you determine whether or not this is the right product for you.
The features are extensive and powerful. You can expect territory management, quotes, and proposals, multiple integrations with marketing automation tools like Drip or Outfunnel, document storage, task management, segmentation, mobile access, leading scoring, and a calendar system.
Pipedrive is among the most comprehensive, and yet intuitive and affordable CRM solutions out there. It might help you to keep in touch with your customers, run smart email campaigns, reengage those who abandoned their carts – the possibilities are endless.
2. Copper CRM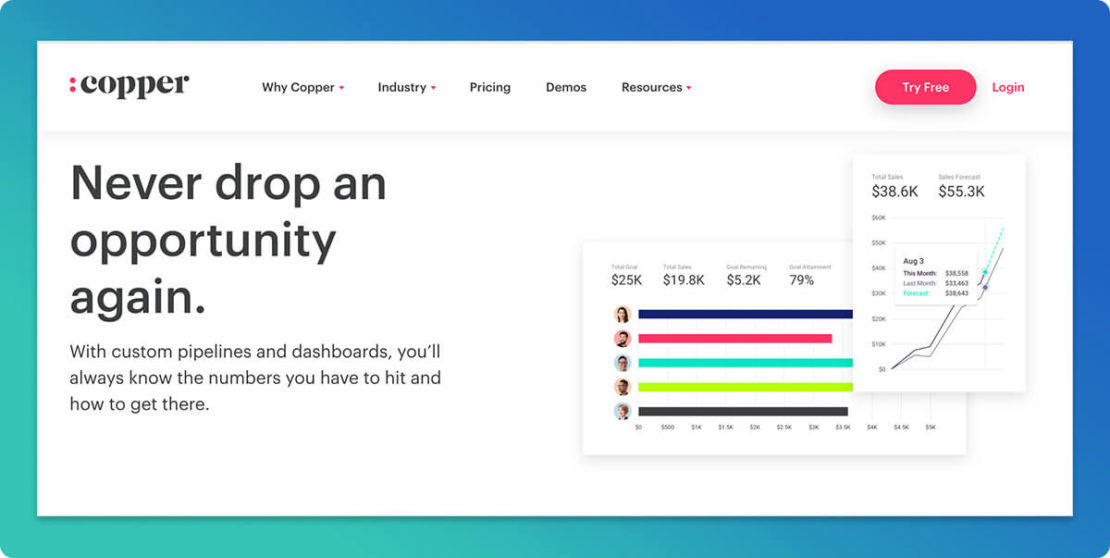 Another CRM that is worth looking into is Copper. This has been designed for small companies that are looking to grow their customer relationships and manage a greater number of sales.
With Copper CRM, the eCommerce managers can easily accomplish tasks that were once made difficult. One of the great things about Copper is that it can easily be integrated with your website, lead capture forms, and common tools that a lot of businesses already use, such as Slack, Mailchimp, and Gmail.
Pricing is also straightforward. It is just a bit more expensive than Pipedrive, with prices starting from $19 per month, per user. Rather than a free trial, there is a free demo that enables you to see how the product works.
The features are very similar to Pipedrive as well, including territory management, quotes and proposals, internal chat integration, document storage, task management, segmentation, email marketing, and a calendar system.
Copper has a great customer support center, featuring detailed articles and webinars. Even if you haven't used a CRM system for your eCommerce business before, Copper would make sure that your learning curve is smooth and pleasant.
3. Capsule CRM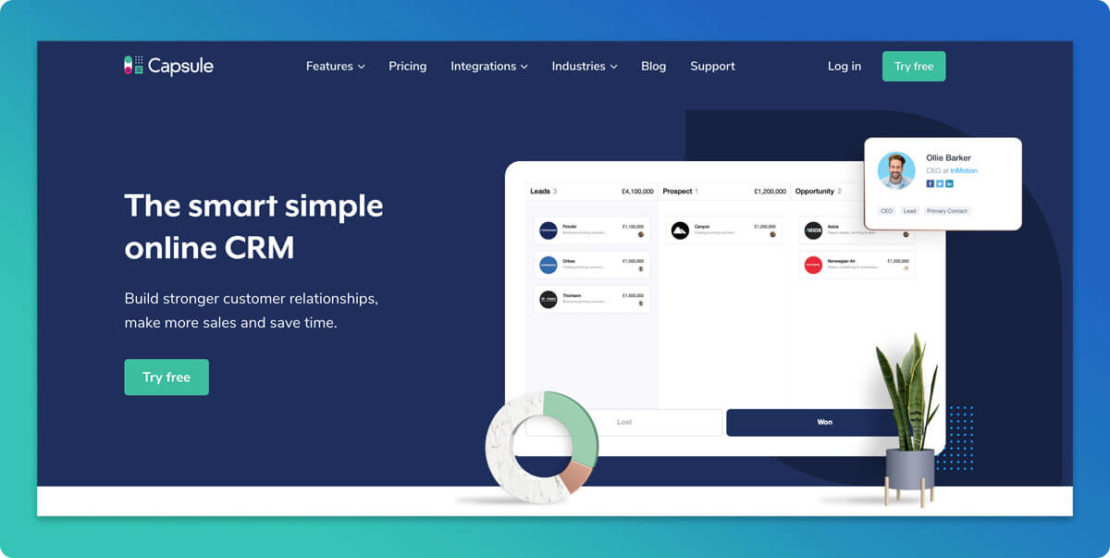 According to its creators, Capsule CRM has been designed for businesses that have between 10 and 1,000 employees – most of the eCommerce businesses fall into that category. Around the world, there are currently 15,000 companies using this platform, so it definitely has a good reputation.
Capsule can also be integrated with popular apps that your eCommerce store might be using, including Zapier, MailChimp, Google Data Studio, and Google G Suite.
There is a free version of the product available, although this is limited, as you would expect. You can also try out the free trial. Once you move onto the paid product, prices start at $18 per month, per user.
The selection of features in Capsule is pretty standard compared to Copper and Pipedrive. You will also find that there are some good features catering specifically to eCommerce businesses, among them sales forecasting. Lead management is pretty extensive, covering source tracking, pipeline management, lead scoring, lead distribution, interaction tracking, and much more.
4. Zoho CRM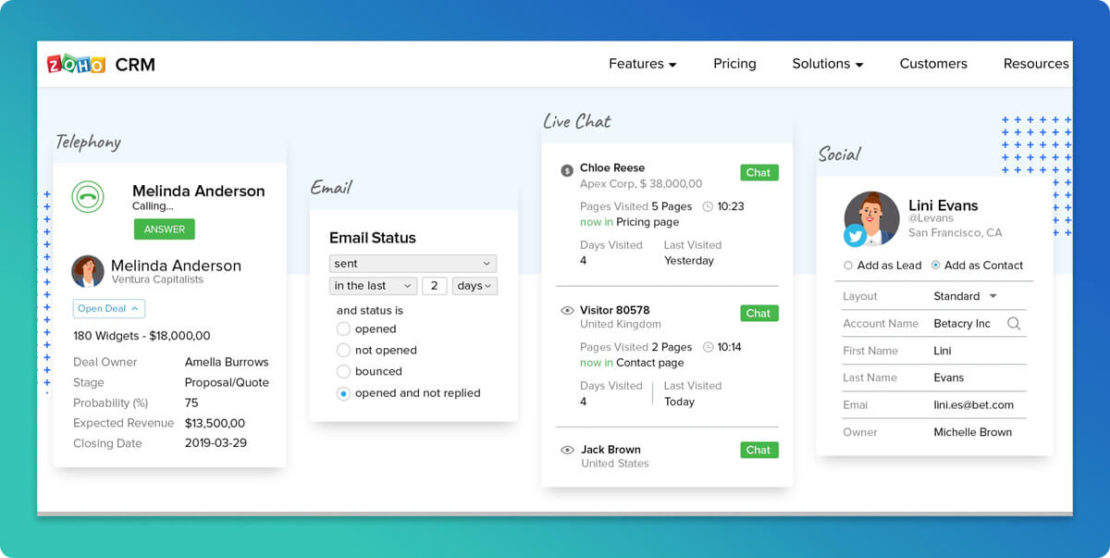 We cannot talk about mentioning CRM systems for eCommerce without discussing Zoho, as it is one of the most popular options out there. This is partly due to the fact that it has been designed to empower organizations of all sizes. It also offers a wide range of features too.
In fact, you can even create your own bespoke version of Zoho CRM, ensuring it is fully tailored to suit your needs.
In terms of pricing, there is also a free version of this product and a free trial too. Zoho CRM pricing begins from $12 per year, per user. As you may expect with pricing starting from such a low rate, there are different packages and different features are available depending on the plan you choose.
The eCommerce CRM features that Zoho boasts include everything that you would want and need. This means all the standard features, as well as more advanced features like financial forecasting and customer experience.
An advantage of using Zoho CRM for your eCommerce business is that it makes your system very extensible and easy to integrate with multiple other Zoho products.
5. Hubspot CRM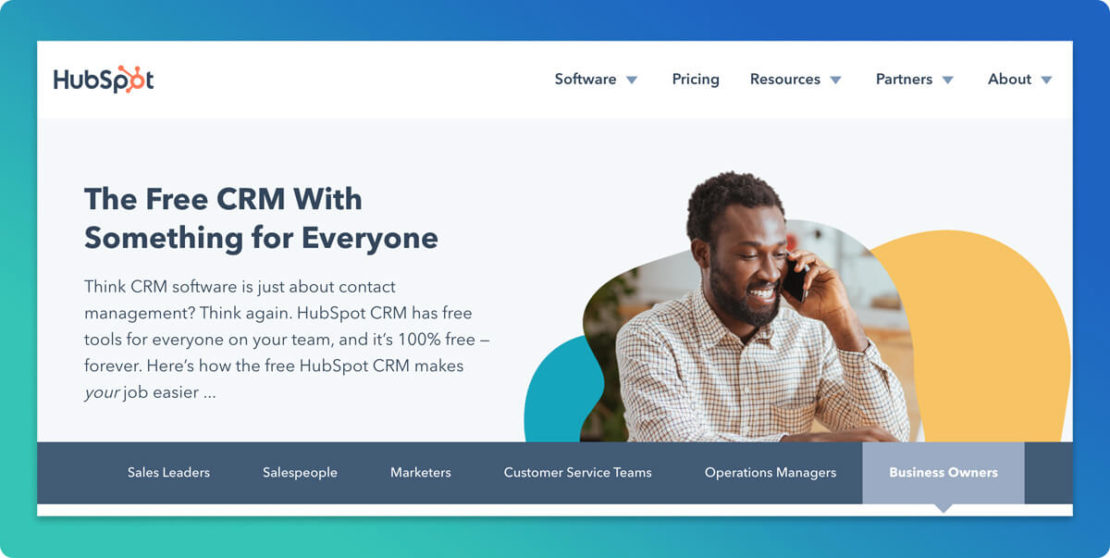 Another worthy mention of eCommerce CRM systems is HubSpot. This has been designed for larger eCommerce teams that are very much centered on growth and taking their business to the next level.
The organization of Hubspot CRM is very impressive. You can see all of the details about a lead in one place, enabling you to make your workforce more empowered, which will lead to better customer relationships and improved efficiency.
There is a free version available, and a free trial as well. The pricing works a bit differently. The CRM is free, and then you pay for premium marketing automation and sales features. We would advise delving into the features you need so you can get an idea of the cost.
CRM features are extensive. You get all of the CRM features listed for Pipedrive or Copper, except there is not any territory management with this platform. HubSpot also covers project management, scheduling, quotes and proposals, forecasting, and client tracking. Furthermore, you will get lead management and financial CRM.
6. Salesforce Pardot
Salesforce is a customer-centric company with tools that solve all business needs. It has become one of the most popular CRMs in America and around the world, solving for primarily enterprise level companies who need help managing their customers' information systems from start to finish – whether they're new or old.
This eCommerce CRM comes fully equipped and it's cloud-based meaning you don't have to download or install individual software on multiple devices within your business and marketing teams.
For small businesses just embarking on your eCommerce CRM journey this probably isn't the best pick for you to start with. It also comes with a pretty expensive price tag which may also put you off. Pricing starts at $1,250/month for up to 10,000 contacts.
However, If you're already in the Salesforce universe, Pardot is probably the best eCommerce CRM for you.
7. SendInBlue
With SendinBlue, you can automate campaigns and track conversions in real-time. The reasonable monthly price alongside a freemium version makes it an affordable option for small businesses or start ups who want some help with their marketing efforts but don't need all the bells whistles.
If you're looking to get started with eCommerce CRM software SendInBlues free version could prove very useful. As far as eCommerce CRM features go, you'll find what you need including email templates and automation workflows.
They have phone support for the first 60 days of using their service as well. You can send up 300 emails per day on this account with some advanced features like web tracking or lead scoring if needed too. Even then, if you find you need to upgrade their paid plans $25 a month for 20,000 emails.
If your online store is built on WordPress SendInBlue also has a highly-rated plugin that you can use which also provides a seamless user experience.
8. Freshworks / Freshsales
Freshsales is a multi-purpose AI-powered eCommerce CRM software for small and medium businesses. Freshsales has the features that will allow you to generate more leads, boost customer engagement and as they put it "earn you a customer for life".
Some of the features that may appeal to you from an eCommerce point of view are:
AI-powered chat campaigns: You can run these on your website to understand your visitors' intent, automate communication with leads, and send contextual answers to their queries.
Create, customize, and deploy web forms: You can place these on high-converting pages to capture website visitors as leads, track their journey to engage in contextual selling, and sell faster.
Freshsales will also provide you with an activity timeline of the leads you capture from your online store. This includes web activities, recent conversations, appointments, and all engagements with your business, you can see all this from one screen.
This then gives you the option to personalize every lead's path to purchase. For example, sending them targeted emails during the buyer's journeys based on their purchase history.
Again as a first eCommerce CRM this might not be the best pick, but you can sign up for free and get an idea if it is the right solution for you. You then have different pricing levels starting from $12 per month per user.
9. Lucrativ
Lucrativ is an eCommerce CRM that offers free sign-up so you can check out what they have to offer before committing. In terms of eCommerce features, you get sales pipeline management, marketing automation among others with metrics & insights powered by AI CRM and even options Gamification strategies.
This platform has a great balance of features and functions, making it both simple to use for beginners as well yet powerful enough that experienced marketers can create campaigns with ease. The gamification element is also something that really stands out about this CRM tool.
Lucrativ's lack of 3rd-party connections is unfortunate, as this might have lost them some points in our evaluation criteria. However, their REST API offers hope and requires significantly less technical skill than other options on the market today!
Lucrativ pricing starts at $50 per month, per user but as stated above it does offer a free trial and free demo.

10. Metrilo
Metrilo is the perfect solution for eCommerce teams looking to take their revenue and customer insights into new territory. It's a CRM tool that has been specifically built for online businesses and this shows with the great features it boasts.
Metrilo integrates with popular eCommerce platforms such as Shopify, WooCommerce and Magento. Its 4 main features make it a very useful CRM tool, Metrilo focuses on Analytics, CRM database, Email marketing & Customer Retention.
Growth Assistant tool: Uses data and AI to provide suggestions on how to improve performance. Best days, product bundles etc
Analytics features: This has everything you need, from real-time dashboard and reports on marketing channel performance, revenue and product performance breakdowns. You can also get your eCommerce funnel mapped out, and customer lifetime metrics.
Ecommerce client organization: Customer data is stored and organised with segmentation and filtering available.
Email marketing: All this data can be used to create email campaigns. Metrilo has a simple to use drag-and-drop email builder, with templates available. You can also set up automated email campaigns and can also receive customer feedback via email.
The only area where Metrilo lacks is within inventory and order management but your eCommerce platform should handle this. Its strengths more than make up for this though and make it one of the best eCommerce CRM tools around.
You can either book a demo or get a free 14-day trial of Metrilo which has access to all the features. After this you have to pick a plan which starts from $119 per month, the premium plan then starts from $299 per month.
Choosing The Best eCommerce CRM Software
If you run an eCommerce website choosing the right CRM software will be an important decision to ensure you can continue to acquire new customers and retain old ones.
When choosing a eCommerce CRM system , think not just about where you are currently – but where your business is going to be in 12-18 months. Setting up a CRM system takes time and effort, and so you have to be confident that you won't outgrow the platform of your choice too soon.
Among the alternatives above, Pipedrive, Copper, and Copper might work best for small and medium eCommerce businesses. They're easy to set up, don't require big investment upfront, and can scale with your organization to a certain point. All three of those CRM systems have all the features you need to accomplish your goals.
If you're running an established eCommerce business that already has all the processes in place and is looking to scale up to the next level – Hubspot might be a better option. It's much more than a CRM, as it comes bundled with powerful marketing automation and sales platform.
There are plenty of eCommerce CRM tools out there so use the checklist below to help you figure out which one is best for you.
eCommerce CRM checklist
So what should you be looking at when choosing which eCommerce CRM software to go with? What features are a must-have? What should you avoid?
When we looked at the best eCommerce CRM software to put in this list we evaludated them based off of the list below. This list can also be your checklist when reviewing other CRM software we may have left out of our list.
Usability
User Interface (UI): If you can have a demo, or see the CRM in action before you commit to paying, does it make sense to you? Is the design clean and logical? Of course, you can get use to things but first impressions count.
Usability: Do you think you can use it? If not, what support or training can they offer? Again, if you can get a free trial or a free account you may be able to get a taste of this.
Features & Functionality:
Analytics and Reporting – You need to make sure the CRM system can provide you with actionable customer insights that can help grow your business. Do you have to find these insights yourself? Or can the software alert your, or use AI to highlight these opportunities for you? You should also be able to run adhoc reports, create performance dashboards etc
Cross-Channel Tracking – If you're running marketing activity across social, or other platforms can your CRM cross your customer's journey across these?
Automated workflows – CRM tools should have this built-in but make sure whichever one you choose can handle some basic automated emails to help you. most of this may be around email marketing. (Think welcome services, basket abandonment emails etc.)

Customer History – Are you able to look into specific customer history? From a lead management point of view being able to see critical data like purchase history and customer behavior will be important when it comes to customer segmentation and identifying key features of your top customers.
Integrations
Your website: Does the eCommerce CRM integrate with your website seamlessly? Can they provide examples or case studies of how well this has worked for others?
Third-party tools: Chances are you may already be using other marketing tools. If so, can the eCommerce CRM you're looking at integrate with all the ones you need to provide actionable insights?
Value for money
Your budget: Does the CRM offer all the features you need for the budget you have in mind? How does each CRM compare vs each other?
Pricing: You'll find a lot of CRM have different levels of pricing, make sure that pricing is clear, transparent and flexible.
The benefits of eCommerce CRM
There are many advantages to using a CRM system for your operations. First of all, more timely and precise customer tracking opens up valuable opportunities for cross-selling and upselling. The better you understand your clients' purchasing habits, the higher your average order value is going to be.
CRM systems might be quite pricey, but in the long run, they're actually going to save you money and lots of time. Modern CRMs are all about the automation of internal and external processes like emails, invoicing, reporting, and financial forecasting. Instead of doing all these things manually, you can create smart workflows that are triggered once you or your customers perform certain actions.
Finally, leveraging a CRM system will eventually increase your customers' happiness. They will feel like they're being listened to more closely and provided a better experience.
This post was written by Vlad Shvets from Paperform.
---
eCommerce CRM Frequently Asked Questions
What is eCommerce CRM?
E-commerce CRM (ECRM for short) is a customer relationship management system designed specifically to help eCommerce businesses manage customer contact information, purchasing behavior, and other analytics data.
Does eCommerce need CRM?
In a word, yes. CRM is an essential part of an overall marketing strategy, including for e-commerce websites. A successful CRM can help you retain customers, drive lifetime value (CLV), and allow you to effectively stay in touch with your customer base.
What are the types of CRM?
There are three main types of CRM: Operational, Analytical, and Collaborative. Operational CRMs use sales, marketing, and service automation to streamline business growth. Analytical CRMs focus on gathering and analyzing customer data to improve their experience. Collaborative CRMs facilitate information sharing between various business units, such as the sales, marketing, technical and support teams.