BLOG
10 Best Ecommerce CRM Software Tools for 2023
Published: Nov 16, 2022
CRM software tools help you manage your customer data more effectively and streamline internal processes in your sales cycle.
In this blog I'll guide you through 10 of the best ecommerce CRM software tools on the market today and help you choose the right CRM software for your business.
The 10 best ecommerce CRM software
| | | | |
| --- | --- | --- | --- |
| | | | |
| | | | |
| | | | |
| | | | |
| | | | |
| | | | |
| Salesforce Account Engagement | | | |
| | | | |
| | | | |
| | | | |
| | | | |
You can build richer customer profiles by integrating any of the 10 ecommerce CRM platforms in this blog with Yieldify's fully managed personalization platform. Pass your customers' behavioral data, email and SMS leads and survey answers straight to your CRM with Yieldify.
If you'd like a preview of how Yieldify can drive more leads and customer data into your CRM as well as personalize your customer experiences, feel free to schedule a discovery call here. One of our advisors will be delighted to share more.
Ecommerce CRM checklist
What are the must-have features in a CRM software for your ecommerce brand? We've selected the 10 best ecommerce CRM tools below based on these criteria:
Usability
User interface (UI): It's best to book a demo with the CRM provider to get a feel for the user interface. During the demo, consider if the design is intuitive and includes all the features you need to support your marketing efforts.
Usability: Is the platform easy to use? What support documents, service or training does the CRM offer? Take advantage of free trials to decide what you like and dislike in a CRM tool.
Features & Functionality
Analytics and reporting: Make sure the CRM system provides actionable customer insights that help grow your online business. A good CRM will let you run ad hoc reports and create customizable performance dashboards.
Automated workflows: Most CRMs have this built-in, but make sure yours can send automated emails to improve open rates and revenue from your remarketing. If you want to amplify your SMS marketing, or make your first steps into this area, then make sure your provider can engage mobile subscribers with automated text messages.
Customer history: Does the platform allow you to?
See purchase history
Analyze customer behavior
Segment audiences
Cross-channel tracking: Can the CRM track customer journeys across all your marketing channels?

Integrations
Your ecommerce website: Does the CRM integrate with your online store? Ideally, they'll have customer case studies explaining how this works.
Third-party tools: You're probably using other marketing tools, so find out if the ecommerce CRM integrates with your tech stack.
Value for money
Your budget: Does the CRM offer all the features you need within the constraints of your budget?
Pricing: Most CRMs have different options depending on how many active deals or contacts you have, so make sure you select the package that meets your specific business requirements.
10 Best CRM for Ecommerce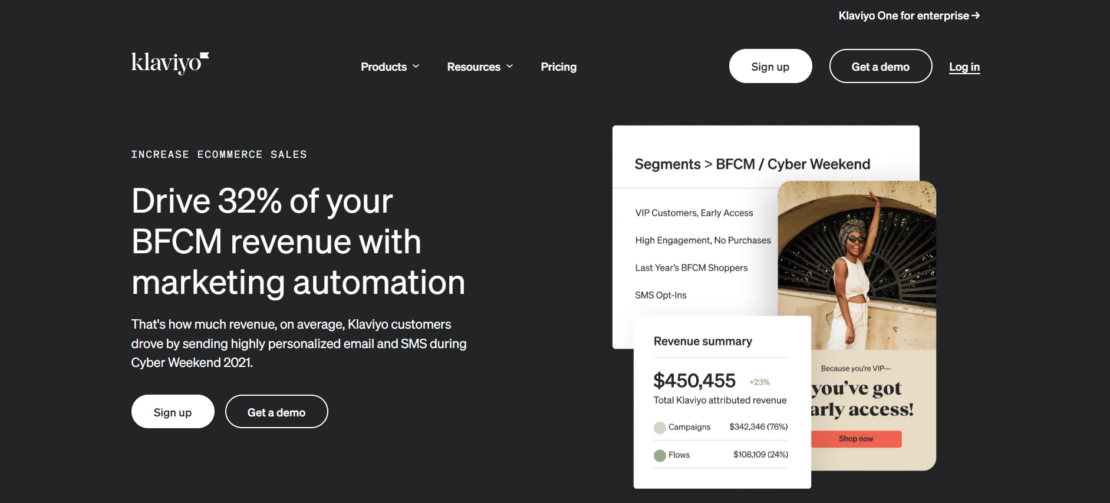 Built specifically for ecommerce, Klaviyo is an automated marketing and CRM platform that empowers brands to create personalized customer experiences.
Top features
Historical viewing: Access information about every interaction a customer has had with your store.
Predictive analytics: Use AI to predict when a customer is likely to submit their next purchase and how much they're likely to spend.
Combined email and SMS: Bring your email and SMS marketing efforts into one platform to drive more subscribers and sales.
Yieldify integration: By creating custom events and collecting deeper insights on your customers' on-site interactions, Yieldify's advanced Klvayio integration helps you send substantially more user data to your Klaviyo user profiles than Klaviyo alone.
Pricing
Klaviyo's pricing is tailored to the size of your contact list. Prices range between $35 and $1970 per month for email and SMS packages. You can get a free trial with Klaviyo if you have less than 150,000 contacts.
G2 rating
4.6 out of 5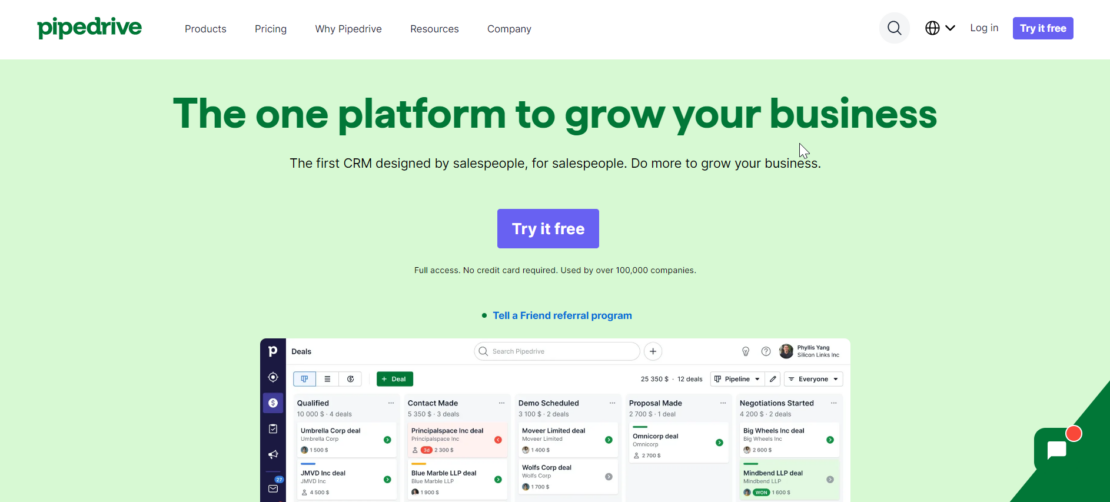 Trusted by more than 100,000 companies in 179 countries, Pipedrive is a sales-focused CRM tool designed for teams of all sizes. With a user-friendly and intuitive dashboard, Pipedrive is a great option for CRM beginners.
Top features
Manage leads: Manage your sales leads by creating and customizing as many pipelines as you see fit. Extract data in seconds to prioritize processes and make better decisions.

Insights and reports: Pipedrive's sales reports are fully customizable, allowing you to monitor the most relevant metrics for your business. Use Pipedrive's reporting tool to track deals and make revenue forecasts.

Email builder: Pipedrive's intuitive drag-and-drop editor and ready-to-use templates help you drive powerful email marketing campaigns.

Email segmentation: Reach the right contacts with the right messaging by segmenting your recipient list into subgroups.
Pricing
Pipedrive starts at $17 per month and rises to $92 for their Enterprise plan. You can try Pipedrive's platform with their 14-day free trial.
G2 rating
4.2 out of 5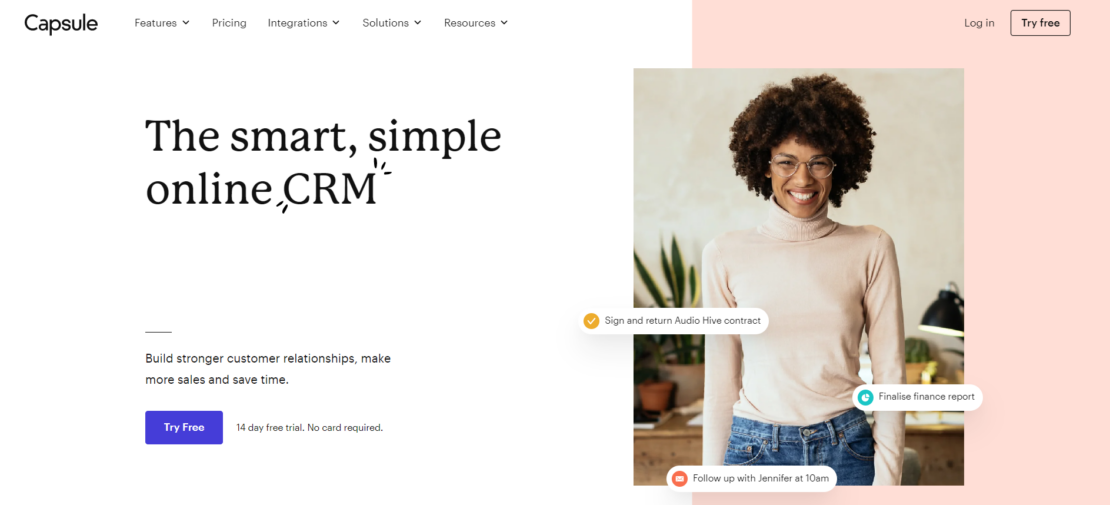 Capsule CRM was designed to hit the sweet spot between simplicity and complexity and is well suited to small to medium-sized ecommerce businesses. More than 10,000 companies are currently using Capsule.
Top features
Contact management: Access the entire history of your customer interactions in Capsule's platform. Import existing data, sync contacts in real-time and quickly access key information about your customers.
Email marketing: Use Transpond in sync with Capsule to create a powerful CRM and email marketing tool. Whether you start with a blank page or modify a pre-built template, you can run automated email campaigns and monitor performance with clear analytics.
Sales pipeline: Keep track of opportunities and manage your pipeline with excellent visuals and a drag-and-drop interface.
Sales analytics: Monitor your sales pipeline with insightful reporting and easily export all of your data.
Pricing
Capsule has four packages ranging from $0 to $40 per month. You can access a 30-day free trial on all of Capsule's paid packages.
G2 rating
4.3 out of 5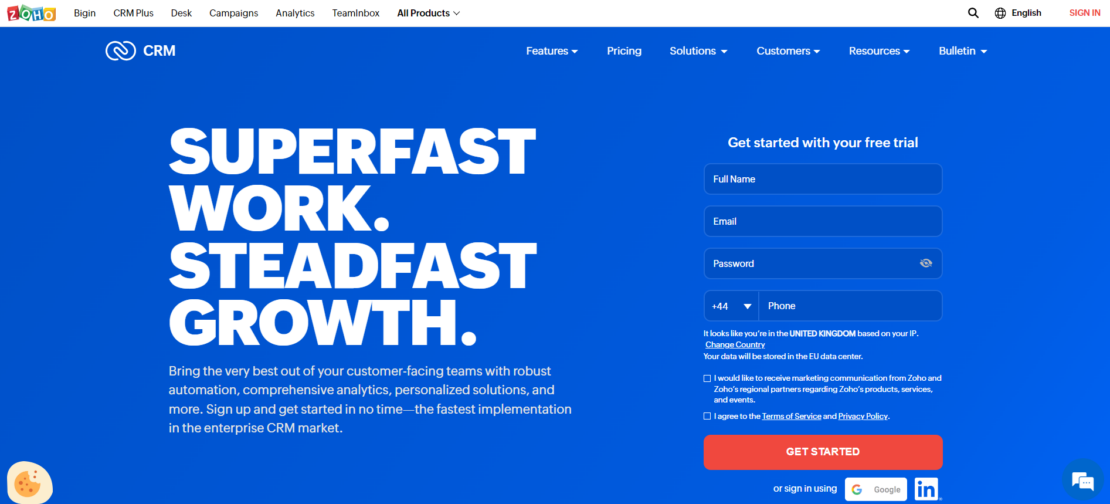 Designed to empower organizations of all sizes, Zoho CRM is one of the most popular CRM systems for ecommerce brands. With Zoho CRM you can build your own platform from the ground up.
Top features
Omnichannel interactions: Zoho CRM lets you centralize information and consistently make impactful customer connections across multiple channels.
Sales enablement: Use content management tools including sales scripts, product sheets and battle cards, manage partner relationships in the portal and plan your time strategically in Zoho CRM's calendar.
Marketing automation: Segment your audience, run email campaigns and drive more leads into your sales funnel with automated marketing tools.
In-depth analytics: Zoho CRM's advanced analytics helps you monitor every step of the sales cycle and make data-driven decisions to boost your chances of success.
Pricing
Zoho CRM has four packages ranging from $14 to $48 per month. Depending on the package, you can access a free trial ranging from 15 to 30 days.
G2 rating
4 out of 5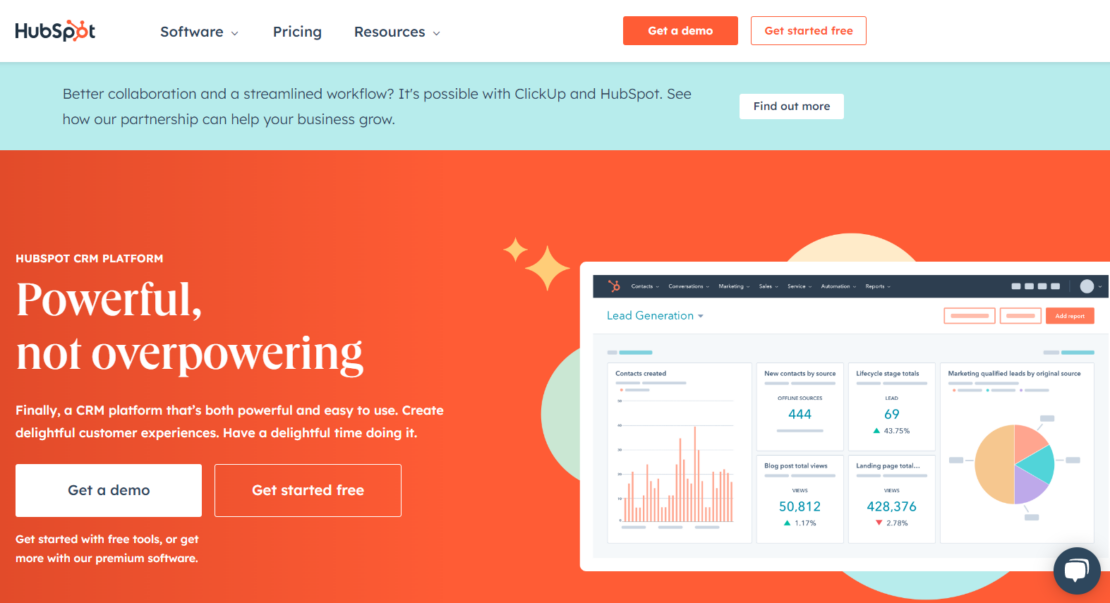 With 150,000+ customers in more than 120 countries worldwide, HubSpot is one of the most widely used CRMs on the market. All of HubSpot's five powerful hubs – Marketing, Sales, Service, CMS and Operations – are united on a single platform. Here we'll outline the features of HubSpot's Sales CRM.
Top features
Email templates: Turn high-performing sales emails into shareable templates your whole team can use.
Email tracking: Monitor the progress of your outbound activity so you know exactly when a prospect opens your email.
Sales automation: Automate sequences to target prospects with personalized emails and follow-ups at every stage of the sales cycle.
Call tracking: Prioritize your sales calls, record activity and automatically log them into your CRM.
Pricing
HubSpot's three marketing hub packages range from $45 to $3600 per month and each includes a minimum number of contacts. The price of each package will increase if you need to add more contacts.
G2 rating
4.4 out of 5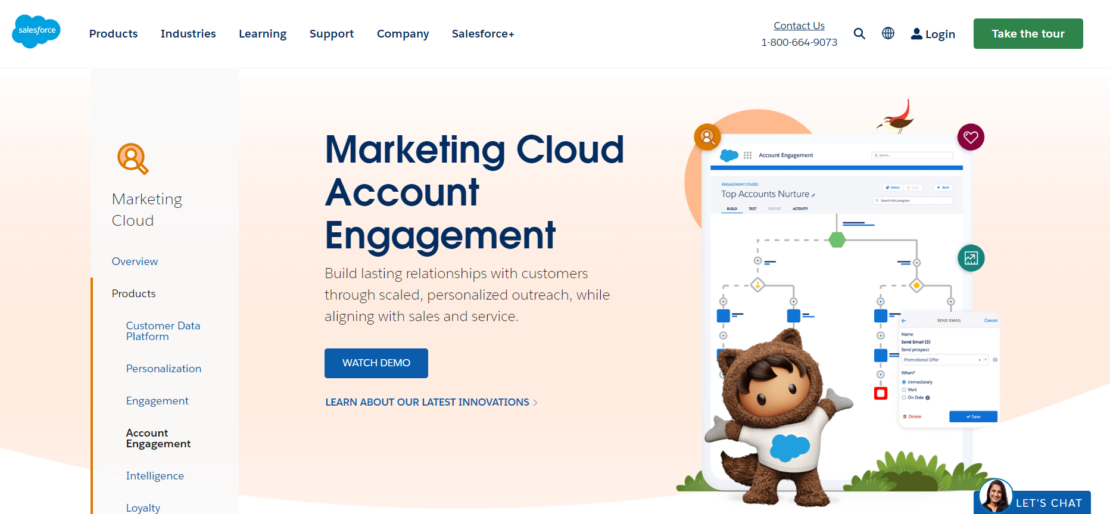 Salesforce Account Engagement is a CRM software most suited to enterprise businesses looking to scale and automate their B2B marketing strategies.
Top features
Customize journeys: Personalize email campaigns and landing pages with Salesforce Account Engagement's no-code builder.
B2B Marketing Analytics: Showcase revenue impact and get predictive insights that connect your marketing efforts back to ROI.
Prospect engagement: Sales reps get full visibility into their prospects' position in the purchase funnel.
Integrate your tech stack: Segment your prospects based on previous engagement with other marketing efforts – including surveys, webinars and video apps.
Pricing
Salesforce Account Engagement starts at $1250 per month and rises to $15,000 per month for their Premium package.
G2 rating
3.9 out of 5
Sendinblue is a leading digital marketing platform for small to medium-size businesses that ties CRM, Email, SMS, Facebook and Chat into an all-in-one platform.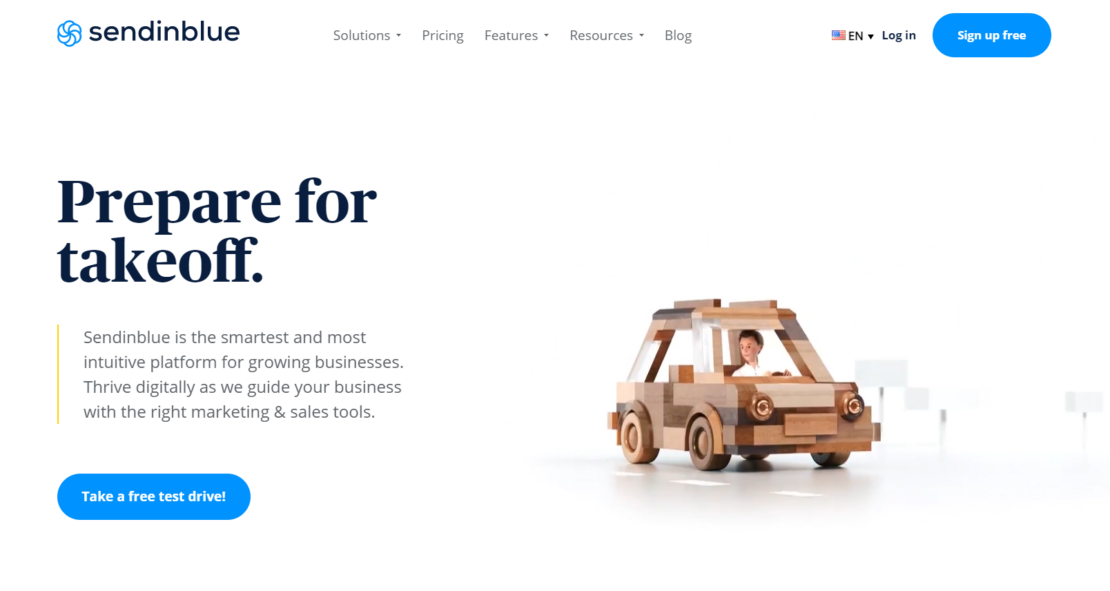 Top features
Pipeline management: Monitor your deals in a centralized platform and track progress at every stage of the sales cycle.
Team collaboration: Link contacts, add notes, attach documents, and assign tasks to encourage collaboration and push your team to reach sales targets.
Track customer interactions: Learn from past wins and losses to refine strategy and assess where you can make the biggest revenue impact.
Pricing
Sendinblue has three core packages ranging from $0 to $45 per month. They also offer a package for enterprise businesses which starts from $800 per month.
G2 rating
4.5 out of 5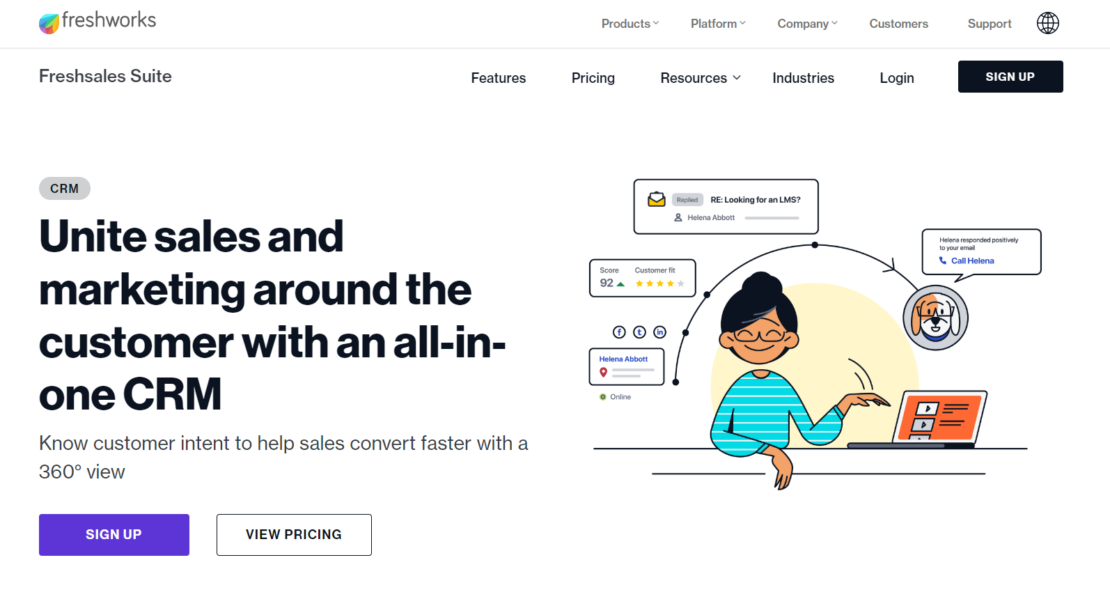 Freshsales Suite is an all-in-one CRM that unites sales and marketing to convert more prospects into customers.
Top features
Customization: Create your own customer lifecycle stages and sales activities, store information from custom fields and manage transactions in the local currency.
Marketing automation: Use A/B testing, heatmaps, audience segmentation and much more to optimize your website and drive more conversions.
Multichannel communication: Build strong customer relationships across multiple sales channels – including email, phone, live chat and WhatsApp.
360 customer views: Get a comprehensive understanding of your customer across multiple touchpoints and bring internal teams together around a shared view of customer data.
Pricing
Freshsales Suite offers four packages ranging from $0 to $62 per month.
G2 rating
4.5 out of 5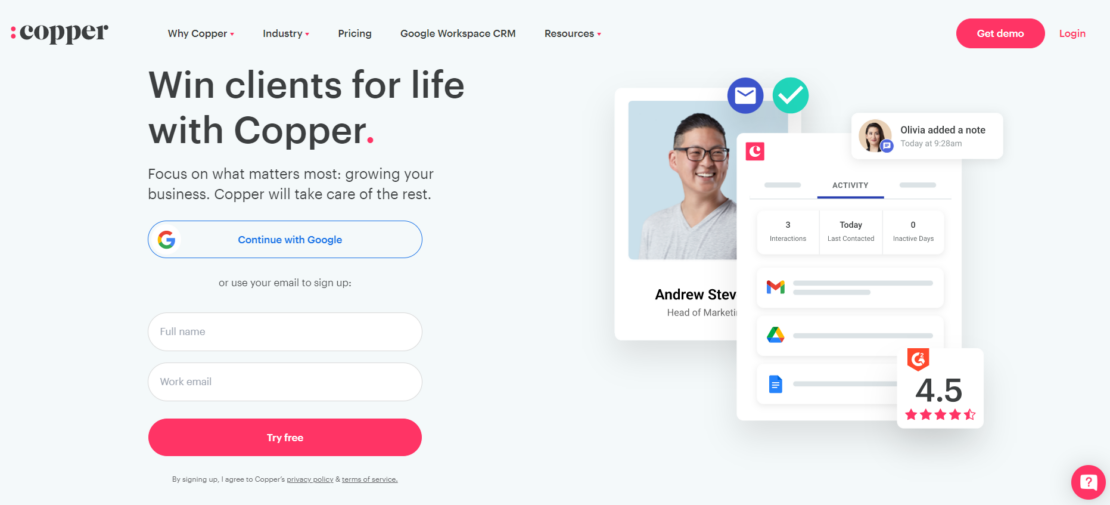 Thanks to its integration with Google Workspace, Copper is an easy-to-use CRM that is used by more than 30,000 companies in over 100 countries worldwide.
Top features
Contact management: Copper organizes every customer interaction and relevant document into one place so you can access a comprehensive view of how the sale is progressing.
Automated follow-ups: Stay on top of your pipeline with personalized follow-up email templates. Assign time-based tasks and set reminders in response to triggers.
Web tracking: For any prospect who fills out a form on your website, Copper can show you where they came from and the pages they engaged with.
Pricing
Copper's three packages range from $23 to $99 per month and are available to trial for free before signing up.
G2 rating
4.5 out of 5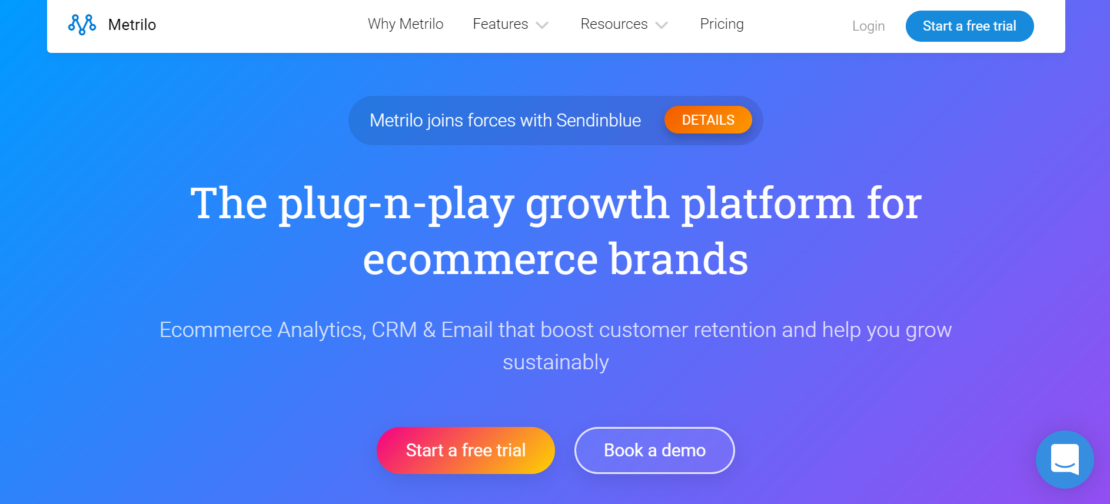 Metrilo is an ideal ecommerce CRM system for DTC brand owners, ecommerce marketers and agencies that manage the growth of DTC brands.
Top features
Customer profiles: Metrilo's in-depth customer profiles give you access to purchase history and on-site behaviors, which helps you create more personalized interactions.
Audience segmentation: Use more than 30 filters and filter combinations to create audience segments for your marketing campaigns.
Email marketing: Use behavioral insights to perfectly time emails and relevant offers. Keep customers engaged and drive maximum impact from your email marketing campaigns.
Pricing
Metrilo has three packages ranging from $119 to $299 per month.
G2 rating
4.7 out of 5
---
The benefits of ecommerce CRM
Using a CRM system helps you build more comprehensive customer profiles to shape your marketing and outreach efforts, as well as creating valuable opportunities for cross-selling and upselling. Building a stronger understanding of your clients and customers will then help you sell more of your product or service.
Most CRM systems are relatively affordable, and in the long run a good platform will help you save time and money. Rather than manually emailing, invoicing, reporting and forecasting, use a CRM to create automated workflows that trigger in response to your customers' actions.
Choosing The Best eCommerce CRM Software
Before you choose a CRM, consider where your business is going to be in 12-18 months. Setting up a CRM is a time-intensive project, so make sure it aligns with your growth ambitions.
For small and medium-sized businesses, Pipedrive, Capsule and Sendinblue are among the best CRM for ecommerce. They're scalable, intuitive and don't require huge investment upfront.
With a powerful marketing automation and sales platform, HubSpot is much more than a CRM – so it's a great option for established ecommerce businesses.
---
Ecommerce CRM Frequently Asked Questions
What is an ecommerce CRM?
Ecommerce CRM (ECRM for short) is a customer relationship management system designed specifically to help ecommerce businesses manage customer contact information, purchasing behavior, and other analytics data.
Which CRM is best for ecommerce? 
The best CRM for your ecommerce business depends on your size and potential for scalability. Pipedrive, Capsue and Sendinblue are excellent options for SMBs. Salesforce Account Engagement is made for enterprise businesses and its pricing structure reflects that. Read our comparison post outlining 10 of the best ecommerce CRM tools on the market for a more in-depth overview.

What are the 3 types of CRM?
There are three main types of CRM: Operational, Analytical, and Collaborative. 

Operational CRMs use sales, marketing, and service automation to streamline business growth. Analytical CRMs focus on gathering and analyzing customer data to improve their experience. Collaborative CRMs facilitate information sharing between various business units, such as the sales, marketing, technical and support teams.