BLOG
9 Best Nosto Alternatives: Level Up Your Website Personalization
Published: Apr 4, 2023
Initially built as a Shopify plugin in 2011, Nosto has since grown into an independent and popular merchandising platform for ecommerce marketers.
The majority of Nosto's customers sign up to integrate data-driven product recommendations into their site, but Nosto has a handful of limitations that blindside ecommerce marketers who place too much importance on product recommendations:
Nosto's A/B testing technology is limited: Nosto don't test for incrementality – i.e. to measure whether making a website change drives a positive result vs leaving your website exactly the same. This means you can't be sure Nosto's experiences are driving better website performance.
HTML coding is required to build any advanced experiences: Nosto's learning curve is steep. You can create a limited number of basic, no-code experiences when you're starting out, but you need HTML coding experience to build more advanced personalized experiences – e.g. geo-targeted countdown timers, progress bars and gamified lead capture forms.
Nosto's library of templates aren't customizable: Nosto are investing heavily in product recommendation features and aren't building new technology for in-page messaging, overlays and CTAs. This is reflected in their simple, generic-looking templates and designs.
Nosto is most compatible with Shopify: Nosto purpose-built their platform for Shopify stores, which means you need to go through a comprehensive mapping process if you want to run Nosto on non-Shopify platforms. If you don't use Shopify, or you're frustrated by Shopify's checkout limitations and looking to upgrade to another ecommerce platform (e.g. WooCommerce, BigCommerce, Magento), Nosto won't be the right solution for you.
In this post, we'll compare 9 of the best alternatives to Nosto. We'll start with our personalization platform, Yieldify, and walk you through eight more personalization solutions for your ecommerce website.
If you'd like a preview of how you can optimize your CRO strategy with Yieldify, feel free to schedule a discovery call here. An advisor from our sales team will be delighted to share more.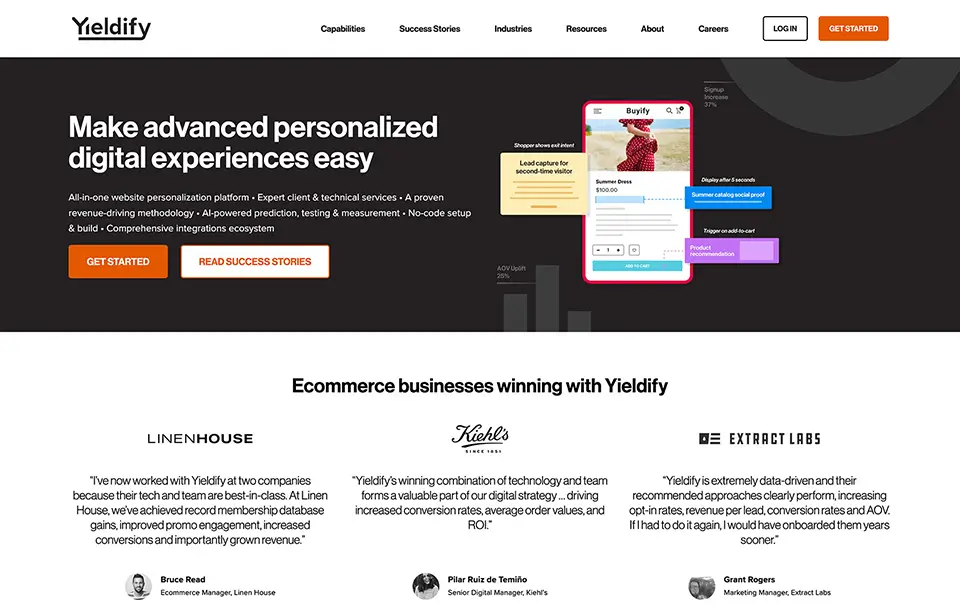 Yieldify is a fully managed, no-code alternative to Nosto built to help marketers increase email & SMS leads, conversion rates and average order values. 
By leveraging Yieldify's deeply segmented and highly targeted on-page messaging, you can personalize your customers' on-site experience at every stage of their journey – from entry to sale and repeat business.
With a market-leading team of dedicated account strategists, graphic designers and technical engineers, Yieldify can plan and execute your entire personalization strategy for you.
Here's how Yieldify addresses the problems you'd encounter with Nosto:
Yieldify's account strategists test every website change against a control group, ensuring you always know if website changes have driven increased CVR, ROAS and revenue.
You can use the whole suite of Yieldify products without involving your engineering team. After a one-touch setup (adding a JavaScript snippet to your site using a tag manager), you immediately have every Yieldify feature at your fingertips.
Yieldify content is 100% customizable. Everything you create with Yieldify can be customized to align with your brand – ensuring your personalized content appears native to your site.
Yieldify can integrate with any website platform – including Shopify, WooCommerce, BigCommerce and Magento, as well as your own custom CMS.
Here's an in-depth look at the features Yieldify customers love:
Uncover 5x More Customer Journey Insights with Advanced Audience Analytics
Most of our customers are in the dark when they sign with us. They want to build a solid website optimization strategy, have tried to improve conversions based on guesswork (in my experience, normally with very limited success), and don't know where to get started with a data-led approach.
The problem is that popular website analytics platforms like Google Analytics don't provide a complete picture of your customer journeys. They provide a good starting point for foundational insights, but lack the detail you need to increase conversions.
For example, Google Analytics can only report your customer journeys in one direction (aka mono-directionally). That means you can see what happens when users go down the funnel – for example, from homepage to checkout. But you can't tell if they go back up the funnel – for example, from product pages to category pages and back again.
In theory, you could manually map each journey type with Google's Users Flow reports. But that's a painstaking process most marketers simply don't have time for. Besides, we rarely come across customers who actually find them useful. The result? A substantial blind spot in your understanding of your customers' journeys.
To help you truly understand your visitors' behavior, at Yieldify we use data analytics and insights tools – including Sunburst charts – to uncover 5x more customer journey insights than Google Analytics.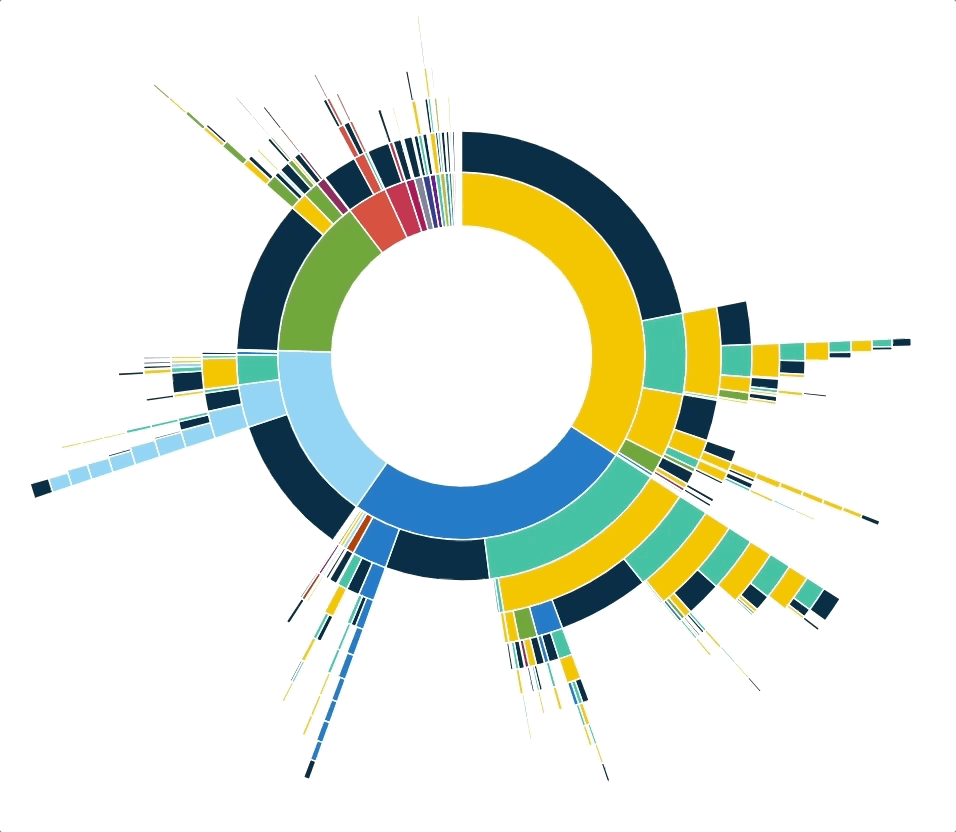 Yieldify Sunburst charts provide an interactive, 360-degree view of your customer journeys, so you can see exactly how your visitors advance through the funnel – regardless of what direction they take.
We break down journey types to find conversion opportunities, including by:
Traffic source
First-time and returning website visitors
New and returning customers
Converting and non-converting journeys
And many more
The goal? To uncover funnel friction, signpost your visitors onto the best conversion path and improve performance – whether that's more sign-ups, logins or sales.
Increase Ecommerce Conversion Rates with Sophisticated On-Site Testing Technology
Almost every ecommerce marketer we work with is looking to increase their website conversion rates.
The reality is that the cost of customer acquisition has been steadily rising for five years – and that's undermining the money and time you've invested in paid advertising and SEO.
Given the state of play, it's never been more important to get maximum value from your website visitors. The best way to do that is through running on-site tests, but on average just 10% of website tests reach statistical confidence – i.e. gather enough data to be certain the test is driving a positive result.
At Yieldify, 50% of our experiments reach statistical confidence thanks to our advanced testing methods:
1. Incremental testing
If you don't test your website optimizations against a baseline (like Nosto), you won't know if you're actually improving performance. That's why we always run optimizations as incremental tests before running an A/B test. No smoke, no mirrors – just clear, actionable results.
In an incremental test, we change a single website element for 50% of your audience (the test group), and we don't change anything for the other 50% (the control group). With a test and control methodology, we can show you the actual performance uplift delivered by an optimization. It also guarantees that we isolate our impact on conversion rate and revenue from other factors such as seasonality.
2. A/B & A/B/n testing
When we know a website experience performs better than your baseline, we'll then optimize its performance through A/B testing. We divide your traffic into two groups of 50% and show them different experiences to uncover which variant drives the best outcome.
For example, we could test two different versions of a social proof experience – altering the design, placement, CTA, triggering, or targeting rules – to determine which drives the biggest conversion rate uplift.
If you're driving more than 100k monthly website visits, you can test up to 5 different variants with Yieldify's A/B/n testing technology. The inclusion of additional variants helps us uncover actionable audience insights quicker than a standard A/B test.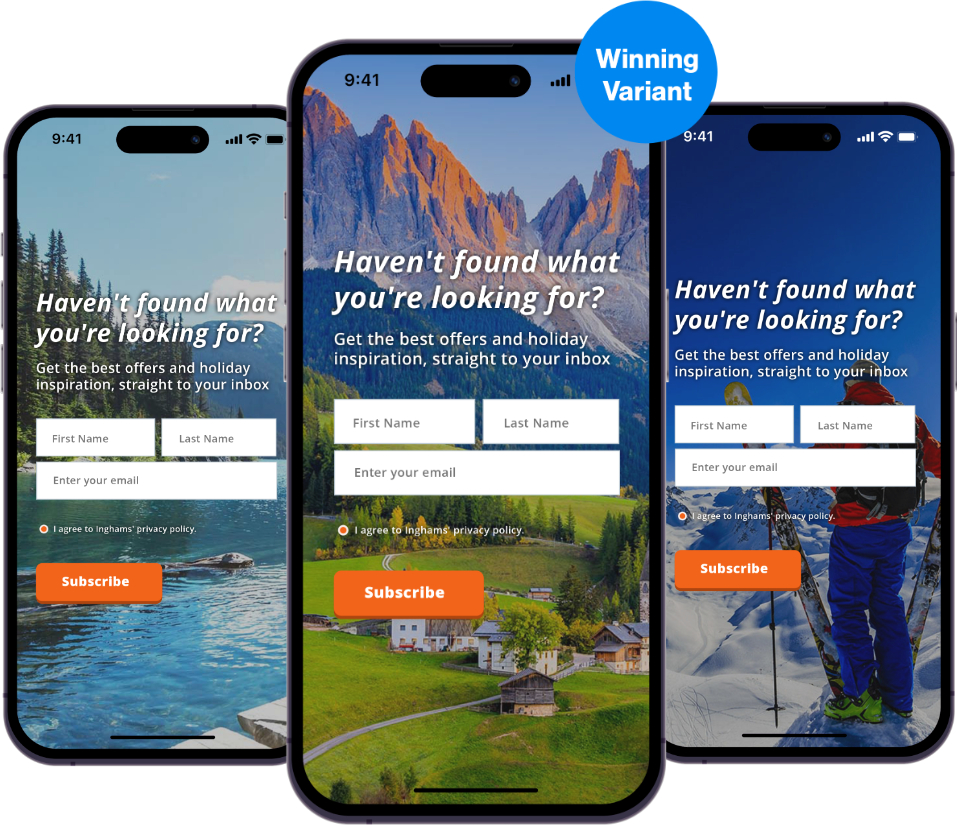 3. Performance Predictors
Yieldify's Performance Predictors can tell within days if a test will improve or hinder your website performance. That way you don't have to waste weeks or months to work out the impact of a website change.
When our AI-powered algorithm predicts negative performance, our account strategists end the test, review the data and amend the experiment – whether that's changing the copy, creative or audience segment. That way we help our customers turn a losing test into a winning one, ensuring they can resolve friction points faster and don't waste time on the wrong approach.
Fully Managed Customer Journey Optimization – Including CRO Expertise, Data Analysis, Graphic Design & Technical Engineers
Most ecommerce marketers we work with simply don't have the expertise to streamline customer journeys. They've got clear goals for their website and a raft of data to work with, but no direction on how to devise and execute their own optimization strategy.
If you're in that position, then Yieldify is the perfect solution for you. Our full-service team – including CRO specialists, data analysts, graphic designers and engineers – handles your entire customer journey optimization strategy for you.
Simply tell us your website goals and we'll do all the heavy lifting. That way you can:
Analyze customer journeys
Uncover deep audience insights
Define your CRO strategy
Personalize your customer journeys
Run A/B and A/B/n tests
See in-depth reports on your performance
Once you get started with Yieldify, your dedicated account strategist will analyze your website data to understand where your customers are bouncing and why. They'll inspect your UX, review your Google Analytics and evaluate your website's current performance against Yieldify's 30 billion benchmarking data points. Armed with that insight, they'll get your first data-driven tests live within 14 days.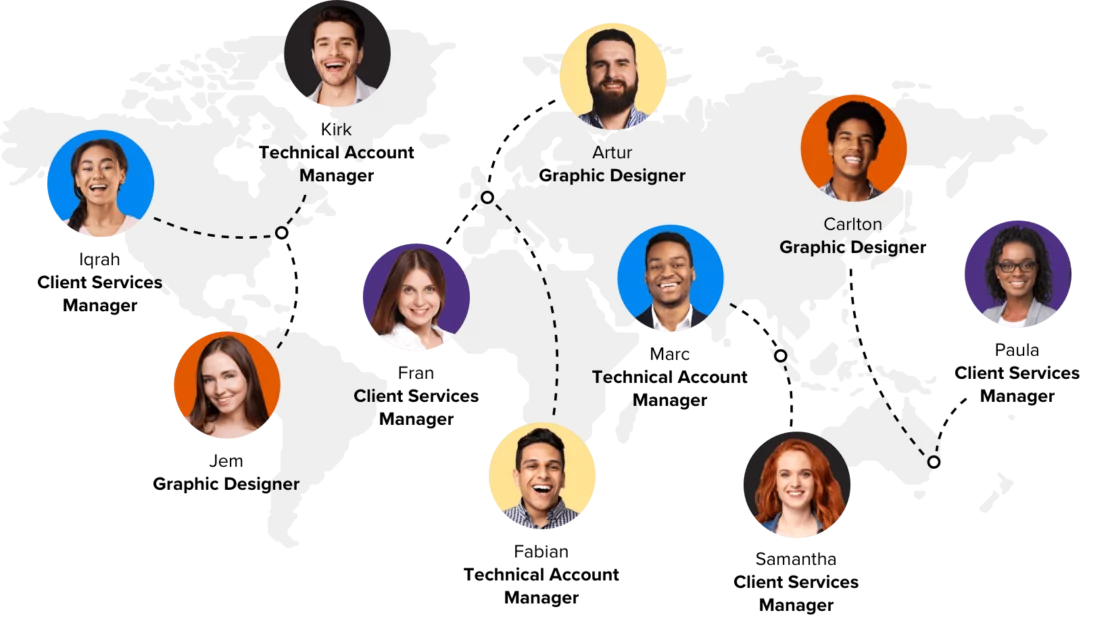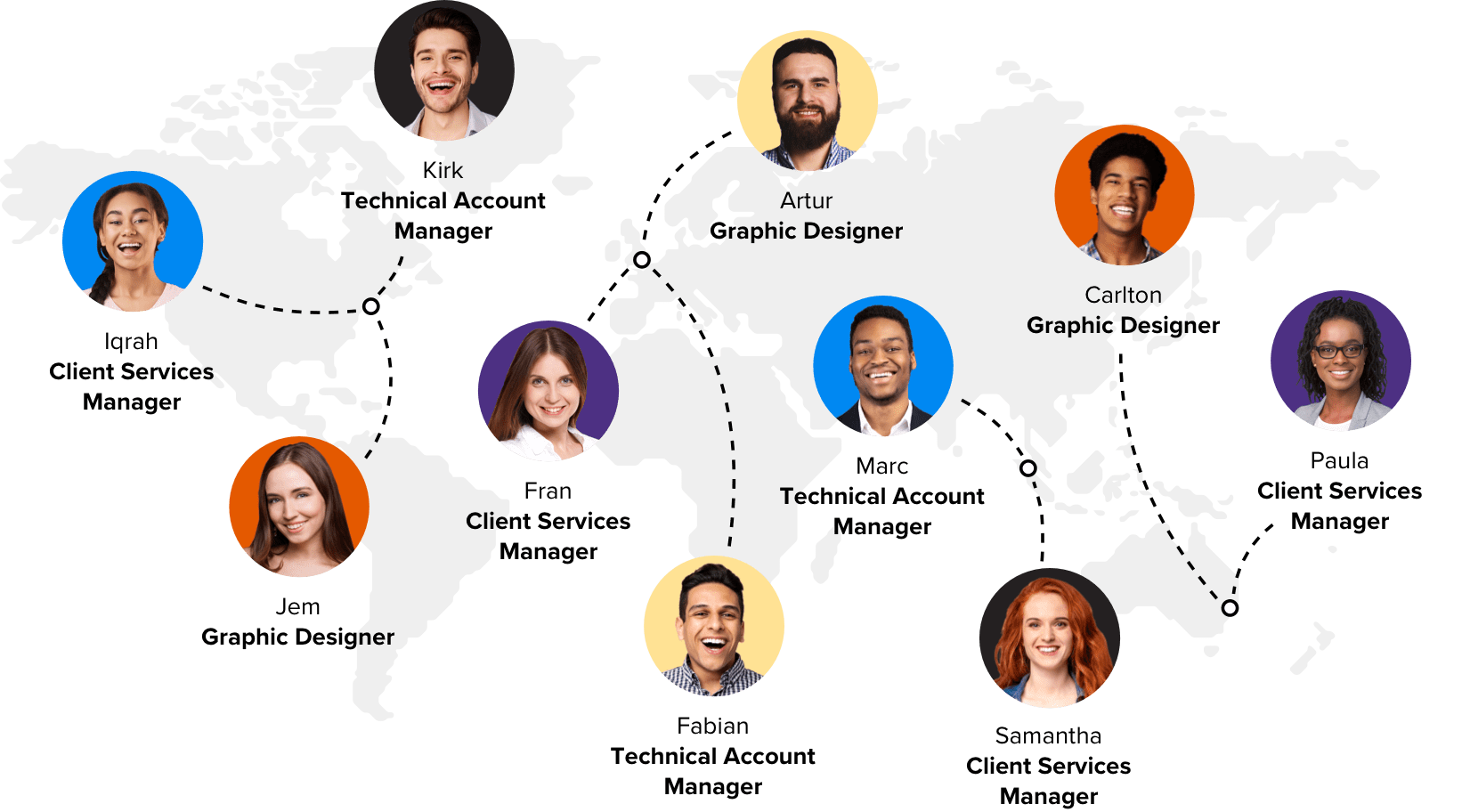 Your input? Simply install a single line of Yieldify code onto your site via a tag manager. After that, you can be as involved as much or as little as you like. We typically only need 2-4 hours of your time each month for discussing strategic recommendations, signing off creative or reviewing revenue results.
Go Beyond Product Recommendations with Deeply Segmented and Highly Targeted Personalization
If you're considering Nosto, it's safe to assume you've got product recommendations on your radar. But product recommendations represent just one small aspect of personalization, which is why many marketers use Yieldify in conjunction with a product recommendations tool.
At Yieldify, we bring full-funnel personalization to ecommerce brands by launching website experiences that adapt to customer journeys. We do this by segmenting your customers into subgroups, before targeting them with in-page messaging that's most relevant to their on-site behaviors.
For example, we can show different on-site experiences to your customers based on:
New vs returning users
Purchase history
Time on site
Acquisition source
Browsing history
Unlike Nosto, all of Yieldify's audience segments are readily available on our platform and don't require HTML coding experience to build. Plus our account managers will define the best segmentation strategy for you after analyzing your website data.
Beyond segmentation, our deep range of triggering rules ensure that your experiences appear at the right time. Some personalization tools overwhelm customers with intrusive, ill-timed messaging. Rather than accelerate conversions, this damages the user experience and pushes customers away from your brand.
But at Yieldify, we set all of our experiences to appear at the optimal moment in your customers' journey using a range of triggering rules – including on inactivity, scroll depth, in response to exit intent behaviors, and on site return.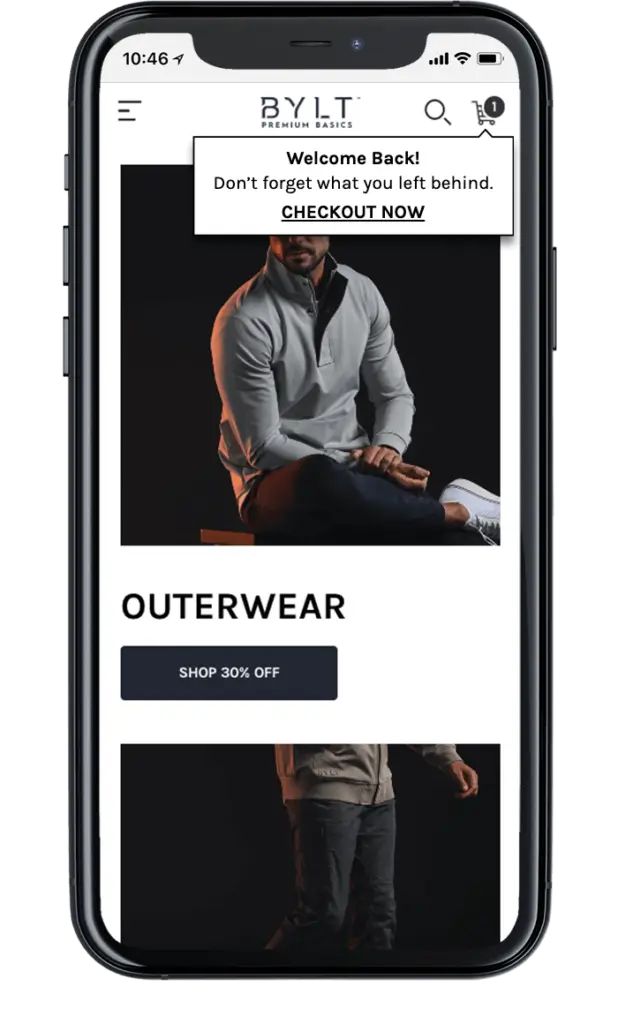 Together, our deep segmentation and triggering capabilities help you build more personalized experiences for your customers. And thanks to our testing techniques, you'll always know if your audience segments and triggering rules are driving your key metrics – whether you're looking to increase leads, conversion rates or average order values.
Yieldify reviews:
Overall G2 rating = 4.7/5
Ease of use = 9.2
Quality of support = 9.7
Ease of setup = 9.2
If you'd like a preview of how you can optimize your CRO strategy with Yieldify, feel free to schedule a discovery call here. An advisor from our sales team will be delighted to share more.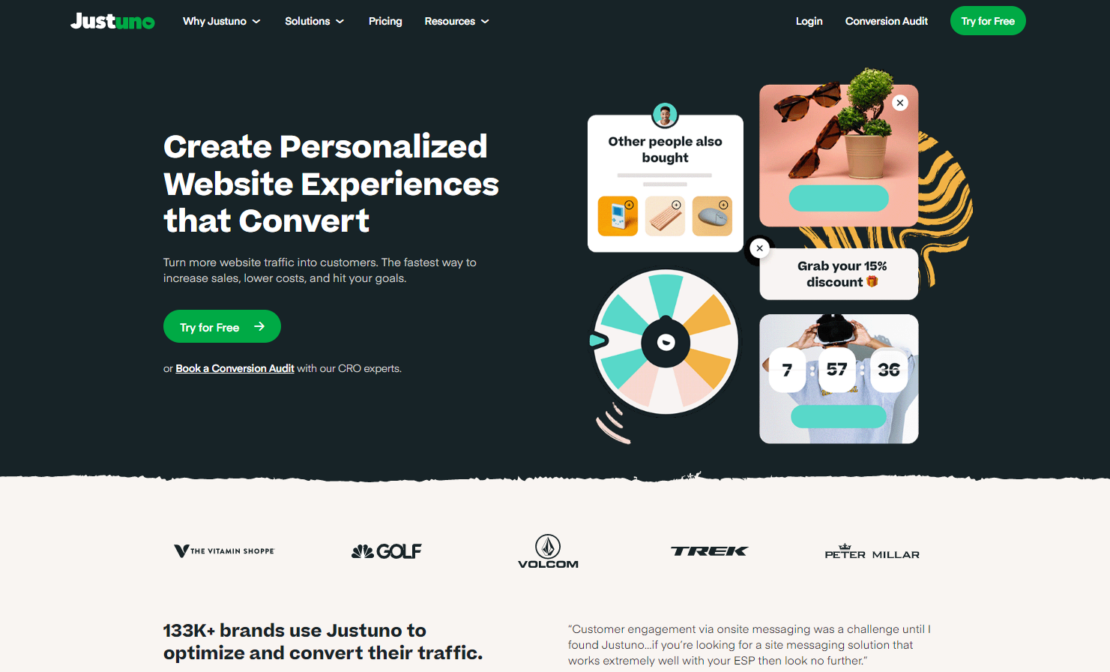 Justuno is a self-service CRO platform, offering a suite of features to help customers launch a series of pop-ups on their website.
Like Nosto, many ecommerce marketers use Justuno for their data-driven product recommendations. Within the Nosto platform you can target specific goals with your product recommendations – i.e. upsell or cross-sell – and filter products by price range, categories, stock levels and more.
However, it's worth bearing in mind these features are difficult to execute because of Justuno's clunky design editor and manual, tedious integrations.
Their customers have also expressed concerns about Justuno's performance reporting, which overestimates the impact of their website pop-ups. That's why scaling and enterprise businesses with more advanced personalization needs are unlikely to meet their revenue goals with Justuno.
Justuno Reviews:
Overall G2 rating = 4.3 / 5
Ease of use = 7.9
Quality of support = 8.8
Ease of setup = 8.2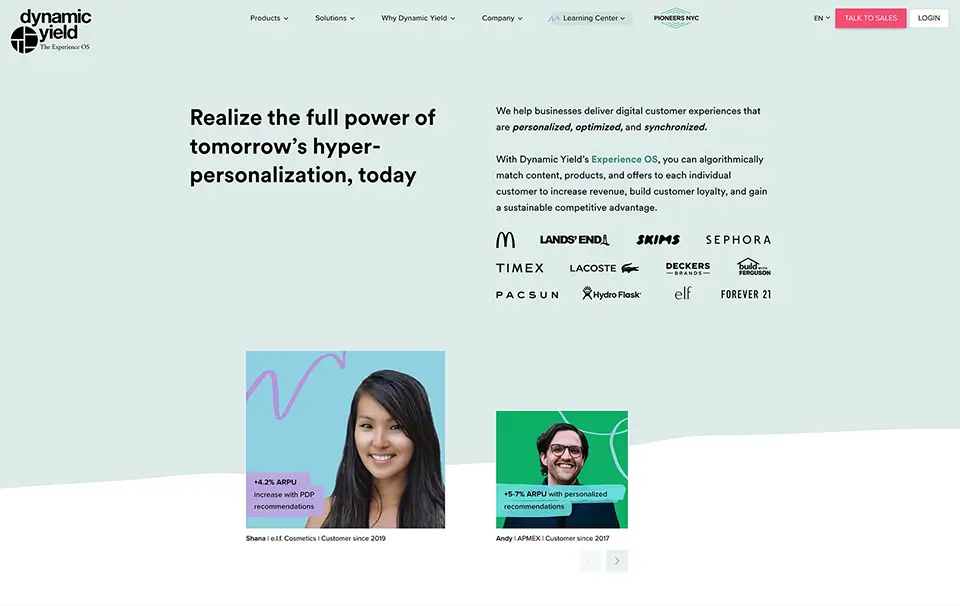 Dynamic Yield is an all-in-one personalization platform designed for self service. It helps ecommerce brands build multichannel strategies to target different personalization segments and has a data-driven product recommendation engine.
However, Dynamic Yield comes at a significant cost and internal expertise is needed to manage the platform effectively. They provide documentation on how to use their platform, but HTML coding experience is required to build more advanced features like custom targeting rules.
A limited number of out-of-the-box templates are available for less technical users, but it's not a suitable platform for beginners to personalization who don't have an extensive technical team to lean on. For example, technical expertise is needed to launch and test core personalization campaigns like countdown timers.
Dynamic Yield reviews:
Overall G2 rating = 4.4 / 5
Ease of use = 8.1
Quality of support = 8.8
Ease of setup = 7.3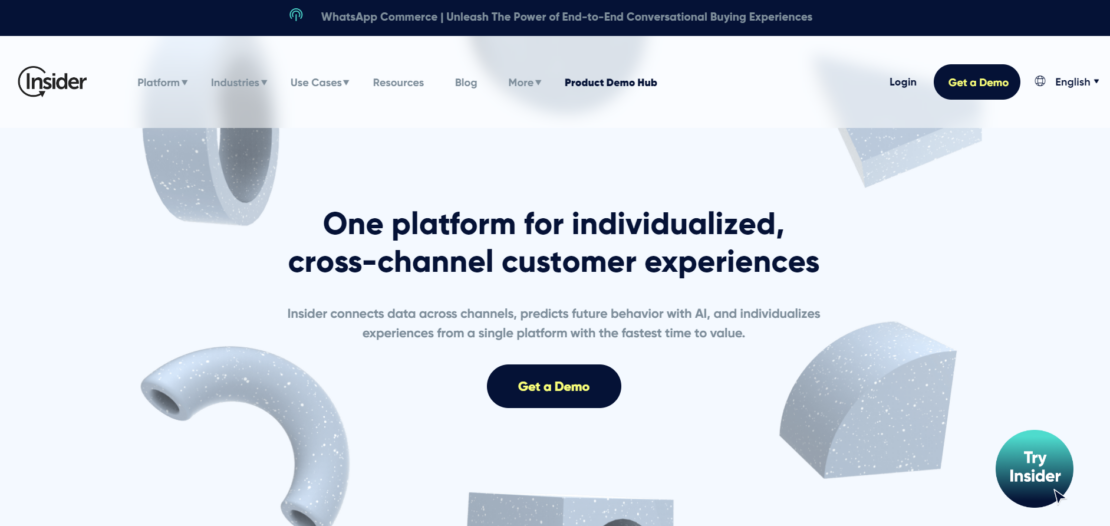 Insider is a marketing platform for delivering individualized, cross-channel customer experiences. As a self-service tool aimed primarily at small to mid-market businesses, Insider's features prioritize templatization and automation over customization and flexibility.
Like Nosto, Insider uses predictive analysis to provide data-driven product recommendations, and it's also investing heavily in SMS marketing software. Insider offers some interesting features for ecommerce brands, but customers with limited personalization experience will need plenty of support to use the platform effectively.
While Insider provides some technical support, their customers have been frustrated by slow response times. Other users have said their requests can get lost in translation when they're communicating with the technical team.
Insider reviews:
Overall G2 rating = 4.7 / 5
Ease of use = 9.3
Quality of support = 9.6
Ease of setup = 9.1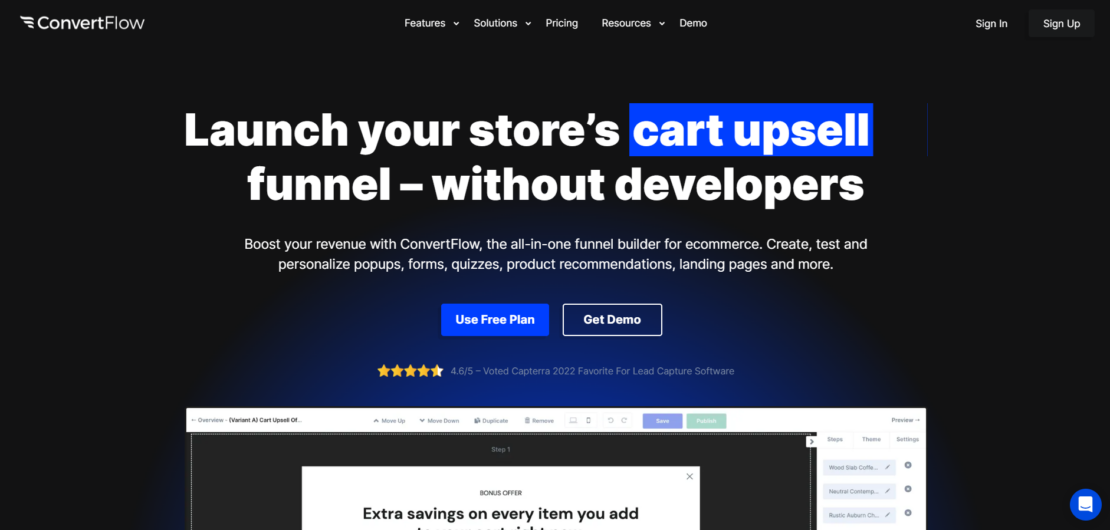 ConvertFlow is an all-in-one, self-service funnel builder for ecommerce brands – providing pop-ups, quizzes, landing pages, product recommendations and surveys.
It has a broad range of features to help customers lift email and SMS leads, AOVs and customer lifetime value, but its counterintuitive user interface makes it difficult to drive measurable results. ConvertFlow's customers have struggled to navigate the slow, deeply layered platform, and have complained there is a lack of available support to learn how to maximize its potential.
These problems mean it takes time and patience to achieve your revenue goals with ConvertFlow.
ConvertFlow reviews:
Overall G2 rating = 4.4 / 5
Ease of use = 8
Quality of support = 8.3
Ease of setup = 9.1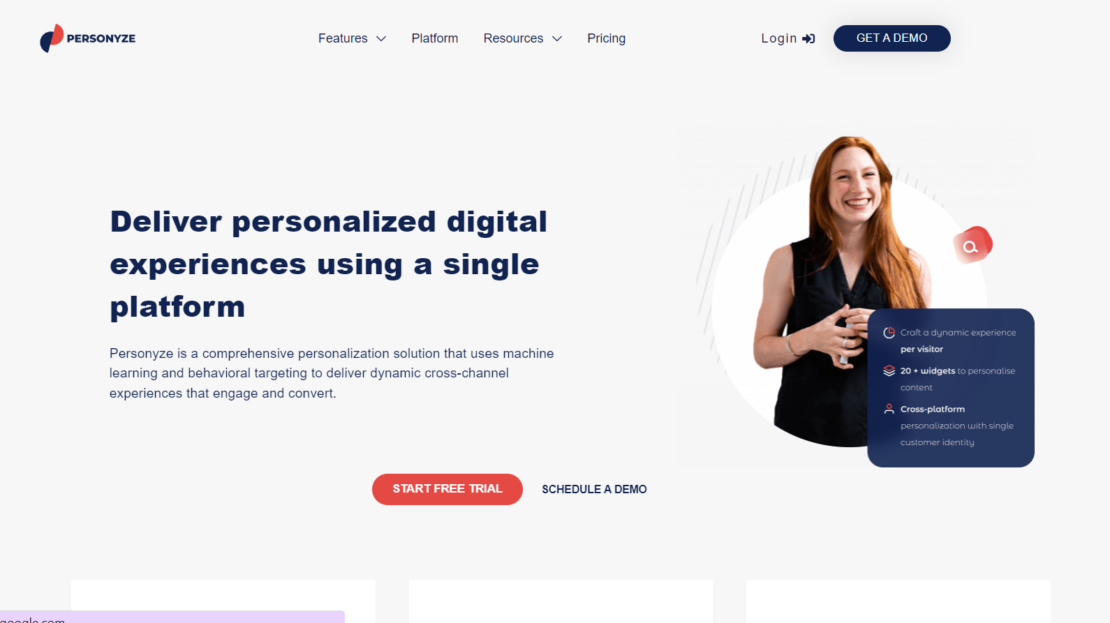 Personyze is a personalization suite for omnichannel personalization and marketing automation. It offers customers a range of personalization opportunities, from product recommendations and A/B testing to social proof and on-site pop-ups, to improve the on-site experience.
Personyze is neither a purely self-service or a fully managed platform, offering heavy support during the onboarding process to upskill customers so they can eventually use the platform independently.
But with limited training resources and no how-to videos available for users after they've been onboarded, Personyze is another self-service platform that requires time and effort to learn. Some Personyze users have also been disappointed by the lack of filtering options available in the reporting dashboard.
Personyze reviews:
Overall G2 rating = 4.8/5 (3 reviews)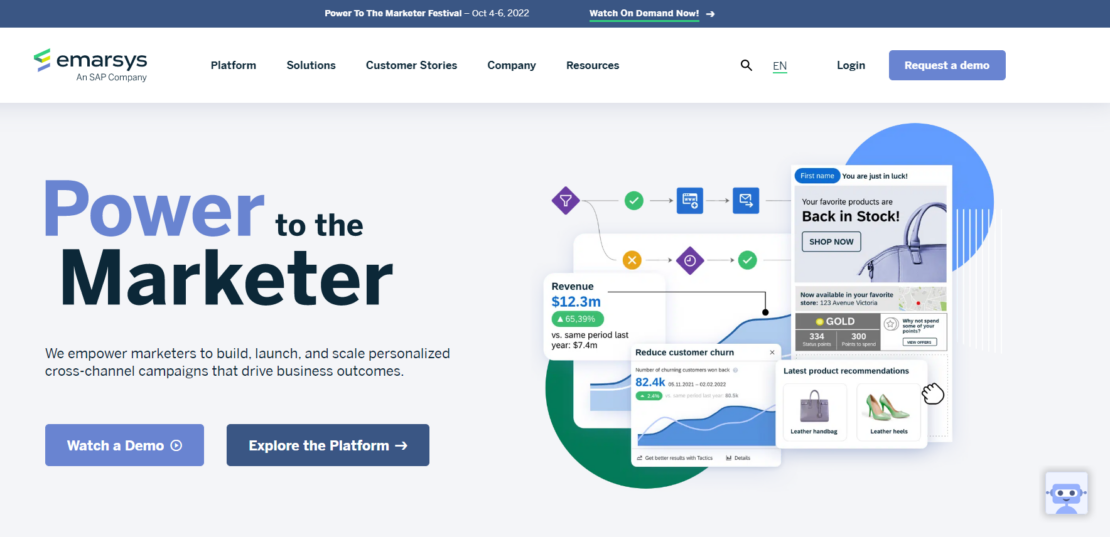 Emarsys is a self-service customer engagement platform that helps brands deliver personalized experiences and accelerate business outcomes. In addition to product recommendations, Emarsys lets customers create both single-channel campaigns and cross-channel journeys at scale.
Like most of Nosto's direct competitors, many of Emarsys' features, such as advanced segmentation and A/B testing, are difficult to leverage for users who are new to marketing automation. Emarsys do offer technical support to respond to ad-hoc requests, but users often have to wait for days to get a response from their team.
And if you're looking to build product recommendations into your email marketing, you'll need to purchase add-ons like Open Data and Relational Data.
Emarsys reviews:
Overall G2 rating = 4.3 / 5
Ease of use = 8.3
Quality of support = 8.5
Ease of setup = 7.3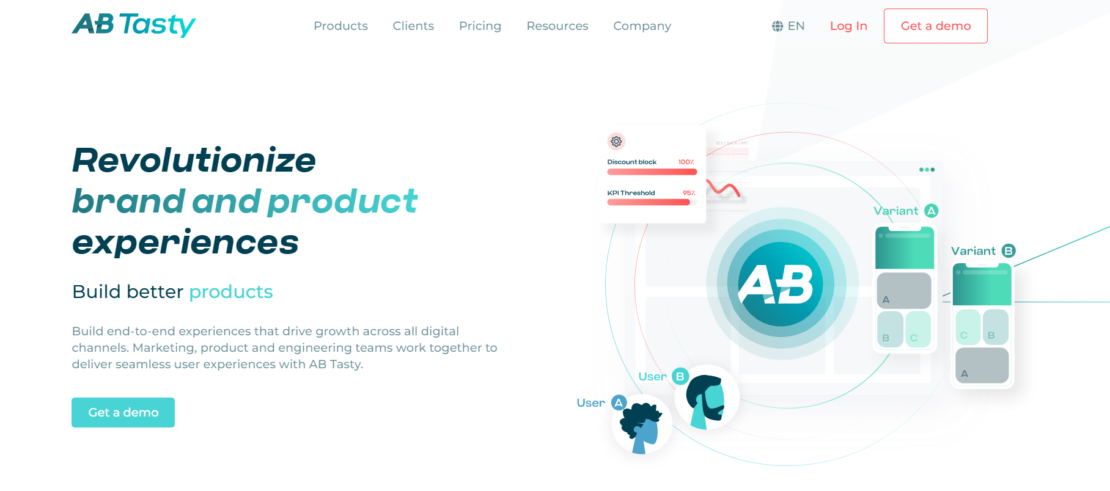 AB Tasty is a self-service, in-page personalization platform designed to test, optimize, and deploy web page modifications. Lots of AB Tasty's customers started using a free A/B testing platform before switching to a paid tool.
AB Tasty lets customers run in-page tests to create more personalized customer experiences, but their on-site personalization functionality is limited because they aren't able to provide information on customer demographics.
Due to the limitations of AB Tasty's WYSIWYG editor, you'll need knowledge of Javascript or CSS to get maximum value from the platform. That's why it's not suitable for marketing teams with limited developer resources.
AB Tasty reviews:
Overall G2 rating = 4.4 / 5
Ease of use = 8.6
Quality of support = 9.3
Ease of setup = 8.5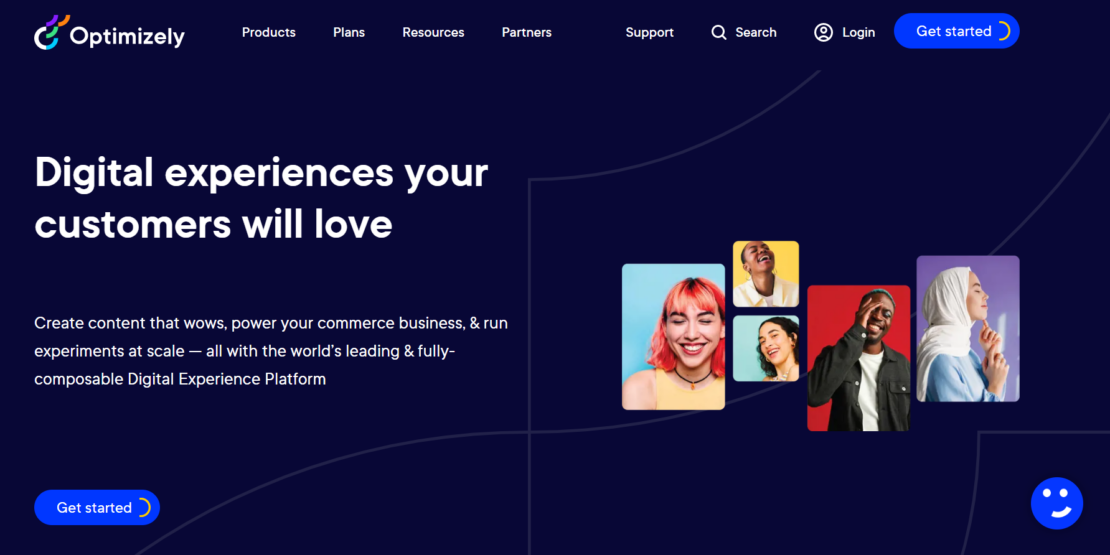 Optimizely is a self-service, all-in-one personalization platform designed primarily to allow clients to run in-page tests and experiences. One of its main advantages is that it's designed for scale and has a visual editor for users without extensive coding knowledge.
However, Optimizely's visual editor will only take you so far and developers with JavaScript knowledge are needed to run more complex experiments. And because most experiences need hard-coding into your website, Optimizely users can typically only run 8-10 experiences annually.
The need for coding experience means Optimizely is best suited to technical product managers and development teams rather than ecommerce marketers.
Optimizely reviews:
Overall G2 rating = 4.2/5
Ease of use = 8.2
Quality of support = 8
Ease of setup = 8.3
Selecting a Nosto alternative
While Nosto is a good product recommendation tool, its limited testing and on-page messaging capabilities, combined with the need for coding experience, will halt the progress of ecommerce marketers with more advanced personalization needs – especially if you're not using Shopify.
As I outlined in this piece, Yieldify's personalization platform is an excellent alternative for ecommerce marketers who want to reap the benefits of personalization and website testing without the heavy lifting.
If you'd like a preview of how you can improve your sales and growth with Yieldify's fully managed, personalization platform, feel free to schedule a discovery call here. One of our advisors will be delighted to share more.