BLOG
Content Personalization: 5 Examples to Jumpstart Your Strategy
Published: Nov 11, 2020
80% of consumers say they are more likely to shop with brands that provide a personalized experience. So how do you get started with content personalization and what are some good examples for eCommerce? Read our blog to find out…
There has been explosive growth in eCommerce in recent years, with total eCommerce sales projected to reach 19.2% by 2024, a near 10% jump from 2018. However, this rosy picture is not without its thorns.
Mobile connectivity, while a godsend for consumers, can be a real challenge for retailers trying to meet – and exceed – customer expectations.
Take a look at the picture below… Not so long ago, the dissatisfaction from receiving an order like this would've ended with a couple of disgruntled remarks to the restaurant employee. Today it's a whole different story: A Tweet sent out to hundreds of followers, a negative Yelp or Google review, a scathing article in some pop media outlet, or even a petition (yes, those happen!) can appear within seconds and tarnish the brand reputation for years to come.

In fact, according to Salesforce research, 67% of respondents said their standards for good experiences are higher than ever. Modern consumers expect consistency, immediate and responsive service, but above all – personalization.
In the same survey, 84% of customers said being treated like a person, not a number, is very important to winning their business. A successful online store today must not only curate high-demand products or services but also provide tailored shopping experiences and personalized content.
Let's dive deeper into content personalization and learn from practical eCommerce examples that are leading the way in personalization.
What is content personalization?
In a nutshell, content personalization is the process of tailoring content that is visible to the customer based on their profile or preferences.
To illustrate with a basic practical example, imagine landing on an international website and having the content displayed in your native language. Ultimately, a well-crafted content personalization strategy means two friends could be looking at the same website and see different information.
There are a variety of ways to implement content personalization on your website, but they usually come down to customizing based on the following types of data:
Demographic data – demographic data includes factors such as age, gender, race, education, employment and income information, marriage status, etc. Knowing this eCommerce businesses can show different promotional offers to single parents vs retiring couples.
Contextual data – Gartner defines contextual data as "any relevant facts from the environment." When talking about content personalization, this can mean things like device or browser that is used, geographic location and weather conditions, social media interactions, etc.
Behavioral data – behavioral data refers to the information gathered from the activity on the website and is usually related to purchasing and usage behavior, occasion and timing, benefits-sought, loyalty, etc.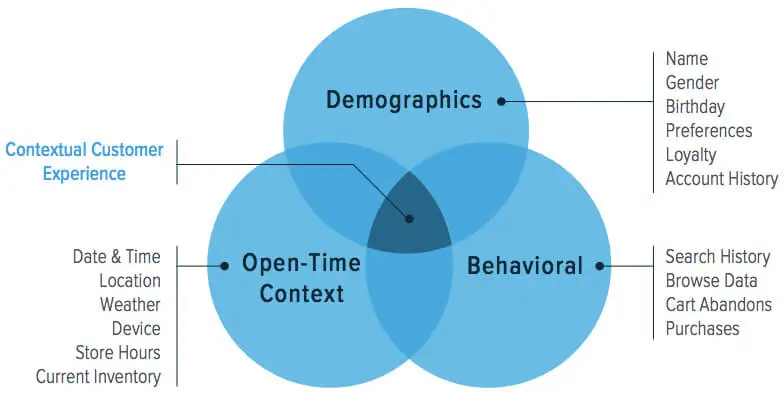 Customization vs personalization
Slightly different but often mixed into the same pot with personalization is customization. Customization is different from personalization in that customization is actively done by the user (think of actions like filtering or sorting on a results page), whereas personalization happens to the user based on rules predetermined by the business.
Think of it this way: You adjusting your screen brightness at night is customization. Your smartphone automatically recognizing the time of day and setting your screen to night mode is personalization.
The two are interconnected, however. A customer who's always choosing to filter items by Low-High price might be categorized as price-sensitive and thus shown different personalized content than someone who filters the other way around.
Here's an example from Bombinate, an online store for highly curated menswear clothing, furniture, and interior decor sourced from European craftsmen.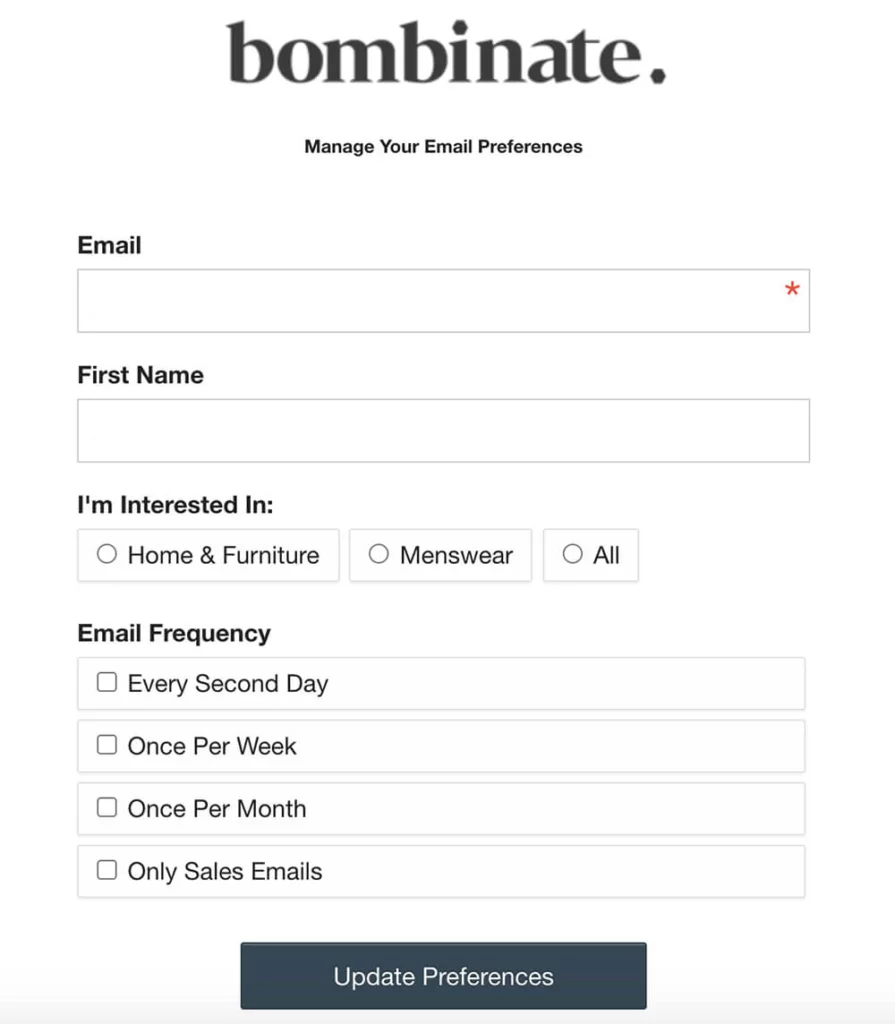 The brand is aware that it attracts various audiences and not all offers will be equally relevant. While on their website people can navigate to chosen categories themselves, it could pose a challenge to personalize communications via other channels, such as email. Bombinate found a solution.
When you sign up, you get to choose your email preferences to tell Bombinate whether you're interested in home and furniture, men's fashion, or both. You can also set the frequency of emails so you get content that you want and when you want it.
You've explicitly customized the marketing communications that you receive from the company, but the company also gets to personalize their messaging based on this explicit data.
Why is content personalization important?
We've already established that consumers expect personalization as part of their shopping experience. But it's important to understand that this need is not self-inflicted.
On the contrary, online consumers are targeted by a neverending stream of promotional messages, which makes the process of shopping rather overwhelming. Studies have shown that having too much choice can be a turn off to shoppers. The term "overchoice" or choice overload, coined by Alvin Toffler in his 1970 book Future Shock, describes how people can experience cognitive impairment when presented with too many options.
According to the Kellogg School of Management, one way to combat choice overload is to help customers narrow their options based on their preferences. People like the idea of hundreds of options but only want to be presented with the best and most relevant to their needs when it comes to decision-making. Personalizing the content on your site is the only real way to accomplish that consistently.
"Choice overload can leave you dissatisfied with the choice you made, what is often described as 'buyer's remorse.' Or it can even lead to behavioral paralysis, which Bockenholt explains as a situation 'where people are faced with so many choices that they can't decide among them and make no choice at all.'"

Ulf Bockenholt, professor of marketing at Kellogg
Here's a good example for financial services. A study performed by Columbia University Business School professor Sheena Iyengar featured 800,000 employees across 647 companies who were offered retirement packages that had either two options, or 59 options. When offered two options, there was 75% participation, with 59 options participation dropped to 60%.
This goes on to show that personalization matters on both the experience and conversion level. According to Yieldify's "research into personalization trends post-COVID-19, these are the main motivators to pursue a website personalization strategy: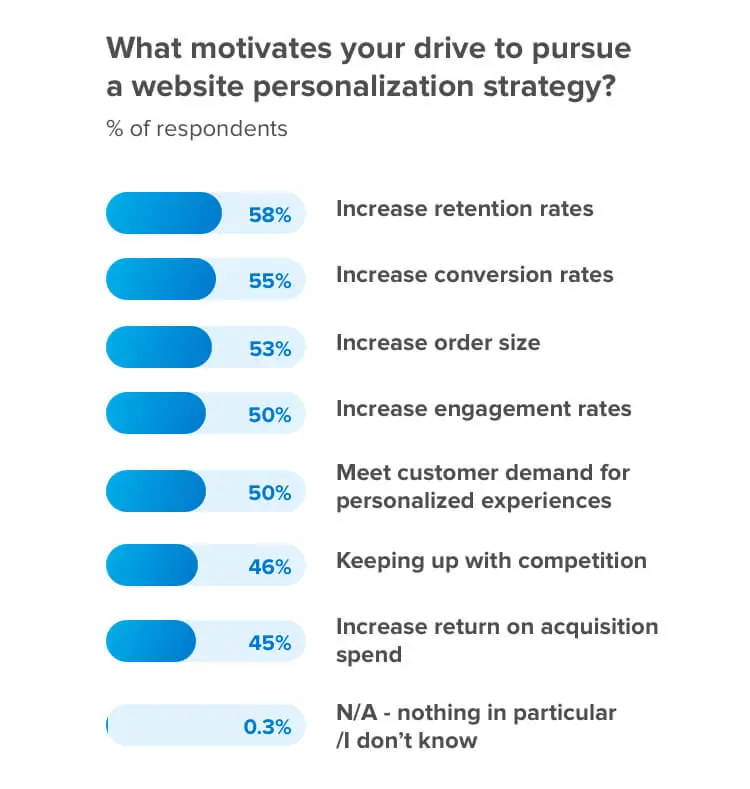 I'm a small eCommerce business – should I pursue personalization?
The short answer is yes. The long answer is… YESSS! Kidding.
First, let's reiterate the fact that eCommerce has experienced 10 years' worth of growth in only three months following the COVID-19 outburst. What this means, in plain terms, is that there's more choice and more competition than ever before.
So if before you might've been the only online retailer selling freshly roasted coffee beans to coffeeholic in your area, chances are you aren't anymore.
What's more, you mustn't delude yourself that you're only competing with other coffee roasters in your area. Globalization means that shoppers can have their coffee shipped from almost anywhere else in the world in a matter of days. And don't forget about replacement competitors, such as energy drinks, caffeine tablets, concentrates, et al.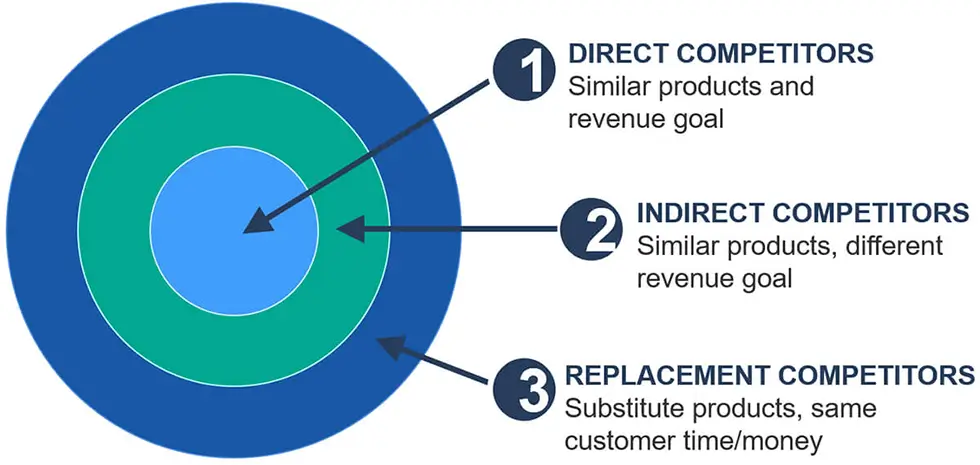 7 inspiring content personalization examples for eCommerce
1. Aveda
Aveda is a popular beauty brand with a significant online presence. One of the key things in providing a good user experience for Aveda is to match their products to specific concerns that a customer might have.
However, problems arise when even the customers themselves don't really know what those concerns are. Is my skin dry or dehydrated? Do I have scalp irritation or is normal to have itchiness here and there? In the store, this would be as easy as having a consultant take a look and decide what's what. But online it's a whole different story…
To prevent customers from buying the wrong product or abandoning the site altogether after not being able to find a suitable solution, Aveda has been creating a series of interactive quizzes, such as their Hair & Scalp Check.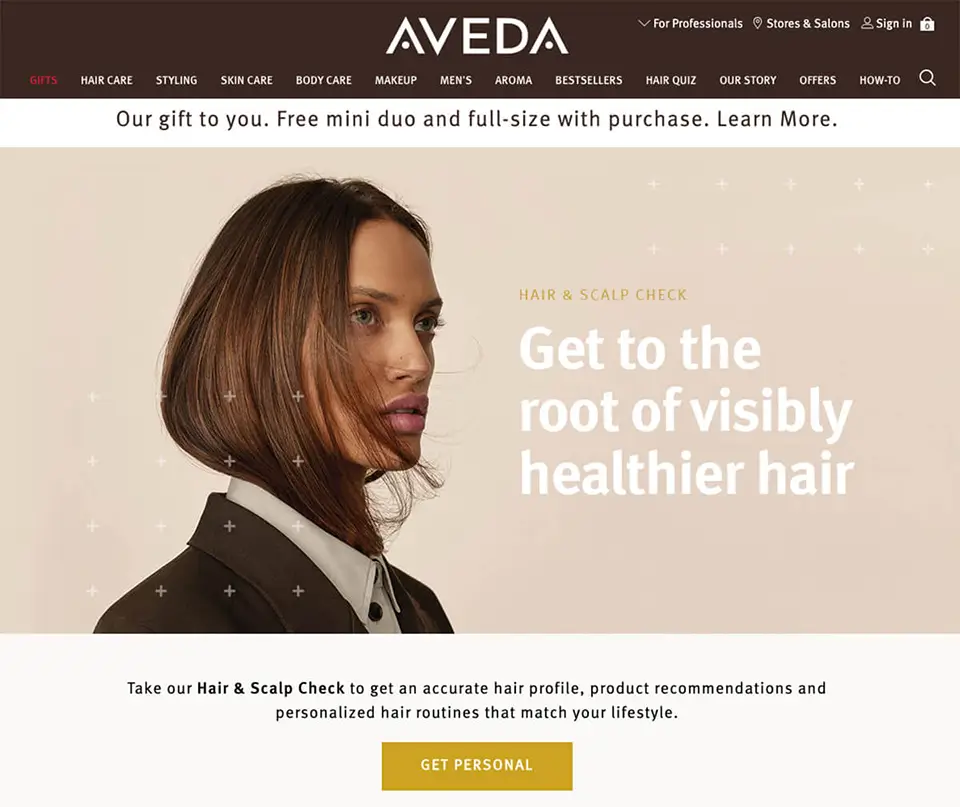 The quiz asks 10 questions about things such as hair texture, problem areas, and desired results. Then, the algorithm cross-references your answer with 4 million possible combinations and spits out personalized product recommendations, salon treatments, as well as personalized how-to content.
Aveda proceeds to invite users to save their results by creating an account on their page and promising to "make your dream" towards having dream hair that you've fantasized in the quiz a reality.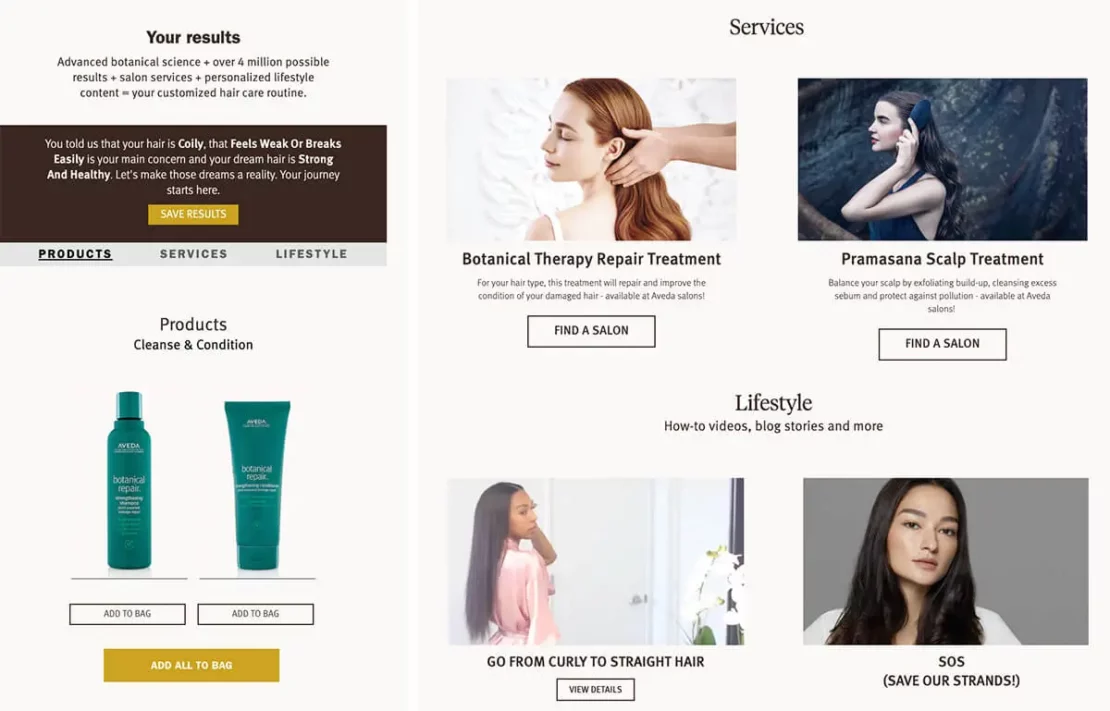 2. Petal & Pup
Petal & Pup is an online fashion brand that despite its small team and limited resources were able to deploy multiple personalization solutions on their eCommerce website.
By simply landing on their homepage, you can immediately notice some personalization tactics in place. For example, Petal & Pup offer website visitors to search their website by using voice control. This is particularly helpful if a lot of their visitors are using mobile devices, or if the brand has intel that their shoppers prefer to do it this way.
Another easy-win personalization tactic is currency. Petal & Pup have offices in Los Angeles and Brisbane, however, they sell globally and their website is able to recognize a visitor coming from the United Kingdom. Displaying product prices in the visitor's currency removes the unnecessary burden of having to calculate conversion and see whether they can afford the product or not.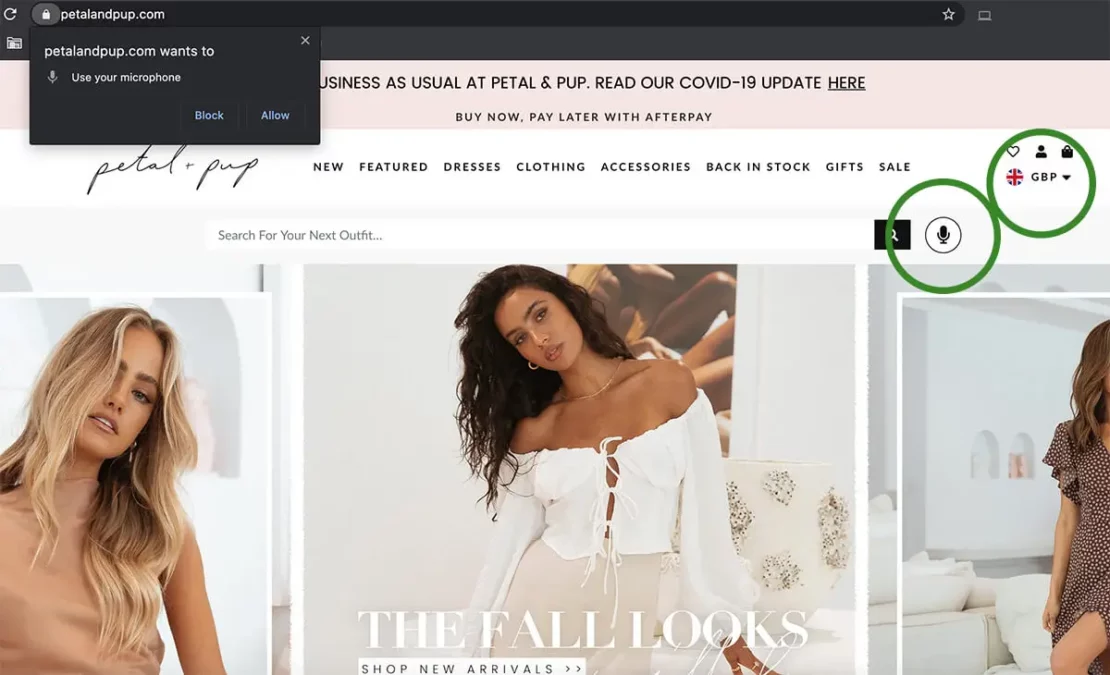 But Petal & Pup don't stop there. Working with Yieldify they've deployed specific messaging for their loyal customers. To facilitate new conversions, the brand highlighted new arrivals based on their previous purchases. This tactic resulted in a 17% conversion rate uplift from returning customers.
Read the Petal & Pup case study to learn more!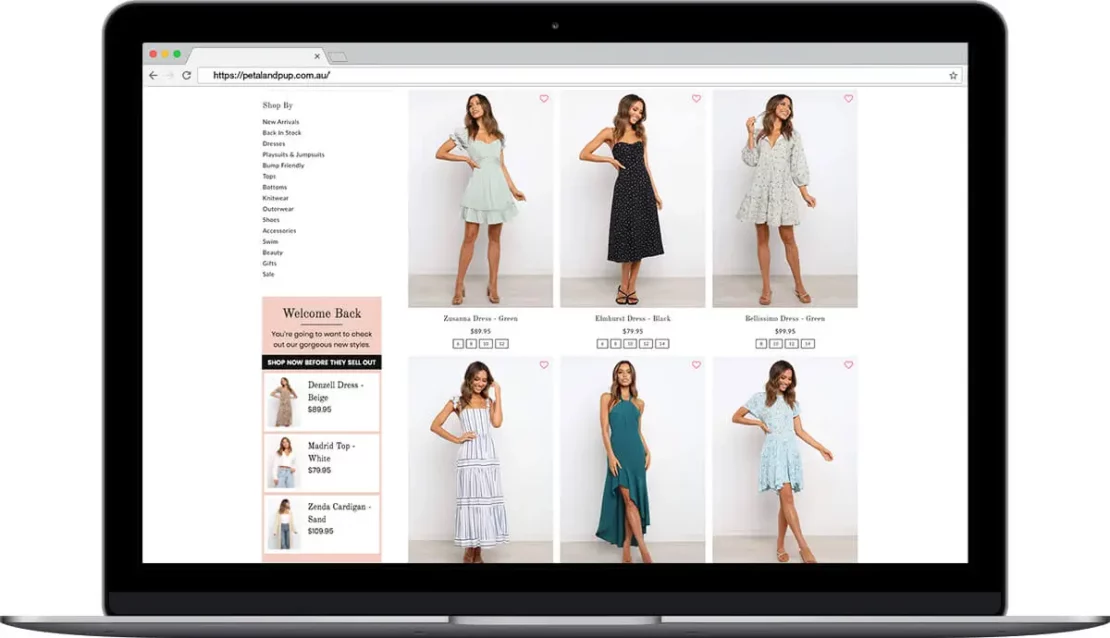 3. Alo Moves
Alo Moves offers online yoga, fitness, and meditation classes, and is part of Alo Yoga, an online retailer of workout wear. The reason why Alo Moves deserves a spot on this list is because they're exceptionally dedicated to content personalization.
First, every new Alo Moves' user journey begins with an onboarding survey. This is where you can set your preferences, such as classes you're interested in, your experience level, your goals, and even your favorite teaching style so that you're matched up with the best possible instructor.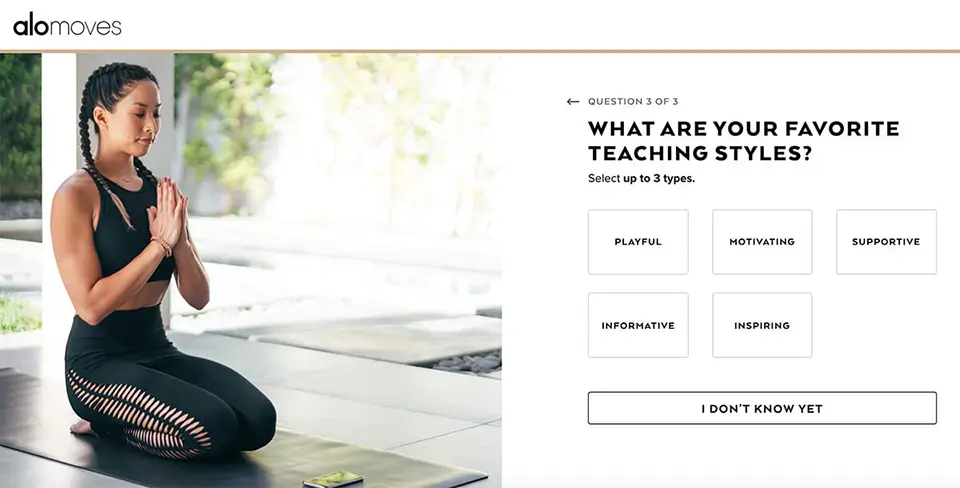 Once you've established your preferences, Alo Moves will go on to tailor their website content to match your choices. For example, this is what their homepage looks like to a logged-in user who's expressed interest in yoga at the beginner-intermediate level:
Alo Moves recommends daily classes at beginner to medium difficulty.
Alo Moves reminds the user of classes they've started watching but haven't finished.
Alo Moves understands that someone's interest in yoga could mean they're curious about meditation and mindfulness too.
They also recommend niche takes on yoga, like Hygge Yoga or Yoga for Golfers.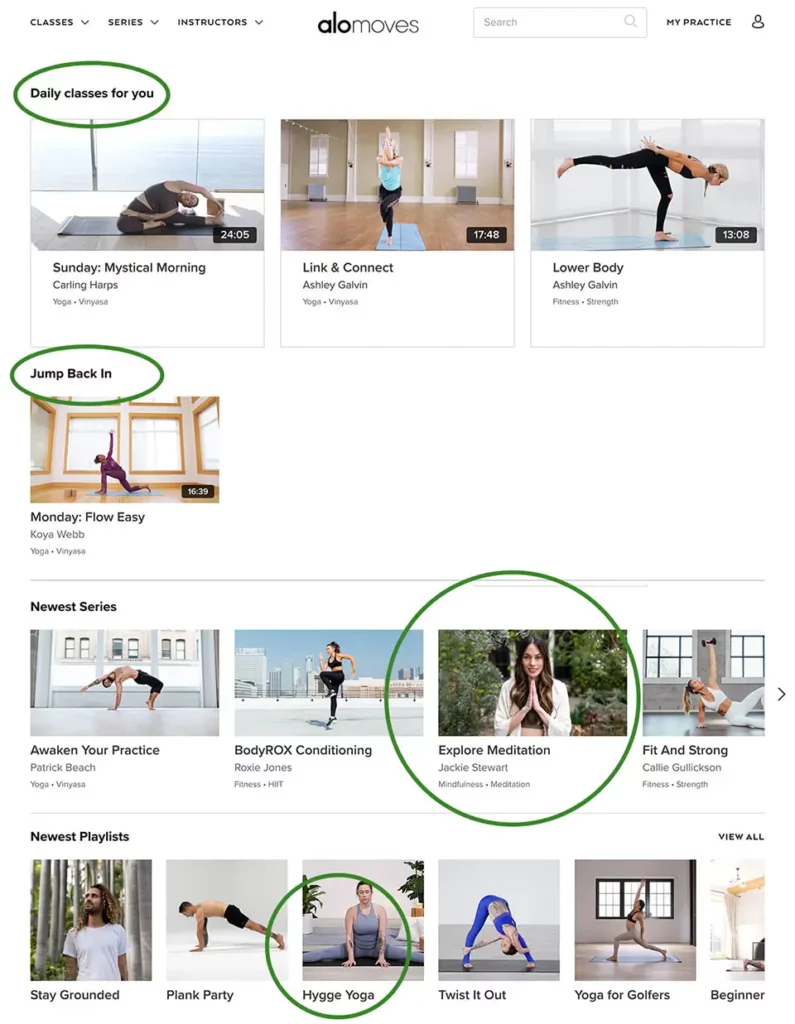 4. Adidas
Back in 2017, adidas made headlines by announcing the launch of their mobile app built around Salesforce technology to deliver personalized shopping experiences to their increasingly young customer database. The app was introduced as a means of achieving adidas' 5-year goal to generate €4 billion from digital commerce by 2020.
The app is a replica of adidas' online store but also has custom features like a news feed of personalized video content and articles, customized product recommendations, services chatbot, wishlist, curated gift guides, and more. The app is also supposed to get smarter and learn more about the user as they go:
"The app gets to know the consumer's sport and style preferences and learns from his or her behavior and interaction with adidas across all our digital touchpoints."

Joseph Godsey, Head of Digital Brand Commerce, adidas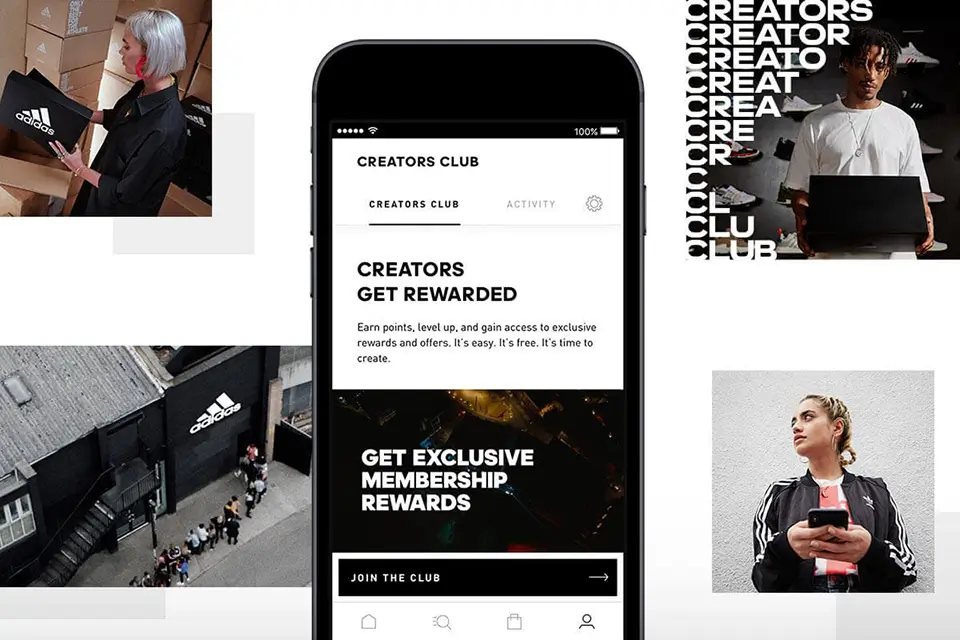 5. Rocksbox
Rocksbox is a a jewelry subscription service that offers highly curated pieces to its membership base. According to Chanel Li, VP of Business Operations at Rocksbox, "Every single item we recommend to our customer, every single physical piece we put into a customer's hand, we've specifically picked out for that customer."
Rocksbox operates based on shoppers building their style profiles. This is done via an online survey and browsing through the company's extensive wish list to mark your favorite pieces. Then, Rocksbox stylists sift through all the data points and curate a personalized jewelry box.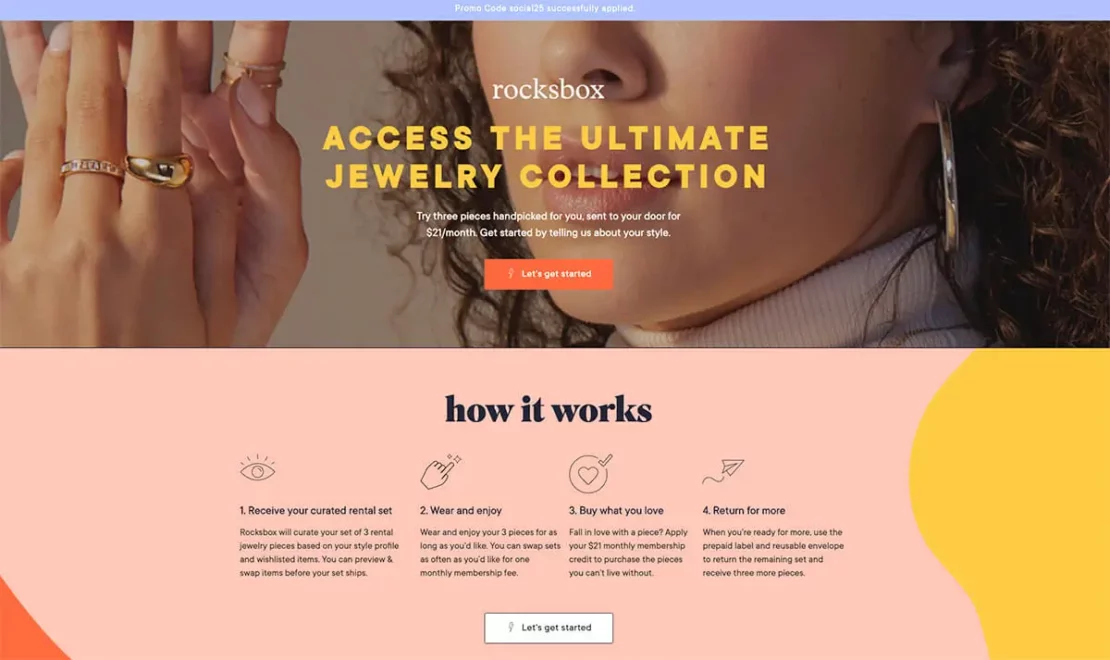 Another nifty feature Rocksbox offers to stand out from the competition is wishlisting on social media apps. Once you connect your Instagram profile to your Rocksbox account, you can wishlist items directly on Instagram and the company's algorithm will sync them to your profile.
This creates a seamless experience for the user. And the results speak for themselves – the #wishlist idea quadrupled the brand's following on Instagram and the overall approach to personalization has led to an $8.7 million investment.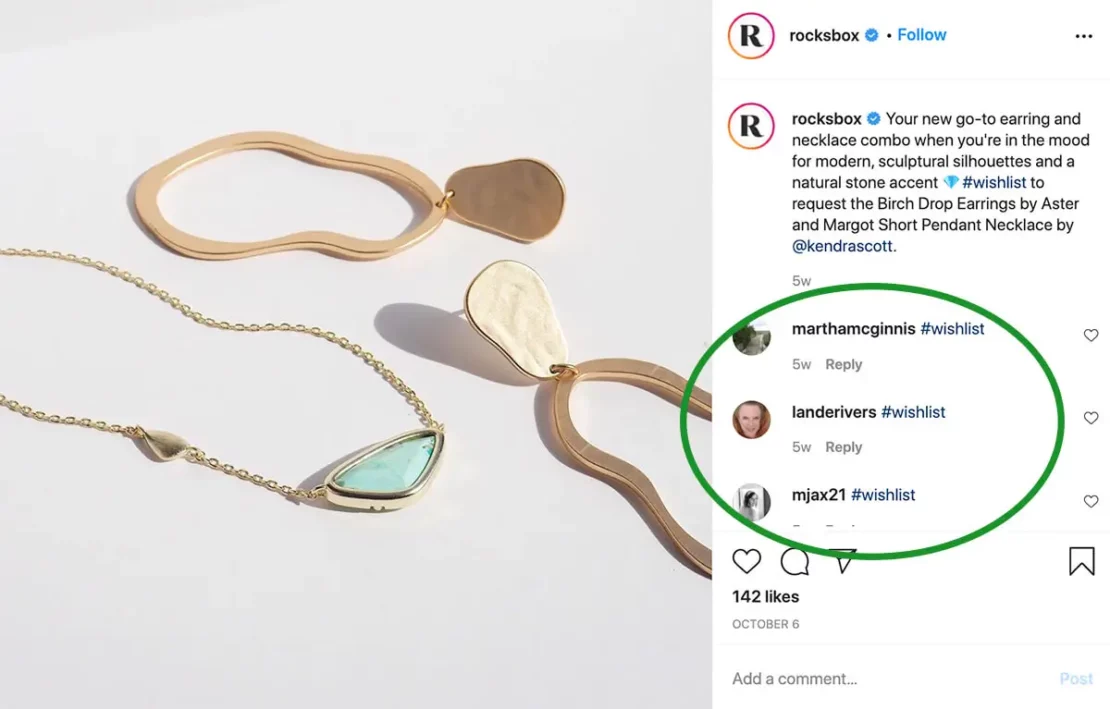 Common personalization myths you need to ignore
So far we've established what content personalization is, why it matters to modern eCommerce businesses, and how some of the industry innovators are using content to personalize their shopping experiences.
Last step in our guide is to debunk some of the most common myths surrounding the personalization practice.
Myth: Personalization is not very effective
Truth: According to Epsilon, 80% of consumers are more likely to shop with brands that provide a personalized experience. Personalization has been proven to positively affect online user experience, which in return yields higher conversion rates, higher AOV, better retention, and CLV. You can see proof of that on our case studies page.
Myth: Personalization is too invasive
Truth: Personalization can be too invasive, but it doesn't have to be when done right. In fact, 83% of consumers in an Accenture study said they don't mind giving away their personal information in order to receive a tailored experience. What's important here is that businesses understand the value of that information, collect and store it complying with government regulations, and ultimately act upon it in a way that's relevant to consumers.
Myth: Personalization ROI is impossible to measure
Truth: Personalization as a concept might be elusive, but its performance is highly trackable and measurable. To prove personalization success at Yieldify, we use incremental revenue reports that basically show how much more money you've generated thanks to deploying personalization strategies on your site.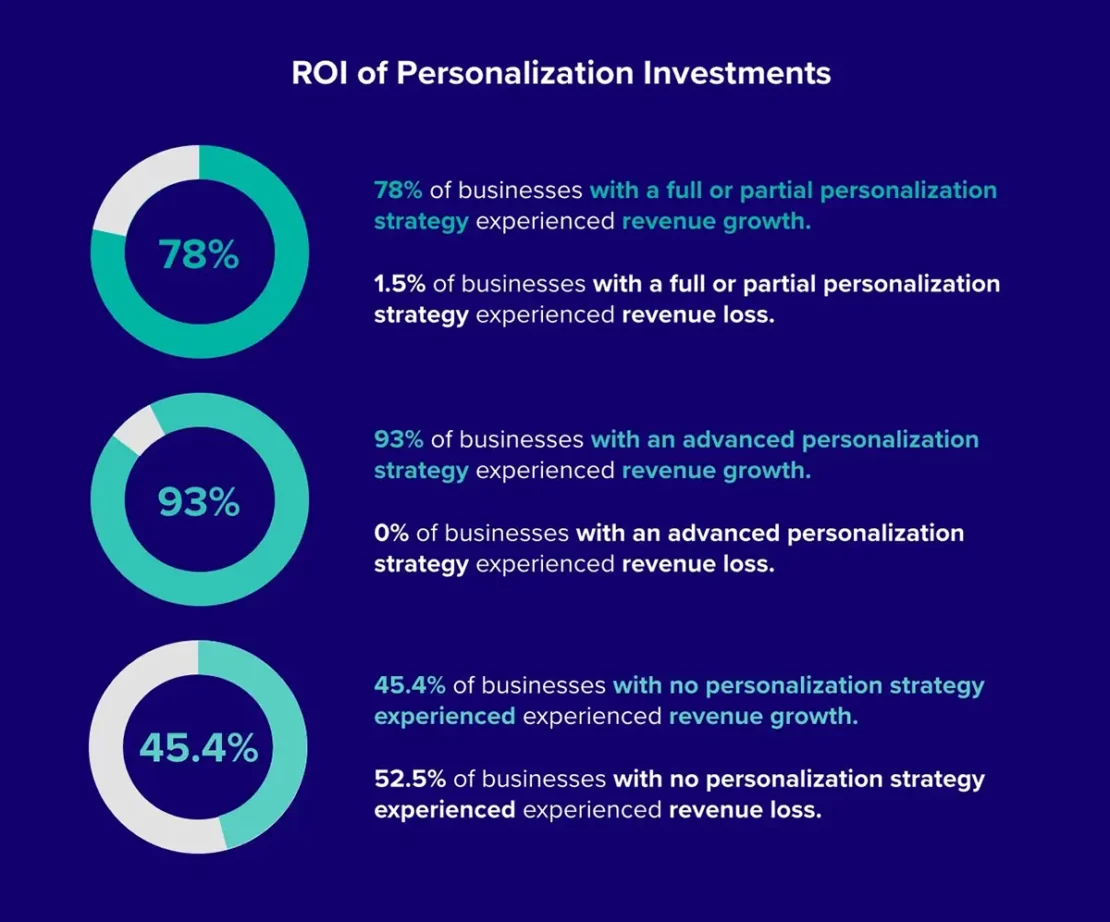 Myth: Personalization requires a big budget
Truth: The good thing about personalization is that it's not a cookie-cutter marketing tactic. What works for one brand might not work for another. Same way, where some brands can invest millions to develop complex machine learning personalization solutions, others can achieve just as good an impact by deploying simple content personalization tactics like email sign up forms, exit-intent overlays, dynamic coupons, etc.
Myth: Personalization requires technical expertise
Truth: The level of technical expertise needed to execute a personalization strategy will really depend on how sophisticated you want to get, and also the personalization technology that you choose. For instance, if you go with self-service solutions, chances are you'll need to summon some help from your website developers. However, with a fully-managed service like Yieldify, all your personalization tactics are done for you by their team of account managers, designers, technical engineers, and data analysts.