BLOG
Financial Marketing: 5 Ways You Can Build Consumer Trust
Published: Jun 2, 2016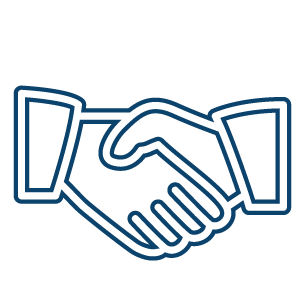 When it comes to marketing financial services, trust is a key factor in customers' decision-making process – here are 5 ways to build consumer trust levels online.
In 2007 the financial market crashed, leaving a huge dent in consumer trust that has never been fully recovered.
Even today, years after the crash, any business even remotely associated with finance is still viewed with a liberal amount of skepticism and distrust from consumers.
At the same time, advances in technology and an appetite for an alternative to traditional financial services (perhaps also fuelled in part by this lack of consumer trust) has given rise to a fintech revolution.
New brands providing innovative models, alongside a focus on customer experience, have disrupted the finance industry, meaning established brands have had to raise their game to keep up.
The rise in choice within financial services that has resulted from this means that winning back consumer trust is now the key battleground for any financial services brand operating today.
Modern businesses live or die on their reputation. They depend on high levels of trust from their consumers to effectively sell their products and build a loyal following. If you can't build that consumer trust you'll lose your client base to competitors who provide a more consumer-centric service.
And it's this trust that is missing from financial institutions, especially when it comes to online.
However, it's not all doom and gloom. There has been an improvement since 2012. The Edelman Trust Barometer reports the financial industry trust ratings as 8% higher now than in 2012.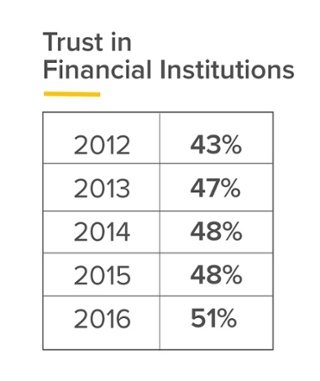 However progress has been slow, and part of this is due to the landscape evolving, meaning getting the online customer experience right is now paramount for financial services brands seeing to win back consumer trust.
Building consumer trust online: the changing face of modern business
The way businesses interact with their consumers has changed. Personal relationships and improving customer experience are now the primary driving force in attracting customers and increasing sales.
Thanks to technological developments businesses are now able to facilitate a better consumer experience in myriad forms.
However, financial institutions have been too slow on the uptake.
They've not adequately adapted their marketing strategies to respond to the new digital landscape. The lack of adoption has left a gap in the market, a gap which has been filled by highly trusted tech companies, and a growing crop of fintech upstarts who are building innovative digital experiences and raising consumer expectations.
Financial institutions no longer just have to worry about competing with one another. They've also got to compete with established technology companies expanding into the financial sector such as Google, Square and Stripe.
On top of that, there is the explosion of disruptors across the financial sector, gaining millions in investments. In the retail banking space with Monzo and Starling, in insurance with the likes of Root Insurance, investments with Nutmeg and Wealthify, and mortgages with Habito.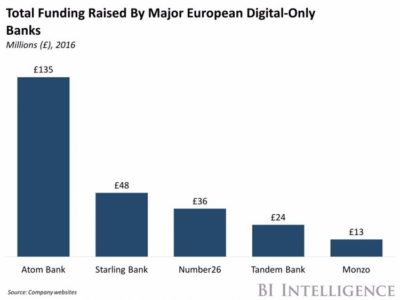 These companies have capitalized on the opportunities missed by financial institutions and are seeing rapid growth and incredible revenue numbers.
For financial services to compete in the coming years there needs to be a bigger effort than simply reforming a few outdated and damaging business practices.
There needs to be innovation, or more specifically, an embracing of digital transformation. You need to buck the habit of slow adoption and jump head first into the digital era if you have any chance of competing with the tech companies that are slowly pulling digital dependant millennials away from your organization.

The key to securing the future of financial institutions
In short, Millennials are the key to your future. They've now overtaken Gen X as the largest generation in the workforce and aren't far off becoming dominant consumer market and lifeblood of businesses in every industry.
Unfortunately, millennials are less trusting than any other generation.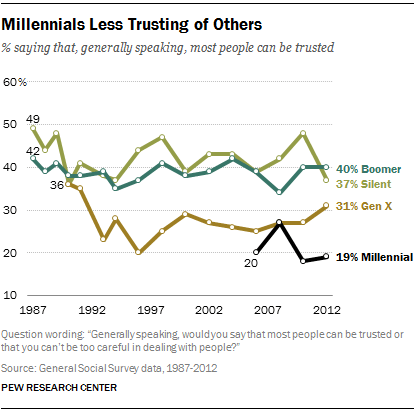 The way we pay for and organize our finance will be extremely different in five years time
Banks offer nothing different or of note compared to their competitors
Startups are positioned to overhaul finance
Two-thirds are more excited for financial options from tech companies like Google than from their nationwide bank
It all paints a very bleak future for financial institutions if nothing is done to amend their current practices and build more consumer trust online.
For financial institutions to survive they need to adopt a digital-first mindset and tackle their two biggest challenges. Customer acquisition and consumer experience.
Financial institutions won't be able to rebuild the consumer trust that has eroded overnight. However, by adopting the below practices you'll set yourself on the road to recovery and will set the foundation for a future of trusting, loyal fans and customers.
The basic steps to building consumer trust online
Thanks to highly developed tech the basic steps to building trust in your target audience isn't as tough as many think.
At the very basic level it comes down to five key areas:
Understanding millennial preferences
Be attentive and available
Be relevant
Be transparent
Add a human element
When summarised like this it all seems quite simple. However, the difficulty lies in knowing the exact steps you should be taking to combat shortcomings in each individual area.
The below list is a rundown not only of what the best actions to take are but also the tactics that have been successfully implemented by businesses to build consumer trust online.
Understanding millennial shopping preferences
Millennials are the generation of DIY consumers. In fact, nearly 75% of millennial consumers prefer to solve their customer service issues on their own.
It presents an interesting problem for modern businesses. Technology has removed the need for human gatekeepers and you need to closely examine your business to identify which areas require a customer service agent and which would be better off using an automated DIY system.
Whilst automating DIY self-service is relatively simple for many eCommerce businesses, the complexity of products offered by financial institutions makes it a more difficult task to tackle. Whilst by no means a comprehensive list, the below are a few ideas for aligning your business practices with the modern millennial DIY mindset.
Utilize guided selling tech to provide advice and recommendations on loans, cards, mortgages, etc
Improve mobile apps to allow easier access to financial statements and increased connectivity for payment or money transfers. A great example of a tech company that's filled the instant digital payment gap is Venmo, an app that permits immediate payments to friends connected through Facebook.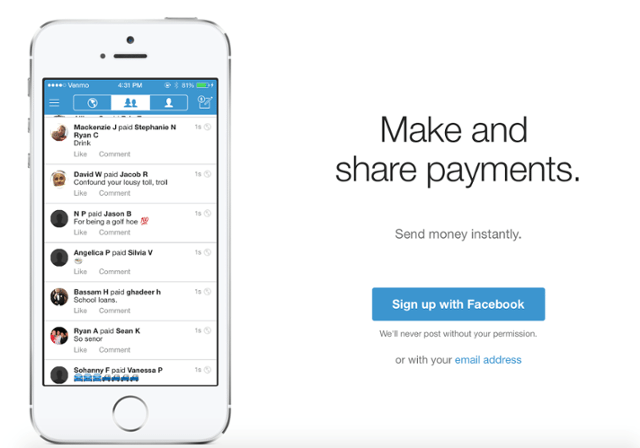 Use tech to issue notifications of payments, bills, etc.
Make use of existing tech to improve security. Mobile phone fingerprint and vocal checks could all be used to quickly cut time spent talking to a customer service representative.
Technological developments have already presented a plethora of opportunities for businesses to facilitate the millennial need for self-service. Look at what's already available and can be turned to your benefit to not only along with the millennial mindset but to also reduce your operating costs.
Be attentive and available
This is the basis of any good trust building customer service strategy. When customers have a question, query, or problem you need to respond to them in the shortest time possible.
In days gone by that would give you a few days to sort through the problems and come back with a definitive answer. However, thanks to the advent and popularisation of social media you no longer have any real breathing room with this.
12% of consumers will use social media to complain. Not a huge percentage but a huge increase on the 3% who used SM to complain 2 years ago. Social media as a complaint and consumer communication tool is on the rise and you need to have an individual in place that's ready, willing and able to offer advice to your customers
Your social media representative doesn't need to immediately solve the problem. All they need to do is acknowledge the customer, inform them what's happening with their query and potentially forward them to the right department.
Virgin Media does a good job with this on their official Twitter account, often responding in between one and three hours.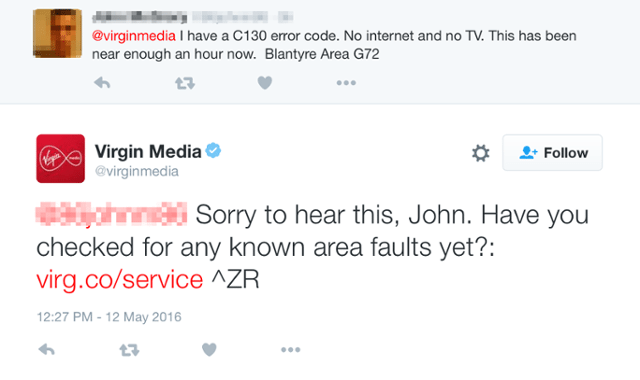 However, being attentive doesn't just begin and end with putting out fires. You should also be utilizing smart automation and various other technologies to answer questions before a customer feels the need to complain in a public forum.
You could:
Use a phone app to offer updates on service outages or improvements
Implement an automated email sequence to explain the benefits, terms of use or how to get the most out of a recent purchase or product
Couple your automated emails with your Guided Selling solution to present a fully self serve service
Implement smart FAQs and link them to knowledge databases to allow users to quickly problem solve on their own
Yes, modern consumers want to handle their problems on their own. But they also need to know that you're there should things go wrong for them and they encounter a problem they are unable to fix.
Stay relevant
Building consumer trust is a multifaceted task.
You've not only got to pander to your consumers' desires but also have to demonstrate that you are, without doubt, the number one knowledgeable source of information and advice in your industry.
People trust those in the know. They want the businesses they frequent to know the industry inside out so they can offer the kind of advice that makes a difference in the consumer's lives.
Modern consumers rely on trusted content to make purchase decisions five times more today than they did five years ago.
And this is an area many financial institutions fall short in. There's very little in the way of useful, trust building content in financial services.
Sure, there's a good deal of news and yes, for a segment of your audience that news might be enough. But the majority of your audience doesn't know how the latest legislative change on loan agreements affects them as an individual.
Instead of simply reporting the latest financial news, you need to create engaging, accessible content that the majority of your user base (the non-experts) will understand and benefit from.
That content could take the form of blog posts, free white papers, an eBook or even a short video.
By laying out in no uncertain terms how industry developments will affect individual users you'll separate your business as one of the few who offers relevant, useful information to their users at no extra charge which is one of the foundations for modern business success.
With some smart repurposing, you could also use the same content as lead generation or lead nurture content. For instance:
Push content to relevant user segments via email or app notifications
Email gate a constantly updated eBook on everything mortgage seekers need to know about current mortgage legislation and offer it in an on-site overlay
Don't take the well-traveled path of simply reporting what happened. Discover how recent developments affect your users and offer free advice on how it will change their service, what they can do about it and the long term implications.
Achieve and maintain transparency
One of the largest reasons few trust financial institutions is the perceived lack of transparency. Very few truly understand what it is most financial institutions do. It's this uncertainty that leads to distress.
You have to be transparent at every touch point for your consumers to ever have any hope of trusting you again.
Of course, simply stating you're a trustworthy business isn't going to be enough. You need to take actions that demonstrate your trustworthiness and allow consumers to really understand not only what it is you do, but what you have done, what you plan to do and how your efforts have been received.
You can achieve this through:
Following Mark Murray's, CMO of BT Financial, advice and opening your business to public reviews. Social proof is one of the greatest trust builders around as users trust their peers over industry pros.
Using real people wherever possible in marketing and messaging
Listening to your consumer base with surveys and questionnaires and releasing the full results
Perhaps offering periodic updates through blog posts or email content. This will let users know what you plan, what your business is working on and, if completed with the correct angle could be used as extra marketing material for your business. Tech companies are pretty good at this as many, like the Moz Dev Blog below, offer a development blog where they simply list everything that they plan on achieving.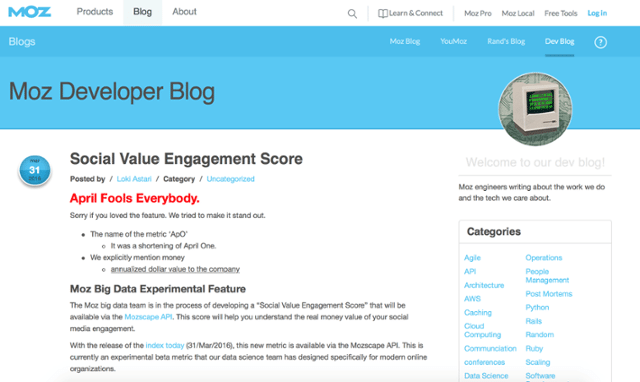 Stay relevant and offer useful information to your consumers and they'll not only trust the advice you provide but by extension your business and the products and services you offer.
Include a human element
It's hard to trust a faceless corporation. Millennials prefer a more human, personalized element to their business transactions.
They don't want to feel like just another faceless member of the crowd being pitched to. They want to foster a relationship and exploit the human side of business transactions as demonstrated through the below statistics.
68% of consumers base their decision to open an email on whether it's from a familiar name or generic info@business.com address.
20% of customers are willing to pay a 20% premium for personalized product recommendations

Nearly three-fourths (74%) of online consumers get frustrated with websites when content (e.g. offers, ads, promotions) appears that has nothing to do with their interests.
The above stats show that your consumers want a more personalized relationship with your brand. If you want to build consumer trust you need to align your business practices with their desires.
Thankfully with new marketing tech this isn't as difficult as you might think. If you can follow the below steps you should be on the way to providing the personalized, relationship building service your consumers need.
Personalize all emails from everything including name to purchasing preferences and browsing habits
Send emails from a named address, not from a generic business email address
Personalize overlays and other marketing materials based on consumer actions
Rebuilding trust rests on two key actions
Being ethical and transparent.
If we're simplifying it to the most basic level, that's all it takes.
Thanks to our interconnected world consumers now feel more a part of the brands they frequent than ever before. With the closer link comes increased importance for ethical business practices.
Millennials associate with the brands they frequent. They don't want to offer their custom to businesses and brands that employ anything even slightly related to underhanded tactics because it also reflects poorly on them as a consumer.
For brands to build consumer trust they first and foremost need to eradicate any underhanded tactics that may have survived the reformation following the
Once those tactics have been rectified, financial institutions need to open their doors to their customers. To allow a more honest and open view of their company and its inner workings.
If financial institutions can follow these two basic guidelines of ethical practice and bringing their consumers in, they should soon see an upturn in the level of trust their consumers have in them.