BLOG
Holiday eCommerce Statistics for 2018
Published: Jul 30, 2018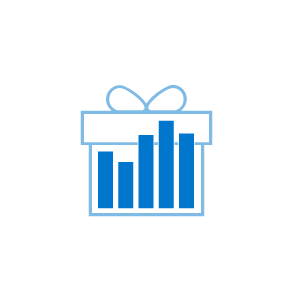 Here are 6 insights into the eCommerce trends you can expect on Black Friday, Cyber Monday, and Christmas this year.
Just last week, we presented the results of our deep-dive into the billions of holiday eCommerce statistics: 'The 12 Stats of Christmas'. Here are the key insights you need to know:
1) Black Friday returns go up by 50%
According to research by LCP Consulting, the return rate for Black Friday purchases is 50% higher than the rate across the year as a whole. That's a huge leap, but why is it significant?
The reason we highlight this number is because it's a pretty good encapsulation of the fact that Black Friday can be as much of a curse as a blessing. The 50% return rate contributes to the massive increase in operating costs that leads to retailers feeling overwhelmed by the holiday. Coupled by the hit that margins take by the pressure to discount, this has led to more retailers opting out of Black Friday and Cyber Monday altogether.
It's also worth noting that for markets outside of the US, Black Friday brings with it the threat of cannibalising Christmas sales. While in the US it's more common to wait until after the Thanksgiving period has passed before thinking about Christmas shopping, in markets where the November holiday doesn't exist it's all about Christmas from October onwards. A period of heavy discounting in November therefore runs the risks of eating into those all-important Christmas margins.
So is Black Friday all doom and gloom for retailers? Not necessarily.
A number of high-profile retailers – like IKEA and Selfridges – have opted-out of Black Friday and gone their own way. Others have simply started to re-shape the holiday in a way that works for them – starting their campaigns earlier to take advantage of longer periods of sustained consumer interest.
The learning is that Black Friday – while evolving – isn't going anywhere anytime soon, but for smart retailers there's an opportunity to adapt to continually changing consumer behavior in order to minimize the hit to the margins while capitalizing on high traffic volumes.
2) Black Friday conversions hit 4.8%
In the last year alone, we've seen the average retailer's conversion rate on Black Friday rise sharply from 3.9% to 4.8%.
The indication appears to be twofold. Firstly, as Black Friday gets more established, more consumers are researching what they want to buy and making sure that they're ready and poised to make it to checkout before stock runs out. Secondly, retailers are simply getting better at CRO – conversion rate optimization isn't a new art anymore (in fact, we've moved onto customer journey optimization aka CJO).
This is all great news for retailers – and it should get you thinking about what to do next. One of the most logical next steps is to think about what you can do to get more out of that conversion – in other words, think about how you can encourage a customer who's on their way to checkout to spend more. Smart upsells and cross-sells are some of the quickest ways to boost your average order value and acquisition ROI!
3) Black Friday peaks at 8pm
While it's important to begin Black Friday on the front foot when consumers are waking up, it's worth remembering that the action really happens in the evening.
The graph below shows how average retailer traffic climbs from the early morning up to 8pm in the evening: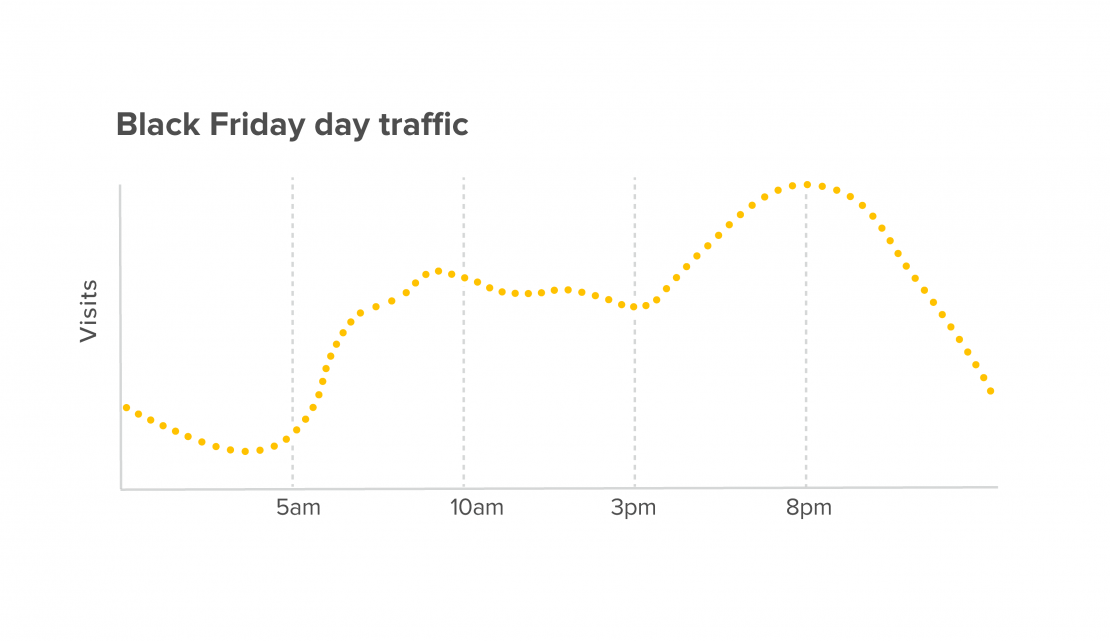 What to make of this? Firstly, it means that you're not leaving the office until much later (sorry). Secondly, it's worth considering how to approach your email marketing in light of this information – while it makes sense to hit the inbox early in the day, there may be an opportunity for a second send later on in the day when your visitor is more like to be ready to browse.
4) It all starts on November 17th
Black Friday is on November 23rd this year – but by that time, the action will already be well underway. The real starting line is actually the weekend before Black Friday.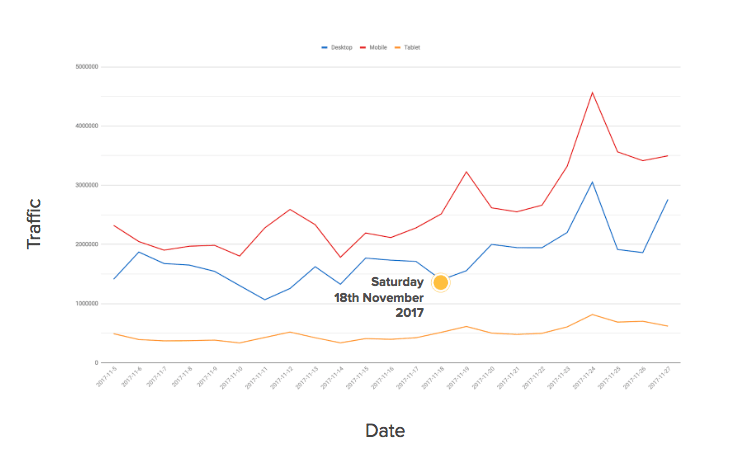 This is when traffic first starts to rise above what you'd expect for a normal weekend (particularly on mobile, when the weekend is always higher than a weekday). From then on, it's an escalation up to the big day itself.
If you're planning your Black Friday marketing activity, consider planning your activity to account for this early interest – it's a great opportunity to get a jump on the competition.
5) December the 17th/18th are the 'conversion cliff'
Moving onto Christmas, one of the most interesting ecommerce statistics we see here is that there's what we call a 'conversion cliff' that falls around a week before the big day.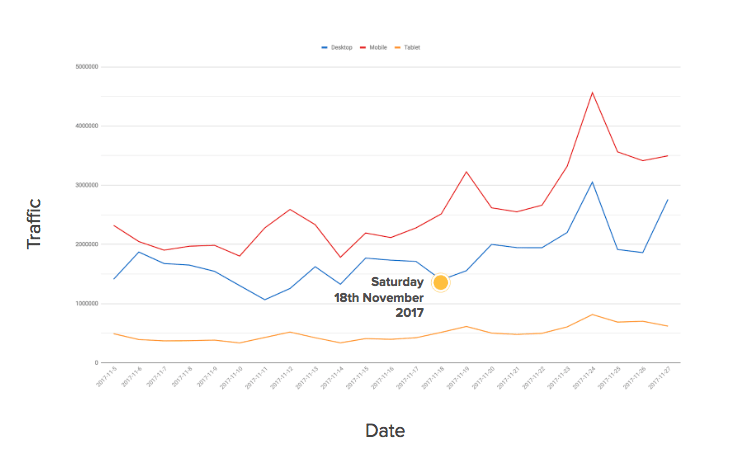 What that means is that while traffic stays relatively strong until just a couple of days before Christmas, consumers just stop buying a good week before. What we see is that last-minute shoppers are arriving on-site in search of last-ditch gifts, only to become concerned that whatever they've chosen might not arrive in time.
If your data shows something similar, make your Christmas shipping policies front-and-centre on your website – show those nervous shoppers that there's still plenty of time to get their orders.
6) Christmas traffic peaks on… December 26th
Yep, you read that correctly. December's highest traffic day (on mobile at least) – is actually the day after Christmas: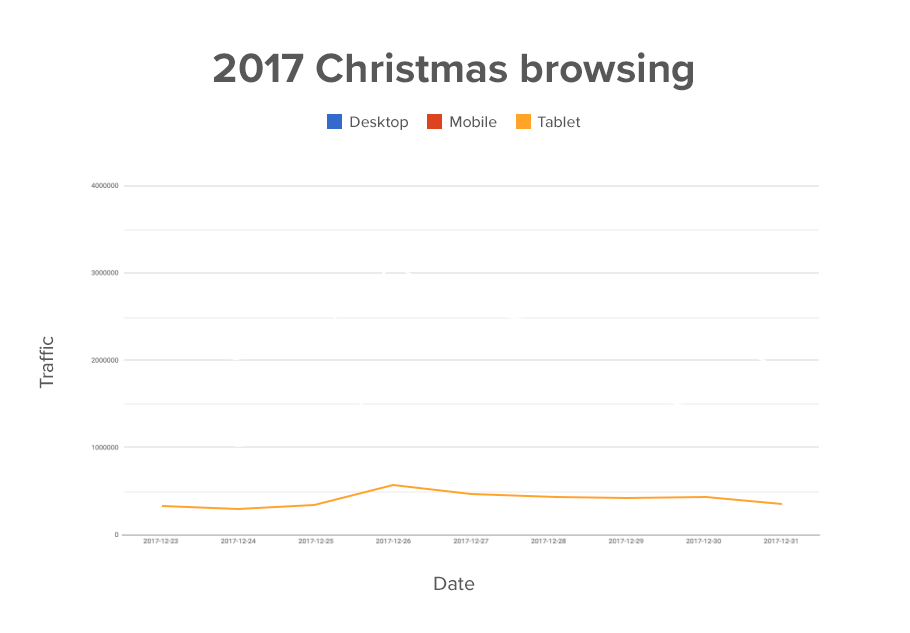 Over the last couple of years, we've seen that both Christmas Day and the subsequent day have become bigger and bigger opportunities for ecommerce retailers as consumers – mobile devices in one hand and voucher codes in the other – turn to online shopping.
If you're running post-Christmas sales, our advice would be to consider starting them on Christmas Day – there's plenty of opportunity to be had for early birds.
Want more on holiday eCommerce? Check out our 7 CRO tactics for the holiday shopping season!