EBOOK
Content Marketing for E-commerce
Published: Aug 30, 2019
Running an e-commerce business is full of challenges, read this guide to learn how content marketing can help with (nearly) all of them!
There's a lot to think about when running an e-commerce business. At any given time, you'll be looking at how to reach new customers and drive traffic to your site, how to increase your conversion rate, how to retain those customers who have already shopped with you, and how to raise the average order value on your site. All of these are pretty big topics in themselves – but there is one solution that can help on all four fronts: great content marketing.
Informative, practical content marketing can do wonders for your business. It can draw people in, give them a reason to return (even when they aren't necessarily looking to make a purchase), and be a major tool for boosting your conversion rate. In fact, the Aberdeen Group found that websites using content marketing had an average conversion rate almost six times higher than those without.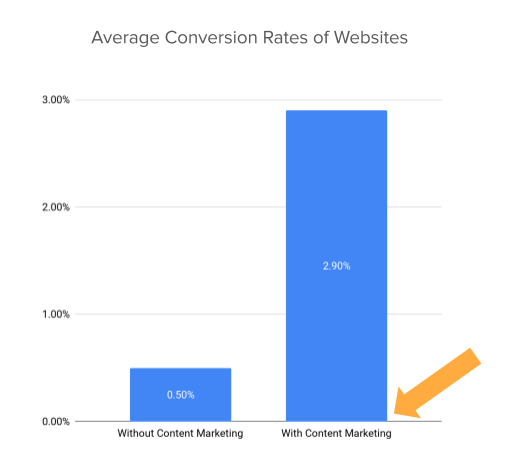 Ten years ago, the phrase 'content marketing' generally meant an uninspiring company blog – but now there are dozens of ways it can manifest itself across your website, from magazines to videos, quizzes to think pieces. And each of these can be used to target exactly the results you want them to. It's the Swiss Army Knife of e-commerce: a fantastic multi-use tool that can be easily adapted to meet the needs of your business at any given moment.
In this guide, we'll take you through seven ways content marketing can boost your business to help develop or improve your e-commerce content marketing strategy.
Use Case #1: Curation
Sprawling online stores offering hundreds or even thousands of products are fantastic for consumers who know exactly what they're looking for. But they can also harbour a wealth of missed opportunities for those who don't. Great products can get lost amongst all the other items available.
Curation is a great way to tackle this problem. As one of the most accessible forms of content marketing it's a resource light and easy way to create regular, fresh content for your website. But that's not all, more importantly it performs a valuable function for potential customers in need of some extra inspiration or guidance. This dual functionality is what you should keep in mind across all your content marketing efforts:
Does it provide value to customers?
Is it balanced by your business' interests.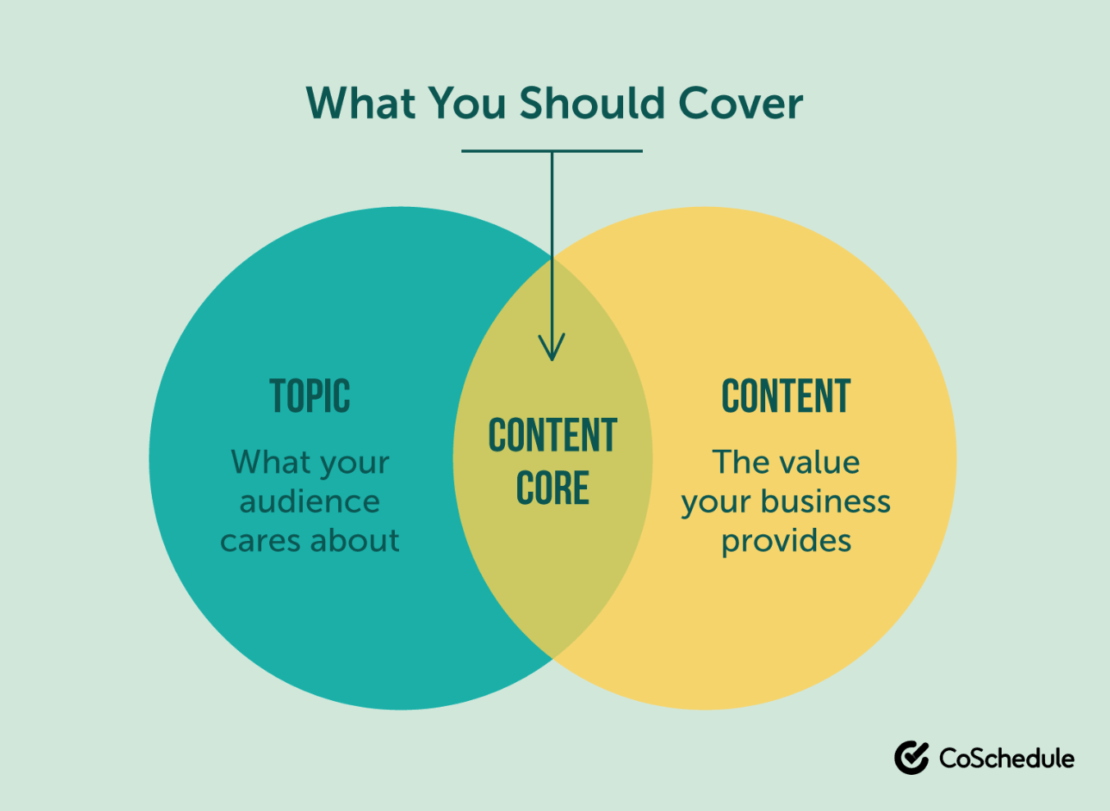 So let's take a look at how one brand curates content in a valuable way for its visitors. Europe's largest beauty eCommerce retailer, Feelunique, offers curated ideas and recommendations on its website in a section called The Lounge. The goal is to help visitors discover products they might otherwise have missed, inspire them to try different looks, and highlight on-trend products from the Feelunique online catalogue.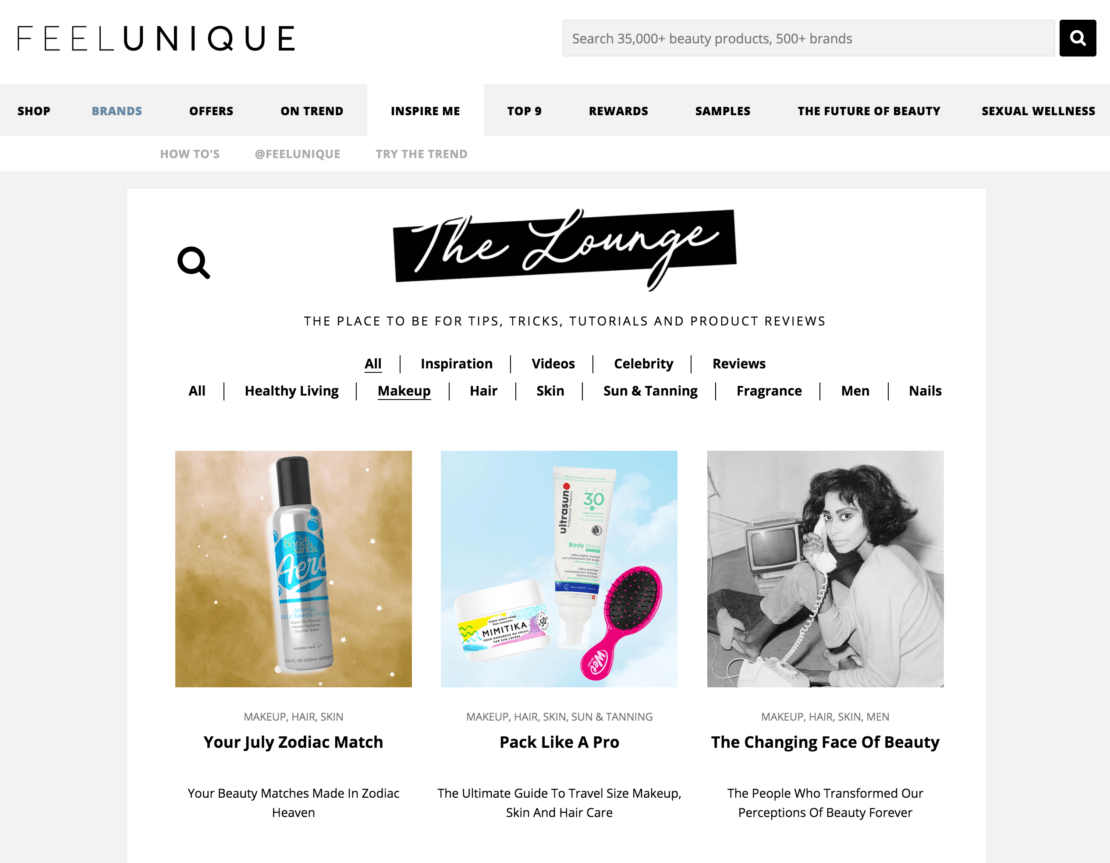 This is particularly relevant in a industry such as beauty, where digital has driven an explosion of options – in fact a Beauty Digital Brand Report from earlier this year said that 65% of women feel overloaded with options – and this includes the impact of influencers, media and celebrities.
Feelunique tackles this issue with it's Hot List, a monthly curated selection of new and trending products. To get the content in front of the right visitors, at the right moment the brand highlights this useful content to those visitors looking at an item on that month's Hot List. If they're not ready to buy, this offers them a chance to discover what else made the list that they might be interested in. If they're in-market for the product, highlighting the fact it comes highly recommended by Feelunique's experts is a powerful form of social proof.
Use Case #2: Education
A growing trend in e-commerce is the use of content marketing for educational purposes. A survey by The Economist Group found that 71% of consumers were put off buying from a business when the content they were engaging with came off too strongly as a sales pitch. Avoiding this trap whilst still creating content that benefits both you and the customer can be difficult. One sure fire way is to make sure the focus is on the customer first, and your product or service second.
Travel content marketing is a great opportunity for informative articles that can benefit everyone. Budget travel company Megabus have on their website a wide selection of pitch-perfect travel guides to each of the cities they serve. Each guide is thoughtfully put together, with a rundown of each city's top tourist attractions, as well as information on local shopping and nightlife.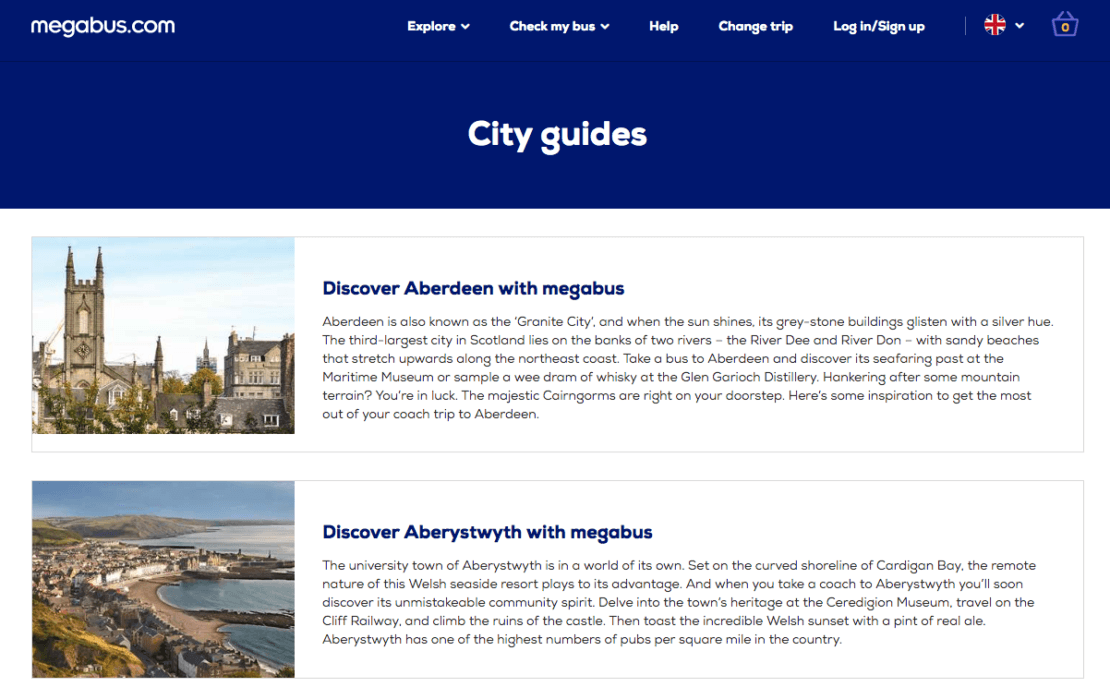 Megabus also think about what will be most relevant to their customer base, providing extra information on the best things to do for free in the city – meaning that the articles are not only relevant for customers on the website, but also an entry point for travellers on a budget who might then consider using the services of the company.

This sort of content can also be used to provide added value for customers – a person hesitating over whether to buy tickets to Birmingham could be directed to a city guide, demonstrating exactly what they could get up to in the city.
Use Case #3: Delivering a Personalized Experience
As well as content that is relevant to your website, there are plenty of ways to present specific and targeted content that is personalized for each customer. There are two popular ways to do this…
The first is by creating content like quizzes that allow the customer to make several different choices. Each decision tells you more about who your customer is, and what they want from you. At the end of the quiz, a product or recommendation can be made that is specific to all the answers given. In this case, most of the user's time reading the marketing is spent personalizing, and only at the very end are they presented with a hyper relevant opportunity.
The second approach is to provide a quick and simple personalisation option up front, that allows for the customer to be taken directly to the most relevant content for them. This is particularly useful for businesses selling to broad but defined categories.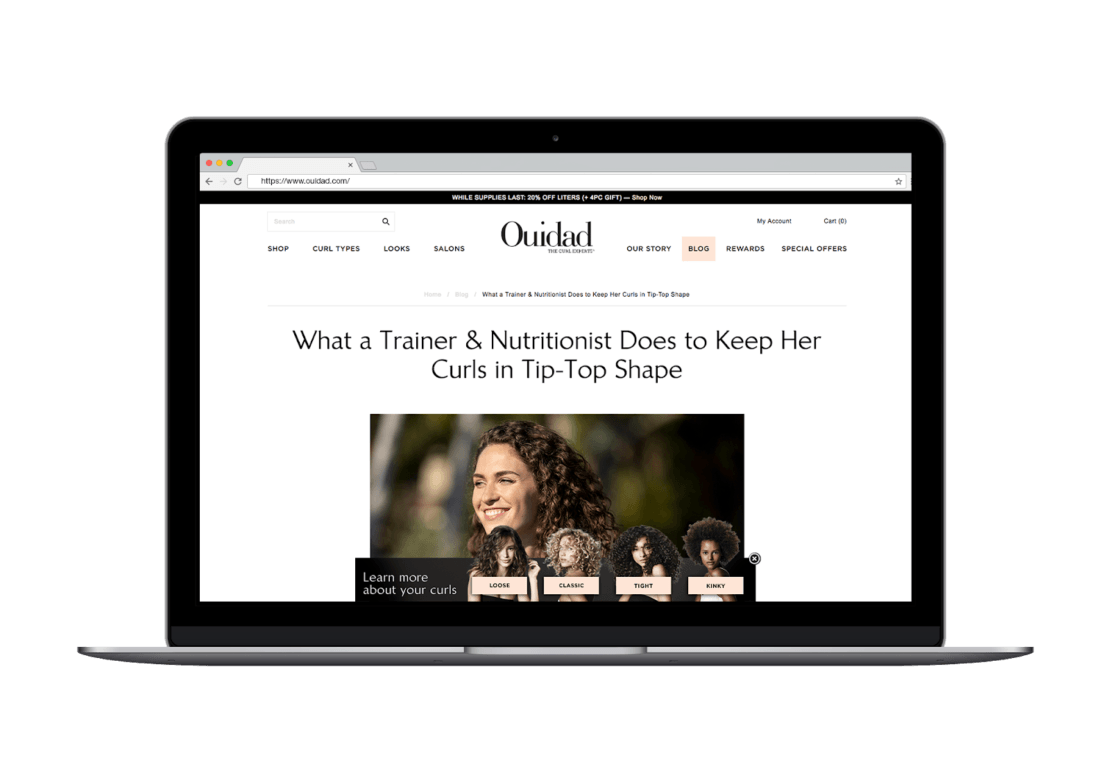 As an example, when curly hair product specialist Ouidad redesigned their site in 2017, the brand organized everything by Curl Type to personalize the experience for women with Loose, Classic, Tight, or Kinky curls. Each curl type has unique characteristics and needs so Ouidad ensured that all products, site content, and UGC are organized in this way.
In order to personalize the customer journey for visitors who discover Ouidad via its educational blog the brand created a diagonsitc tool 'What's my curl type'. Presenting this to someone already seeking educational content, helps further refine the customer journey and present them with relevant product options. This campaign drove an 11% uplift in conversion rate, demonstrating the power of a personalized approach.
Use Case #4: Boosting Customer Acquisition with Content Marketing
Content marketing is a great way to attract new customers as you have the chance to disseminate your content across a wide variety of channels, in a variety of formats.
One content format that's rising in importance for e-commerce brands is video – and YouTube offers the perfect platform through which to attract new customers. YouTube visitors watch almost 5 billion videos every day making it a great vehicle for promoting brand awareness and building a loyal following.
It's important when creating content for this channel to understand consumer behavior. An analysis of consumer behavior from Nielsen found that 81% of video viewing sessions capture people's attention. On YouTube, viewing sessions aren't passive. Viewers are actively engaged with an influencer, or something they want to learn, discover, or share. YouTube recently released an analysis of over 1 billion videos and found that Product reviews and 'how to' videos are the most popular content types – a perfect opportunity for e-commerce content marketers.
Video tutorials or 'how to' videos, offer an excellent way to use content marketing to bring new customers to your website. Increasingly, when people need to learn how to do something – from learning an instrument to changing a tyre – they turn to the internet for answers.
Bathroom retailer Soak.com recognized this need to learn, and found that it fit well with their offering. Specialist bathroom and plumbing knowledge is often rare (and expensive) to come by so the brand put together a selection of how-to tutorials that people can use for free.
The videos themselves are short, simple and don't push new products – but on both the website and externally on Youtube, the description below the video prompts the viewer to wonder if they might be in the market to buy. It's a simple way to turn people searching 'how to change a shower head' or 'how to bleed a radiator' into potential customers.
There are plenty of approaches businesses can take to create quality video content. Retailers might benefit most from how-to tutorials (be that bathroom repairs, cooking tips and recipes, or outfit planning videos), but travel companies can also consider using them to create brief city guides. Video testimonials are another powerful way to build trust with new customers, or share company values.
Just remember to keep it useful, entertaining and snappy, or visitors will lose interest – and you might lose their business. The ideal length is generally no more than a minute or so in length. Soak.com's tutorials are an excellent example of how to achieve your goals and maintain a snappy pace.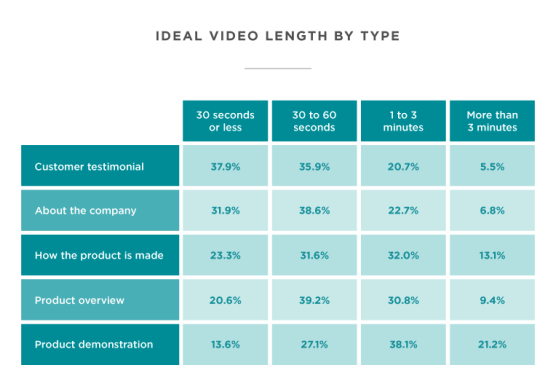 Use Case #5: Improving SEO with Content Marketing
Everything we've covered so far in this guide has the additional benefit of improving SEO. Well written blog articles, video and other content types are all key to a well rounded SEO strategy, especially in e-commerce where product descriptions and short blurbs don't always lend themselves particularly well to seamlessly integrating vital keywords.
If we take a look back at haircare brand Ouidad, we can see how a smart keyword strategy on their blog paid off when it came to improving SEO and driving traffic to their site: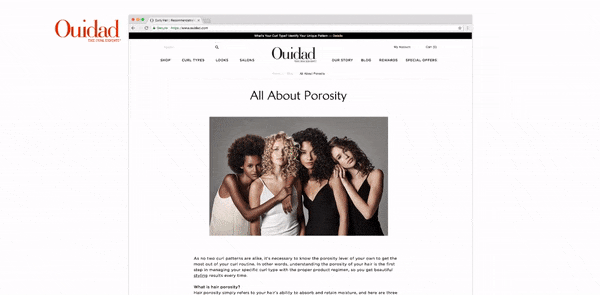 But keywords aren't all that content marketing has to offer when it comes to SEO. Google now accounts for over 200 factors when it comes to determining a SERP's order, so it can be really difficult to optimize for them all. So where should you focus your efforts? One of the most important factors to optimize for that will have a big impact on your rankings is domain authority.
For Google, your domain authority is your reputation as a thought leader for a particular topic or area. The benefits of content marketing for e-commerce when it comes to building a 'good' domain authority are twofold. Firstly, Google ranks content off a variety of engagement metrics, so creating quality content that is compelling for your visitors will have a positive impact. If your content is good enough, in comes the second benefit – earning high quality inbound links from other websites in your industry. By creating content that puts the customer's needs ahead of the immediate desire to advertise and sell, your company's website is more likely to be shared via other sites. This has the obvious benefit of providing potential customers with more ways to discover your brand, but it also helps boost your SEO.
Use Case #6: Customer Retention
A strong content marketing strategy is also an excellent way of making sure existing customers keep returning to your site.
Canadian sustainable fashion brand Frank And Oak does a great job of this with its online blog The Handbook. The brand is able to go much deeper into the stories behind its products, materials and eco-conscious processes to really let visitors build an up close and personal relationship with the brand and its values.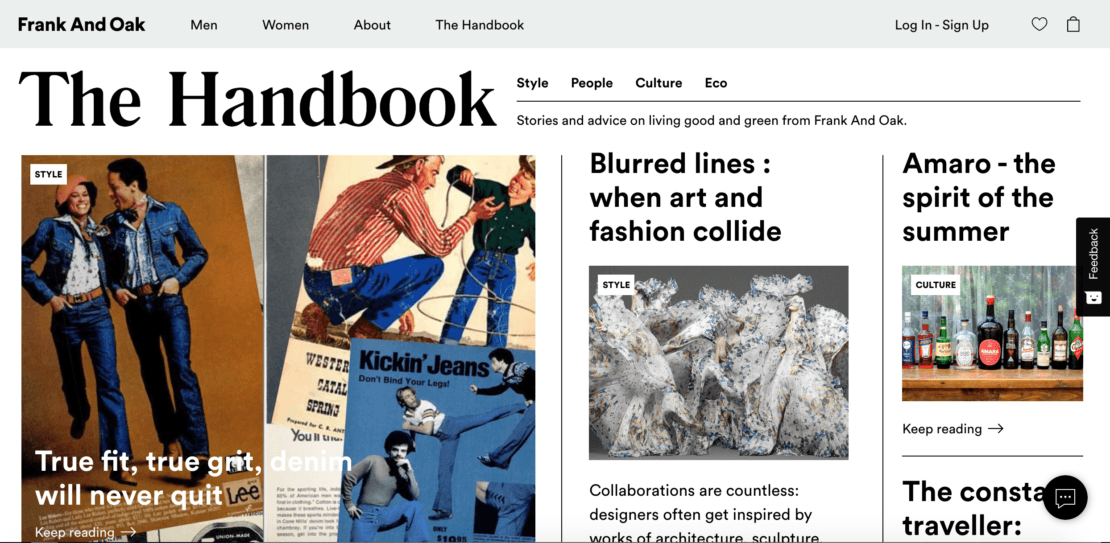 The blog focuses on lifestyle and cultural content, rather than solely on products, seeking to provide readers with 'stories and advice on living good and green'. For many users the site becomes not only somewhere to buy clothing and accessories, but a destination for advice on something they care about – sustainability and being a conscious consumer. The content is then utilized by Frank And Oak to nurture both new and existing customers, enticing them to learn more be it via email, social or on the site itself.
Some brands have taken this concept of editorial content to whole new levels, building their e-commerce offering around it. Semaine is one such example, as an 'online magazine meets concept shop' it offers a curated selection from a new tastemaker each week, resulting in an ever changing selection that keeps visitors coming back for more. Everything about a tastemakers lifestyle, from the music they listen to, to the food they eat is showcased in a heady blend of content and commerce.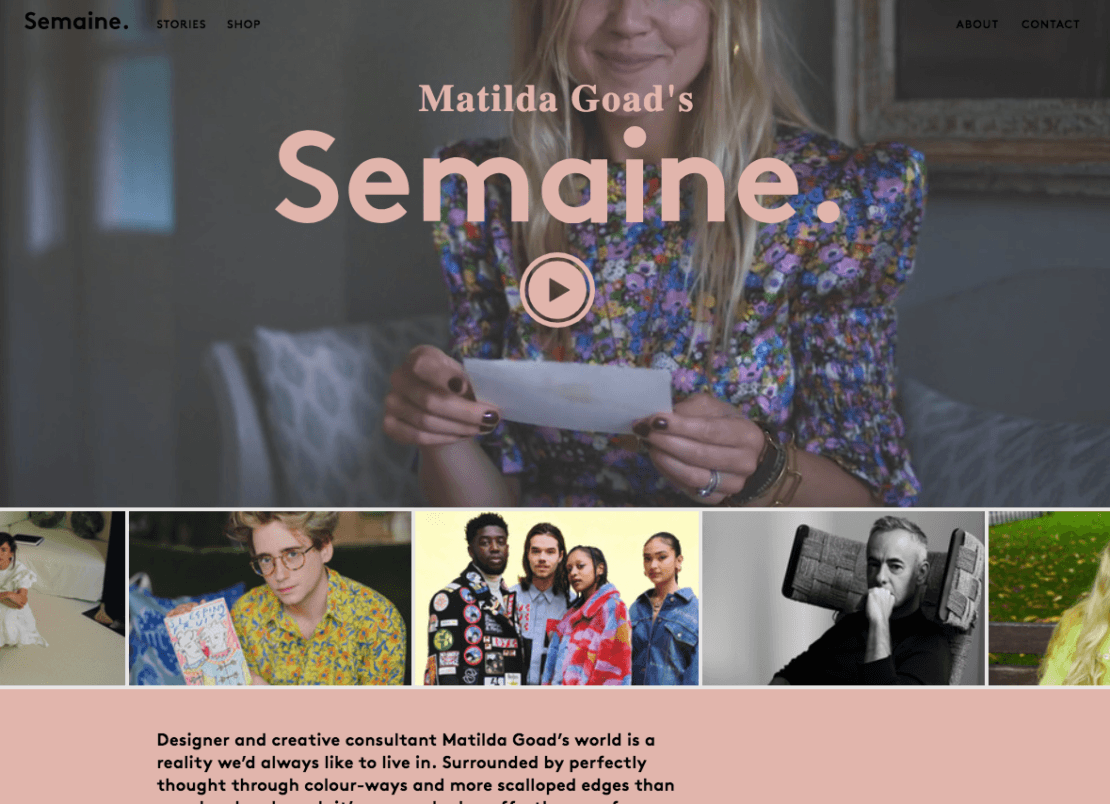 Use Case #7: Increasing AOV with Content
When you're running an e-commerce business, it can be all too easy to spend all your time worrying about how many customers you have. Sometimes another important factor is left behind: how much is each customer spending?
Increasing your Average Order Value (AOV) is a powerful method of improving overall sales, and there are plenty of ways to go about it. Unsurprisingly, content marketing again makes an appearance.
Online butchers Farmison & Co have an extensive collection of e-commerce content on their site. They have blog posts detailing the importance of animal welfare, informative pieces that educate customers on different cuts of meat and, perhaps most importantly, a lot of recipes.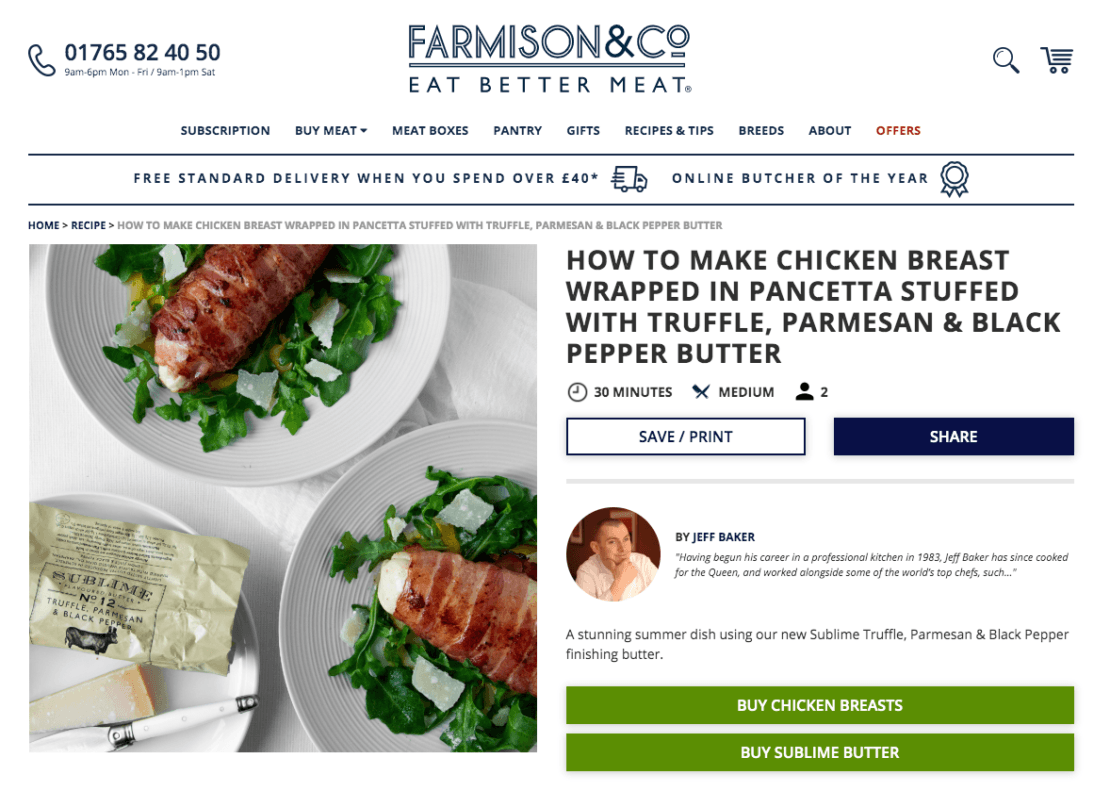 Farmison's recipe section is aspirational. It's filled with gorgeous looking photos of delicious dishes created by renowned chefs. Each dish uses a cut of meat available from the Farmison website and many feature more than one purchasable ingredient. The recipe section means that customers buying meat on the website have a resource to fall back on when deciding what to cook – and that Farmison have another location to push some of the more niche ingredients that customers might otherwise shy away from, unsure of how to use them. As an added bonus, Farmison have made it easy for customers to share the dishes with others, raising the potential for new customers to discover the brand.

Making content marketing work for you
As we've seen, there are so many different uses for content marketing on your e-commerce site. The question is how best to create a strategy that works for you. This should be shaped by a number of factors, including who your target audience is, and what products you sell. But the beauty of content marketing is the many different ways it can be used, allowing for you to create an e-commerce content strategy that meets your specific objectives.
The best strategies often utilize several of the tools listed above, to provide different targeted approaches for new customers, existing customers, seasonal offerings and more. The question isn't if content marketing work for you – it's simply which of the many tools available will work best.