EBOOK
The CJO Atlas
Published: May 8, 2019
Your guide to customer journeys made personal
The Yieldify CJO Atlas is an e-commerce marketer's guide to navigating, optimizing and personalizing the world of customer journeys.
Inside you'll find:
The world of CJO
Customer journeys made personal
Defining CJO
This atlas is your guide to all things CJO – that's customer journey optimization.
The dictionary definition might look at little something like this:
NOUN [U] | ABBREVIATION CJO | UK USUALLY customer journey optimisation
1. 'Using a data-driven approach to improving the whole customer journey to get more conversions'
But this isn't a dictionary, so let's go beyond that, and explore a little further. Here's a few points to remember when trying to define CJO:
Customer journey optimization is an evolution of Conversion Rate Optimization (CRO)
It incorporates personalization, but applies it to the customer journey as a whole
This means customers get the experience they want, and Marketers get the results they need.
Why CJO?
The customer journey is broken. But don't just take our word for it. We surveyed 1000+ US and UK consumers to understand what they think. Here's what they told us:
62% of consumers expect brands to have information on their preferences and how they prefer to interact with them.
This is across all channels – in-store, online, social media etc.
This jumps to 74% for millennial consumers – the highest of any generation.
However, despite these high expectations around personalized experiences tailored to their preferences, consumers don't make it easy.
Only 50% of consumers are willing to trade their data for more personalization
59% of consumers are not comfortable with websites tracking their behaviour
This is further complicated by privacy in a post-GDPR world – 82% of consumers say they've become more aware of their online privacy in recent months.
And what about marketers? Our State of CJO report revealed that marketers are:
Still relying heavily on methods such as customer feedback, to optimize the customer journey.
While 40% have mapped out the customer journey, optimizing this presents more of a challenge.
For 2019 personalization is high on the agenda, but this was also rated among the most difficult tools and strategies to implement and execute.
What's clear is that optimizing the customer journey is a big challenge. Consumers want, and even expect it, but marketers need to tread carefully when it comes to navigating how they execute more personalized experiences.

This atlas is your guide to the customer journeys we've tried and tested, to drive results without compromising the customer experience.

Retail Customer Journeys
Key challenges:
Personalize the customer journey
Reduce abandonment on PDP pages
Increase cross-sell activity
Capture high quality leads
As Hitesh Kapadia, Retail Industry Lead, put's it:
'Today's consumers don't want a one size fits all experience, but 1-to-1 personalization is a huge challenge, both technically and from an organizational perspective.
We work with our retail clients to identify the groups of visitors that represent the biggest opportunity for your business. Then we develop smart strategies to not only improve conversion rates but create loyalty and lifetime value by improving the customer experience'
Here's a simplified version of the different journeys a visitors to a retail site might take.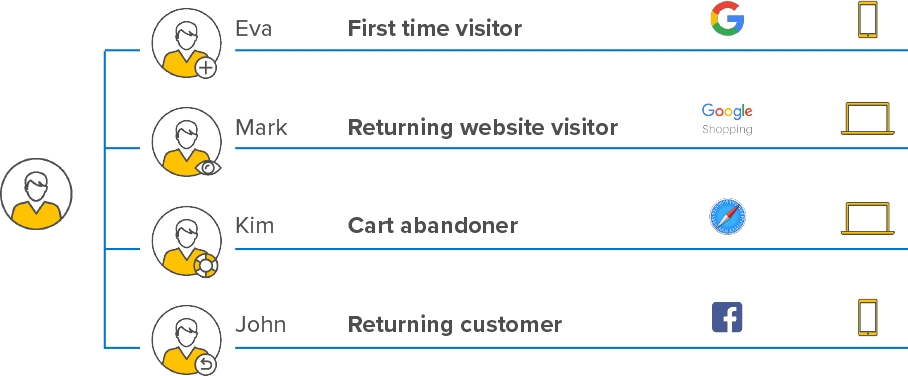 Now let's take a look at how these journeys could be improved…
CJO for a first time visitor
Challenge
A first-time visitor arriving from search directly to a PDP page. This group of visitors is likely to represent around ¼ of your shoppers, and are 72% more likely to bounce than the average.
Solutions
Improve discoverability to help users navigate back to the PLP or category page
Before they go, get their email address or other useful information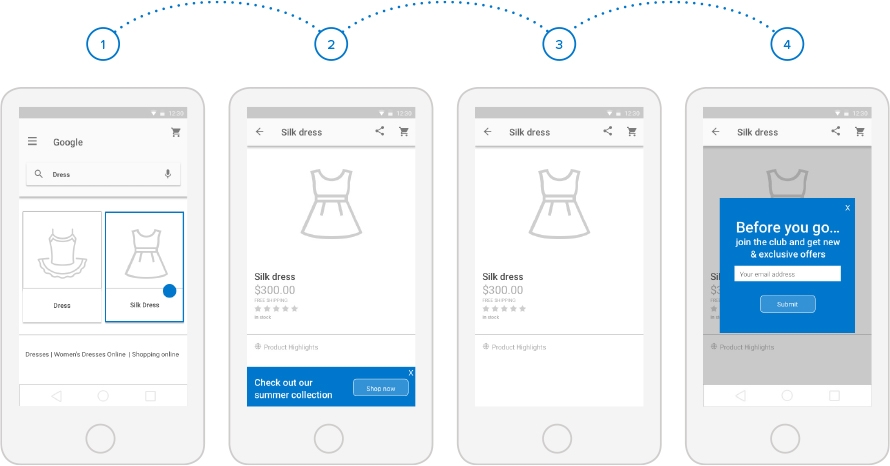 Why it works
"PDP pages are not optimized landing pages, and bounce rates are increasing due to changes in behaviour driven by mobile. Visitors are leaving because they aren't finding what they're looking for.
An optimized journey helps the visitor discover more products, so they can find something they like and captures visitor data so you can remarket and give them a better experience next time they visit."
Théo Devred, Senior Consultant, Yieldify
CJO for a returning visitor
Challenge
A returning visitor arriving from Google Shopping, a channel that has seen huge increases in ad spend over the last few years. How do you ensure they convert, ensuring ROI on your paid spend?
Solution
They're looking for something specific – and they've found it on your website via Google Shopping. At this early stage of the customer journey use social proof to secure the conversion.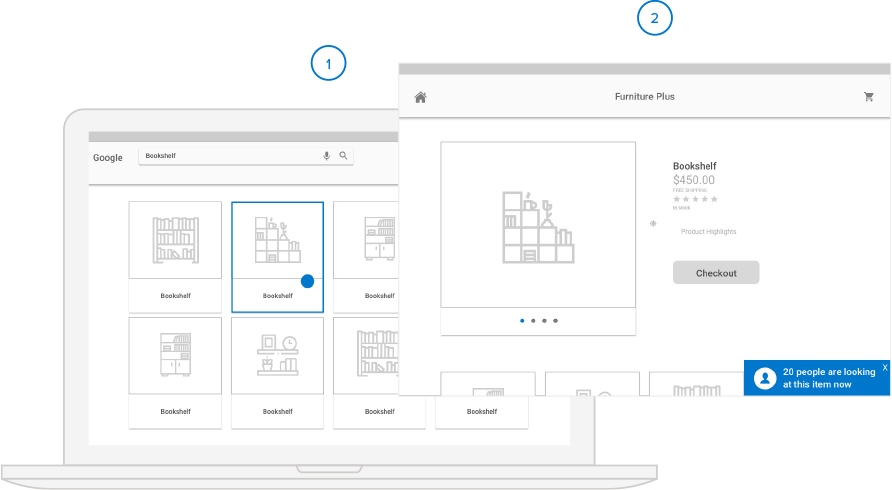 Why it works
"Even before they get to your site, social proof is impacting the visitor. It's been proven that higher star ratings on Google Shopping pages mean a higher number of orders – so it makes sense to carry this message on to the website. Campaigns using Dynamic Social Proof can drive conversion rate uplifts from +6.6%, up to as high as +48.3% depending on the targeting criteria."
Théo Devred, Senior Consultant, Yieldify
CJO for a cart abandoner
Challenge
97% of visitors don't convert, but all is not lost – especially if they've shown intent to buy by adding items to their cart.
Solution
Showing high intent visitors the right message at the right moment can keep them on the path to purchase. Even better, our data shows that showing this type of message multiple times throughout the customer journey to nurture visitors toward purchase increases conversion even further.


Why it works
"Our research shows that the top reason for abandoning cart is that shipping charges that are too high. Highlighting a shipping offer, or even simply highlighting your shipping USPs, removes this barrier to purchase."
Théo Devred, Senior Consultant, Yieldify
CJO for a returning customer
Challenge
Once you've secured a conversion, how do you increase average order value next time from a returning customer?
Solution
When a customer returns ensure you're creating a relevant and personalized experience that offers value based on behaviour: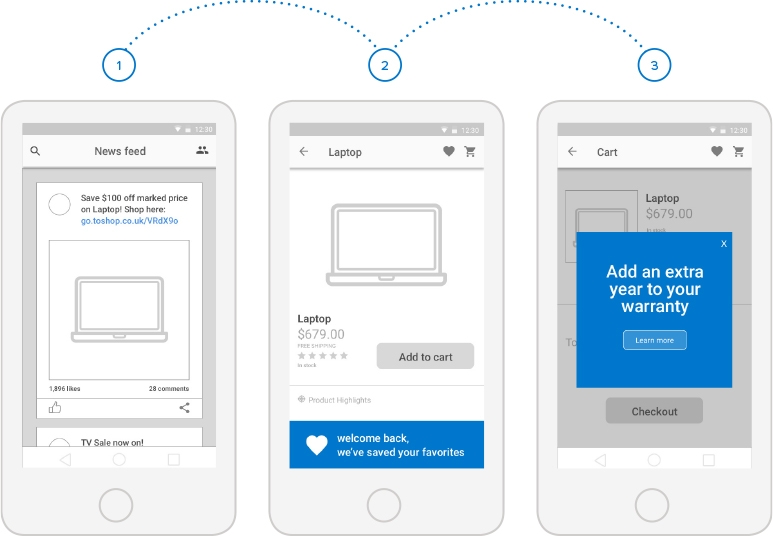 Why it works
"Our research shows that 63% of consumers expect brands to remember their preferences and information, and this is even higher for millennials (74%). Yet marketers struggle with personalization, ranking it one of the top 3 most difficult strategies to implement. Using in-session information is an easy way to deliver a personalized experience."
Théo Devred, Senior Consultant, Yieldify
CJO for retail: a case study
"The winning combination of Yieldify's technology and team forms a valuable part of our digital strategy for L'Oreal brands here in Spain. The Kiehl's results demonstrate the positive ROI we have achieved through this partnership, by driving an increase in conversion rates and average order values. We're excited to continue optimising our customer journey together."

Pilar Ruiz de Temiño
Senior Digital Project Manager, L'Oreal Luxe

Global beauty brand Kiehl's drove a 33.3% uplift in conversion with Customer Journey Optimization. To learn more read the full case study here.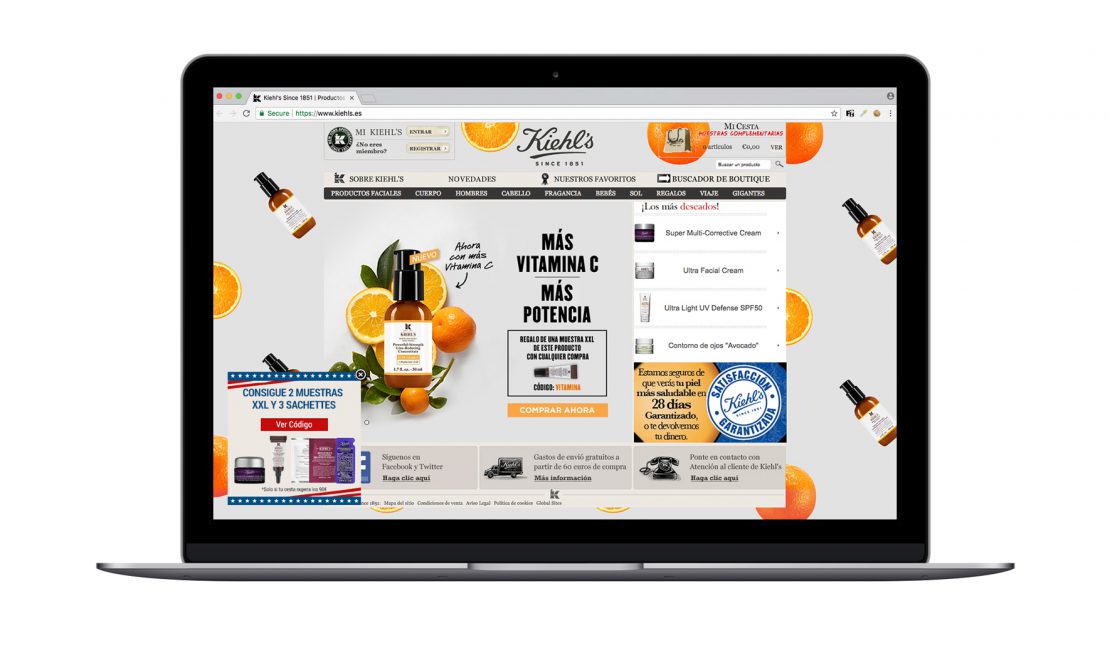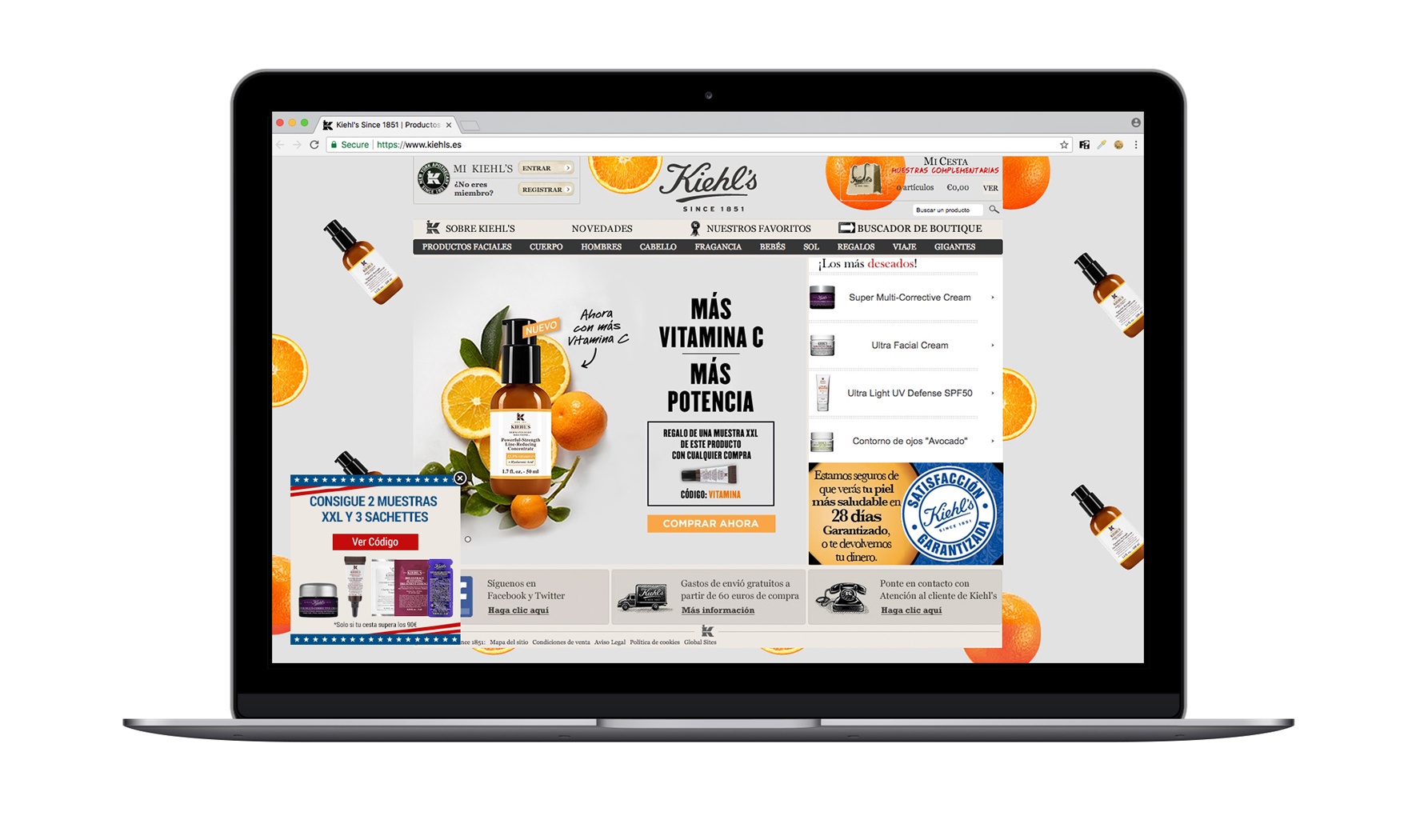 Travel Customer Journeys
Key challenges:
Long booking funnel
Complex products
Ancillaries
Perishable inventory
Metasearch
Travel customer journeys are complex due to the considered nature of the purchase. Brands have to contend with visitors who are comparing across multiple visits and providers, and may even go on to convert offline. There's so much choice, the funnel is long, metasearch has changed booking behavior, inventory is perishable and it goes on.
These are just a handful of the challenges travel brands must contend with to get the booking. We work with brands like Megabus and Flight Centre to identify the areas for improvement, and create journeys tailored to the needs of their visitors.
Here's a simplified version of the different journeys a visitor to a travel booking site might take.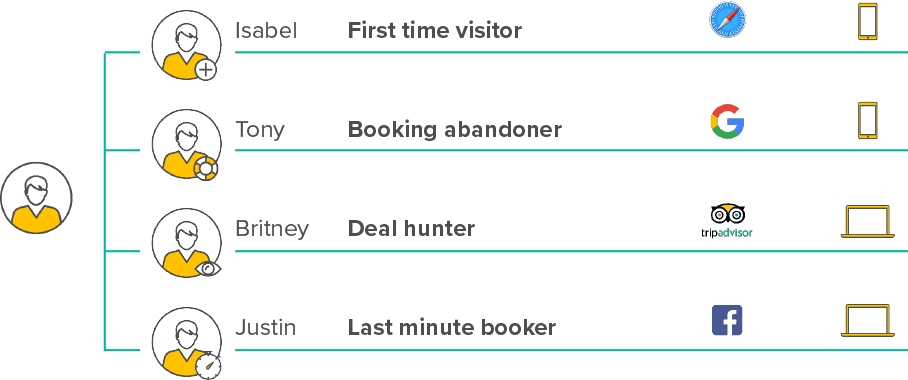 And here are the strategies we can use to optimize each…
CJO for a first time visitor
Challenge
Travel products are complex, with multiple touchpoints across the customer journey. How do you cater to a first time visitor to combat choice paralysis and help them find their perfect holiday?
Solution
Target messages based on what users are searching for to give them the most relevant experience as it's this, not price, that drives early travel plans. Then recognise if they're struggling, and put them in touch with an advisor via click to call, straight from their mobile.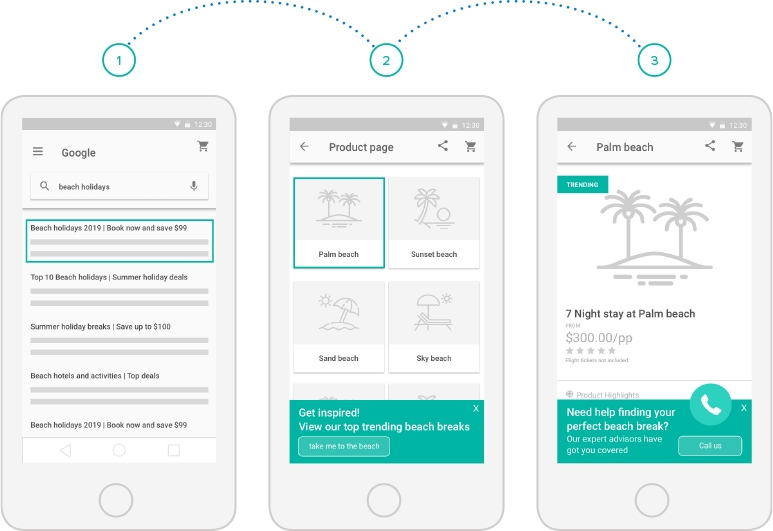 Why it works
"Over 90% of consumers know what they want to do on holiday, but they don't know where to do it. You can help – 80% of travellers say that informative content from travel brands can influence their decision-making process. "
Mark Murray, Head of Travel, Yieldify
CJO for a booking abandoner
Challenge
Travel has one of the highest abandonment rates of any industry at around 81%. Part of this is due to lengthy booking funnels. How can you keep bookers on track to buy?

Solution
Different parts of the booking funnel require different messages and tactics such as highlighting USPs or utilizing social proof. Combine messages as the customer moves through the booking journey to ensure the maximum conversion rate is achieved.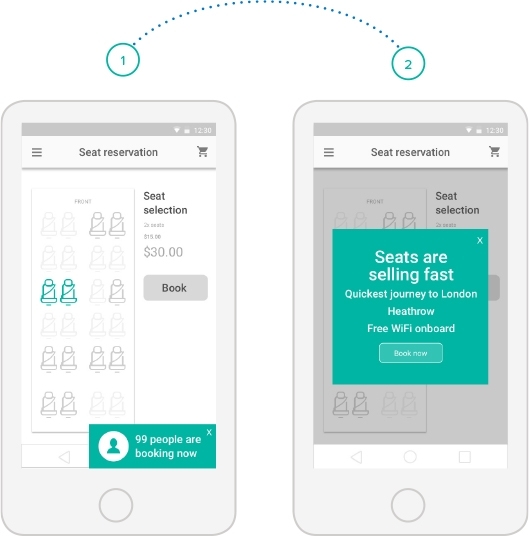 Why it works

"Our work with Stansted Express and Megabus highlights the right message at the right moment in the customer journey, demonstrating the value of multiple messages throughout the funnel. There is more than one opportunity to re-engage abandoning bookers, so don't miss a single one!"
Mark Murray, Head of Travel, Yieldify
CJO for a deal hunter
Challenge
Metasearch has changed the way visitors book. For example, 90% of millennials search for deals before booking and 49% of Generation X use search engines to compare. This means price-driven traffic, and lower average order values.

Solution
With the visitor in a comparison mindset help them decide by differentiating your offering and once you have them, encourage repeat purchases with a tailored incentive.


CJO for a last-minute booker
Challenge
Consumers are travelling more, holidaying on average 3.5 times per year, but booking later. This rise of the last-minute booker presents a problem when it comes to managing ultra-perishable inventory like flights and rooms. How can you convince a last-minute traveler to convert?
Solution
Utilize urgency to turn last-minute bookers into buyers, time is very much on your side for this tactic. Then tailor an offer based on how they've arrived on-site to drive average order values higher.


Why it works
"Perishable inventory is perfectly suited to urgency and our data shows this – it can drive a conversion rate uplift of between +3% and +7%. Combining this with a relevant ancillary upsell offers an additional route to increasing average order values."
Mark Murray, Head of Travel, Yieldify
CJO for travel: a case study

Through Yieldify's combination of expert strategy and technology, Stansted Express has been able to continuously optimize the online customer journey. By testing, learning and iterating on our campaigns, Yieldify has more than delivered on increasing our conversion rate and driving incremental revenue."


Chris Ford
Marketing and Digital Manager, Stansted Express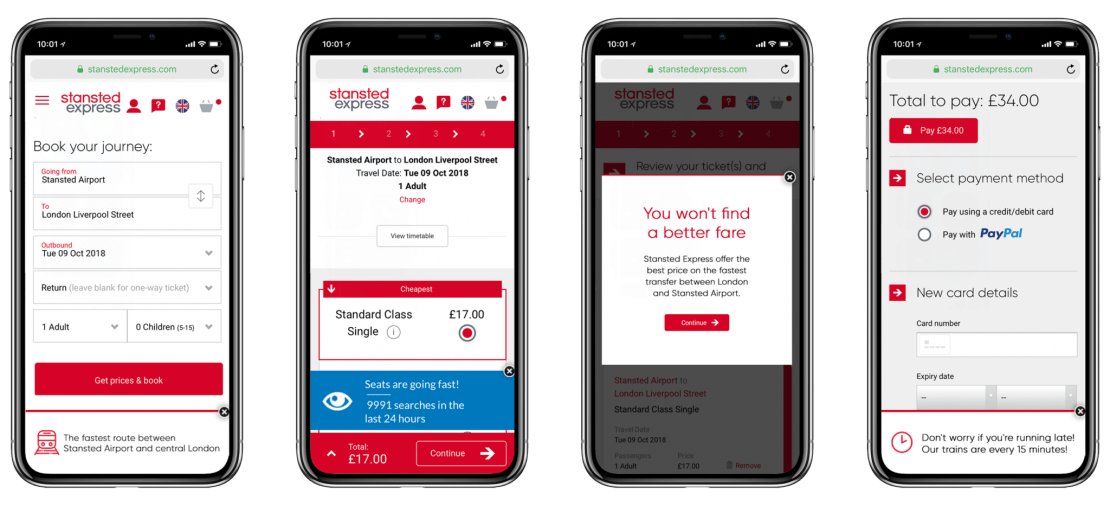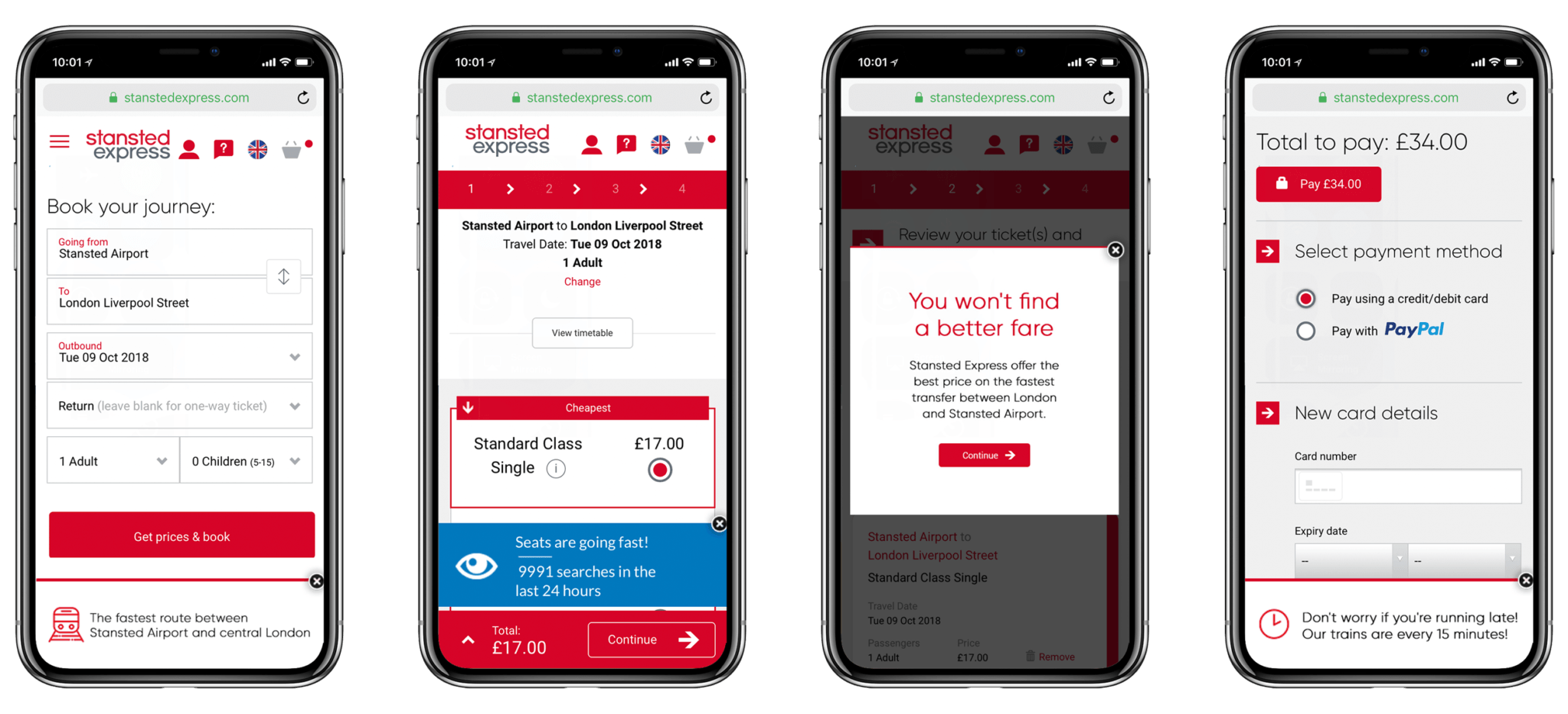 Customer Journey Optimization saw Stansted Express achieve a +120% uplift for four campaigns versus just one. To learn more, read the full case study here.
Gaming Customer Journeys
Key challenges
First deposit conversion
Deposit/bet conversion
Retention and active bettor base
Deposit/bet frequency and value
Cross-gaming activity
As a highly competitive industry focused on digital products, the big challenge within gaming is to create a differentiated betting experience that keeps customers coming back for more.
The ultimate goal is to create high-value repeat customers so that we can increase key performance metrics such as Net Gaming Revenue (NGR), AverageRevenue per user (ARPU) and Customer Lifetime Value (CLV).
Here's a simplified version of the different journeys gaming visitors might take: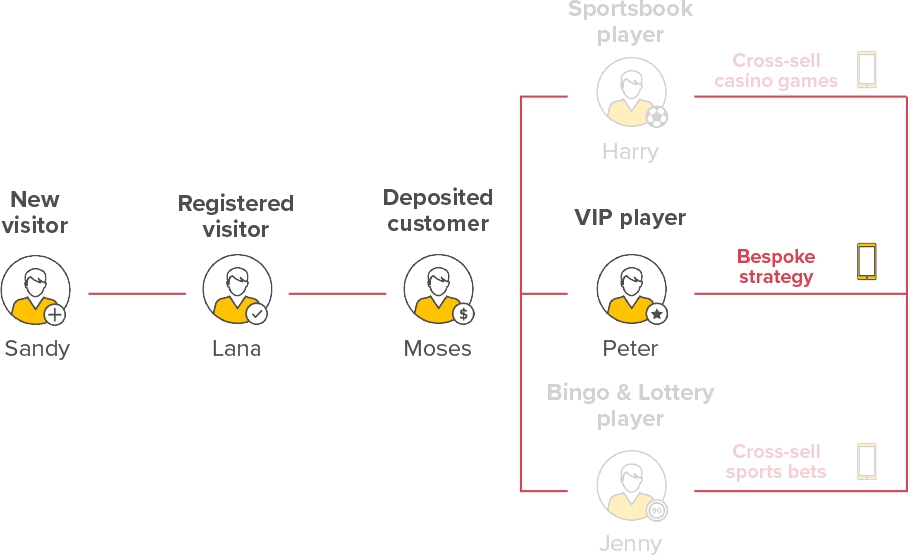 And here's how we go about optimizing those journeys…
CJO for new visitor registration
Challenge
Competition within gaming is fierce and customer acquisition comes at a premium, with gambling related keywords dominating the costliest list. So once you've overcome this to get them on-site, why should visitors register with you?
Solution
Remind new users why they should join and serve a welcome offer to secure the conversion.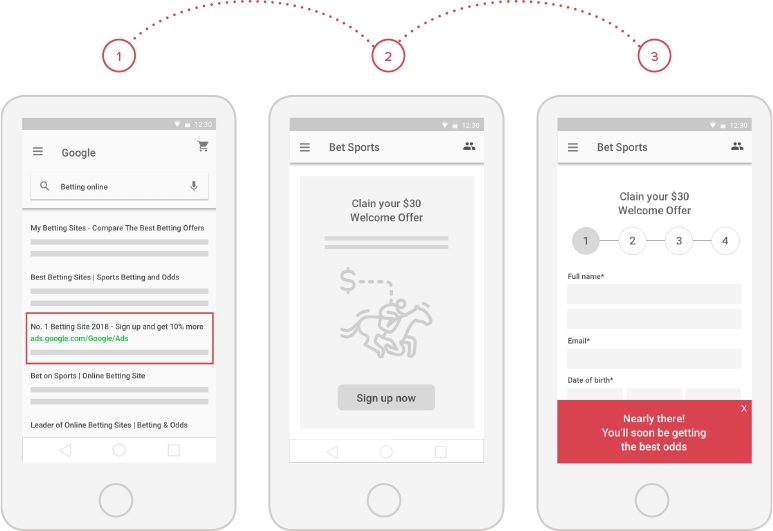 Why it works
"As a digital product, the difference is in the experience you offer your visitors. Making this clear at the outset gives them a reason to register, while a welcome offer recaptures visitor attention by reminding them of why they came in the first place"
Bruno Diogo, Consultant, Yieldify
CJO for registered visitors
Challenge

So you've registered a visitor, but now the challenge is to get them to deposit and lessen the time it takes for them to do that. First time deposit rates can be as low as 1%, again driving up those acquisition costs.

Solution
Showcase a first deposit incentive to non-deposited, first-time registrants to drive conversion and deposit values.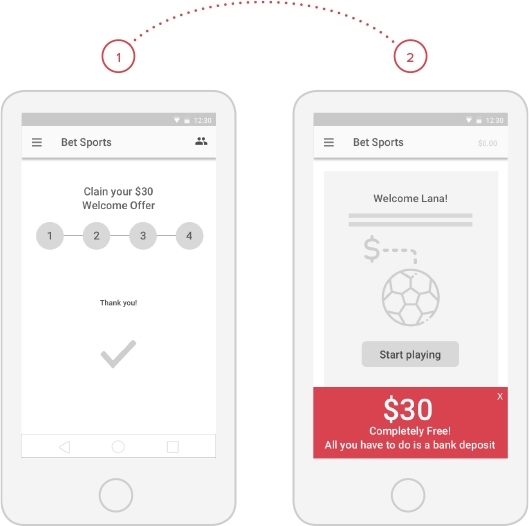 Why it works
"Offering the incentive via a timed notification automatically applies the incentive to the menu for relevant users, avoiding any barrier to entry by making it easy for users to interact with the offer."
Bruno Diogo, Consultant, Yieldify
CJO for deposited customers
Challenge
Visitors often play on one market, or one type of game. How can you encourage them to try something new?

Solution
Serve a notification to users who have previously shown interest in other offerings e.g. visited the casino or bingo pages.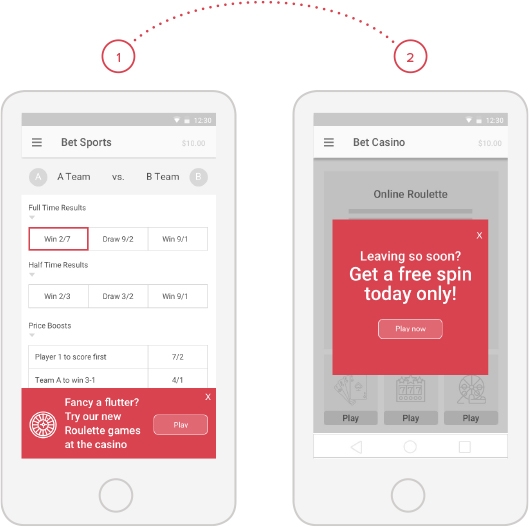 Why it works
"Encouraging visitors to explore and play on more than one type of market or game creates stickiness and increases lifetime value."
Bruno Diogo, Consultant, Yieldify
CJO for VIP players
Challenge
Encouraging visitors to spend more on a regular basis is difficult when customers are so fickle – they're always one click away from moving to a competitor gaming site.

Solution
Make them feel special with exclusive loyalty offers that are relevant to them, served at the perfect moment.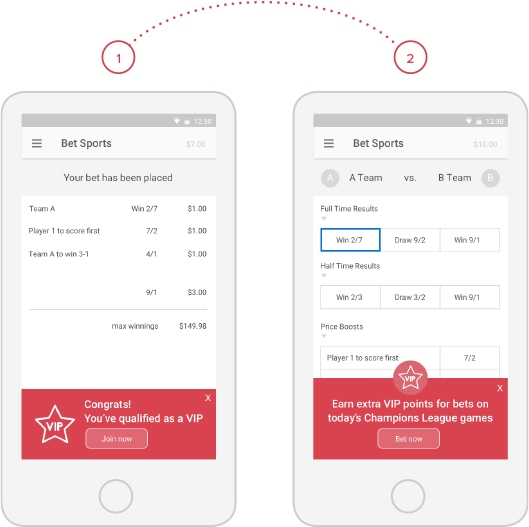 Why it works
"Consumers expect brands to know their preferences – and this is especially true when it comes to high rollers. Loyalty programs such as Frequent Player Points can encourage higher, more frequent bets."
Bruno Diogo, Consultant, Yieldify
CJO for gaming: a case study

"As a partner, Yieldify delivers a rare combination: speed and smarts. Their team not only analysed our customer journey to tap the perfect solution but even negotiated with third parties to make it happen – and the tech moves so quickly that you can test, learn and see the impact fast."


Robin Olsson,
Partner, Bethard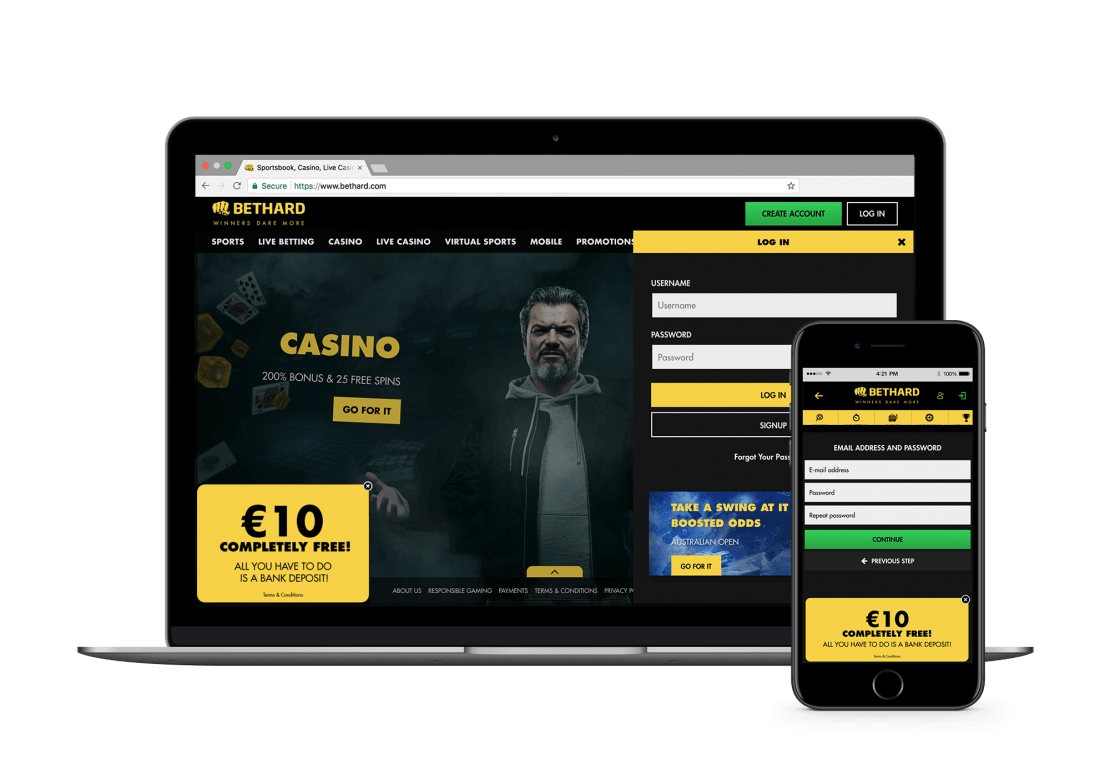 With CJO Bethard were able to increase deposits by 23%. To learn more, read the full case study.
---
Ready to get started with CJO? Book a free consultation below to learn more about how we've helped the leading retail, travel and gaming brands personalize the customer journey.