BLOG
#Journey2019: An interview with James Boyle from Flight Centre
Published: Mar 6, 2019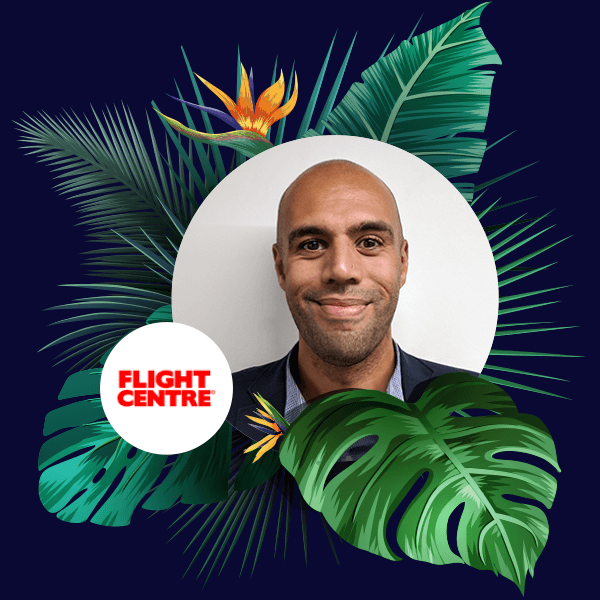 With #Journey2019 just around the corner we're going behind-the-scenes with our amazing speaker line-up. Today we talk with James Boyle from Flight Centre.
Hi James, thanks for speaking with us today! Can you tell us a bit more about you and your role at Flight Centre?
Yes sure. My role is Head of Performance Marketing for Flight Centre UK. I'm responsible for driving traffic and enquiry conversion through the site through our performance-based channels such as PPC, SEO, Display Retargeting, A/B Testing, and anything offline also that's performance-based, so it's a really varied and hands-on role. I've been working at the company since 2016, found my groove pretty early on, and work with a great team.

Essentially I am a digital marketer at heart, and although no two days are the same, my main focus is to ensure we get the best return on investment across our performance-based channels.

Nice, and how did you end up where you are today?

Primarily my background has mainly been in travel, I was working in the retail property market for a while prior to Flight Centre, but I quickly found that I really missed travel. Before that, I worked for an airline, Virgin Australia, in a similar role, so e-commerce focused, and prior to that, I lived in Edinburgh, working for the tourism board VisitScotland.

There's a lot of similarities working at an airline, then in tourism, then where I am now at an online travel agent, but there's also a lot of differences as you can imagine. At Flight Centre, we have 80+ retail stores, and we have a huge depth of product, we're selling airline tickets, we're selling hotel products.
In my past roles it was all about achieving a direct booking with the airline, or inspiring people to visit a particular location. It definitely helps with the learning curve being exposed to different organizations, and I can't think of a more exciting industry to be in that travel.

And speaking of where you are today, can you tell us a bit about Flight Centre?

Flight Centre was founded in Australia, as part of the Flight Centre Travel Group, we're a very large business – something that a lot of people usually find surprising if they're not familiar with us.
We specialize in a variety of areas, but primarily in tailor-made holidays. As mentioned we've got 80+ stores in the UK, right across the country, so if there's a busy high street we're not too far away! We entered the UK market in the mid-90s and have expanded significantly over the last 20 years.

As a business a key differentiator for us is our people, we have a huge focus on driving customers in-store, so we can tailor make any holiday they need. There may be a view that travel agents are a thing of the past, but there's so much choice now and everyone is so busy I think that's changing. An example recently, I booked a trip to Oman, and it was somewhere I was not familiar with so having someone on hand to help me with the trip saved so much time when it came to research.
This really is a huge asset for our business, we get so many reviews from customers shouting out the individual consultants. The fact that in the last 12 months we've seen our Trustpilot score go from 8.8/10 to 9.7/10 is a testament to our people and is something we're really proud of.
You've talked a bit about what differentiates Flight Centre as a business, what would you say are the key challenges in travel?
The thing that comes up the most for us, and particularly in the work we've done with Yieldify, is optimizing for the full customer journey. I think as consumers we now have such high standards when it comes to our experiences with brands, and this applies to travel but also to any industry.

This is especially true online, given how quickly technology develops, that as a business we need to ensure we're giving the best experience of whatever touchpoint the customer has interacted with us via. And with Flight Centre this can be via live chat, phone, email, in-store, and more – it's a big challenge for any brand to ensure consistency across all those touchpoints.
This is particularly important for travel, as there's not as much brand loyalty. Consumers have gotten used to booking flights and accommodation separately and will book activities either just before they leave or in-destination. Building loyalty is about really tapping into the customers' needs at a deeper level, visitors can use metasearch, but we can provide a fully tailored trip, with personalized recommendations from someone who's been to that destination multiple times.

And how are you going about understanding your customers and how their expectations are changing?

It's really interesting, we kind of started this process last year, thinking about what we could do around the acronym CJO, Customer Journey Optimization, that Yieldify has popularized. So we've been working a lot more closely with our CRM teams, and making sure we're analyzing the right data, as well as assessing every single touchpoint that a user can potentially come into contact with us both on our website and with our brand.
It's been a lengthy process, but we want to ensure users are getting consistency, in terms of their brand experience, at every point in the journey. This ties back to the challenges a lot of brands have, particularly around organizational silos. We're fortunate at Flight Centre that, for example, we have operations in the same meetings as marketing so we can quickly get a gauge and feedback on what's working with the customers. This really helps in terms of the feedback loop and that we're all thinking outside our own headspace, and more in line with the customer.


Are there any companies that you see as really meeting the level of experience that customers expect today in travel or other industries?

I think it's the names that come up again and again at industry events, and also from my own experience, so the likes of Booking.com, where I usually have a seamless booking experience. I really like the convenience they offer and flexibility, they've nailed it.
Then for me, it's really a lot of companies outside travel, particularly in retail. A really good example for me because they have that high street presence, as well as an online presence, is Argos. It again comes back to that level of customer expectation, people are ordering from the likes of Amazon so you need to compete with that. I think I ordered something from Argos recently, it wasn't even next day delivery, it was same day delivery for something I ordered at midday. It's that kind of level of service, as a brand that's a huge advantage. I really like the way they give you the flexibility, either pick up your item via click and collect or get it delivered.


Finally, can you give us a bit of info about your session at Journey 2019 and what you're looking forward to on the day?

Sure, so I'll be joining the travel breakout panel session alongside Loco2 and Thomas Cook Airlines, so it should be a really good discussion. We'll hopefully go a bit deeper into some of what we've discussed today actually and I'm looking forward to hearing what the other speakers have to say! These sessions are also great as a networking opportunity with like-minded professionals facing similar challenges.
I'm also looking forward to seeing Sam Willan from StudentUniverse as I've learnt a lot from his team while working on Yieldify so will be great to see his presentation. As for the rest of the line-up, it'll be exciting also to see what we can learn from other brands not only in the travel space but in retail. I'm actually gutted I'll be missing the retail breakout session with John Lewis and Oliver Bonas which is at the same time as my session, so hopefully, I'll be able to get some notes on that!
Thanks James, looking forward to next week!
If you're lucky enough to have nabbed a ticket to Journey2019 then check out the full line-up here to plan your visit, and we'll see you there!