BLOG
Guide to Generating SMS Leads That Convert
Published: Jan 23, 2023
Take a look around you – everyone is glued to their smartphones.
The average American checks their phone 63 times a day and, according to Forbes, 90% of texts get read within just three minutes of delivery.
Our dependency on smartphones makes SMS one of the quickest and most efficient ways to reach your customers – yet only 47% of marketers have embraced SMS marketing, while 82% use email marketing.
But this gap between email and SMS marketing is narrowing, with industry experts predicting the SMS industry in the US will grow 20.3% every year until 2025.
To prepare you for one of the next big things in marketing, in this blog I'll guide you through:
The fundamentals of SMS lead generation
How to capture more SMS leads
A six-step mobile marketing strategy to convert your leads into customers
Five leading SMS marketing tools
If you'd like deeper insight into solutions that can help you increase email and SMS subscribers, check out our post covering 12 of the best lead generation tools. Otherwise, let's start with SMS lead gen.
What is SMS lead generation?
SMS (short message service) lead generation is the process of acquiring phone numbers from current and prospective customers so that you can remarket to them.
The objective of SMS lead generation is to create a direct line of communication with your customers and send them marketing material – such as promotions, new product launches and cart reminders – that encourages them to buy one of your brand's products.
When you're generating SMS leads, try to gather extra information along with your customer's phone number, including:
Name
Gender
Birthday
Zip code
This information will help you personalize the SMS marketing content you send to your customers (more on this later).
Advantages of using SMS lead generation
1. SMS drives high conversion rates & ROI
SMS marketers generate a staggering 71:1 ROI on average.
Much of this ROI can be explained by the average conversion rate for text messaging (29%), which is significantly higher than email marketing conversion rates (2-5%).
The excellent SMS conversion rate points to a deeply significant factor: it shows your SMS subscribers are deeply invested in your brand and arguably your most valuable customers.

And the beauty of SMS is you can reach these loyal brand ambassadors with a text message in a matter of seconds – regardless of whether they have internet access or not.
2. Your customers want to receive text messages from brands
SMS marketing is a two-way street – it benefits brands and consumers.
Your customers want quicker and more reliable access to the brands they love:
91% of consumers are interested in signing up for texts
70% of consumers opted in to receive texts in 2022
75% of consumers prefer offers via SMS
The demand is there – so go and respond to it.
3. SMS drives more customer engagement than email
Email marketing may be more widely used than SMS, but that doesn't mean it's more effective.
In fact, SMS marketing outperforms email across many key performance metrics:
If you're serious about driving more sales, it's about time you used email and SMS marketing to engage your customers.
7 tips & tactics for generating SMS leads
1. Target your current email subscribers
Email is statistically the best channel to drive SMS sign-ups, with opt-in rates between 1.6%-10.5%.
Your email subscribers are already getting your marketing content, so it makes sense to use your email channel to let subscribers know they can also opt in for SMS updates – they're more likely to sign up for SMS than your social media followers or website visitors.
2. Display website opt-in forms
You're already running opt-in forms to generate email leads, but you're missing a trick if you're not also displaying an option to subscribe to SMS.
As I mentioned earlier, the majority of your customers want to receive text message marketing – so help them sign up by displaying opt-in forms throughout their website journey.
Using Yieldify's personalization platform, ecommerce marketers create fully customizable, on-brand and highly targeted opt-in forms to increase SMS subscribers. Check out the example from StickerYou below, and read more about how they leveraged Yieldify's technology to tackle the rising cost of customer acquisition.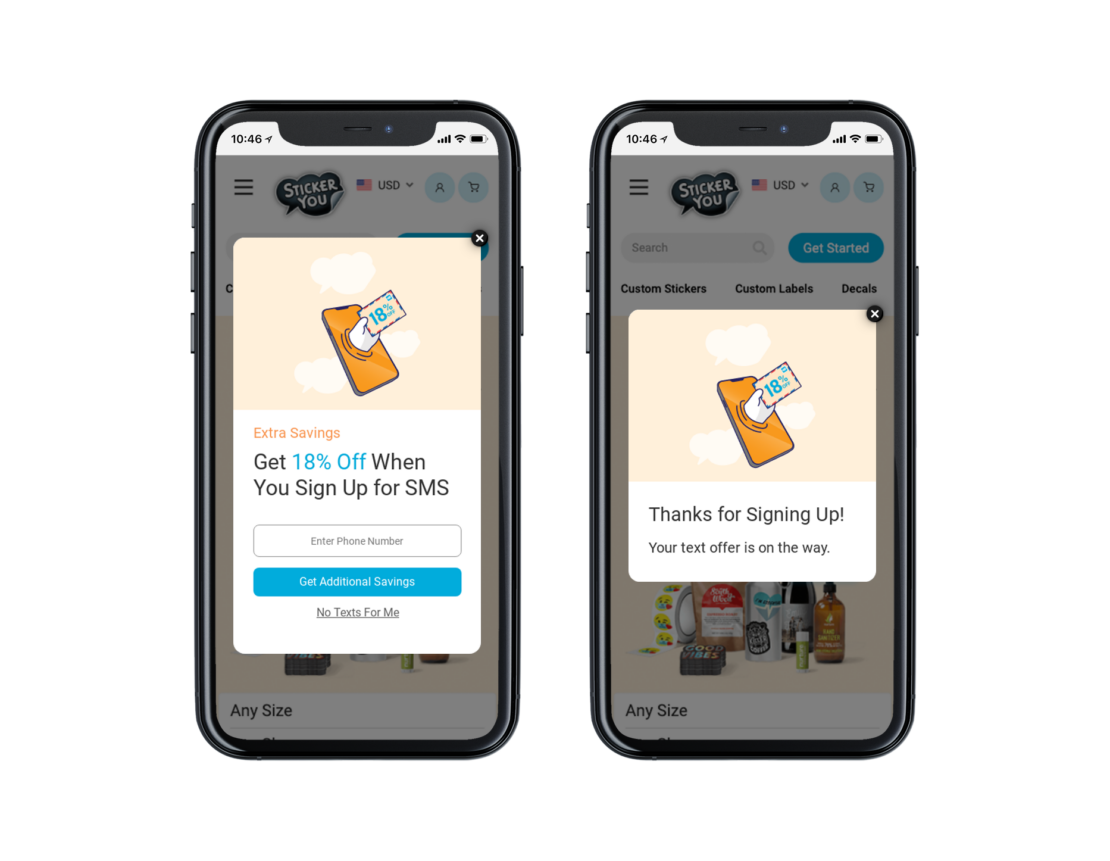 3. Give your customers an incentive to subscribe
Your customers are used to getting something in return for their email address, so they're unlikely to subscribe unless you adopt the same tactic for your SMS lead generation strategy.
Offer these common incentives to get more leads:
Discount codes
Free gifts
Downloadable content
Back-in-stock reminders

4. A/B test your website opt-in forms
The current SMS lead generation rate for a website is just 0.7%-1.4%.
To rise above the industry average, run A/B tests to see how the design, placement, messaging and triggering of your website opt-in forms impacts sign-up rates.
If you have more than 100,000 monthly website visitors, you can use Yieldify's A/B/n testing technology to test up to 5 forms at the same time.
5. Launch a customer referral program
Your current customers are one of your most powerful marketing tools.
92% of people trust word-of-mouth recommendations from friends and family more than any other form of marketing, and referred leads convert 5X faster than those acquired from other channels.
Set up a referral program and encourage your SMS subscribers to recommend your brand. Then watch your SMS list grow.
6. Scale your email & SMS subscribers at the same time
Email leads are typically less engaged than SMS leads, but ecommerce marketers still drive a healthy 45:1 ROI from email marketing.
Both email and SMS leads are highly valuable, so ask your customers to submit their phone number and email address in your website opt-in forms at the same time – or get them to subscribe to SMS in a separate form after they've submitted their email.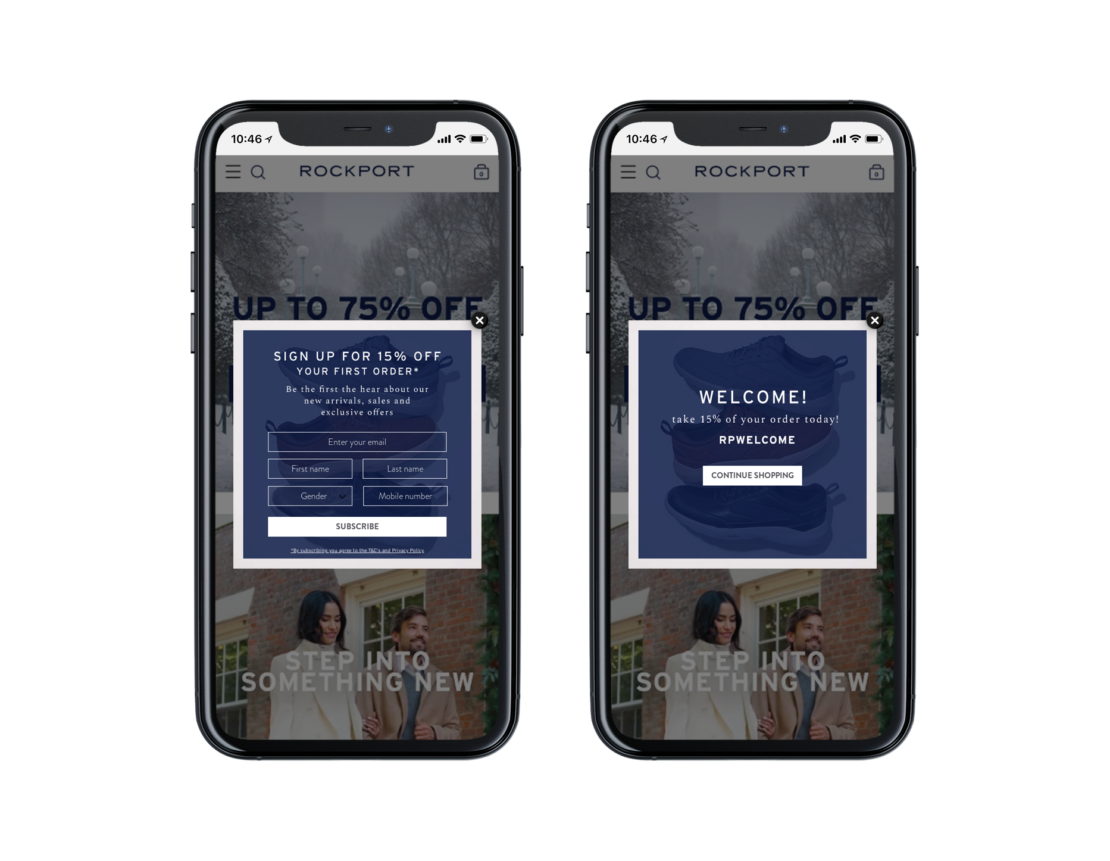 7. Run social media campaigns to incentivize sign-ups
Your social media followers are some of your biggest brand ambassadors, so they are likely to be interested in subscribing to your SMS list.
To generate leads through your social media platforms, you could:
Add opt-in links to your Instagram story
Embed an opt-in link to your Facebook page header
Place an opt-in link in your Twitter bio
Use Tik-Tok influencers to promote SMS
Run a text-to-win contest on Snapchat
6 steps to a great SMS campaign
1. Segment your audience
Market segmentation techniques are integral to any successful SMS marketing campaign.
Segmented messages get 83% more engagement than those that don't, so divide your customers into groups based on demographic, psychographic, geographic and behavioral characteristics.
For example, you could segment your SMS subscriber list by:
Age
Engagement level
Purchase history
Browsing history
Cart abandonment
Location
The goal of segmentation is to provide the most relevant, personalized content for your current and potential customers, and make it easier for you to scale and automate your SMS campaigns.
2. Create SMS drip campaigns
SMS drip campaigns are sequences of automated texts you send to subscribers to keep your brand top-of-mind and drive more sales.
For example, your SMS drip campaign might look like this:
Send new leads a welcome text with a unique discount code
Follow up with a reminder to use the discount code
Thank your customer for completing their first order
Share promotional content about your brand story
Offer another discount code in exchange for a friend referral
Remember, it's important to strike a good balance with your SMS drips.
Your customers receive countless mobile notifications every day, and they won't hesitate to unsubscribe if your messages are spammy or overly generic – which leads nicely onto personalization.
3. Personalize your messages
Personalization is essential for creating SMS messages your customers want to read – and the stats are there to prove it:
72% of customers interact only with personalized messages
Texts with personalized content get 259% higher engagement
60% of shoppers are likely to become repeat customers after a personalized experience
You can personalize your SMS messages in a variety of ways, including:
Sending welcome messages to new subscribers
Addressing your customers by name
Sending exclusive discount codes on your customer's birthday
Tailoring content to your customers' position in the purchase cycle
Recommending products most relevant to your customers' browsing behavior
Take this example from Qalo, who gave their customer an exclusive offer after they'd abandoned their online shopping cart.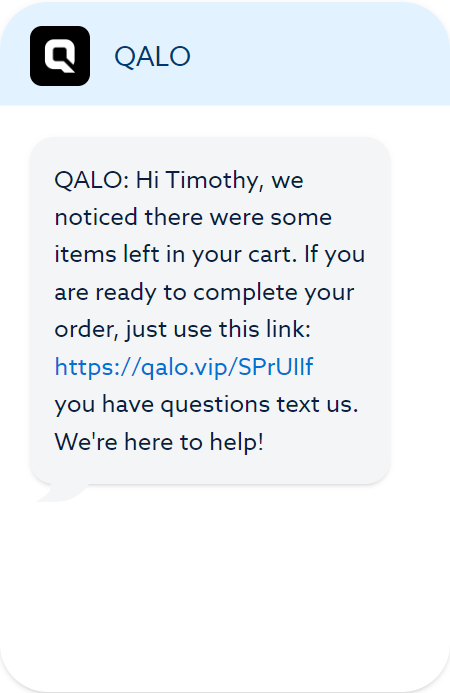 4. Offer discount codes
Your customers are becoming increasingly reluctant to pay full price thanks to the ubiquity of discount codes and sale periods, with 64% of people now waiting for items to go on sale before buying.
The reality is that discounts drive sales, and that's particularly true of SMS campaigns. In 2021, 8-16% of customers redeemed SMS discount codes compared to just 2.7% for email discounts.
Only 31% of customers take action in response to general offers. With that in mind, use these three engagement-driving discount codes instead:
Pricing-based offers
Time-sensitive offers
Location-based offers
5. Leverage visual content
All marketers know that visual content is king, and the science backs it up: human beings process visual information 60,000 times quicker than the written word.
In SMS marketing, 51% of customers are more likely to make a purchase after receiving texts containing images, videos or GIFs – so pique your customers' interest by incorporating these eye-catching cues into your campaigns.
6. A/B test your messaging
A/B testing is a popular marketing testing method which helps you understand how to drive the highest open, response and conversions rates from your text marketing.
You can optimize your SMS campaigns by testing different aspects of your messaging, including:
Time of delivery
Tone of voice
CTAs
Incentives
Personalization
Visual content
Use the insights you gain from A/B testing to continuously adapt your SMS marketing content and align it with your customers' preferences.
Best tools for SMS leads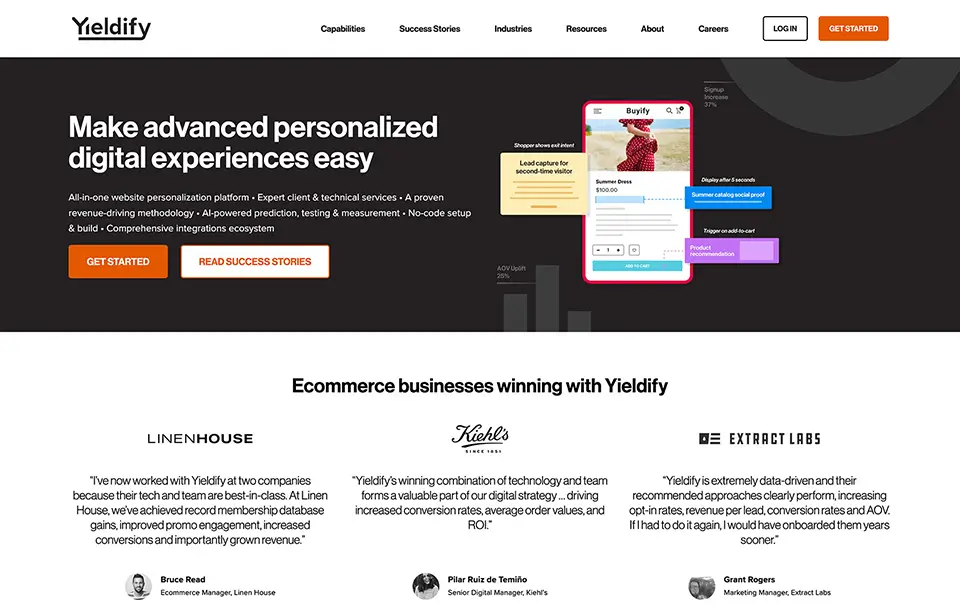 Yieldify is a fully managed personalization platform that helps ecommerce businesses generate more revenue by engaging their customers with personalized experiences. With Yieldify's layered lead generation functionality, you can build customizable, on-brand and highly targeted opt-in forms that drive more SMS sign-ups at every step of the customer journey.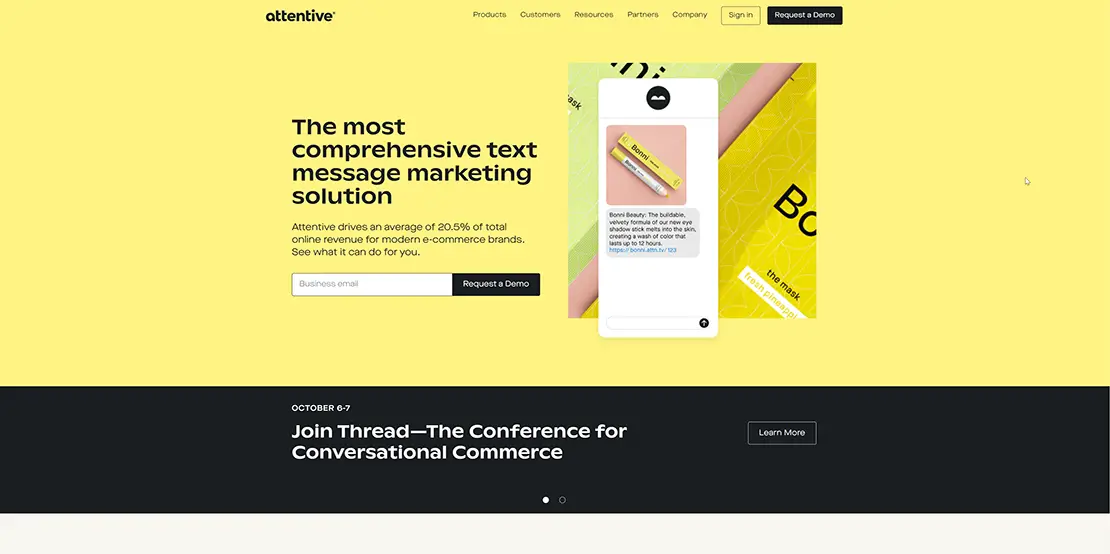 Pitching itself as the leader in conversational commerce, Attentive is a text message marketing solution that helps everyone from entrepreneurs to enterprise customers form deep customer connections through SMS marketing. Grow your subscriber list with website sign-up forms, engage your customers with conversational text messages, and streamline purchase decisions with Attentive.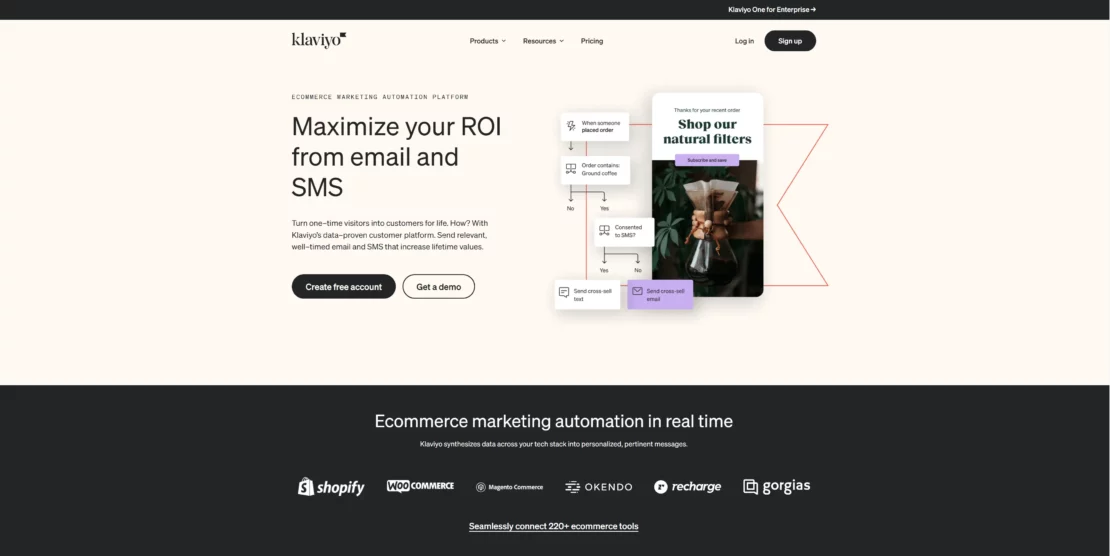 Klaviyo is a growth marketing platform that helps D2C brands deliver more personalized experiences to their customers across email, SMS, in-app notifications and web. With Klaviyo, you can drive more SMS leads, have two-way text conversations with customers, run A/B tests, download SMS marketing reports and more.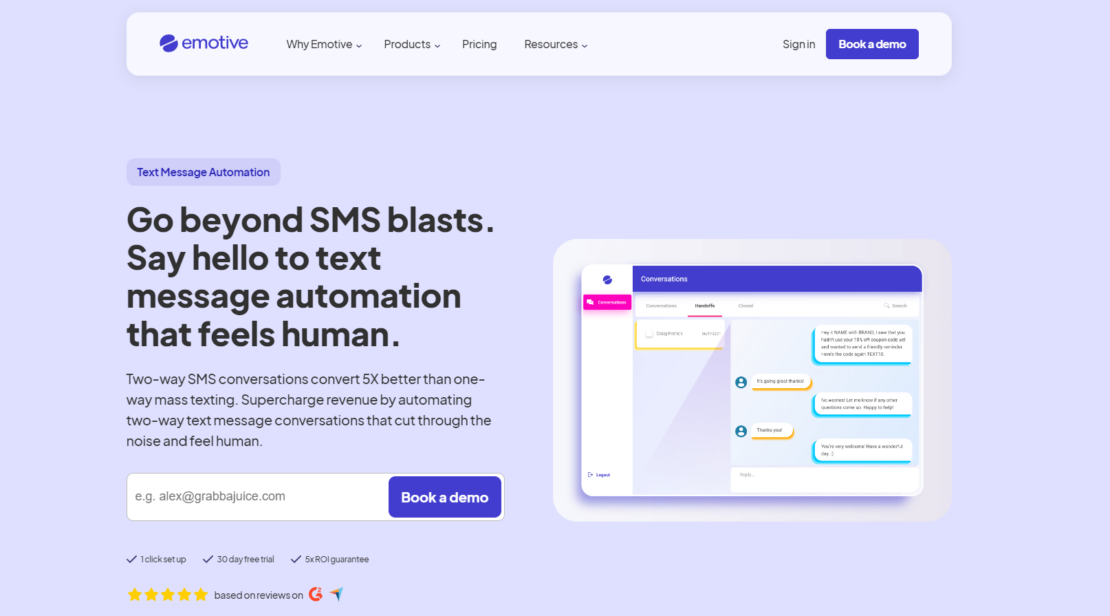 Emotive is a full-funnel SMS marketing platform with a range of features – including lead generation, automated two-way customer conversations and an intuitive data dashboard – to help you drive more sales and nurture customer relationships. Emotive promises to generate at least $2500 in revenue for new customers who spend $500 on SMS – or they'll pay the difference.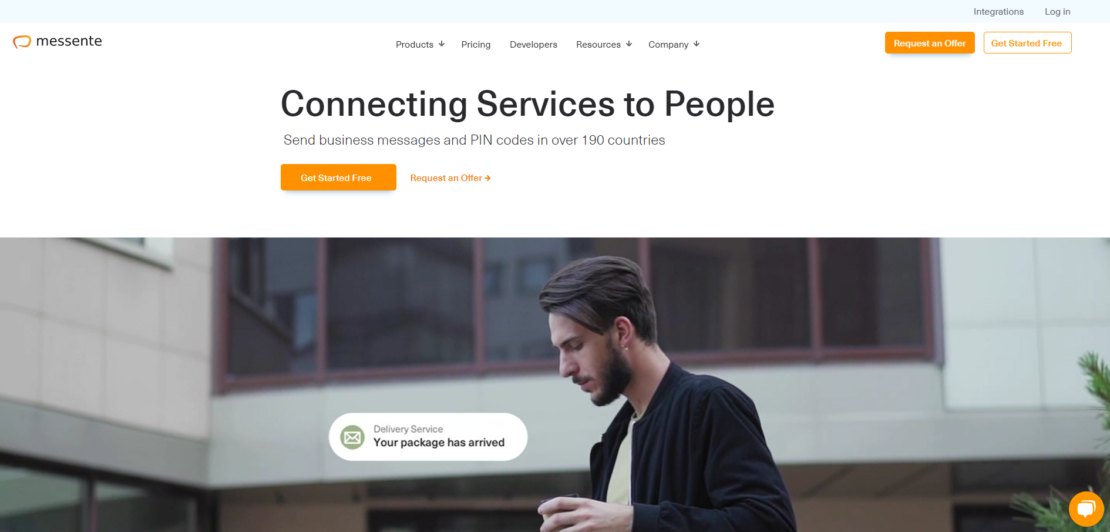 Messente advises customers on which types of messages to use and helps B2B businesses reach mobile phones in over 190 countries worldwide. As well as powering SMS marketing, Messente helps businesses deliver pin codes and notifications to their customers.
---
SMS Lead Generation FAQs
Is SMS a marketing tool?
SMS is a low-cost, high-impact way to connect with customers which ecommerce brands are increasingly incorporating into their marketing strategies. With delivery, open and response rates outperforming email, SMS is one of the most effective ways to promote sale periods, re-engage hesitant customers and form deeper customer relationships. 

Is SMS marketing effective?
SMS marketing is one of the most effective channels in an ecommerce marketer's armory. A survey from Attentive revealed 91% of customers want to sign up for SMS marketing, and conversion rates (29%) massively outperform email marketing. 

How do I run an SMS campaign?
To run an SMS campaign, start by splitting your list of subscribers into sub groups and creating drips for each market segment. SMS campaigns that drive the highest number of conversions typically include personalized messaging, visual content and coupon codes.