BLOG
14 Social Proof Software to Skyrocket Sales
Published: Dec 20, 2022
In the last five years alone, industry estimates suggest customer acquisition costs have risen by 60%. If your ecommerce brand is getting diminishing returns from PPC advertising and your other acquisition sources, adding social proof to your website can help.
Social proof is a psychologically powerful tool you can use to remove customer hesitation, validate decisions and drive urgency – and it's more effective (and in my experience usually cheaper) at increasing sales than your own marketing material.
According to Nielsen, 92% of customers trust non-paid advice over paid adverts. So, if you want to lift conversion rates, start using your brand's biggest advocates and most prolific marketers: your current customers.
Here's how you can use social proof on your website:
Spotlight customer testimonials
Drive urgency through stock scarcity
Highlight product popularity
Leverage case studies and success stories
Embed trust badges
In this blog I'll review 14 of the best social proof tools on the market to help you choose the right one for your business. The tools fall into three categories:
All-in-one CRO platforms
Specialist social proof tools
Customer review tools
If you're looking for software to lift conversion rates using a variety of CRO techniques, check out our post outlining the best CRO tools. Otherwise, let's dive in.
Disclaimer: Yieldify is our product. We've done our best to present the information fairly because we want to help you make an educated decision but we're especially proud of what we offer. We've seen it transform conversion rates, lead generation and revenue for so many brands – large and small – all over the world. You may have seen we use the Yieldify platform and services on our own website too. Learn more here and schedule a call with an advisor. 

14 Social Proof Software to skyrocket sales
All-in-one CRO platforms (1-4): All-in-one CRO platforms typically lift conversion rates by using social proof in conjunction with other website optimization techniques. As well as social proof, all-in-one solutions include cutting-edge features like lead generation, user-generated personalization, product recommendations, A/B testing and more.
Specialist social proof platforms (5-9): Specialist social proof platforms leverage the power of social proof – with a strong focus on emphasizing product popularity – to drive website conversions. These platforms don't include any additional features.
Customer review platforms (10-14): Customer review platforms provide a form of social proof marketing with a review-led focus. These platforms drive more conversions by helping you collect customer reviews and display them across your digital channels.
All-in-one CRO platforms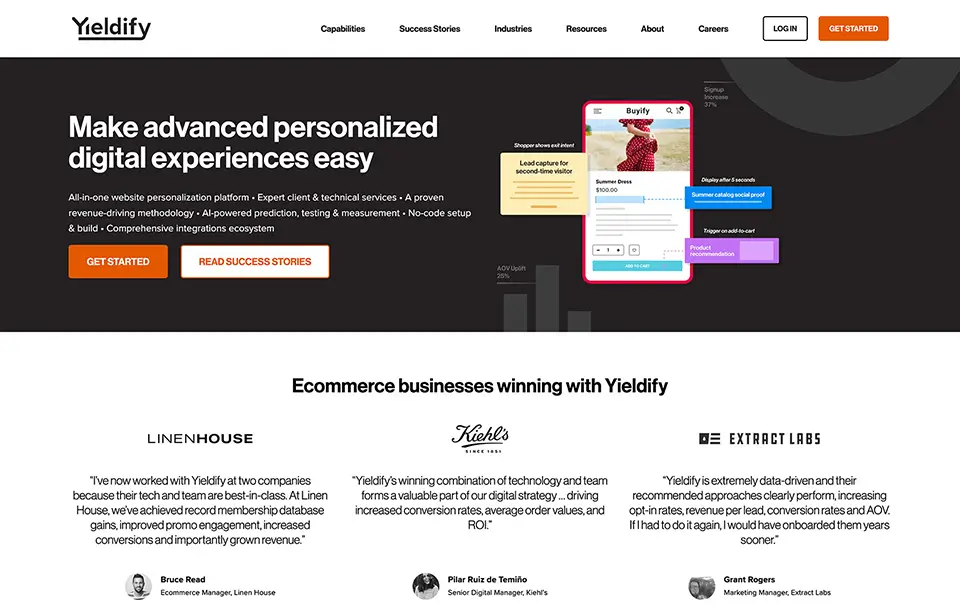 Yieldify is a fully managed personalization platform that helps ecommerce businesses generate more revenue by engaging their customers with personalized experiences. Their social proof functionality is a highly rated feature that will help you increase your website's conversion rates.
Top features
Real-time customer activity: With Yieldify, you can show customers almost any real-time customer activity to validate interest and drive urgency. For example, you can show shoppers how many customers recently:
Viewed a product
Added a product to cart
Purchased a product
Brand-building: Use social proof to establish customer trust from website entry through to checkout with trust badges and customer testimonials.
Fully customizable: Rely on Yieldify's full service team of creative designers and technical engineers to build any social proof design you want. 
Audience segmentation: Create social proof messages that reach your customers at optimal moments in their journey with Yieldify's extensive range of targeting & triggering rules.
A/B & A/B/n testing: Achieve your highest possible conversion rate by testing up to 5 different variations of a single social proof experience, tweaking the messaging, design and placement to uncover your best performing campaign.
In-depth analysis: Go beyond Google Analytics and dig deeper into your customer journey data to identify where social proof will drive the biggest uplift in conversion rates.
Integrations: Integrate Yieldify with all major review platforms – Feefo, Trustpilot, Yotpo, Google Reviews, Bazaarvoice – to highlight customer testimonials at key touch points.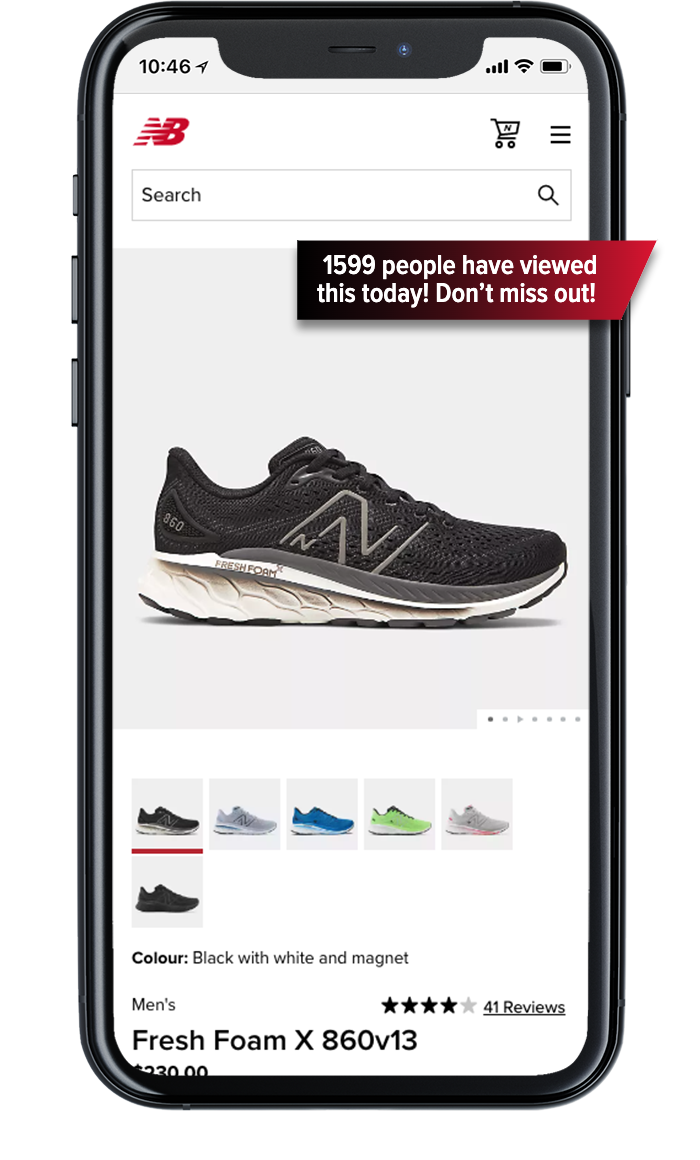 Pros of Yieldify
Drive more sales: Yieldify's social proof experiences have helped SMB and enterprise clients – from fashion and beauty to home and garden – lift their conversion rates by up to 144%
Incremental reporting: Yieldify only attributes value to the 'incremental' impact you see from your social proof experiences, not the total revenue – so you'll always have full transparency about how your campaigns are performing
Market-leading service: Rated 9.7/10 for quality of support, Yieldify's service team is second-to-none in the personalization industry. Read their G2 reviews to see what clients have to say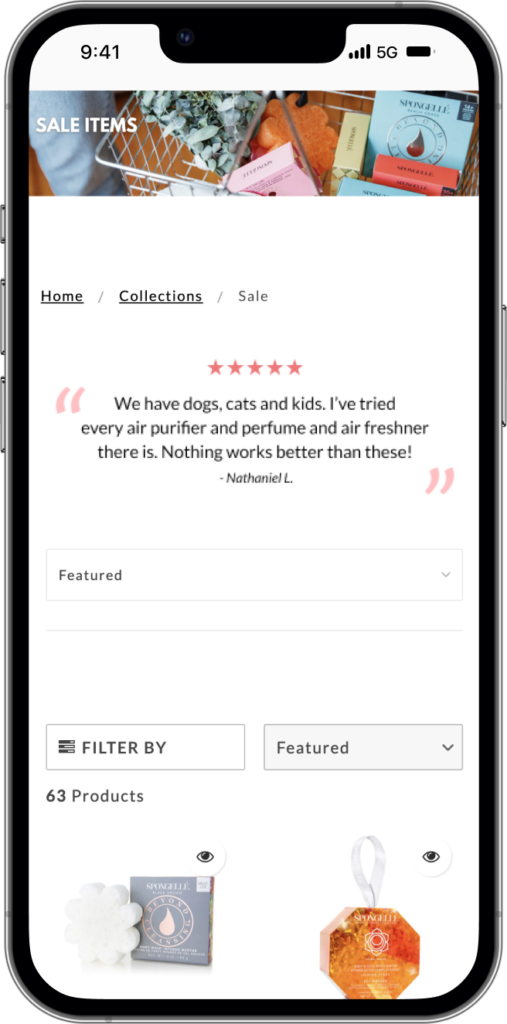 Cons of Yieldify
Category page social proof: Custom campaigns spotlighting real-time data on category pages require input from a technical account manager and can take longer to launch
Pricing
Speak to Yieldify's sales team for more information on pricing.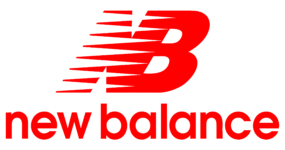 "Yieldify's flexibility and breadth means we can rapidly turn ideas into action and deliver revenue growth across consumer journey touchpoints. Our account manager is a valued partner and extension of our team."
"With Yieldify's granular data segmentation and analytics, we're able to step back and better understand our customer needs. The result is easy to test, effective campaigns that drive high ROI. Yieldify is like a flashlight in the dark."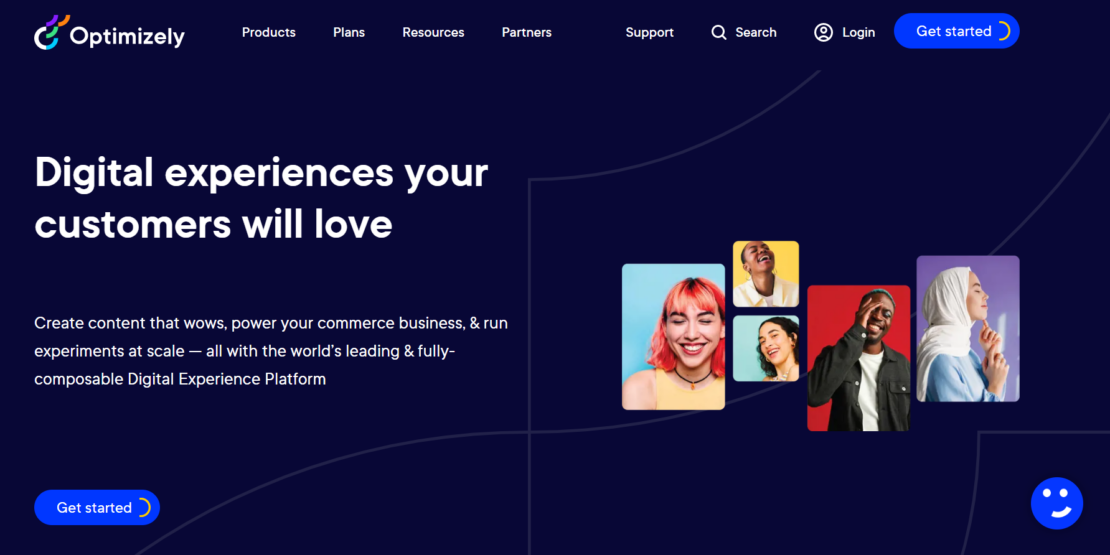 Optimizely is an all-in-one personalization platform designed primarily for customers to run in-page tests and experiences. From content management to web experimentation, Optimizely offers a range of packages to help customers enhance digital experiences. Social proof software is included as part of an AI-powered Digital Experience Platform that delivers a range of personalized experiences and product recommendations.
Top features
A/B testing: Test the effectiveness of your social proof experiences with Optimizely's powerful front-end A/B and multi-page testing software.
Built for enterprise: Optimizely's features are designed to meet the advanced technical needs of enterprise-sized businesses.
Comprehensive support: With a global developer community, in-depth documentation, knowledge base and dedicated Slack channels, Optimizely provides plenty of resources to help you navigate technical challenges.
Pros of Optimizely
Scope: Optimizely's features let you run almost any type of on-site personalization or acquisition experience
Experience: Optimizely is the longest-standing CRO platform of its kind
Cons of Optimizely
Slow launch: Almost all experiences require hard coding, meaning they can take months to fully build
Limited experiences: Clients typically need to build out full teams to use Optimizely. After doing so, you can only run about 8 – 10 experiences per year
Pricing
Speak to Optimizely's sales team for a quote tailored to your business requirements.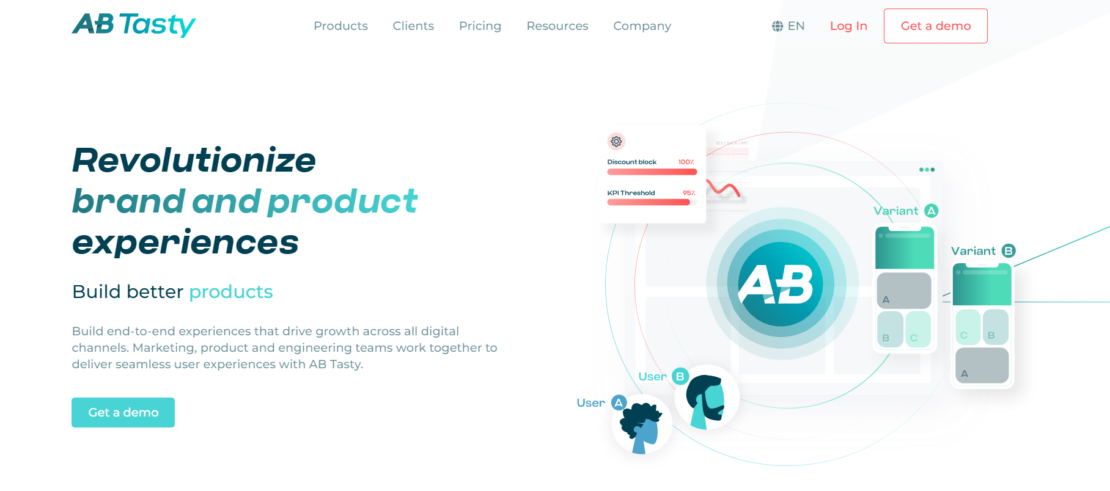 Designed as both a marketing and engineering solution, AB Tasty is an in-page personalization platform designed to test, optimize, and deploy in-page webpage modifications. AB tasty has helped brands like Decathlon and NYX Professional Makeup increase website transactions and click-through rates by A/B testing social proof experiences on product pages.
Top features
Triggering: Use AB Tasty's range of display rules – including page load, scroll depth and exit intent – to trigger your social proof experiences at exactly the right moment.
Drag-and-drop editor: A SPA-compatible widget library lets you create social proof experiences with little or no code required.
Recurrence: Set your experiences to appear at your preferred cadence.
Pros of AB Tasty
Customer success: Clients have reported positive experiences with the quality of AB Tasty's support team
Multi-Arm bandit testing: Dynamically allocate traffic to the highest performing variant of your social proof experiences
Cons of AB Tasty
Time to live: AB Tasty's extended implementation process requires multiple tags to run and track sales
Limited targeting: You can't use demographic targeting with AB Tasty
Pricing
Speak to AB Tasty's sales team for more information on pricing.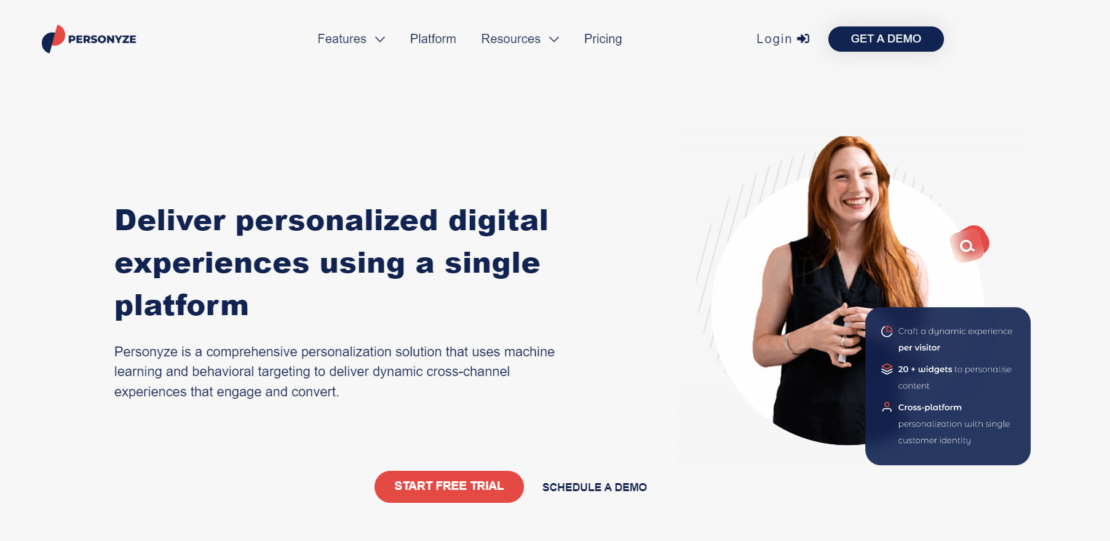 Personyze is an AI-powered omnichannel personalization and marketing automation platform which leverages social proof to help ecommerce brands lift sales. Founded in 2008, Personyze also offers customers target pop-ups, push notifications and product recommendations.
Top features
Multichannel offering: Use the power of social proof to boost sales at every digital touchpoint – including your website, email marketing and mobile apps.
Customizable widgets: Create social proof experiences to meet your design requirements or use a Personyze template.
Data integration: Automatically synchronize your product and content data using Personyze's site content crawler.
Pros of Personyze
Step-by-step wizards: Launch social proof messaging using detailed how-to guides
Custom KPIS: Track customer behaviors beyond pure conversions to determine the value of your social proof campaigns
Cons of Personyze
Learning curve: Some Personyze clients have reported difficulties with getting up to speed on the platform's capabilities
Pricing
Personyze pricing plans range from $0 to $1450 per month for their Enterprise package.
Specialist social proof platforms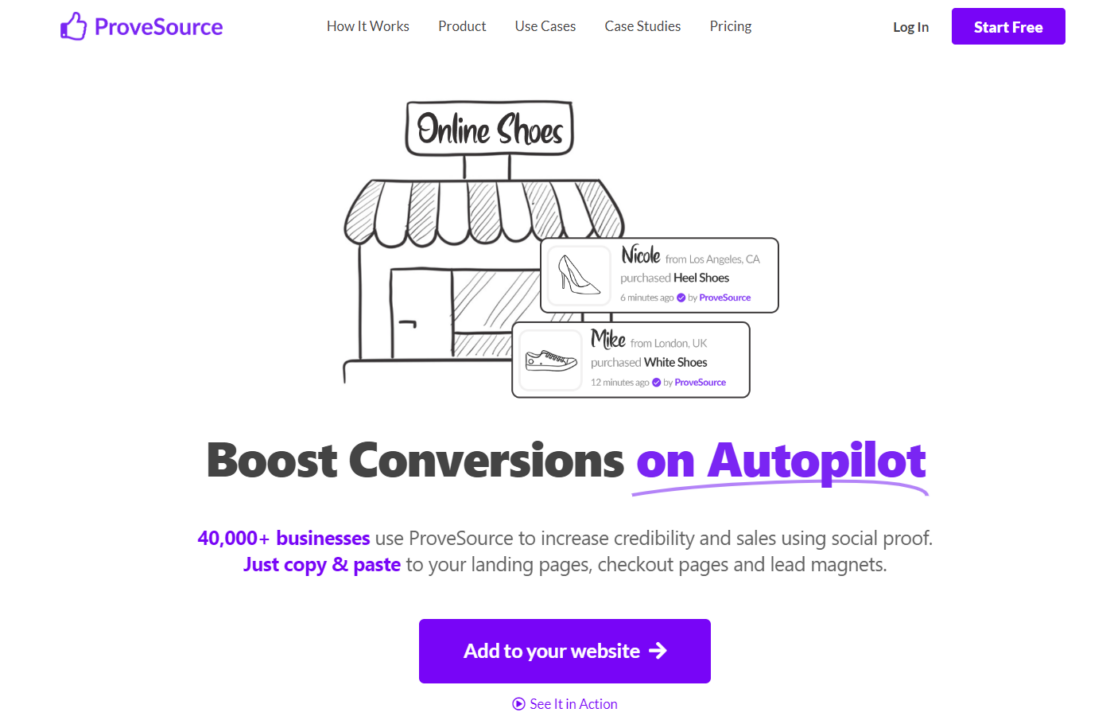 With more than 25k customers in 104 countries worldwide, ProveSource is a social proof solution helping businesses turn data into insights that drive more website conversions. ProveSource's feature-rich platform is designed to create a busy-store feeling on your site.
Top features
Triggering rules: Set your social proof experiences to appear at optimal moments.
Mobile-ready: ProveSource's technology makes it easy to display device-responsive social proof notifications on your mobile site.
Customer activities: Leverage a full range of different social proof techniques – including recent conversions, trust-building and live visitor count – to build hype for your product or service.
Pros of ProveSource
Quick-to-launch installation: Run your first social proof experiences on your website or landing page in a matter of minutes
Localized service: ProveSource supports clients in 20+ different locations and languages
Cons of ProveSource
No A/B testing: ProveSource doesn't have an A/B testing feature to compare the conversion rate impact of different experiences
Pricing
ProveSource packages range from $0 to $45 per month.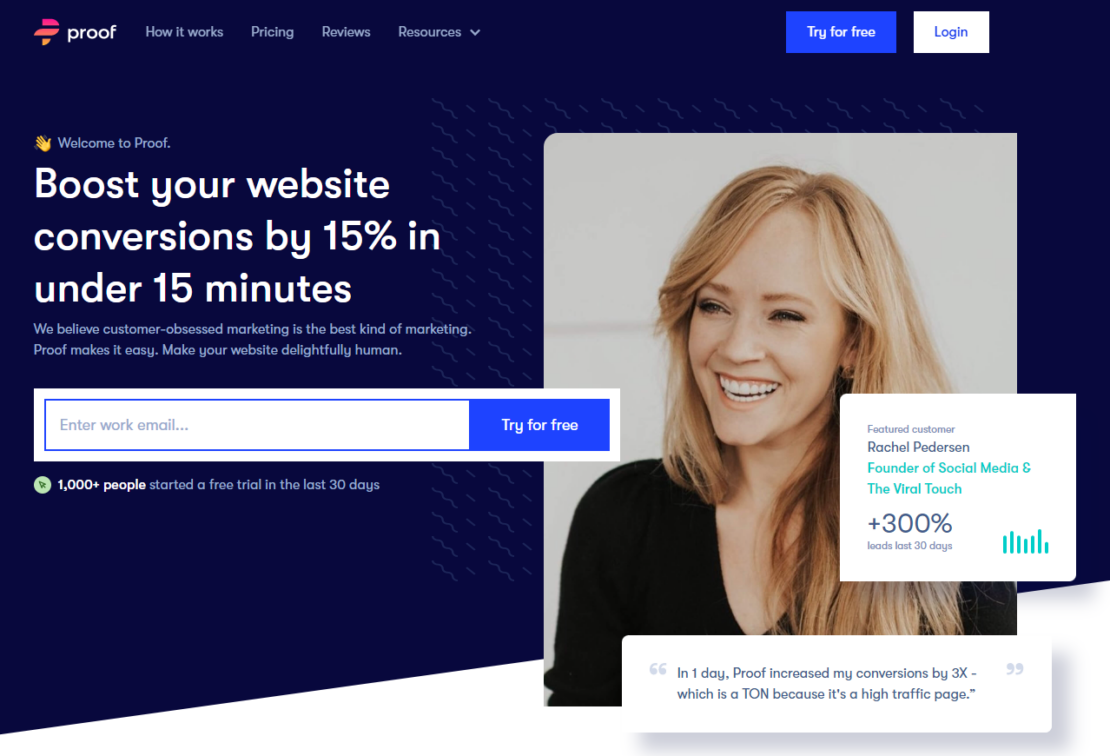 Proof is a platform aimed at entrepreneurs, marketing directors and marketing agencies. By adding a human touch to websites, Proof helps more than 25,000 businesses increase lead generation and conversion rates.
Top features
Hot streaks: An excellent tool for high-traffic pages, show your website visitors how many people have recently taken action on your site – such as starting a free trial.
Live Visitor Count: Display the total number of visitors currently viewing a page on your site.
A/B testing: See the full impact of your social proof experiences by splitting your traffic into subgroups.
Pros of Proof
Easy to integrate: Install a lightweight JavaScript to add Proof to any website, landing page or checkout
Free trial: Try any of Proof's packages for 14 days without paying a penny
Cons of Proof
No onboarding: Customers learn how to navigate the platform through training videos
Pricing
Proof packages start from $29 per month and rise according to your website traffic.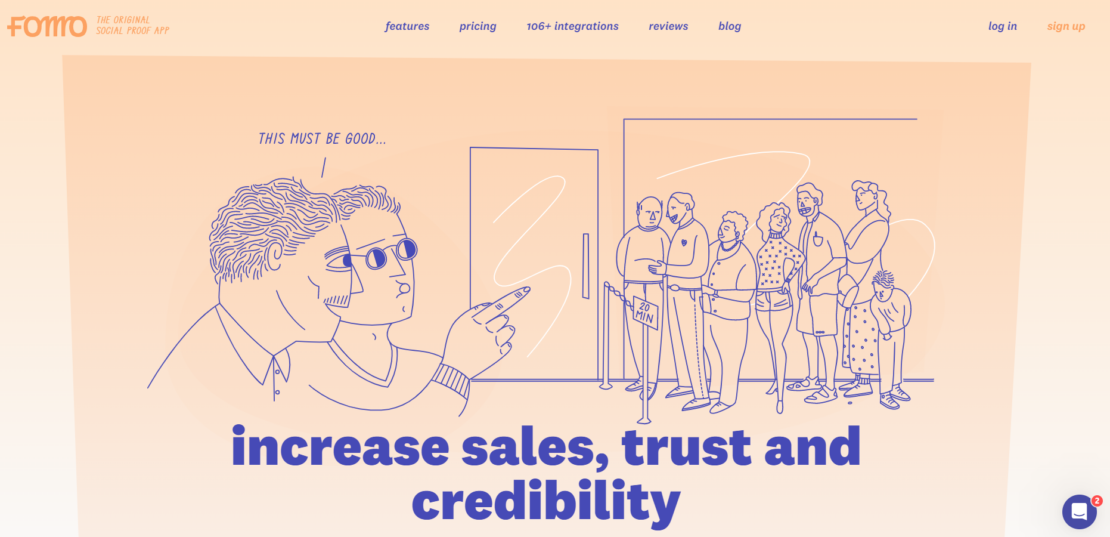 Fomo helps entrepreneurs display a range of customer interactions – from purchases to page views and product reviews – to leverage the most powerful form of marketing: personal recommendations. Pitching itself as the original social proof app, Fomo helps businesses all over the world increase sales, trust and credibility.
Top features
Customizable forms: You can create unlimited message permutations using Fomo's patent-pending architecture.
Page rules: Trigger your social proof on the right page, to the right visitor, at the right time.
Translations: Translate your social proof messages into 29 different languages.
Pros of Fomo
Code-free: Launch Fomo on your website without a single line of code
Loved by clients: Rated 4.9/5 on Capterra
Cons of Fomo
Dashboard: Fomo's user interface is not the most intuitive
Pricing
Fomo's packages range from $19 to $199 per month.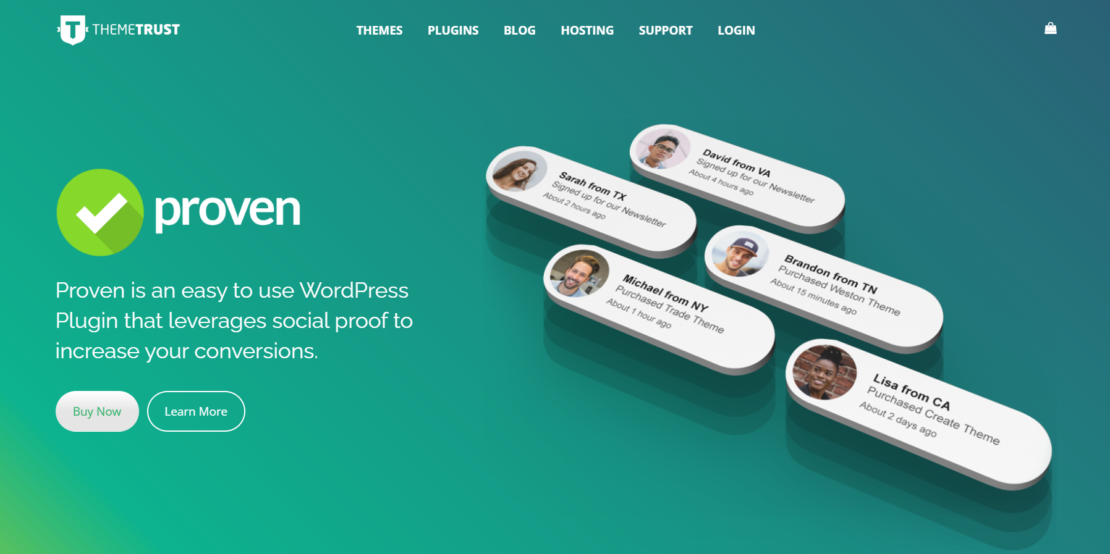 Proven is an easy-to-use WordPress plugin that comes with a range of features to drive more website conversions.
Top features
Simple setup: Quickly launch social proof experiences from Proven on your WordPress website.
Triggering rules: Control the visibility of your experiences.
Customizable: Change the appearance of your social proof to stay consistent with your website's branding.
Pros of Proven
Documentation: Proven provides plenty of resources to help you navigate its features
Cons of Proven
WordPress-specific: This social proof plugin is only compatible with WordPress websites
Pricing
Proven packages range from $39 for a one-site license to $99 for unlimited sites.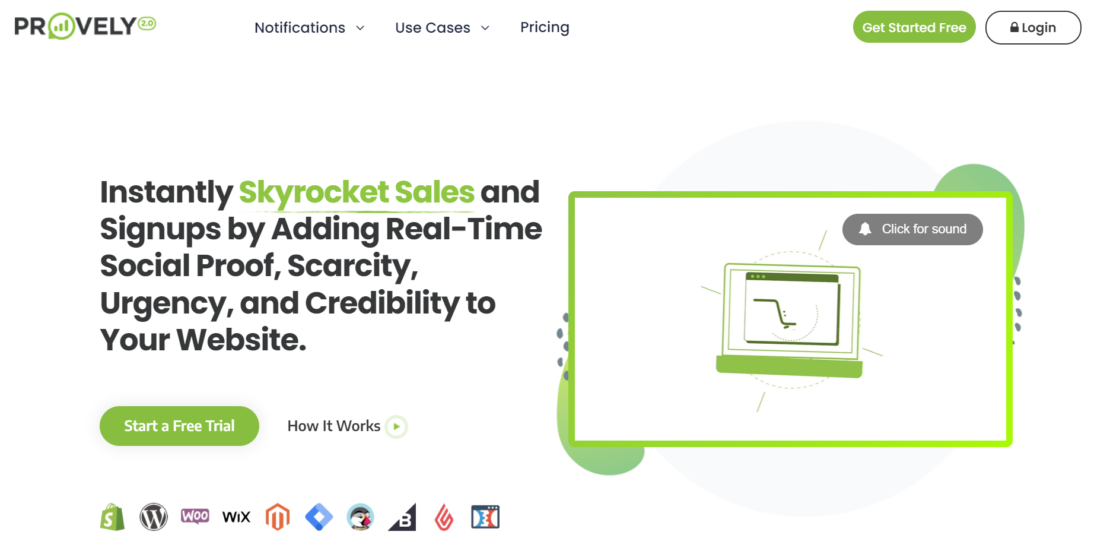 Provely is a social proof tool that lets its customer choose 13 different types of notifications to increase on-site engagement and conversion rates. As well as serving D2C ecommerce brands, Provely provides CRO support to agencies, real estate businesses, software companies and travel agents.
Top features
Live conversion: Show potential customers how many people have recently purchased your product or completed a sign-up.
Low stock: Drive urgency with stock scarcity messaging that displays your inventory in real time.
Timer: Add countdown timers to drive interest in time-sensitive offers.
Pros of Provely
Versatility: Provely caters to a large market of different customers
Cons of Provely
Reviews: Provely are currently unrated on G2 and Capterra, so it's difficult to gauge how their clientele feel about the platform
Pricing
Provely's pricing ranges from $0 to $79 depending on how many site visitors you get each month.
Customer review platforms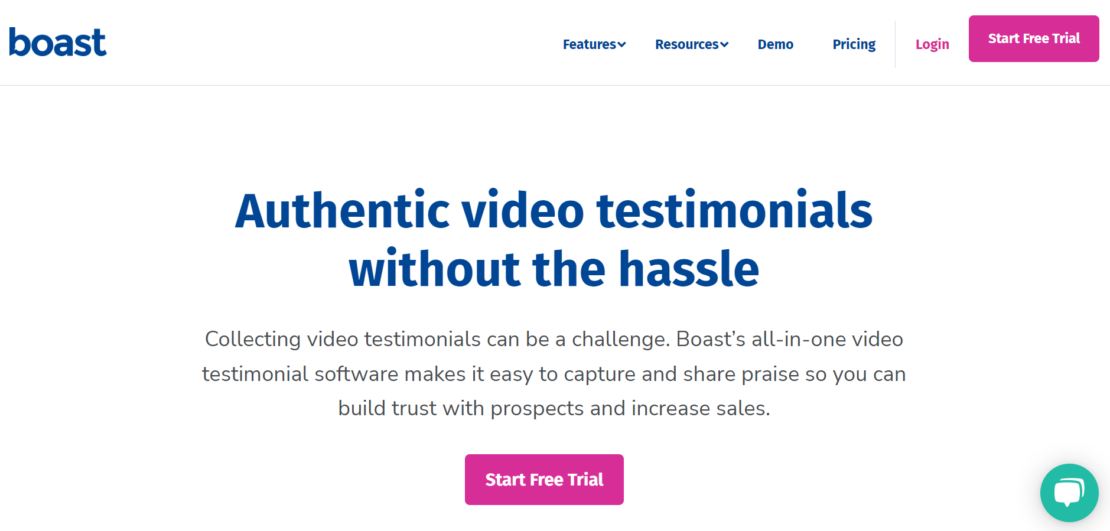 Boast is an all-in-one, B2B video testimonial software that helps you capture and share positive customer reviews – in photo, video and text format – to build trust with prospects and increase sales.
Top features
Video testimonials: From automated requests to their in-app editor, Boast's range of video testimonial features makes it simple to collect and share impactful reviews from your customers.
Online reviews: Request and collect more customer reviews to establish trust, increase visibility and maximize sales.
Customer surveys: Collect feedback from your customers to get valuable insights that help you proactively identify key areas for improvement.
Pros of Boast
Quick-to-launch: Boast's library of templates helps you launch automated video testimonial requests in minutes
Cons of Boast
B2B focus: Boast is aimed at B2B companies and isn't well suited to D2C ecommerce brands
Pricing
Boast packages range from $50 to $208 per month.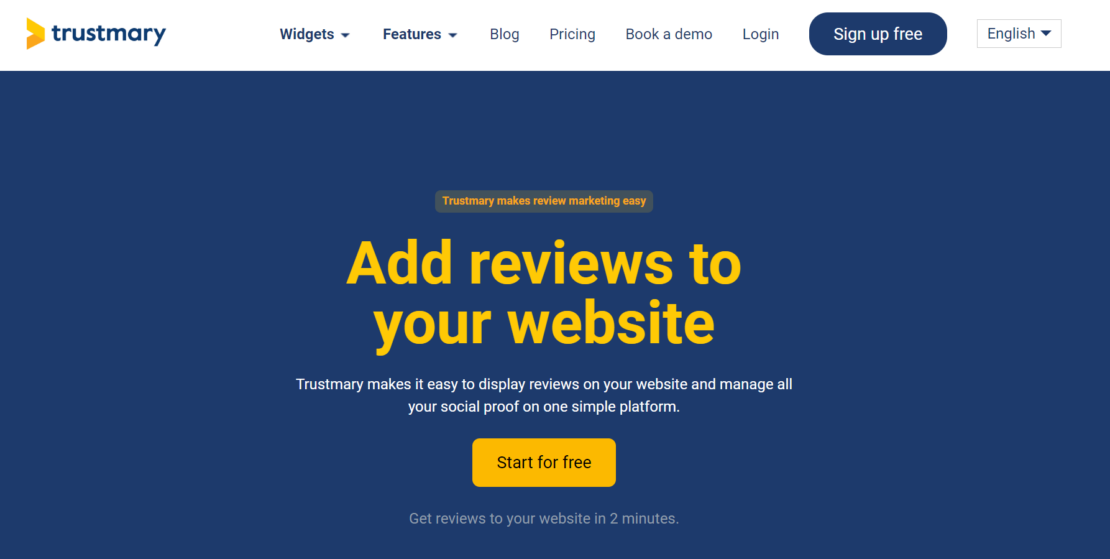 Trustmary is an all-in-one review solution that makes it easy to manage all your social proof in a single platform. You can use a variety of review platform widgets – including Google, Facebook and Capterra – to help you show your business is reliable and trustworthy.
Top features
Import reviews: Embed reviews from customer review platforms into your website with ready-made widgets that work with any CMS.
A/B testing: Compare how your customers respond to different reviews to maximize your site's sales potential.
Lead generation pop ups: Leverage customer testimonials on your site's opt-in forms to drive more email and SMS sign-ups.
Pros of Trustmary
Regular feature updates: Trustmary are constantly innovating to create the best product for their customers
Cons of Trustmary
Reporting: Some Trustmary users feel the reporting can be lightweight
Pricing
Trustmary packages range from $0 to $590 per month.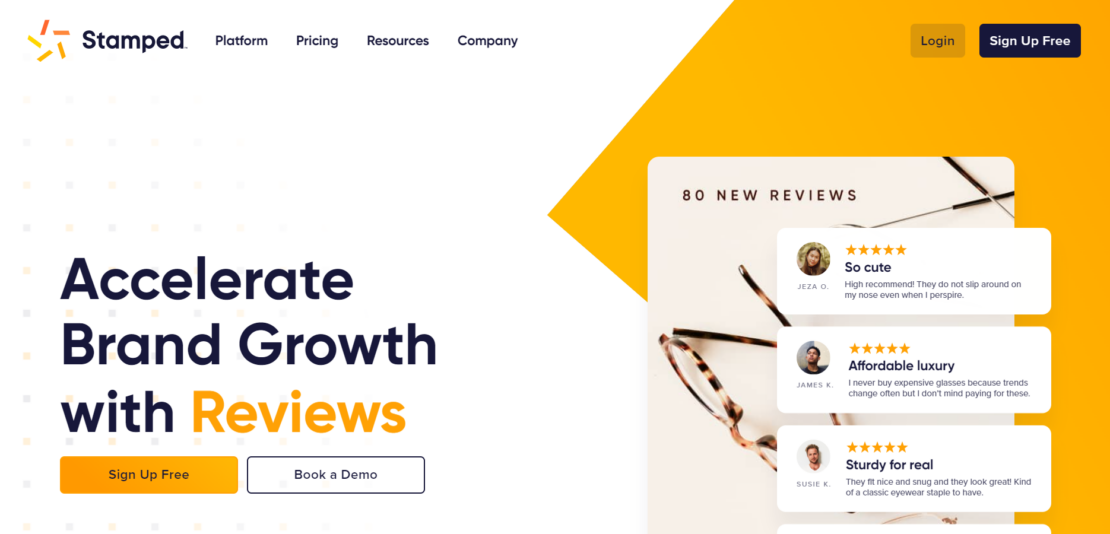 Designed specifically for ecommerce, Stamped's mission is to help brands build stronger customer relationships with customer reviews and loyalty.
Top features
Product reviews and ratings: Collect customer reviews through email, Facebook Messenger and SMS using custom forms localized to 20+ languages.
Visual user-generated content: Use device-responsive, in-mail technology to capture photo and video reviews from your customers.
Points and Rewards: Incentivize purchases and increase engagement by building a custom Points and Rewards program.
Pros of Stamped
Customer support: Stamped clients have reported excellent experiences dealing with the customer service team
Cons of Stamped
User interface: Platform updates mean features are regularly moved around the dashboard
Pricing
Stamped plans range from $19 to $249 per month. Speak to Stamped's sales team for more information about their Enterprise package.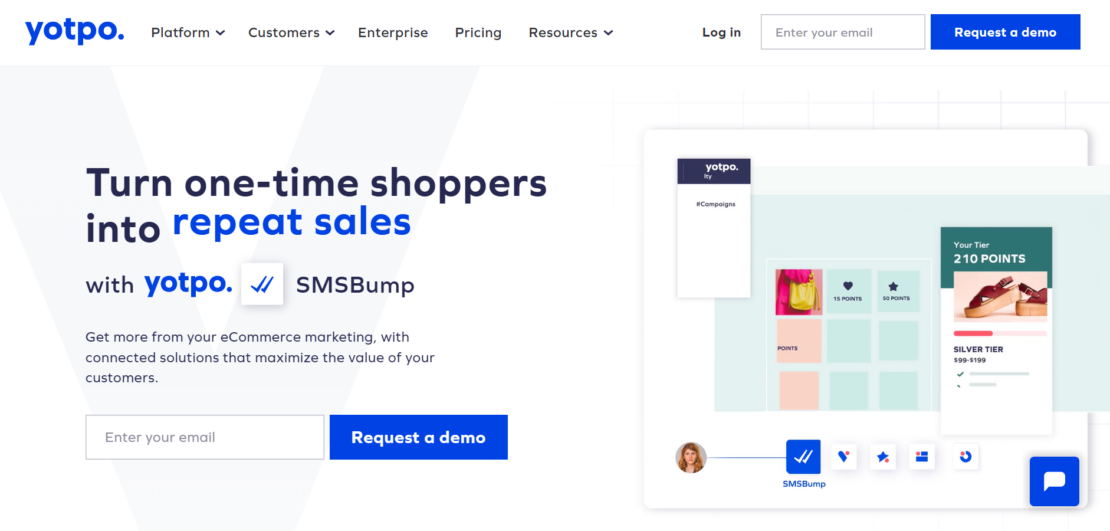 Yotpo is a leading ecommerce marketing platform providing advanced solutions for SMS marketing, loyalty and referrals, subscriptions, reviews, and visual UGC. With guidance from Yotpo's customer success team, brands can leverage social proof across multiple channels to increase engagement, sales, retention, revenue and more.
Top features
Collect and showcase: Make it simple for customers to submit feedback and share their reviews at high-intent moments.
Visual UGC: Display videos and photos of customers using your product to increase discovery and incentivize purchase.
SMSBump: Deliver personalized and A/B testable text message campaigns to foster meaningful relationships with your customers.
Pros of Yotpo
User-friendly: The Yotpo platform is intuitive with natural synergy across their range of features
Cons of Yotpo
Value: Yotpo customers have complained that Yotpo is on the expensive side compared to competitors
Pricing
Yotpo packages range from $0 to $199 per month. Speak to their sales team for more information about their Enterprise offering.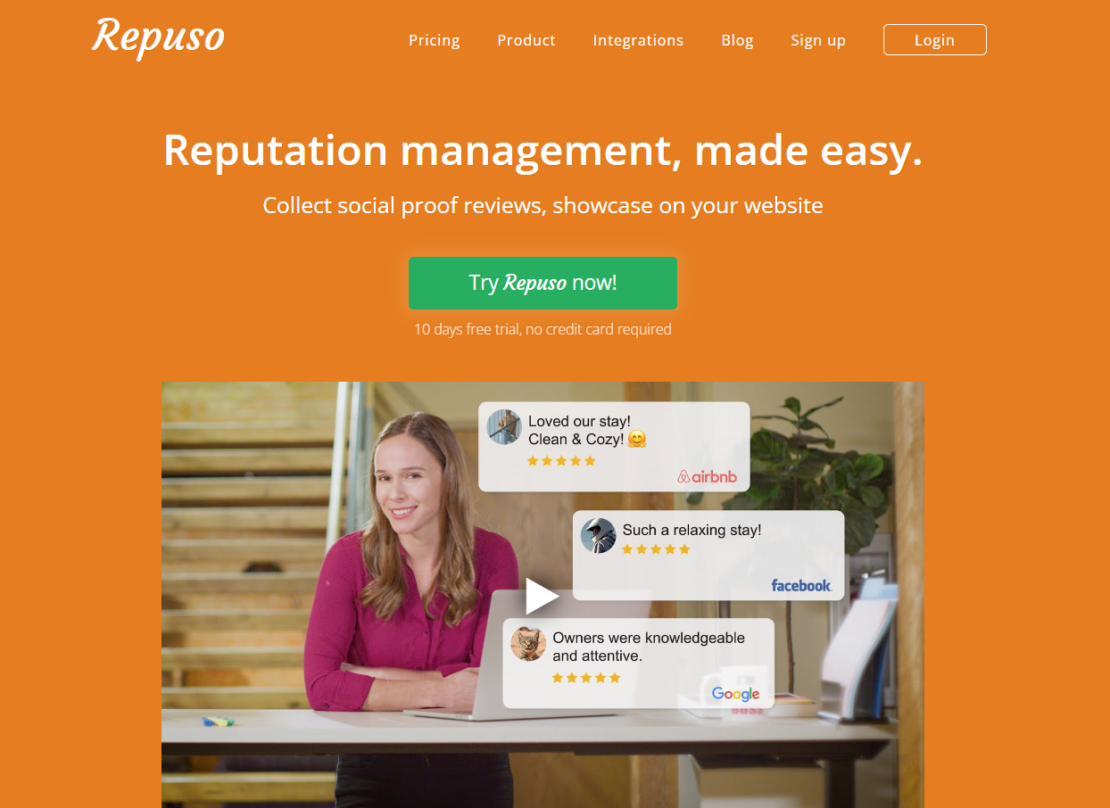 Repuso makes it easy for companies to collect social proof reviews from a huge range of channels – including Instagram, Tripadvisor and Zendesk – and display them on their website.
Top features
Social media monitoring: Scrape customer reviews from your social media platforms with Repuso.
Dashboard: Choose the reviews you want to display on site using Repuso's easy-to-use dashboard.
Integrations: Integrate with different channels to find and display the most positive reviews about your business.
Pros of Repuso
Free trial: Explore Repuso's platform free of charge for 10 days

Cons of Repuso
No A/B testing: Repuso doesn't yet have an A/B testing feature to monitor the performance of your on-site testimonials
Pricing
Repuso's packages range from $9 to $23 per month.
Which of these social proof software tools is right for you?
Social proof tools are an excellent place to start when you take your first steps into CRO. The psychological power of social proof is scientifically proven, and you can easily implement it on your site using any of these 14 tools.
If you're looking for an out-of-the-box solution to drive urgency, a specialist software like ProveSource or Fomo is likely to be the best social proof tool for you. But if you're short of in-house expertise and need a more sophisticated approach to lifting conversion rates, Yieldify's personalization platform ticks all the boxes.
Either way, I hope this blog helped you find the best social proof software for your business.
If you'd like a preview of how you can use social proof to lift conversion rates with Yieldify, feel free to schedule a discovery call here. One of our advisors will be delighted to share more about our personalization platform.
---
Social Proof Software FAQs
What is social proof software?
Social proof software uses psychology to help ecommerce brands increase their online sales. By driving urgency, alluding to stock scarcity and building brand authority, social proof software can replicate the busy in-store experience online and help you boost website conversion rates. 
What are the benefits of social proof tools?
Social proof tools help you increase revenue by boosting website conversion rates. At a time when the cost of customer acquisition is on the rise, ecommerce brands are using social proof tools to extract maximum value from every website visitor. If you're lacking the in-house expertise to launch social proof experiences and A/B test their conversion rate impact, speak to Yieldify's sales team to see how we can help you achieve your business objectives.