BLOG
A Sweetheart Deal: Top Valentine's Ecommerce Tactics, Email Tips, Trends & Stats
Published: Jan 17, 2023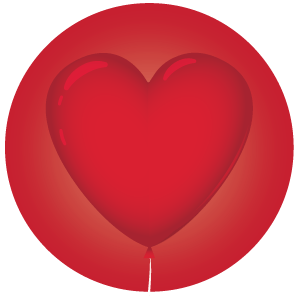 Your customers are willing to spend big to woo their loved ones on Valentine's Day.
Indeed, average order values rise by 11% in the week leading up to Valentine's Day, so it's a great time for ecommerce brands to maximize revenue. 
In preparation for the season of love, we've outlined 4 ecommerce tactics and 5 email tips as well as a collection of hot trends and key stats especially for you.
4 Valentine's ecommerce tactics to show your customers some love:
Use tried-and-tested holiday strategies
There's no need to reinvent the wheel or implement fresh strategies when 14 February rolls around.
The approaches you use to drive more sales on Black Friday work on every shopping-centered holiday – and Valentine's Day is no exception.
Use these classic holiday strategies to maximize sales this year:
Cross-sell related products: Your customers are willing to spend more, so help them add complementary products to their carts throughout their website journey
Add free shipping and threshold discounts: With Yieldify, brands have driven up to 33% higher average order values by incentivizing their customers to spend more with promotional experiences – including free shipping offers and threshold discounts
Provide last-minute delivery options – Because there's always someone who leaves it to the 11th hour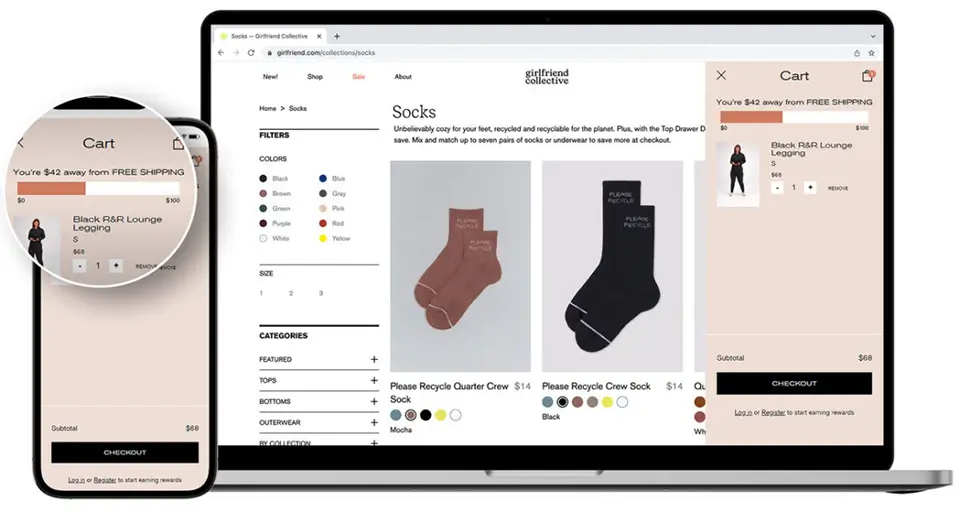 Create dedicated landing pages
As you know, online shoppers can be fickle. Your customers have short attention spans, and they'll often decide to stay or leave your site in a matter of seconds.
The average ecommerce bounce rate is 20%-45%, but you can stay on the lower end of that by creating dedicated landing pages with Valentine's Day imagery, messaging and relevant products.
A well-curated landing page will streamline your customers' journeys and help increase conversion rates.
If you need support creating high-converting landing pages, check out potential options for your brand in our website optimization tools blog.
Segment your audience
Market segmentation techniques are the backbone of any effective marketing campaign – ensuring you market the right products to the right customers while simplifying the path to purchase.
For Valentine's Day, group your products by gender or by customer intent, then A/B test your calls to action (CTAs) to drive the highest number of conversions.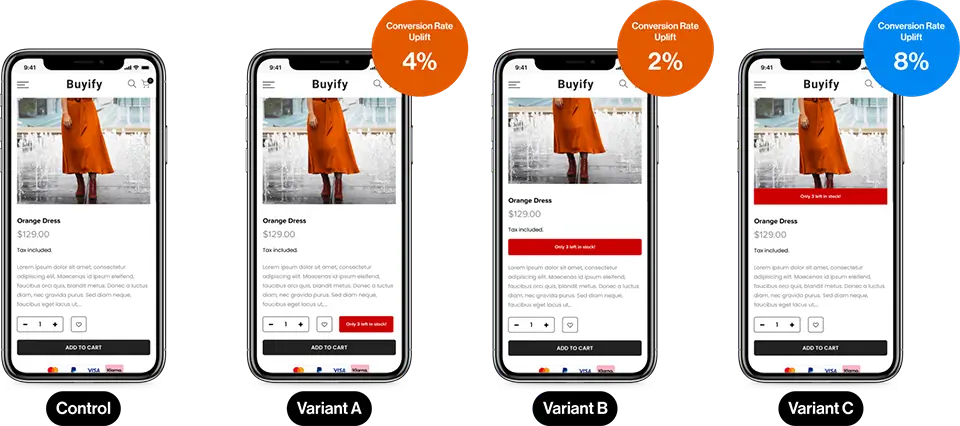 Use images to clearly guide your customers to the right category pages, and display product recommendations that catch their attention.
Want more information about segmentation? Check out our blog on market segmentation techniques and eight ways it can benefit your brand.
Guide your customers
Candy, flowers and jewelry are Valentine's Day best sellers.
But your customers won't always want to play it safe with timeless classics – so help them find the perfect gift for their partner.
Create curated content featuring your recommended products and tackle browse abandonment with experiences designed to guide customers through the purchase funnel.
For example, Laithwaites, a serial award-winning D2C wine company, uses Yieldify to guide their customers to Valentine's Day gift pages with on-site overlays.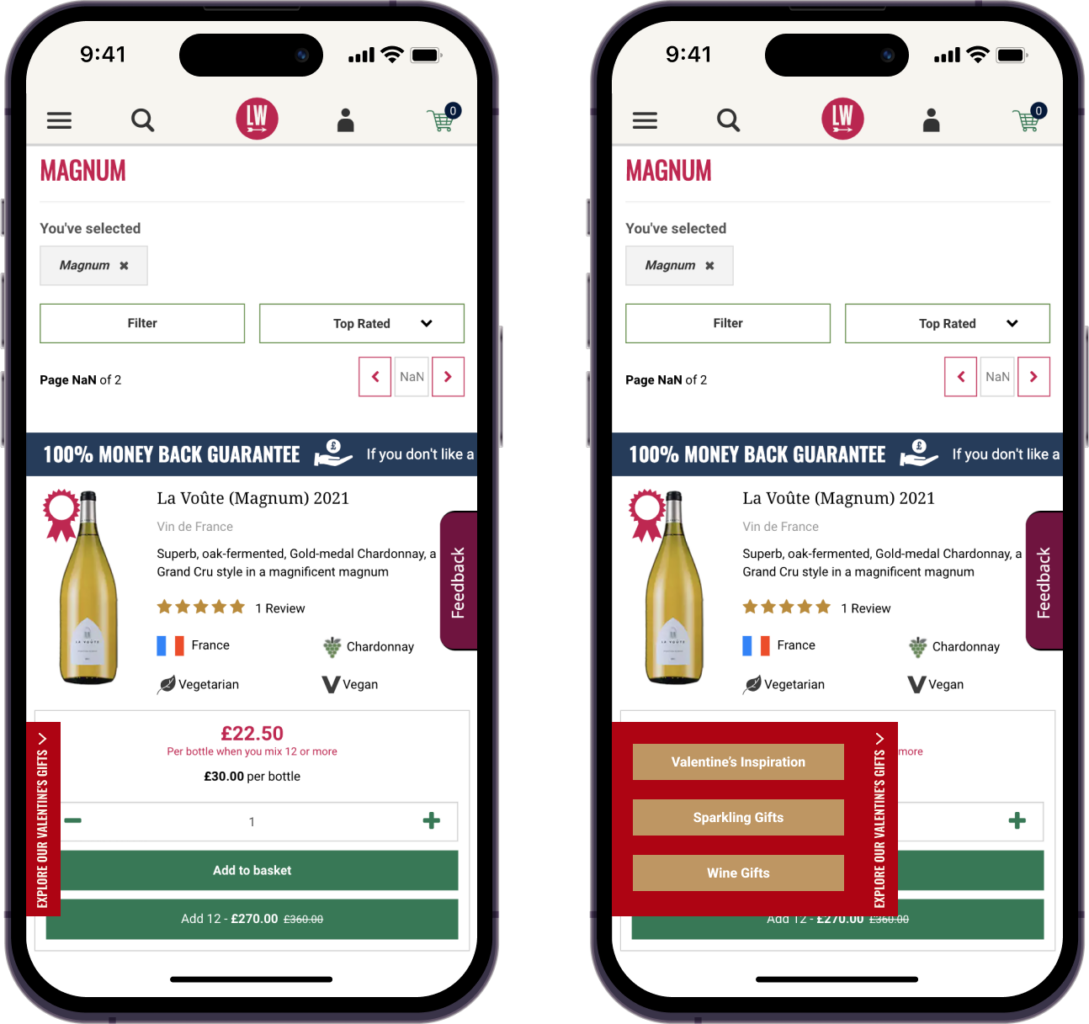 Valentine's day email tips for ecommerce
Online orders from email marketing grew 367% year-on-year between 2020 and 2021. 
Clearly, email marketing is an important channel for ecommerce marketers, but how can you use it to drive more sales this Valentine's Day?
Here are five ideas to consider:
Segment by purchase intent – Your customers may want to buy Valentine's Day gifts for family members, friends and pets as well as their romantic partners. Segment your email lists according to who your customers are looking to buy for
 
Incentivize with free gifts – Lift email open rates by telling your customers about product giveaways in the subject line
 
Use emojis in subject lines – Include emojis in email subject lines to increase your open rates by up to 45%
Valentine's day gifts trends for ecommerce in 2023
Valentine's Day spending in the US reached $23.9 billion in 2022, up $2.1 billion year-on-year.
That made it the second-highest year on record, but what lies in store for 2023?
Here are three gift trends to consider:
Consumer intent is changing
Valentine's Day is an international celebration of love, but it's by no means exclusive to romantic relationships. Since 2010, the amount consumers have spent on their friends has increased from $737 million to $2.1 billion, while they're also spending more on gifts for family members and pets.
Men spend more than women
Your male customers are willing to splash out on Valentine's Day. According to a survey from the National Retail Federation, men spend an average of $108 on Valentine's Day gifts for their partners – which is more than double what women spend ($49). 
Candy reigns supreme
Candy has been the most popular Valentine's Day gift among consumers since it overtook greetings cards in 2015. In 2022, 56% of US shoppers bought candy for Valentine's day. As you can see in the graph below, greetings cards and flowers are the next most popular purchases. And following a COVID-induced lull in 2021, evening's out enjoyed a resurgence in 2022. 
Important Valentine's Day ecommerce statistics
Alongside Black Friday, Christmas and Mother's Day, Valentine's Day is one of the biggest dates in the retail calendar.
Ahead of 2023's iteration, I've sourced five stats every ecommerce marketer should know:
Industry size: Americans spent $23.9 billion on Valentine's gifts in 2022 – the second-highest year on record and a year-on-year rise of $2.1 billion
Timing is key: 20% of online sales in February 2021 were made in the first three days of the month
Leverage SMS: SMS orders for Valentine's gifts increased by 900% between 2020 and 2021
Man's best friend: 27.6 million American families bought Valentine's presents for their dogs in 2020
Conclusion
Follow the Valentine's Day marketing ideas I've detailed above to optimize your conversion rates, and you'll have a raft of new admirers come February 14th. They might not send you chocolates or flowers, but they'll give you something far more precious: repeat business.
If you'd like a preview of how you can increase conversions on your website with Yieldify's fully-managed, all-in-one personalization platform, feel free to schedule a discovery call here. One of our advisors will be delighted to share more about increasing your conversion rates.
---
FAQs
What sells the most on Valentine's Day?
Candy has consistently been the best-selling product on Valentine's Day since overtaking greetings cards in 2015. In 2022, flowers, gift cards, clothing and jewelry were the next best-selling items. If you need more support selling your products this Valentine's Day, read our post outlining the best conversion rate optimization (CRO) tools on the market right now.

What's trending for Valentine's Day 2023?
Consumer habits around Valentine's Day have shifted over the years. While it's still an important time for romantic partners to exchange gifts, consumers are buying more gifts for family members, friends and pets – and that's expected to continue in 2023.

How many people buy Valentine's Day gifts for their pets?
Pet gifts are big business around Valentine's Day. Consumers spent a staggering $1.7 billion on Valentine's Day presents for their pets in 2020 – a rise of $1.25 billion since 2010. Meanwhile, 27.6 million American families bought presents for their dogs in 2020.