BLOG
15 Website Optimization Tools For Online Success in 2023
Published: Jan 9, 2023
It takes customers just 0.05 seconds to form an opinion about your website.
In the blink of an eye, your visitors will decide whether to stay or leave – and they won't stick around if your website is slow, poorly designed or full of generic marketing fluff.
Don't worry if that sets off alarm bells, because you can easily turn these split-second decisions in your favor with website optimization tools.
In this blog I'll walk you through 15 tools brands are using to optimize ecommerce websites just like yours.
I've placed the tools into six categories:
Conversion rate optimization (CRO) tools
Page speed optimization tools
User experience (UX) optimization tools
Search engine optimization (SEO) tools
Landing page optimization (LPO) tools
Mobile usability tools
If you're looking specifically to improve conversions, check out our blog covering 12 of the best CRO tools on the market. Otherwise, let's dive into website optimization.
15 Most Powerful Website Optimization Tools
Why is website optimization important?
On a macro level, website optimization is important because it can help you:
Improve your SEO ranking
Increase your traffic
Refine your UX
Strengthen your brand's reputation
Lift your conversion rates
Generate more revenue
Ecommerce sales are expected to account for 20.8% of retail sales worldwide in 2023, and that number is predicted to grow to 24% by 2026.
So with the online shopping boom showing little sign of slowing down, your brand's trajectory hinges on the strength of your ecommerce website – so make sure your customers want to click through, see what you have to offer and buy something.
Types of website optimization software
Conversion rate optimization (CRO) tools (1-3): Conversion rate optimization (CRO) tools help you run tests and analyze data to measure how changes to your website impact conversion rates. Most CRO tools offer a specific feature – social proof, heat maps, A/B testing etc – to lift conversions, but you can also use all-in-one solutions that contain many of the best CRO features in one platform.
Page speed optimization tools (4-5): Page speed optimization tools allow you to analyze your website's speed and recommend changes to improve loading times. Considering bounce rates increase by 123% after just 1+ second of loading, you're going to miss out on sales if you don't optimize for speed.
User experience (UX) optimization tools (6-8): User experience optimization tools help you develop and build better websites and mobile applications. Just 12% of shoppers return to sites with a bad UX, so use UX tools to build websites your customers want to visit again and again.

Search engine optimization (SEO) tools (9-12):
In the hyper-competitive world of organic search, SEO tools help you increase your website's SEO performance. Use an SEO tool to help you craft better content, secure and manage backlinks, monitor core web vitals, analyze keywords, conduct site audits, find broken links, rank higher and bring more paying customers to your website – ultimately to increase your website revenue.
Landing page optimization (LPO) tools (13-14): Landing page optimization tools help you build and display tailor-made landing pages that drive leads and conversions. Landing pages are your first – and arguably most important – opportunity to make a lasting impression on your customers, which is why 68% of businesses use LPO tools to drive more sales leads.

Mobile usability tools (15): Mobile usability tools let you test page speed and other website performance metrics by device. A huge 60% of users don't trust companies that haven't optimized for mobile, so ensure your mobile website displays and loads correctly with usability tools.
Best Website optimization tools
Conversion rate optimization (CRO) tools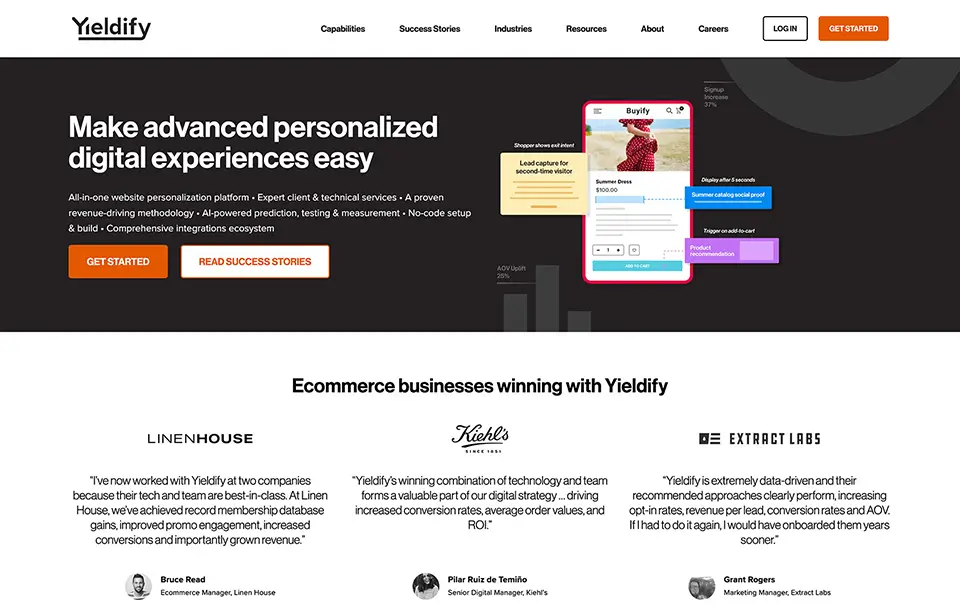 Yieldify is a fully managed personalization platform that helps ecommerce businesses increase their lead capture, conversions and average order values with personalized customer experiences. If you've struggled to manage a CRO platform in-house or don't have the expertise to run CRO yourself, Yieldify is probably the provider that will suit you best.
Top features
Fully managed service: Get expert support from a dedicated account manager as well as a team of graphic designers, technical engineers and quality assurance specialists. Rated 9.7/10 for quality of support by customers on G2, you won't find this level of service anywhere else. 

Personalized experiences: Build deep connections with your customers by personalizing their website journeys from entry through to exit. Streamline the customer experience by easily adding customizable and highly targeted experiences to your website. For example, you can:
Simplify website navigation with journey shaping
Build brand affinity with USP messaging
Validate product interest with social proof
Re-engage shoppers with browse abandonment
Drive checkout urgency with countdown timers
Increase sales with user-generated personalization
Lift average order values with progress bars
In-depth website analysis & insights: Go beyond your Google Analytics data and unlock deeper audience insights using Yieldify's Sunburst charts. Measure both macro conversions – e.g. when a customer submits an order – and micro conversions – e.g. when a customer adds to basket – to get a more granular view of customer journeys.
A/B & A/B/n testing: Test the design, placement, messaging and triggering rules of your personalized experiences using A/B testing. If you have more than 100,000 monthly website visitors, use Yieldify's A/B/n testing technology to test up to five different variants of the same experience.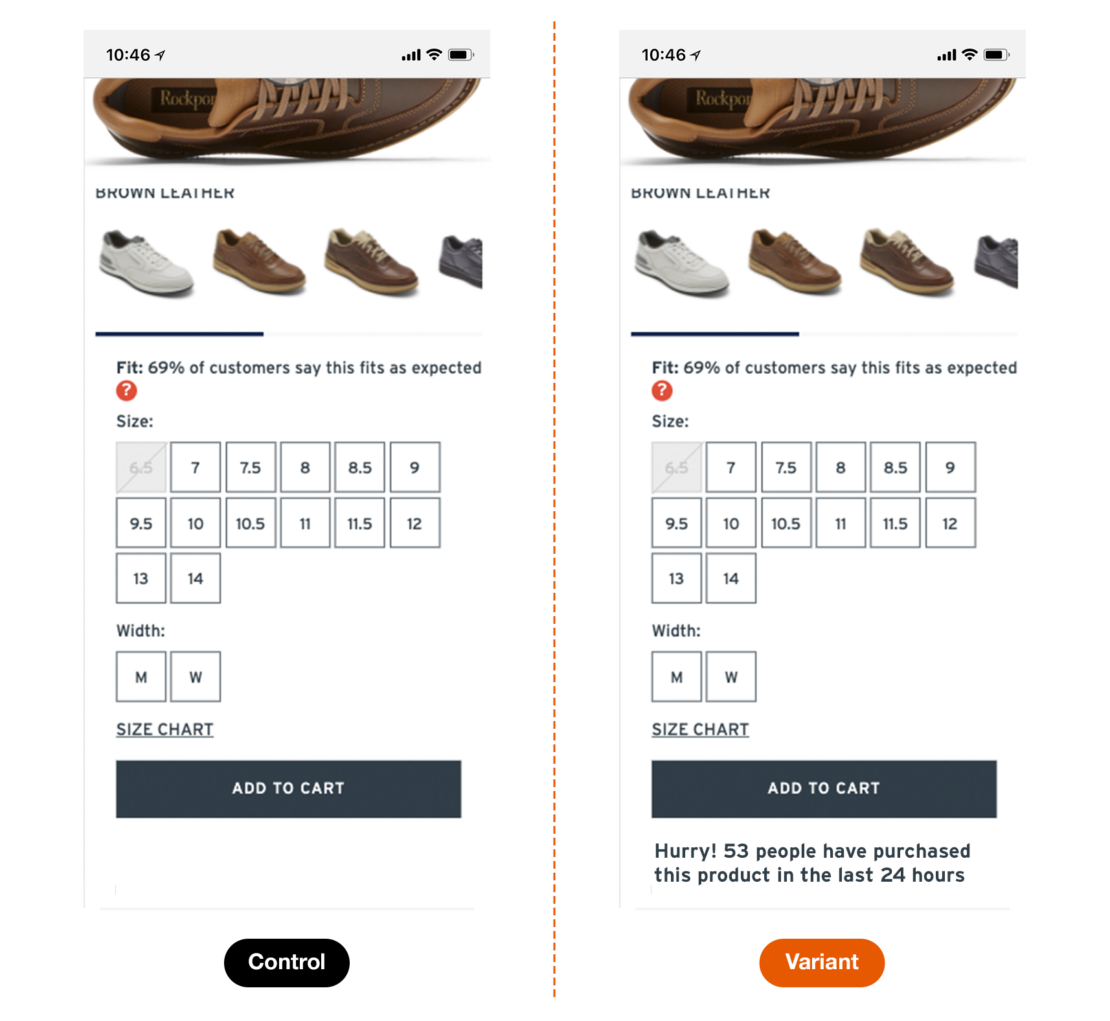 Easy integrations: Integrate any platform in your tech stack with Yieldify. Further segment your remarketing database with Yieldify's advanced Klaviyo integration, reliably store email and SMS leads in your ESP, and enrich customer profiles in your CRM.
Pros of Yieldify
Generate more revenue: Yieldify's personalization platform has helped clients – across industries from fashion and travel to electronics and home – increase leads, online sales, average order values to generate up to 79:1 ROI
SMB to enterprise: With proven success helping clients including Lacoste, BYLT Basics and Made in Design, Yieldify is a market-leading solution for brands of all sizes
Quick-to-launch testing: Get your first tests live in under 14 days with Yieldify's easy-to-integrate tag, and launch new ones in as little as 48 hours after that – no developers required
Cons of Yieldify
No free trial: You can only use the Yieldify platform with a paid package
Pricing
Speak to Yieldify's sales team for a full product demo and information on pricing.
"In partnership with Yieldify, we're able to enhance customer journeys through unique and targeted personalization. Yieldify is essential to growing the Lacoste brand in this ever-changing ecommerce landscape."
"I've worked with Yieldify for three years and believe they have the best-in-class personalization and conversion rate optimization platform. With Yieldify, we increase average order values, promo engagements, conversions rates and improve our customer experience."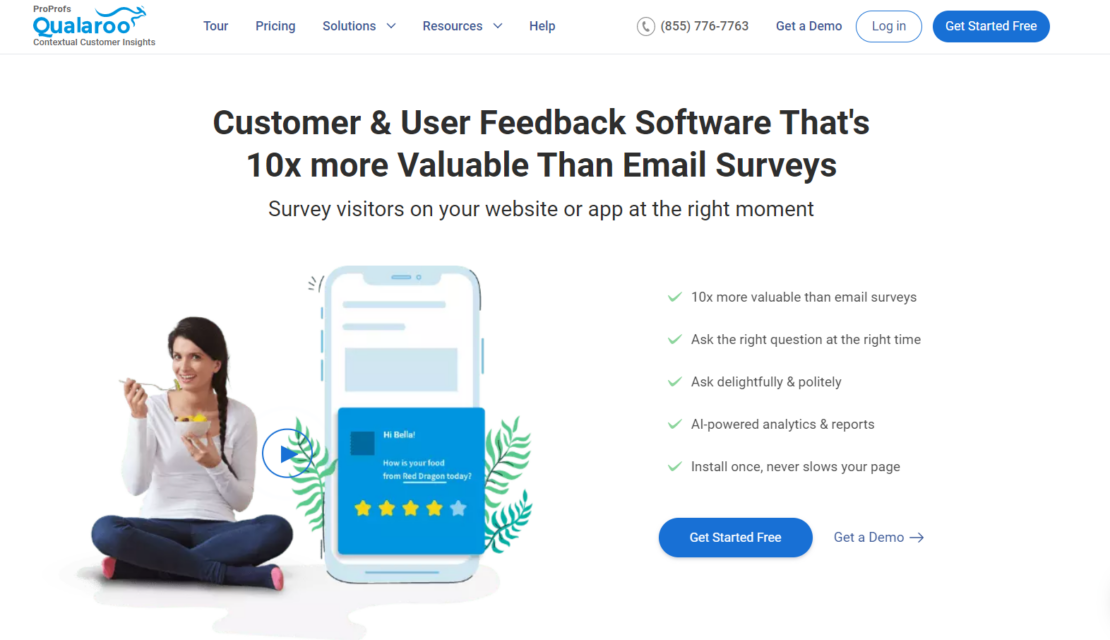 Qualaroo is a user feedback tool that helps you understand your customers' and prospects' on-site behavior. By sending strategically timed questionnaires to your website and app visitors, Qualaroo lets you collect real-time insights and feedback that can be used to shape your optimization strategy.
Top features
Survey templates: Use a curated list of pre-set questions – covering topics like UX, usability and navigation – to start collecting insights right away.
Exit intent surveys: Ask customers for feedback when it looks like they're about to leave the page (desktop only).
Confirmation page surveys: Take advantage of the high response rates on confirmation pages by requesting customer feedback immediately following a purchase (mobile and desktop).
Pros of Qualaroo
Adaptable: Both ecommerce and SaaS companies use Qualaroo to lift conversions
No-code: Qualaroo requires no development work to get started – all you need is a URL
Cons of Qualaroo
Single-feature tool: Qualaroo is a customer feedback tool and doesn't offer additional features to increase conversions
Pricing
Qualaroo packages start at $80 per month. Speak to their sales team for more information about their Enterprise offering.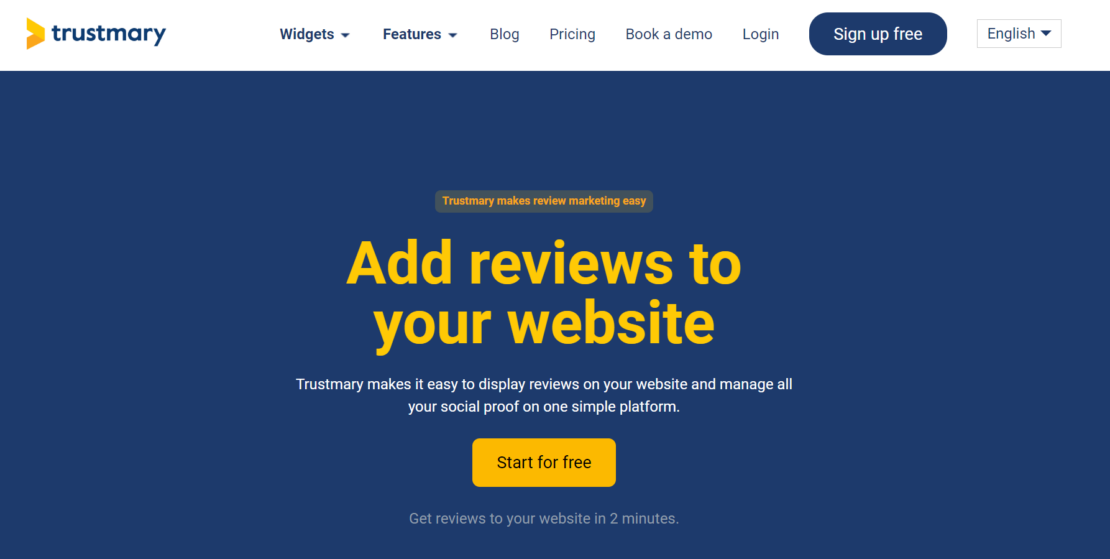 Trustmary is an all-in-one review platform that helps you generate more leads by leveraging the power of social proof. Make review marketing easy by collecting customer testimonials and embedding them into your opt-in forms.
Top features
Video testimonials: Collect video testimonials from your customers and use them across your website to build credibility.
Drag-and-drop survey builder: Use Trustmary's library of templates and custom builder to create customer surveys. Share the results with survey report dashboards.
Review widgets: Add reviews from all major platforms – including Google, Capterra and Tripadvisor – straight to your website.
Pros of Trustmary
Intuitive dashboard: Trustmary is easy to navigate and doesn't require any level of IT proficiency to use effectively
Cons of Trustmary
Limited features: Trustmary does a great job of using customer reviews to build customer trust, but they don't use real-time data to lift conversions
Pricing
Trustmary packages range from $0 to $590 per month.
Page speed optimization tools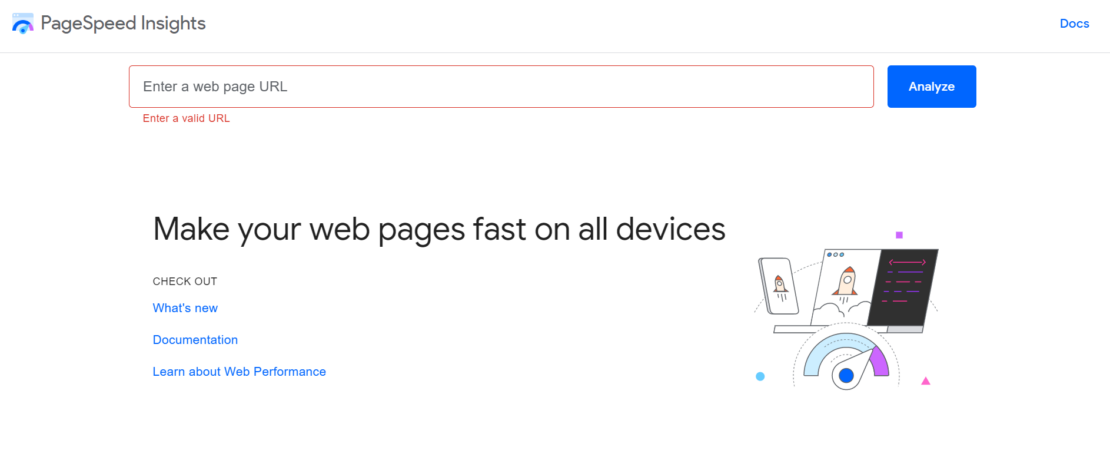 Google PageSpeed Insights (PSI) is a web page speed tool that provides a report on the user experience of a single page and offers suggestions on how it could be improved. Companies use PSI to debug issues on both mobile and desktop.
Top features
Capture lab data: Collect data in a controlled environment to debug in-page issues
Capture field data: Get a real-world user experience through field data
Pros of PSI
Free-to-use: Simply copy and paste your URL into the platform to get insights on page performance
Cons of PSI
Inaccurate readings: Data provided by PSI is not completely reliable and doesn't always represent true performance
Pricing
Google PageSpeed Insights is free to use.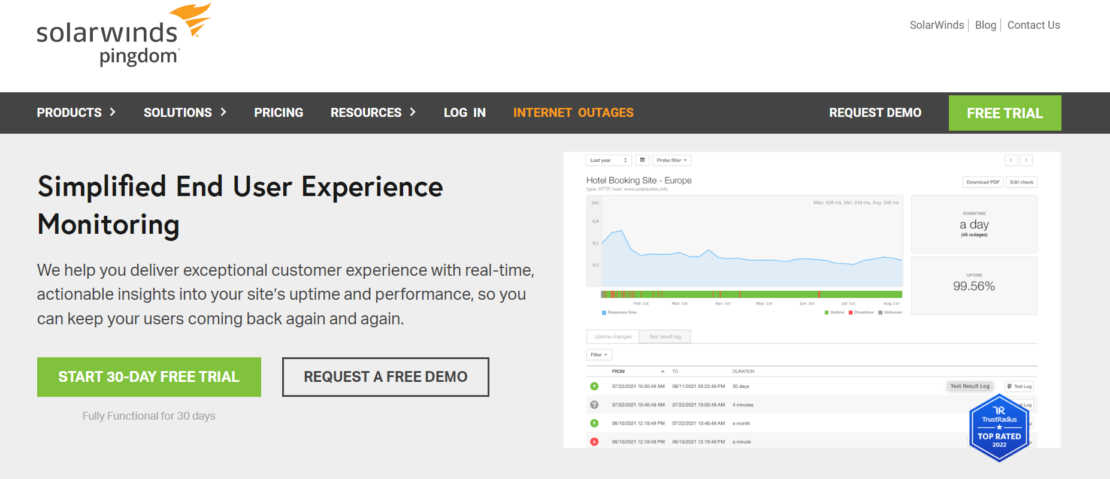 Pingdom is an end-user experience monitoring platform designed to provide solutions for digital marketers, web hosting providers and web developers. With Pingdom you can use both synthetic and real user monitoring to optimize your page speed.
Top features
Synthetic monitoring: Test your website's availability from all over the world with fast and accurate round-the-clock monitoring.
Real user monitoring: Understand how the end user is experiencing your website or app with this client-side problem identification and resolution solution.
Infrastructure monitoring: Health and performance monitoring for SaaS products.
Pros of Pingdom
Responsive: Pingdom send alerts instantly when your website encounters a problem
Cons of Pingdom
Integrations: Pingdom customers have expressed frustration at the lack of available integrations
Pricing
Pingdom prices start at $9.50 per month and rise depending on how many checks and SMS alerts you require.
User experience tools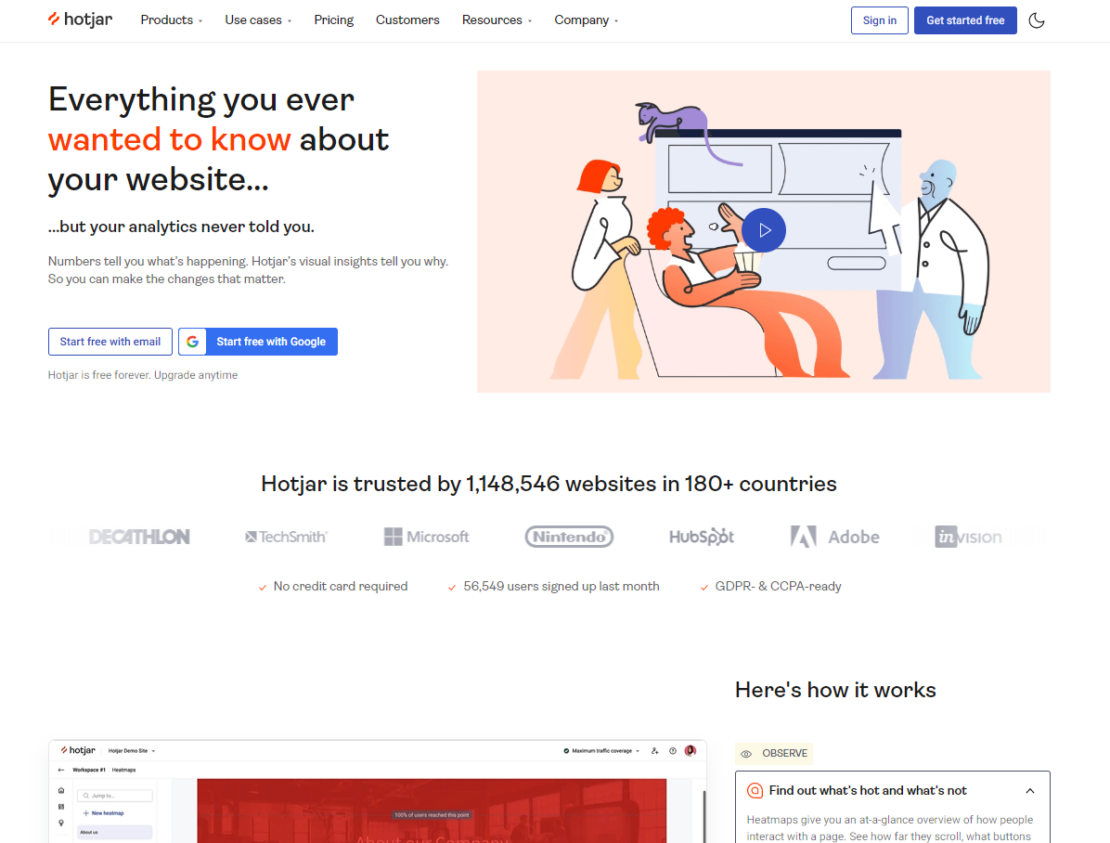 Trusted by more than 900,000 websites in 180+ countries worldwide, Hotjar is a website optimization tool that helps product teams connect the dots between what's happening on site and why. Through heatmaps and customer recordings, Hotjar gives you a deeper understanding of customer behavior so you can make changes that improve UX.
Top features
Heatmaps: Hotjar's heatmaps show you where your users are clicking, moving and scrolling.
Feedback: Gather customer feedback in real-time as users navigate through your website.
Engage: Automate the research process through user interviews.
Pros of Hotjar
Ideal for ecommerce: Hotjar's range of audience insights can help ecommerce sites optimize the user experience and increase conversions
Cons of Hotjar
Free version: Hotjar's Basic package is too limited to get a true impression of its capabilities
Pricing
Hotjar packages start from $0 per month. Speak to Hotjar's sales team for more information about their Scale offering.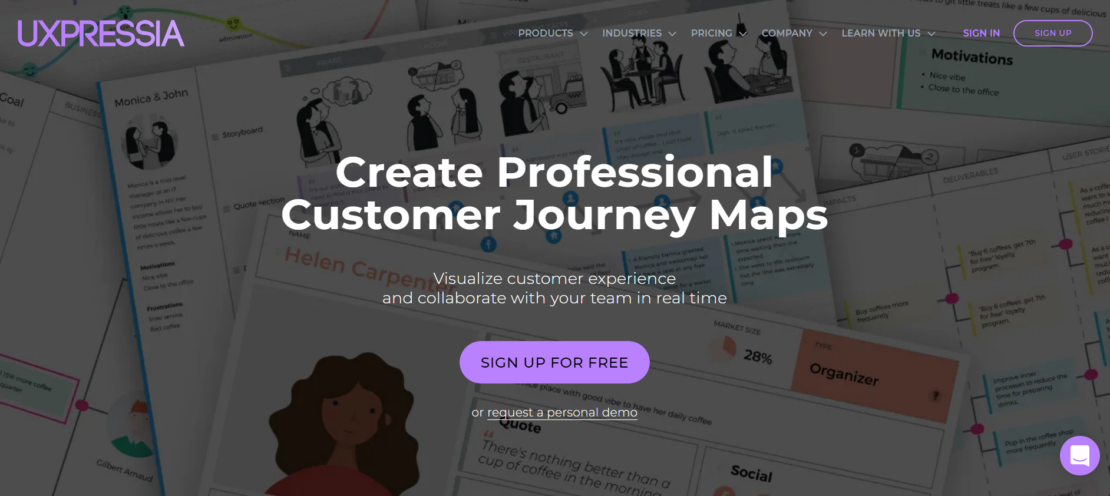 UXPRessia gives you access to multiple tools that let you visualize customer experiences and collaborate with your team in real time. Made to help beginners hit the ground running and professionals tackle more complex tasks, UXPressia helps bridge insights across teams.
Top features
Customer journey maps (CJMs): Work on CJMs with colleagues or clients in real time and understand your customers' on-site experiences at every touch point.
Personas: Create professional personas without design or technical skills using the online persona generator tool.
Impact maps: Plan future releases to see what impact they could drive and pass features to your team in just 4 steps.
Pros of UXPressia
Templates: UXPressia has a wide range of templates covering different sectors
Cons of UXPressia
Interface: Some users have found UXPressia clunky to use
Pricing
UXPressia packages range from $0 to $36 per month. Speak to UXPressia's sales team for more information about their Enterprise offering.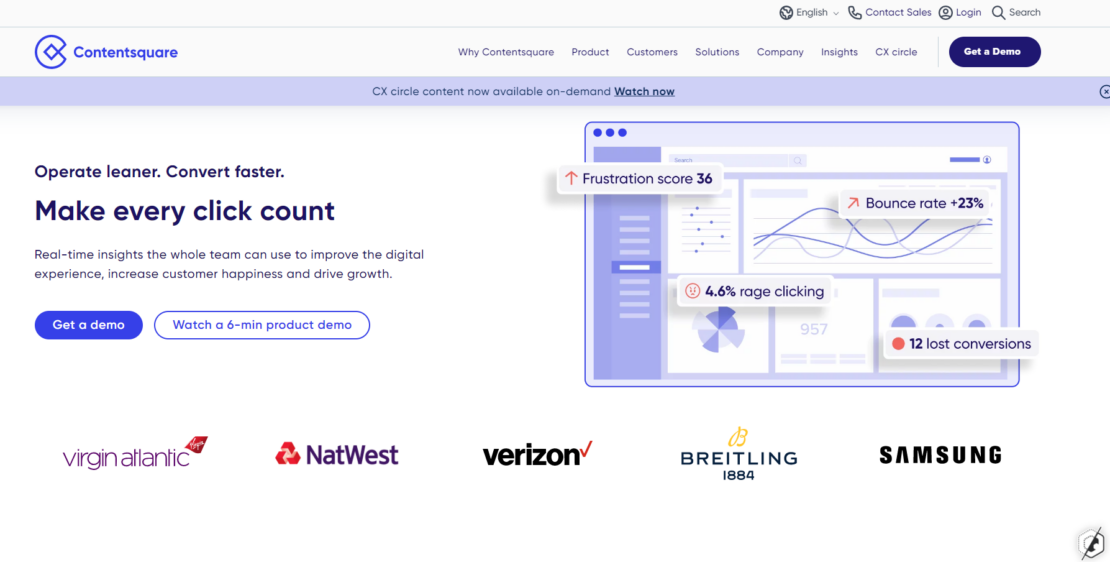 Contentsquare goes beyond traditional analytics to give users an understanding of customer experience they can use to transform their business. By revealing the behavior, intent and feelings of website users, Contentsquare helps you drive faster growth through the delivery of more human experiences.
Top features
Digital: Get deep insights into how users interact with your website and identify new opportunities for revenue growth.
Find & Fix: Spot problems and pain points impacting the customer experience and find resolutions quickly to avoid revenue loss.
Apps: Go beyond bug-fixing with powerful analytics and visualizations that let you resolve user frustration quickly.
Pros of Contentsquare
Versatile: Contentsquare is suitable for businesses across a whole range of industries
Cons of Contentsquare
Onboarding: Contentsquare's onboarding process is not straightforward and can be resource intensive
Pricing
Speak to Contentsquare's sales team for more information on pricing.
Search Engine Optimization (SEO) Tools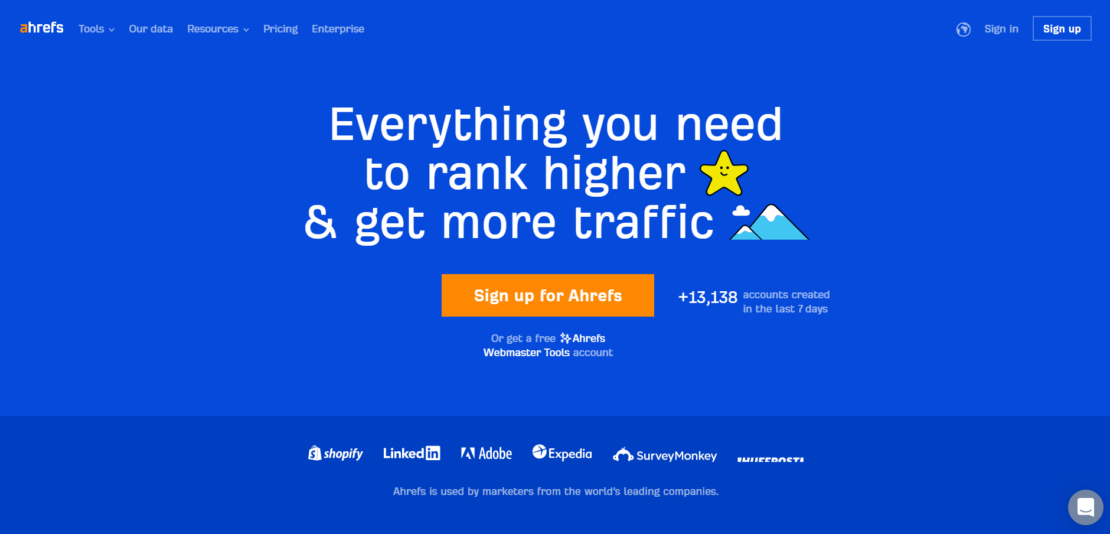 Ahrefs is an all-in-one SEO tool designed for marketing professionals, providing in-depth insights into organic search traffic and the backlink profile of any website or URL.
Top features
Keywords explorer: Analyze the ranking and calculate the traffic potential of keywords relating to your business.
Organic traffic search: Find out what your competitors are ranking for and which web pages bring the most SEO traffic
Site audit: Uncover technical and on-page issues with Ahref's SEO audit feature
Pros of Ahrefs
Experience: Ahrefs are a trusted solution who have been indexing and structuring petabytes of information since they were founded in 2010
Cons of Ahrefs
User interface: The Ahrefs interface has a slightly outdated feel to it and can be difficult to navigate
Pricing
Ahrefs plans start at $95 per month and rise to $965 for their Enterprise package.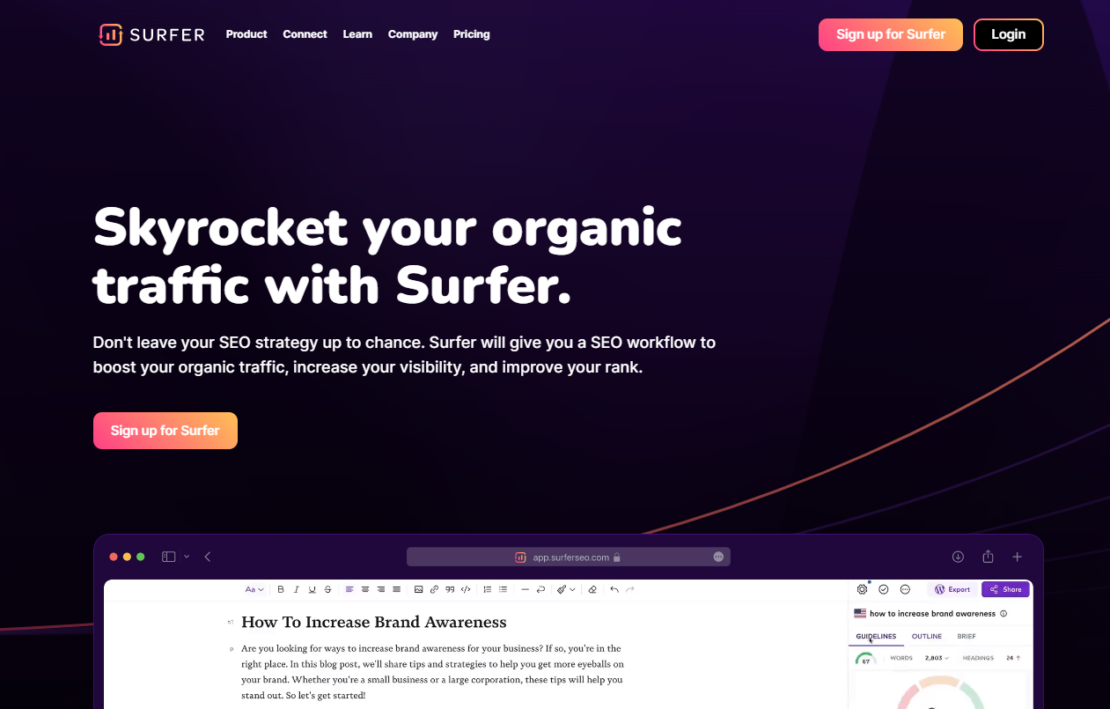 A must-have for content marketing professionals, Surfer helps companies take their organic traffic to the next level with a range of features that help you write and optimize high-ranking content.
Top features
Grow flow: Get AI-generated tasks that enhance your SEO strategy delivered weekly.
Content Editor: Make optimizations to your content based on Surfer's real-time keyword and article structure feedback.
Audit: Find quick wins and potential missed opportunities with an automated, sub-one minute audit.
Pros of Surfer
Loved by users: With a G2 rating of 4.8/5, Surfer is one of the best SEO tools on the market
Cons of Surfer
Pricing: Some Surfer users have expressed frustration at the pricing structure
Pricing
Surfer prices range from $49 to $199 per month. Speak to Surfer's sales team for more information about their Enterprise package.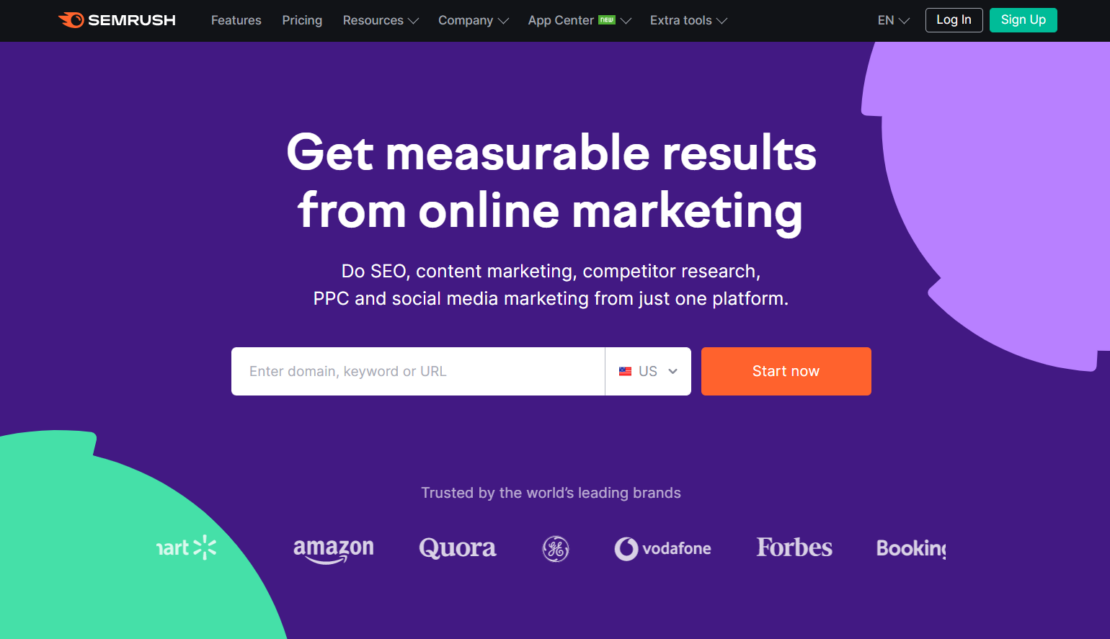 Semrush is a software solution that lets marketing professionals build, measure and manage campaigns across SEO, PPC, content marketing and social media. With more than 55 tools and reports available to use, Semrush provides a huge range of resources to help brands climb the ranks on all search engines.
Top features
Keyword research: Semrush helps you find the right keywords to drive traffic and identify ways to rival your competitors.
Content marketing: Create a data-informed content strategy and long-term calendar based on the needs of your audience.
Paid marketing: Automate time-consuming tasks and create compelling ad copy that drives click on your PPC campaigns.
Pros of Semrush
Insights: The quality of Semrush's content insights are some of the best on the market
Cons of Semrush
Pricing: Semrush have received criticism from users over pricing
Pricing
Semrush plans range from $119.95 to $449.95 per month.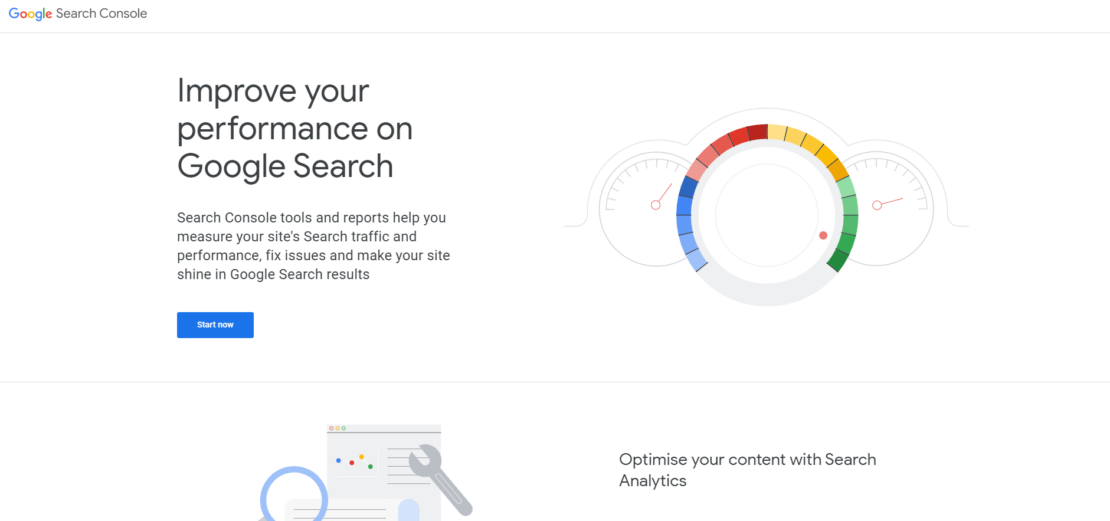 Google Search Console is a free-to-use platform that helps you analyze website performance, troubleshoot problems and uncover new ways to improve your Google ranking.
Top features
Analytics: See which queries are bringing users onto your website.
URL inspection: Get crawl, serving and index information about your website pages.
Email alerts: Receive updates when Google identifies an issue with your site.
Pros of Google Search Console
Cost-free: Google Search Console is completely free to use and is a great starting point for website optimization
Cons of Google Search Console
Learning curve: Google Search Console is full of rich data so it can be tricky for beginners to get up to speed, particularly if they're not familiar with SEO metrics
Pricing
Google Search Console is completely free.
Landing page optimization (LPO) tools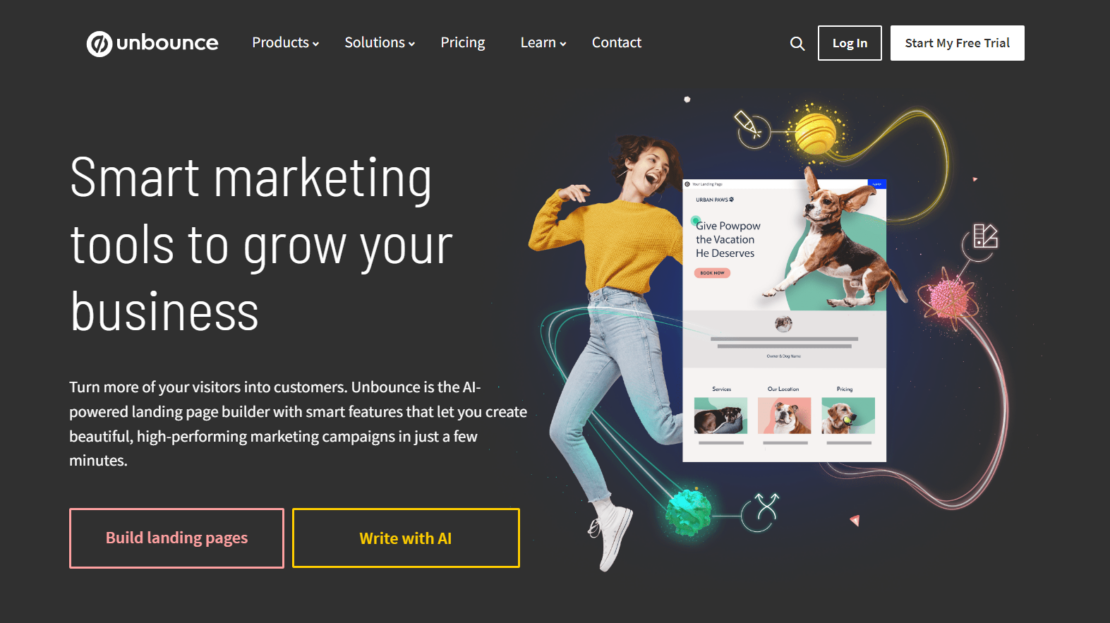 Unbounce helps businesses create high-converting landing pages, turning billions of visitors into leads, sales and sign-ups. The landing page solution is used by businesses in a wide range of industries including ecommerce, SaaS and B2B marketing.
Top features
Landing pages: Unbounce's easy-to-use builder lets non-technical users create landing pages with AI-driven copy and visually stunning elements – no code required.
Popups & sticky bars: Drive more conversions and leads with segmented and A/B testable website popups.
AI copywriting: Use Unbounce's Smart Copy Writer to generate entire sentences, paragraphs and stories in a matter of seconds.
Pros of Unbounce
Usability: The Unbounce platform is highly intuitive and accessible for even the most basic technical user
Cons of Unbounce
Templates: Some Unbounce users claim there is a lack of high-quality templates
Pricing
Unbounce packages range from $0 to $49 per month.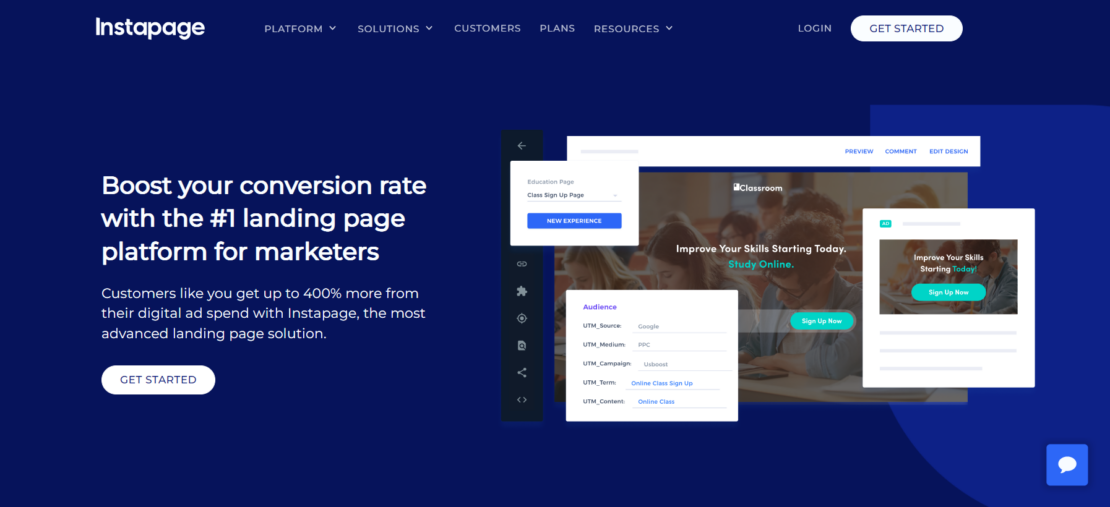 Instapage combines CRO expertise with optimized landing page technology that helps businesses increase sales, leads and conversions. More than 5 million landing pages have been built by 15,000+ brands since the company launched.
Top features
Customizable layouts: Access more than 500 layouts built to increase conversions across many industry-based use cases.
AMP + Thor Render Engine: Deliver best-in-class mobile experiences with built-in AMP support.
Instablocks: Easily scale with content blocks you can save, reuse and update globally.
Pros of Instapage
No code: Launch landing pages without any HTML or coding knowledge
Cons of Instapage
HubSpot integration: There is no out-of-the-box integration with HubSpot forms
Pricing
Speak to Instapage's sales team for more information on pricing.
Mobile usability tools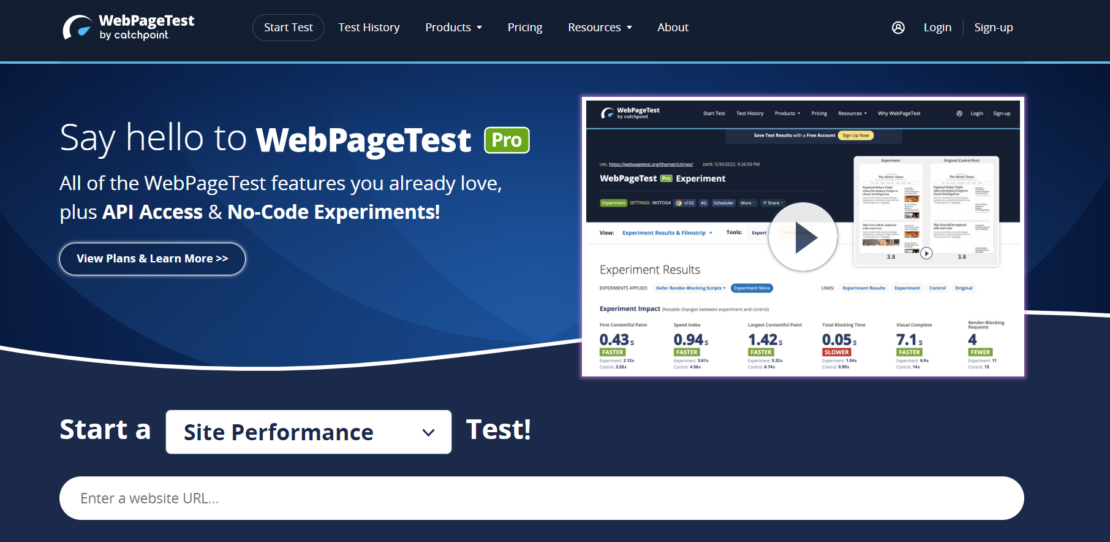 WebPage Test helps you test's your users' online experiences according to their location, device and browser. Get in-depth insights on mobile performance with components like DNS, TCP, TLS and more.
Top features
No-code experiments: Instantly test the impact of suggested optimizations without changing your site.
Actionable suggestions: WebPage Test acts like a personal webpage experience consultant to offer suggestions on where your site can improve.
Granular tests: Test every possible factor impacting webspeed – including device types, browsers and locations.
Pros of WebPage Test
More than mobile: Mobile optimization is just one aspect of WebPage Test's huge variety of testing features used to optimize page speed
Cons of WebPage Test
Locations: WebPage Test's free version is only available in certain locations
Pricing
WebPage Test's plans range from $0 to $180 per month.
Website Optimization Best Practices
Complete a full website audit
Conduct a full audit of your website before you tweak anything. Use page speed tools like Pingdom to uncover any loading and usability issues. From an SEO perspective, audit your published content to identify quick-wins in your current library before writing anything new.
Identify your ideal customer profiles
You can't design a website that people want to visit until you know who your customers are. Conduct interviews, run surveys and analyze website data to understand your customers' pain points and motivations – and use these learnings to optimize your website.
Measure, analyze, improve
Data is king, so measure everything to decide what to optimize and when. Continuously analyze the most important metrics – from page views and bounce rates to load speeds and conversion rates – to track performance, fix problems and make improvements.
Run A/B tests
A/B testing is fundamental to any web optimization strategy, which is why 77% of marketers are already running A/B tests on site. Use A/B testing to learn what resonates with your customers, validate hypotheses, and improve conversion rates.
Use CRO tools
The cost of customer acquisition is now 60% higher than it was five years ago – and that's a huge problem for ecommerce marketers. To mitigate this challenge, use CRO tools like Yieldify to extract maximum value from your current customers and website visitors.
Choosing the right website optimization tool
I hope this blog has helped narrow your search for a website optimization tool. I'm sure you have a particular area you want to focus on, but you'll need to use a range of different website optimization tools to maximize revenue growth from your ecommerce store.
If you'd like a preview of how you can increase conversions on your website with Yieldify's fully-managed, all-in-one personalization platform, feel free to schedule a discovery call here. One of our advisors will be delighted to share more about increasing your conversion rates.
---
FAQs
What is website optimization and how does it work?
Website optimization is the process of using different techniques to improve page speed, UX, SEO traffic, conversion rates and other key performance metrics. There is no one-size-fits-all approach to website optimization, but most ecommerce marketers rely on a combination of third-party solutions and in-house experts to continuously improve their website. 
What are website optimization tools? 
Website optimization tools are software that help ecommerce brands improve website performance to streamline customer journeys and lift online sales. The best tool for you depends on your objectives and pain points, but speak to Yieldify's sales team if you're looking for a fully managed, all-in-one personalization platform to increase your conversion rates.