BLOG
Meet the Yieldify Team: Mark Murray, Head of Travel
Published: Jan 2, 2019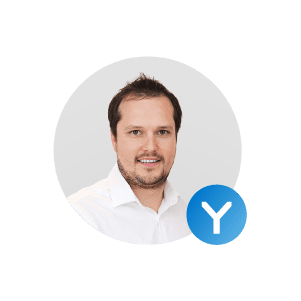 In this new series, we're sitting down with Yieldifiers across the business to find out more about what they do all day. First up: Mark Murray, Head of Travel.
What's your role at Yieldify?
I head up the Travel vertical at Yieldify, making sure that clients are receiving value through their campaigns and maturing with us to deliver more personalized experiences to their customers.
What did you do before you joined the team here?
A large part of my background has been in working with MVT platforms and consultancy companies. Similar to how we work at Yieldify, this was all about delivering enhanced customer experiences enriched by data, making sure that we target users at the right parts of their journey.
Tell us about the kinds of travel brands that Yieldify works with
We work with a wide range of travel brands across almost every aspect of the industry.
From train companies like Virgin Trains, Stansted Express and Loco2, to holiday companies like Leger and GolfBreaks, to OTAs like Flight Centre, TravelUP and Student Universe.
For Yieldify, travel is one of our most exciting areas of growth. We've onboarded dozens on new travel clients over the last year alone as there's so much appetite in the industry for a solution that can help companies adapt to the challenges of a complex customer journey.
They all seem pretty different – do you think these travel companies have anything in common?
Travel is quite a complicated industry: it's not like retail where your purchases are smaller but more frequent.
When it comes to travel, users need time to think about their purchase – that's the key challenge that I think most of the brands I've listed have in common. It's about presenting the right message to the user at the right time, knowing whether they're in research or purchasing mode.
What does Yieldify do for travel companies?
When we work with travel brands, we're all about being able to show targeted messages in the customer journey at the right time.
Critically, this doesn't always involve trying to convert that user in-session. As we've just discussed, the customer journey in travel is long and complex, but actually pretty well-defined into key phases. We ensure that our activity is mapped to those different stages and the respective softer conversions that happen along the way.
For example, the goal for one stage could be capturing an email address when a user looks to exit. This means that we can communicate with them at another point in time, or provide trip information to help them decide where to go. It's once we have that later stage of engagement that we can then run campaigns like urgency messaging or social proof to really push the user and convert.
What are the key trends that travel marketers have on their radar right now?
You can't talk about travel without raising Brexit.
It's a massive topic within the UK travel industry, and a lot of our clients are feeling the pressure by consumers not wanting to book until they know where the UK will stand within the EU. Airlines, in particular, are struggling, but on the flipside, we're seeing that local UK companies are doing quite well with the staycation side.
Looking to 2019, I think we'll see the first half of the year and maybe beyond focusing on Brexit. We might see some travel companies pushing users to take the opportunity to go abroad before any restrictions, but I think that when (or if!) the UK has an agreement in place, we'll see a spike in holidays. So where January is usually the key month for bookings, I anticipate there being another spike later on in the year.
Another key trend is responsible tourism. 70% of people now believe that travel companies should ensure help local people and the local economy. I think this kind of sentiment has been reflected in trends such as the huge popularity of shows such as David Attenborough's 'Blue Planet II'. A focus for 2019 will be how to communicate CSR to users on site, through their journey and at destinations as it becomes more important.
Looking at the onsite experience, personalization and mobile are still the two primary focus areas for travel. Mobile, in particular, is an interesting challenge for travel: users don't like spending thousands of dollars on their phone, but the hours they need to spend researching their major trip means that inevitably many of these will be on mobile. For the marketer, the question remains is how to translate research into purchase in a mobile environment.
How have these trends evolved over the last couple of years?
In terms of personalization, travel is a little behind the retail sector, but it's catching up fast. The next stage is being able to send information cross-device so you're not treating the user as a brand new visitor.
Mobile has a focus on the research phase: 40% of users research flights and accommodation on their mobiles, however when it comes to bookings this falls to 21%. That number's growing and I think in 2019 we'll see this keep climbing.
What do you expect to see next?
Artificial intelligence will become a huge influence on users. Data is getting bigger and bigger each day, but harnessing it effectively to serve the right experiences to users with the right content is becoming key. Ultimately, the only way to deliver 100% 1-2-1 personalization is through machine learning – it may be some way off for many, but I think we'll see more trailblazers in 2019.
Quickfire questions
What's the best thing about working at Yieldify?
The people. Everyone is so friendly and willing to help, which makes it a great environment to work in and a place where we can really go above and beyond for our clients.
What's been your biggest mistake?
[editor's note: we pressed Mark on this for some time but he maintains he's never made one]
What's your proudest achievement since joining?
Believe it or not, not all of our campaigns work first time: we need to learn and adapt through optimization (that's kind of the point). One of my proudest moments is taking a client through this journey where campaigns weren't performing too well, conducting a deep review and analysis of their site and changing our approach with their campaigns. They are now flying high (pun intended) in terms of results and doing really well.