BLOG
How to Use Content to Drive eCommerce Sales: 5 Tried and True Techniques
Published: Oct 12, 2020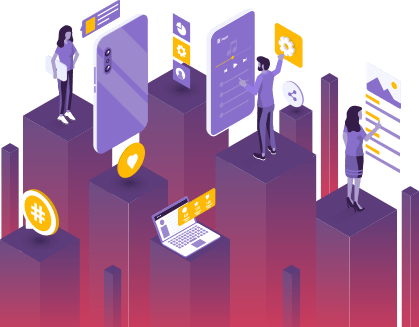 Don't let your content be drowned out by the competition. Here are five simple but effective techniques to create compelling eCommerce content that engages and converts your customers.
The internet has never been more important than it is now. The COVID-19 situation led to a massive increase in online sales, driving eCommerce platforms forward faster than ever: In three month's time, U.S. eCommerce achieved 10 year's worth of growth!
On the flip side, standing out from the competition has never been more important – or more difficult.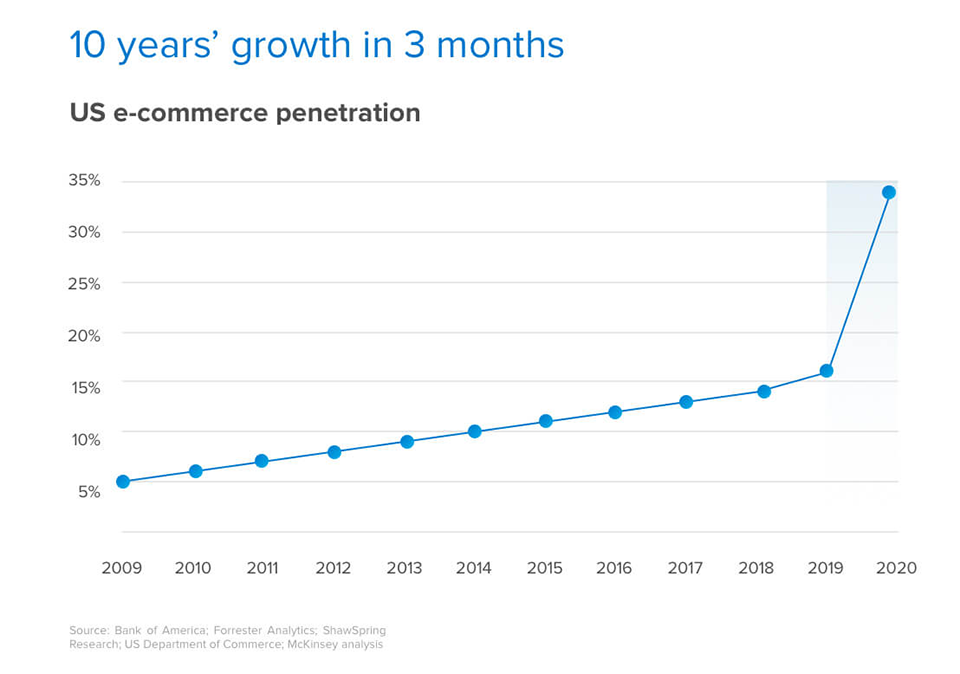 Some 24 years later, content is still the reigning king when it comes to standing out in a saturated market. And with eCommerce getting more crowded than ever before, quality eCommerce content is what can help you cut through the competition and straight into customers' hearts (and pockets).
Using personalized content in your sales cycle is an effective method to persuade prospects into converting, customers into returning, and loyalists into promoting your business through word of mouth.
Keep reading, and you'll find out what eCommerce content to create in order to drive more visitors to your website and effectively convert it into paying customers.
5 types of eCommerce content that boosts traffic and sales
1. Educational content
Educational content is arguably the most important type of eCommerce content your business can create. Why? Because it allows you to answer audience questions about your brand and products before they are even asked: Why is your product better than others? How much does it cost? What are the benefits it provides?
But before you can create good educational content, you have to figure out what your visitors want to know.
Search Engines such as Google or Bing can provide these answers in related search phrases or commonly asked questions sections that appear when you search for your target keyword.
Let's say you type in a search query "button-down shirt" – the SERP will show related searches, such as "button-up shirt vs button-down shirt" and "button-down shirt meaning." What this tells you is that people want to know the difference between button-up and button-down shirts, as well as the origin of the term. Use this knowledge to create content that answers these queries and positions your business as a problem-solver in the customer's psyche.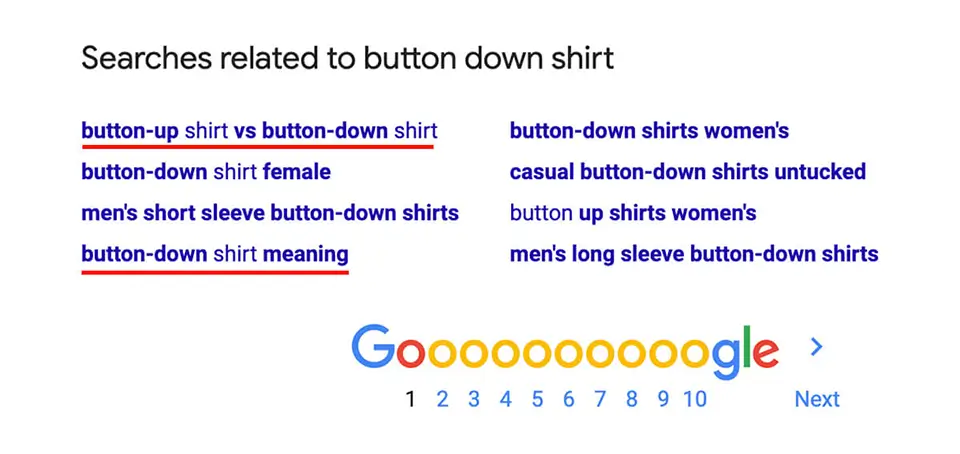 Alternatively, sites such as Answer the Public, an online keyword tool that collates autocomplete data from various search engines, can present relevant phrases and questions users are searching around your keyword.
In fact, when it comes to educational content, the playing field is vast and far-reaching. You can write texts, shoot videos, draw illustrations, etc. Each has positive and negative sides, so the best approach is to mix things up. Below are some of the most popular types of educational eCommerce content that your business can make use of:
Text-based educational content
Text-based content is the most common way of informing customers about products and their uses. You can't sell anything without some form of textual content: Product name, description, care guidelines, etc.
The length and breadth of the text usually depend on the product itself. For example:
If you're selling white goods (various home appliances and other electrical goods), lengthy poetic texts aren't going to get you anywhere. All your customers want to see are product specifications, price, customer ratings, potentially some kind of comparison chart;
Whereas if clothes are being sold, feel free to include descriptions that highlight the product's comfort, unique design details, various styling options, real-life examples from customers who purchased in the past, etc.
The ultimate goal of educational eCommerce content is to provide more details about the product, how it works, and its benefits. A great example is ProFlowers – a US-based flower retailer who created an entire Florapedia® to provide their customers with in-depth flower guides.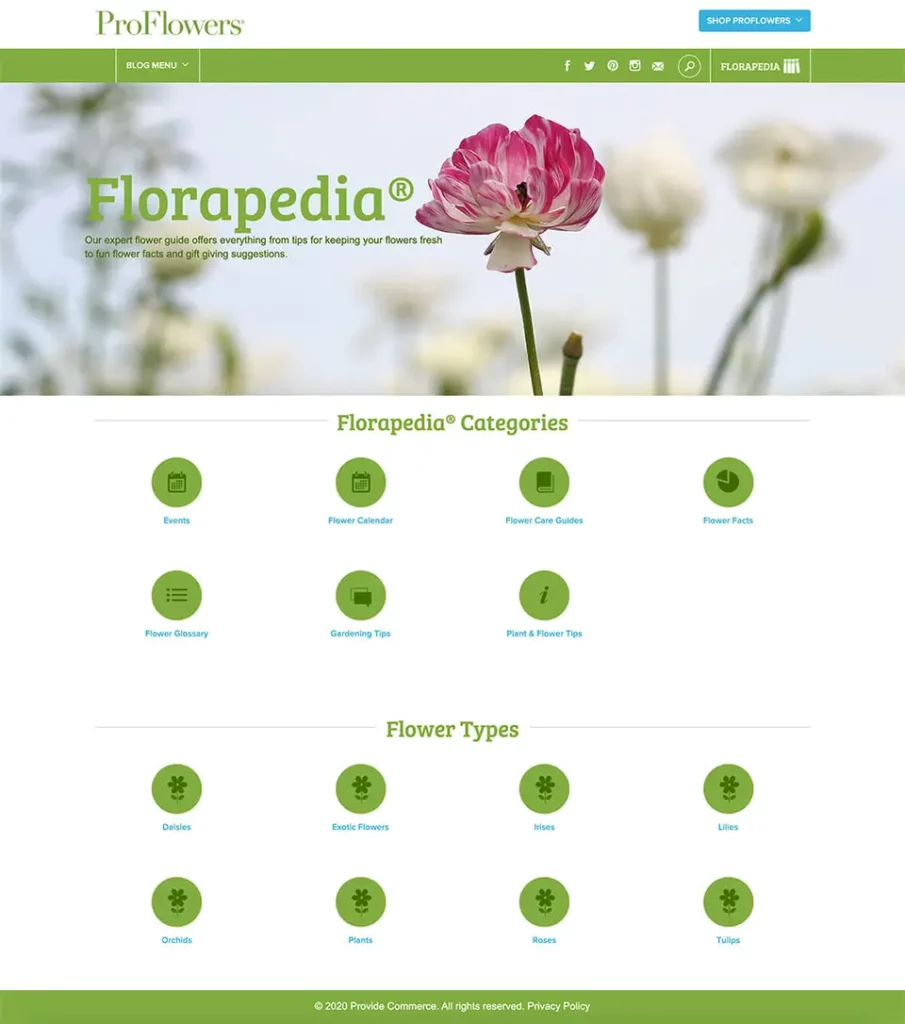 Included in the Florapedia is their 151 Types of Flowers Common in the U.S. list complete with images, seasonality, soil needs, and more. When you hear marketers reference high-quality content this by far is one of the best examples to illustrate what they mean!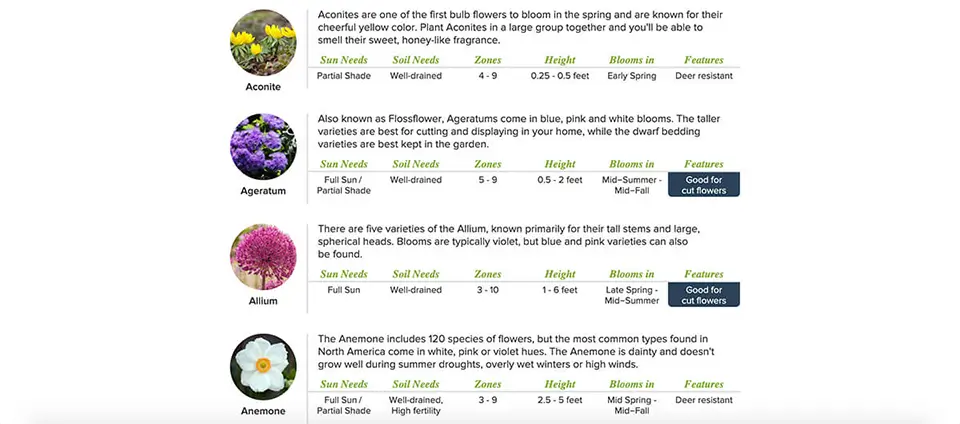 The results of this piece of content speak for themselves as well. A quick look into Ahrefs shows this piece bringing in over 16,000 visits every month.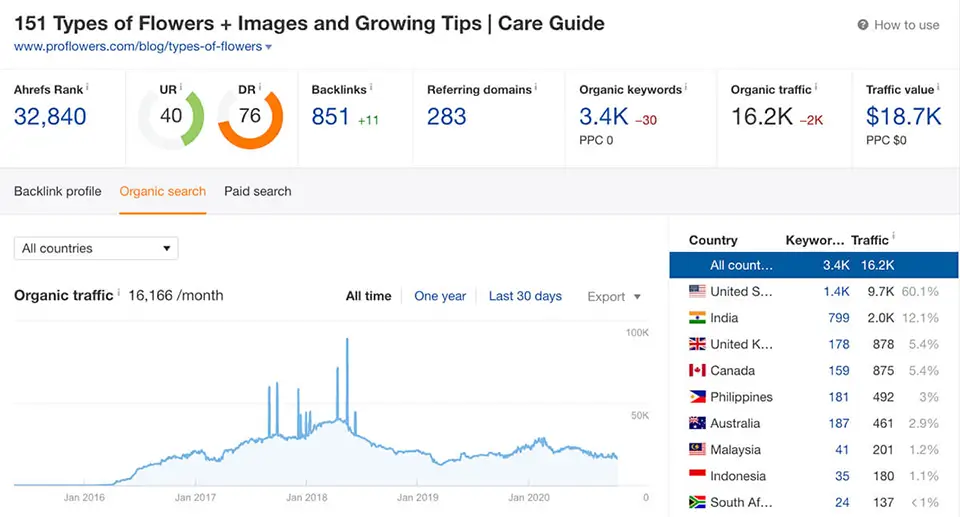 Visual content (photos and images)
We all know the old saying about an image being worth a thousand words. The same applies to content marketing. Attention-grabbing product images can attract new customers right away, while the text provides more information.
About 60% of customers are attracted to images or presentations showing why they need the product and how it helps. This is because, according to research undertaken by the conglomerate corporation 3M, visuals are processed 60,000 times faster than text. This allows your storytelling to gain speed, potentially helping consumers to move through their decision making faster.
A fine example of this is outdoor brand Jack Wolfskin who uses high-quality shots of their clothing items in action accompanied by clear product photography showcasing the item in more detail. This allows customers to picture themselves owning the item, as well as research their unique qualities.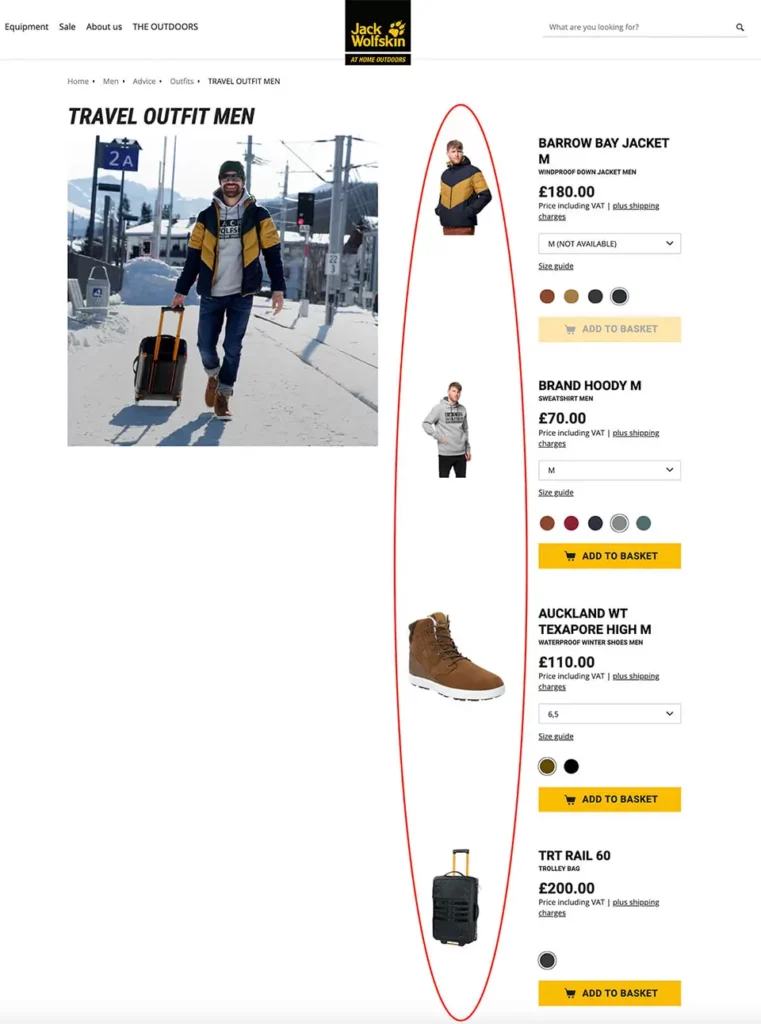 Infographics
Infographics are really a mix of text-based content and images. They are perfect for reaching out to a specific niche audience by showing statistical data, timelines, trends, and tutorials. Infographics provide relevant information that is easily shared across other websites and social media. You should aim to make infographics around topics and questions related to your industry. These can address common myths, or even tips that can help potential customers.
Take a look at this example from Dreams, a UK supplier of beds, mattresses, and other sleep equipment. The infographic highlights common problems people face whilst trying to get to sleep and provides actionable tips to overcome these.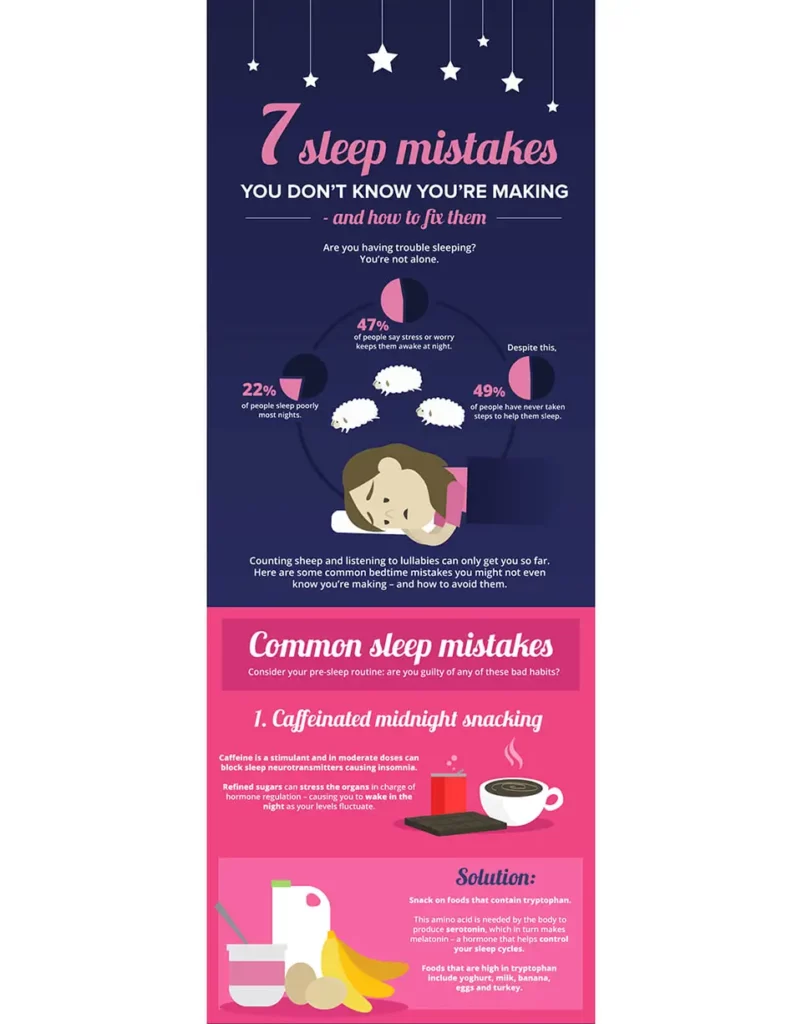 Video content
Videos are still a big thing in digital marketing. Technology giant Cisco projected that by the year 2022, online video will be responsible for 82% of all consumer internet traffic – 15 times higher than the amount in 2017. Their predictions are only supported by findings from Hubspot, who discovered that 72% of customers would rather learn about a product or service by watching a video.
Their reason for becoming one of the most used methods of promoting products in the near future may be related to research undertaken by Insivia which also revealed that video viewers retain 95% of a message when watching it in a video, compared to retaining 10% when reading it in a text. As video content is easily shareable across all platforms, it possesses the power to captivate people for extended amounts of time.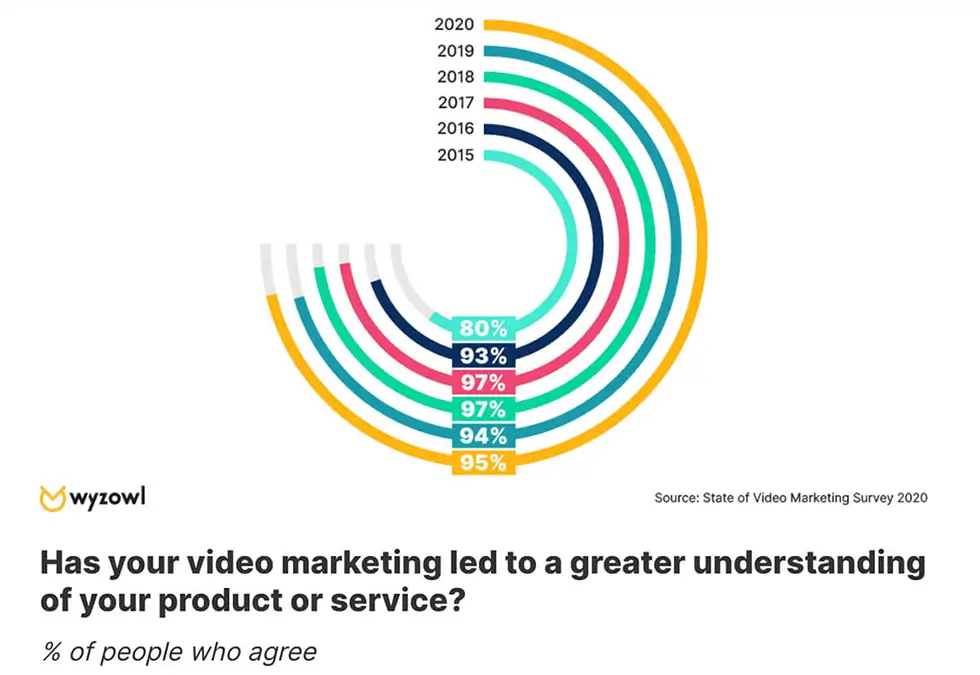 Primarily, eCommerce videos allow you to quickly inform customers about your products and offers, nudging them to purchase without thinking twice. However, other benefits of eCommerce video marketing include their ability to drive organic traffic if they are optimized correctly for search engines.
According to the animation studio Moovly, if a video is embedded on your website you're 53 times more likely to rank on the first page of Google. As YouTube is also now owned by Google, uploading the right content and ensuring to have an engaging thumbnail and search-optimized titles can send traffic back to your website provided you have put the link in its description.
See UK-based folding bike manufacturer Brompton. These guys have completely occupied the top results by answering a query that's crucial for their businesses: "fold a brompton."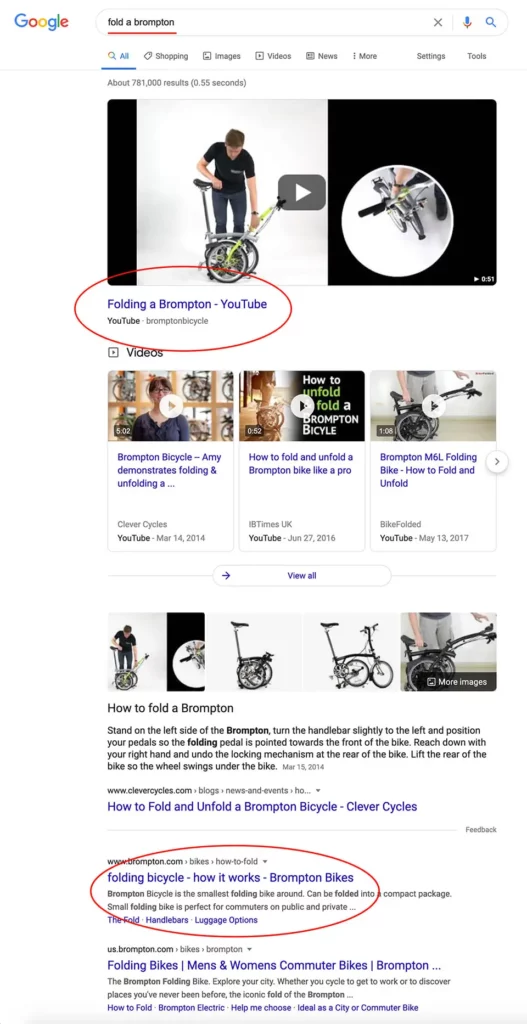 For eCommerce websites especially, videos also serve as vital tools in helping to build trust. Explanatory videos alleviate consumer fears regarding the quality of the product by allowing viewers to vicariously experience its usages and benefits, helping to sway them to a purchasing decision.
One company that does this particularly well is Yieldify client cosmetics brand Milk Makeup with their subscriber count sitting at an impressive 92K. Their makeup tutorials go down pretty well with most clearing the 20k view mark. You can see a great example of an informative and engaging video below:
2. SEO content
Driving traffic to your website is vital in ensuring eCommerce sales. Whether the traffic is paid or organic, without it, your website will not be visited by potential new customers, let alone convert.
For small retailers, organic traffic is of greatest importance because the costs associated with it are zero to none. How?
Well, to get organic traffic up you'll obviously need to invest in some SEO tools, such as Ahrefs or Moz, maybe an SEO agency or a freelance specialist, outsource some content creation if you don't have the resources in-house. However, the achievements gained from search engine optimization are long-lasting and don't require an additional budget to support them.
On the contrary, a paid advertising campaign is only effective until it's running. This means you only get exposure when you throw money at it – whereas with SEO you get money long after the initial investment.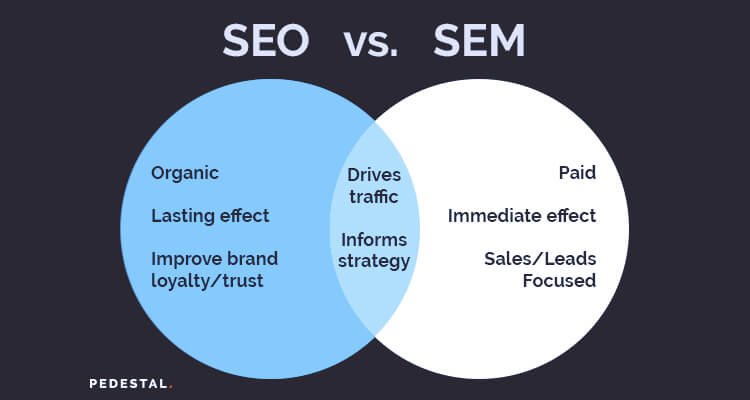 To climb Google's rankings, your eCommerce content must be optimized in such a way that when visitors type your target keywords into Google, your eCommerce site appears. In the beginning it can be a trial and error process, but some tips to help you increase organic traffic are:
Optimizing landing page text, website copy, blog content, and product descriptions for long-tail keywords;
Adding optimized alt-text to any product or site images;
Optimizing page meta titles and descriptions;
Adding well-written user-generated content to product pages;
Writing blogs around popular search queries;
Adding schema markup to product and landing pages.
Below we'll detail two good examples of websites with high organic traffic. First, we have Gymshark. Gymshark is one of the fastest-growing and well-known brands within the fitness industry. Their core target market is those living an active lifestyle.
Whilst their primary target keywords may be queries such as "mens gym clothing" or "womens gym leggings," Gymshark doesn't limit itself to these keywords alone. As you can see below their blog section drives a considerable amount of traffic, according to Ahrefs.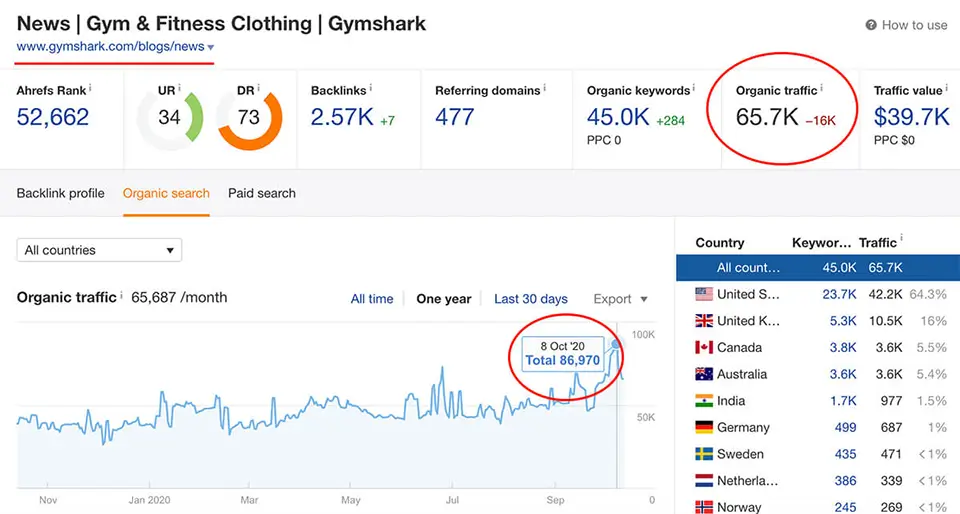 As part of Gymshark's content strategy, they target anyone who shows they are into health and fitness. You can see some examples below.
Targeting people who search for these keywords allows Gymshark to reach their target audience, provide valuable content, and build brand awareness. While these users may not purchase on their first visit, they can be retargeted with social media ads or subscribe to a newsletter and receive email nurture sequences that will nudge them to convert later.

Our second example comes from Best Buy. Their Canadian website has its own blog subdomain that targets non-commercial keywords that Best Buy's target audience is searching for. As you can see below it also drives a large amount of organic traffic.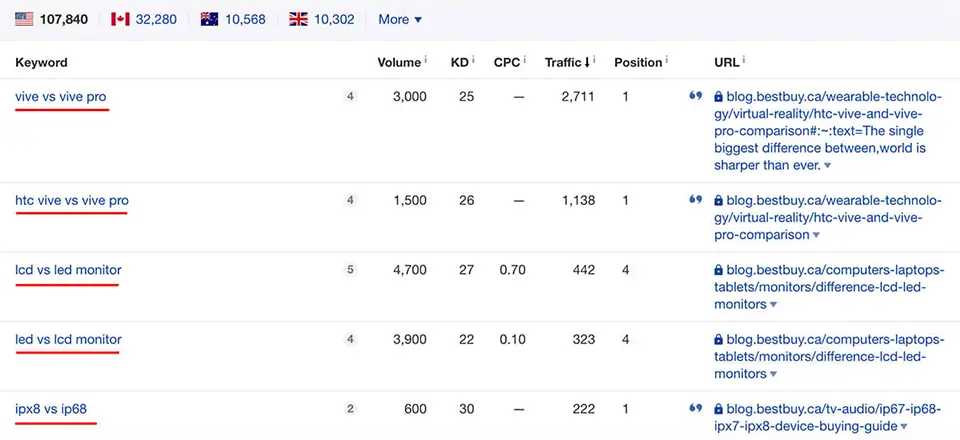 A lesson to take from both of these examples is to explore your niche and think of as much content as possible around it. As you can see, when you finally optimize everything, your organic traffic can provide results you never thought possible and drive 1,000% more traffic than organic social media.
3. Gated content
Gated content is content that requires any form of information submission in order to unlock it. This usually means that visitors have to leave their email address to access content that is otherwise unavailable, i..e behind a gate.
Gated content is widely used as a B2B lead generation tactic in the form of whitepapers, eBooks, reports, etc. But it might as well be utilized by B2C retailers. In fact, all those "Subscribe to get $10 off" messages can be treated as gated content in the context of eCommerce.
In terms of eBooks, this could also link back to the informational content we mentioned earlier. Creating a product guide, or a how-to eBook could be a great way to collect customers' email addresses and build your email list. It's also pretty simple to do using a PDF creation tool, you'll just need to make sure the content is good!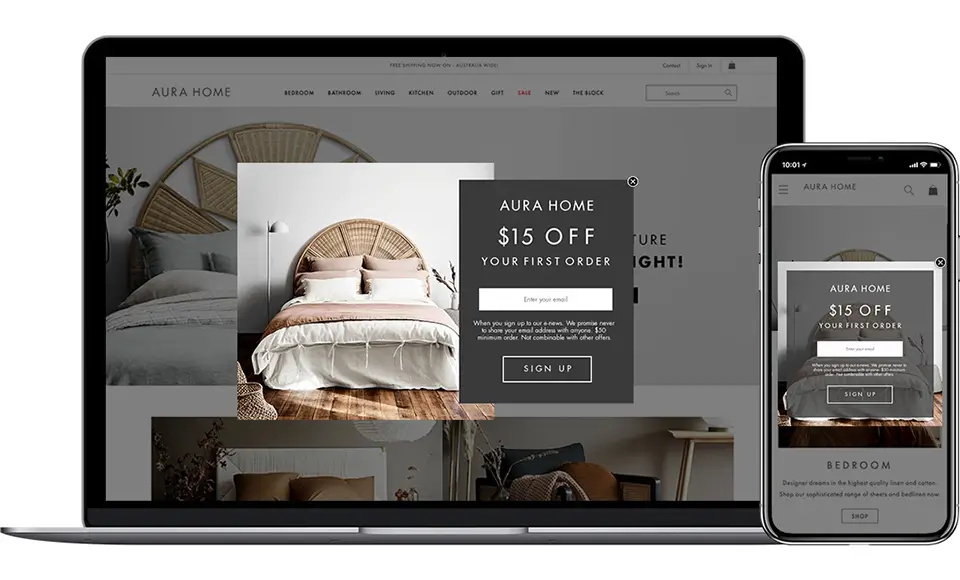 Another way to deploy gated eCommerce content on your site is to invite customers to pre-order something. Pre-ordering is a popular tactic among musicians and brands, especially those releasing limited edition vinyl records. However, recently fashion and beauty retailers have started utilizing the pre-ordering tactic as well. Here's an example from Typology Paris: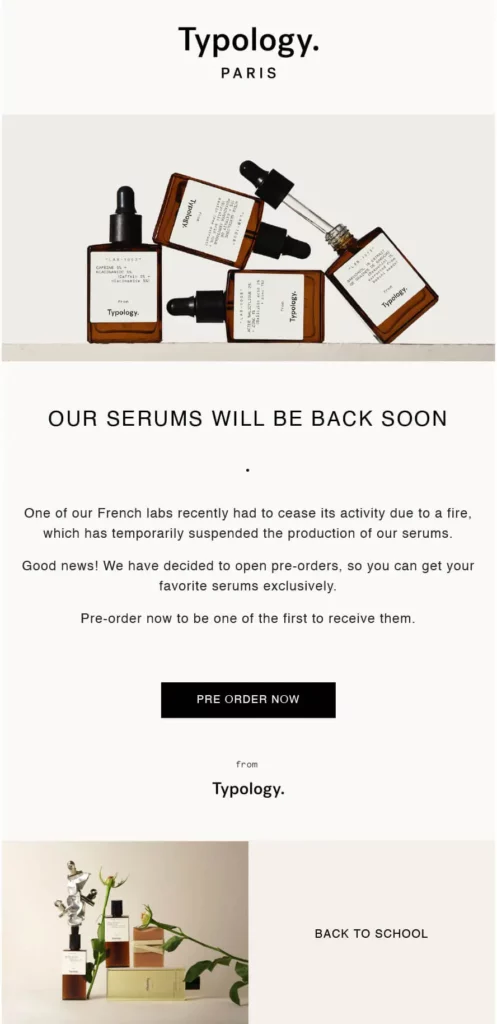 4. Curated and user-generated content
The content that you create about your brand, products, and services can only go so far. You need real, unbiased opinions from your customers or subject matter experts to prove the true value that your business brings.
Curated content is perfect for that. Curated content comes in many different forms: From user-generated content (UGC) like photographs, video reviews, and testimonials to magazine features, guest interviews, etc. Depending on the format, you can republish this content on your company blog, reshare on social media accounts, include in email sequences, and more.
Two great examples of curated content campaigns come from Apple and J.Crew. Both of them utilized branded hashtags and took user-generated content to another level: Apple with its #ShotOniPhone campaign that's turned into an annual contest, and J.Crew with its #NationalStripesDay that is now bigger than the brand itself.

6. Content advertising
The concept of content advertising is commonly confused with content marketing and content strategy. However, content advertising has to do with the promotion of the content rather than its creation.
E-commerce businesses can choose to promote their content through PPC (pay-per-click) advertising options offered by Facebook Ads, Google Ads, Google Display Network, AdSense, and so on.
It's a good way to nurture prospects without being too pushy. By using tracking pixels to know when somebody landed on your website, you can create retargeting ads and serve relevant content until the person is ready to make a purchase with you.
Target is a brand that does this quite often. Besides retargeting customers with the products they viewed, they also run content advertising campaigns promoting useful assets, such as the Stroller Guide in the example below: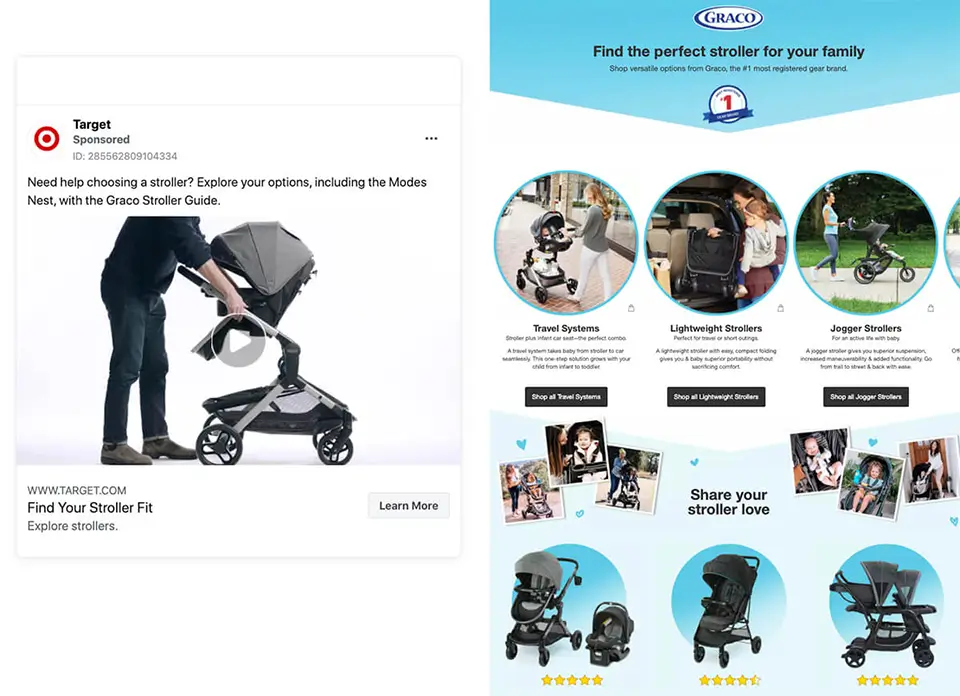 In conclusion
There are dozens of methods you can use to increase sales, but they all come down to promotion, sharing, and advertisement. To run a successful eCommerce business, you must first gain the trust of as many clients as possible, and after that, your website will be self-sustaining, and it will generate its own traffic.
You must take care of every step in the buying and selling process to increase sales and make your brand stand out in the crowd. Connect with other websites, including high-authority resources that prove your claims, and watch as your sales go up at a steady pace. Utilize everything you can to spread the word about your product, and success will follow!