BLOG
Introducing In-Page Personalization from Yieldify
Published: Mar 14, 2019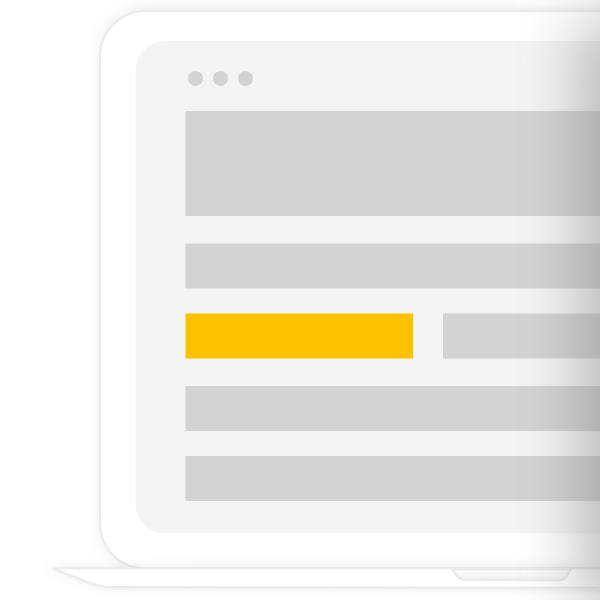 Our biggest launch this year will revolutionize your personalization strategies
Personalization has always been kind of a drag. Most platforms take months to get up-and-running and then demand hours upon hours of skilled time in order to execute. In fact, 30% of marketers rate personalization among their most difficult executions (it's up there with machine learning).
New In-Page Personalization from Yieldify – announced worldwide today – sets out to change all that. Here's how.
What is In-Page Personalization?
In-Page Personalization is – put simply – the ability to add personalization to your website pages without having to touch their code.
The new In-Page functionality pairs with Yieldify's appropriately-named On-Page Personalization, which includes overlays, banners, Notifications and much more. Where On-Page Personalization is intentionally more prominent, In-Page Personalization is designed to be more subtle. Using the two together forms the backbone of any effective Customer Journey Optimization strategy.
Here's an example of how it could look on a mobile site: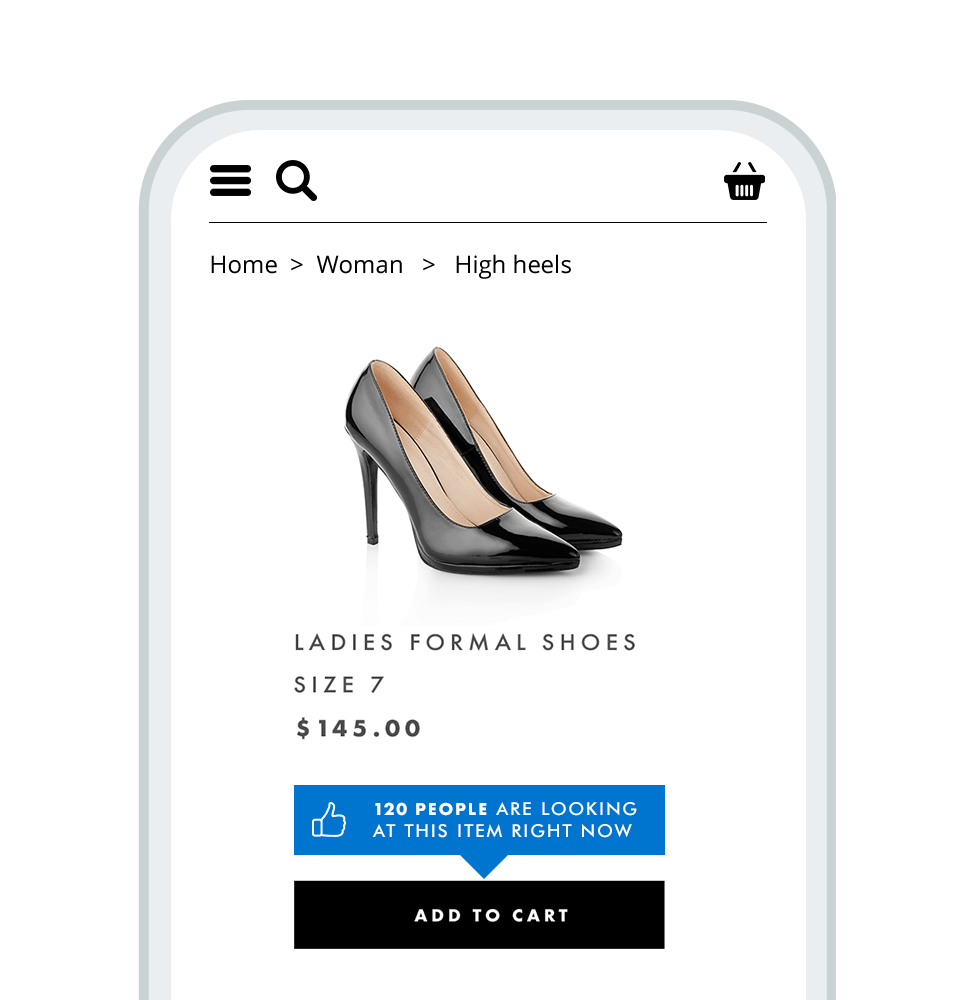 Not sure which bit we're talking about? That's exactly the idea. The In-Page Personalization element here is the '120 people…' flag in blue – it has been added in a matter of minutes and will only appear on the site's most popular products, even then only materializing after the user has dwelled for a few seconds. To your user, it all looks seamlessly like part of your site.
All of this is hosted on the Yieldify Conversion Platform, which gets up-and-running in less than two weeks – a fraction of the time than the multiple months that most personalization platforms demand.
Who is it for?
In-Page Personalization is made for any e-commerce team that wants a fast and easy way to personalize their website – that means it's great for everyone from retail to financial services.
A great example of the product in action comes from NEST Fragrances, who have used In-Page Personalization to deliver social proof messaging as part of the fabric of their site: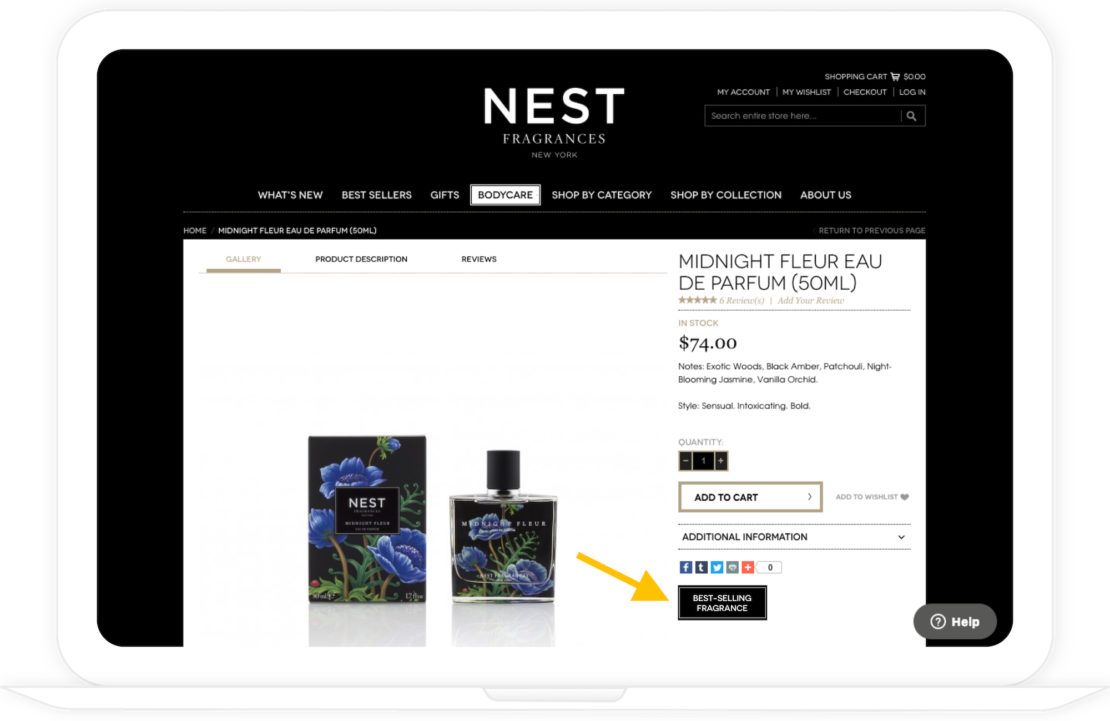 The work so far has already led to a 30% uplift in conversion rates:
"With In-Page Personalization, we're now able to make our website content reactive to our users' behavior in real-time. With limited resources and bandwidth, it would have been very difficult for us to deliver this on our own. Based on initial results, we're excited to see where we can take it next."

Brian Crowley, Director, E-commerce and Digital Marketing at NEST Fragrances
Here's another example from the award-winning tour operator Leger Holidays, who used in-page personalization to show a message at a late stage in the booking funnel, encouraging users to continue on their journey:
According to our team, using this format on the Leger website meant this message could be anchored right alongside the relevant sections of the form, without interrupting the visitor journey. To date, the results have been impressive, with conversion rates up by +15.7% versus the control group.
And here's another example from award winning OTA TravelUp.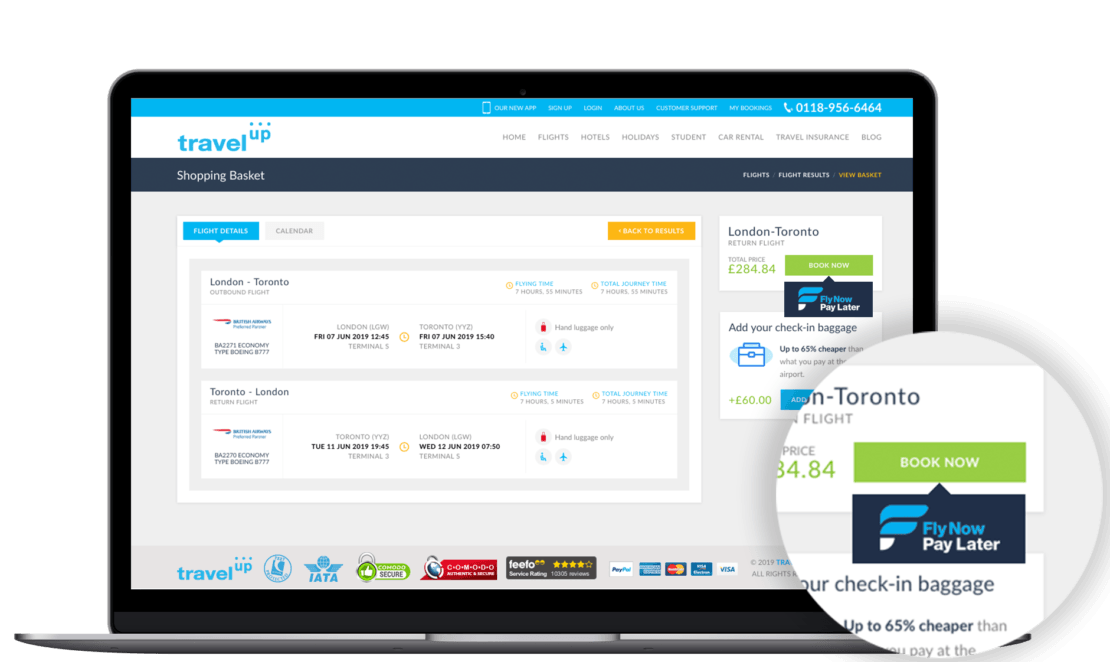 Sticky campaigns allowed TravelUp to situate a 'Fly Now Pay Later' message seamlessly and in context across all devices – anchored to the 'book now' button on the booking page. This was initially shown to all visitors who reached the booking page, based on the hypothesis that this behavior demonstrated high intent and that conversion would, therefore, be likely.
However, the results told a different story, and so TravelUp sought to learn from this. With the flexibility of the Yieldify Platform, the targeting for the campaign was quickly adjusted to include only new users, this time with the hypothesis that the 'Fly Now Pay Later' message would be more attractive to those visitors in research mode, who had perhaps not yet saved up to book their flights. With the adjusted targeting, TravelUp proved its hypothesis correct – new visitors in research mode were more likely to convert when shown this sticky campaign. The message drove a +5.24% uplift in conversions among this target group.
How does In-Page Personalization work?
It works in two very simple ways:
1.Sticky campaigns
These are creatives and messages that you can 'stick' to almost any element of your page. These will continue 'sticking' to that element, no matter where your user scrolls, making them appear completely seamless with the rest of your page content.
2. Embedded campaigns
Of course, not every page design allows that little piece of extra space that you might need for a Sticky campaign – this is where Embedded campaigns come in. These will add your message or creative directly into your page.
Both types of campaign look identical from a user perspective (in that they'll have no idea this isn't already a part of your website).
Why bother though?
Since launching this new functionality in beta, we've seen an overwhelming response from e-commerce companies across the world. Dozens of clients have told us that this offers an invaluable route out of time-consuming and complex personalization, making fast and agile personalization available to them for the first time:
"Changing elements of our website so that it can be properly personalized used to be one of our biggest challenges – it competed with other priorities and would take a considerable amount of time to get it live. Using Yieldify's In-Page Personalization has been a game-changer: now it only takes minutes. It's opened the door to a faster, more agile approach to ensuring our website performs at its best."

David Gomez, Insurance Director at AllClear Travel
To prove just how easy it is, here's a quick video that shows you how to put a campaign together:
Here's where there's another element that makes all of this pretty special: behavioral triggering. Where many personalization platforms will allow you to invest your time and resource into creating personalized pages depending on cohort segments, Yieldify allows you to take things to the next level by being able to change the appearance of that content depending on in-session behavior.
How do I get In-Page Personalization?
Both In-Page and On-Page Personalization form part of the Yieldify Conversion Platform. As an award-winning product, it specializes in its speed and ease-of-use – you'll be able to get up-and-running within two weeks, with just a single tag to have your IT team integrate. We'll take care of the rest.
To find out more, request a free demo.
As part of your demo, we'll assess whether In-Page Personalization looks right for your website, and then use the time to walk you through our ideas for how it could achieve the best results.