BLOG
How to Get & Nurture Email Leads the Right Way
Published: Jan 5, 2023
When executed well, email marketing is a game changer for ecommerce brands.
A survey of more than 2000 marketers revealed ecommerce, retail and consumer goods companies generate 45:1 ROI from email marketing on average.
While these figures are impressive, you won't drive huge returns until you've built an engaged subscriber base. But how do you convince more people to complete your opt-in forms – and what does a profit-driving email marketing strategy look like?
In this blog I'll answer these important questions and walk you through the fundamentals of email marketing.
If you're looking specifically for a lead generation tool to grow your list of subscribers, check out our post covering 12 of the best lead generation tools. Otherwise, let's start with email leads.
What are email leads?
Email leads are people who've agreed to receive your marketing emails – such as your welcome emails, brand newsletters or cart reminders – by submitting one of your opt-in forms.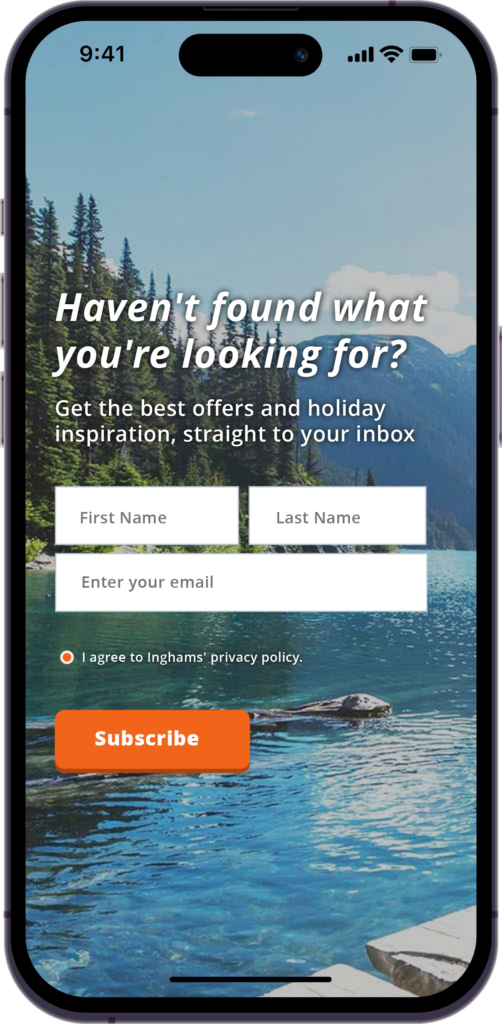 Your main goals with email leads are to nurture them into making their first order, bring them back to your site to make follow-up orders, and ultimately build a relationship with them so they become loyal to your brand.
Part of that nurturing process is grouping your leads into different segments (read more on this below) and sending those segments targeted marketing flows.
For example, your email sequence might look like this:
Send new leads a welcome email with a first-purchase incentive
Follow up with your brand story video
Notify them about a new product launch
Share product recommendations based on their browsing history
Send them a cart abandonment reminder
Email them their order confirmation
Upsell recommended products based on their recent order

Why should you have an email lead generation strategy?
The profit-driving potential of a good lead generation strategy can't be overstated.
With an average value of $102.50, email leads possess that rare blend of being both cheap to acquire and highly lucrative – so it's no wonder email remains the major customer acquisition and retention channel for 81% of small businesses.
A successful email lead generation strategy can help you:
Increase your brand visibility
Expand your market reach
Form stronger customer relationships
Build hype for your new releases
Promote your sale periods
Boost your overall revenue
If you need support driving more high-quality email leads, Yieldify's layered lead capture technology and full-service team can help you.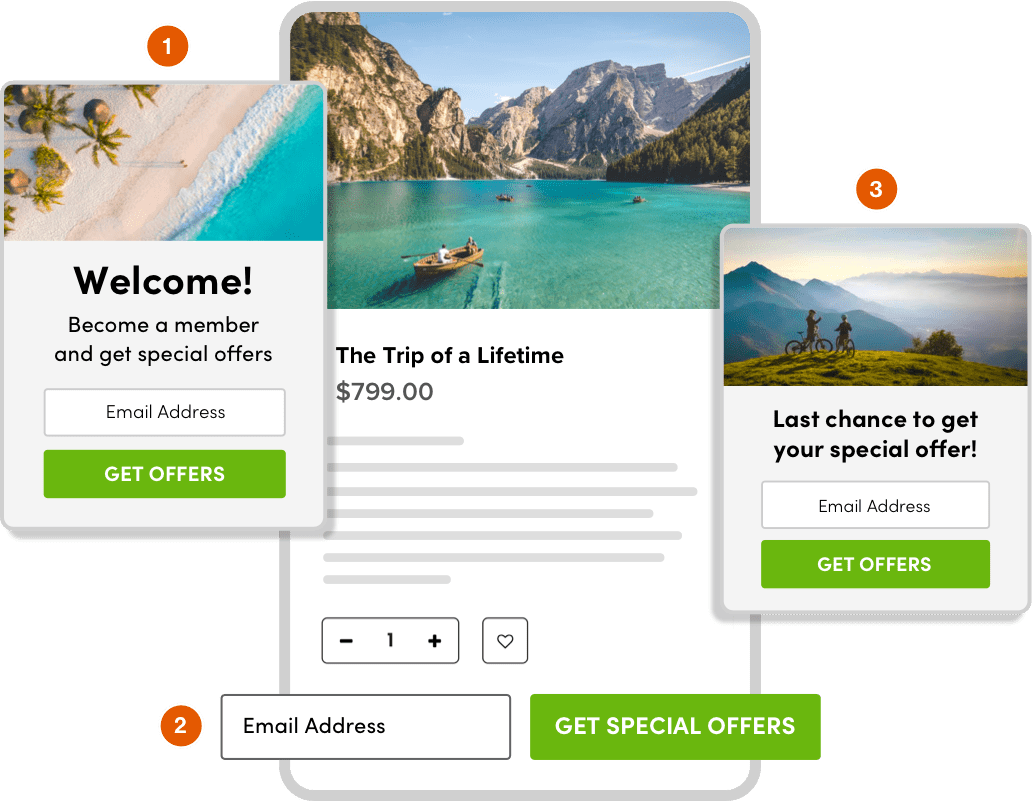 The risks of buying email leads
When you're ramping up your lead generation efforts, it can be tempting to buy a list of subscribers.
Sure, you'll find plenty of companies offering that service, and you can generate leads on the cheap in just a few clicks. But don't fall into that trap if you're serious about your brand's long-term growth.
Purchased leads haven't agreed to receive your marketing emails or shown interest in your products, so the chances of them buying from you are incredibly low. If they don't report you as spam, their email marketing software provider almost definitely will.
When a customer marks your address as spam it:
Harms your IP reputation
Damages your sender score
Reduces your delivery rates
If you want to join those brands driving 45:1 ROI through email marketing, you should instead invest in lead generation tools that help you grow your subscriber list organically.
How to get email leads
Now you're committed to building your email list the right way, you're probably wondering what techniques you should use to generate email leads.
Here's a six-point guide to ramp up your lead generation rate:
1. Identify your buyer personas
You need to understand who your customers are and what makes them tick before capturing email leads. Dive into the data, conduct market research and interview customers to outline your buyer personas – then create specific opt-in forms for each customer segment.
2. Segment your website traffic
The days of displaying the same opt-in form, to the same customer, at the same time are long gone. To run an effective lead gen strategy, target your customers with sign-up forms that respond to their characteristics, interests and on-site behaviors. For example, Philips used Yieldify to embed relevant imagery into opt-in forms on their shaving product pages.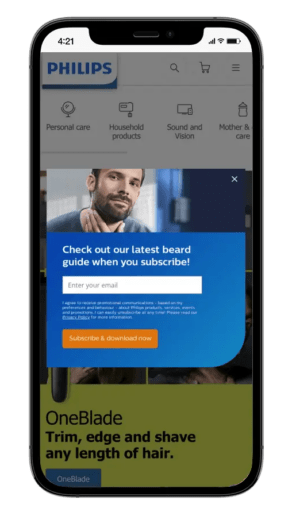 3. Use full-funnel lead generation
Don't limit your subscriber list growth by only displaying a single opt-in form on entry. Instead, use a full-funnel approach with different opt-in forms to continue generating leads at different stages of the customer journey – from entry through to exit. At Yieldify, we've helped clients increase email subscribers by up to 700% with a full-funnel approach to lead generation.
4. Offer incentives
You can't maximize the size of your email database until you give your customers a reason to subscribe. Discount codes are the go-to incentive for most ecommerce brands, but at Yieldify we've seen clients achieve great results through:
Offering free gifts
Providing downloadable content
Sending cart and back-in-stock reminders
Recommending products
Gamification
5. A/B or A/B/n test your opt-in forms
The average opt-in form completion rate for B2C ecommerce companies is 1.6%, but A/B testing will help you rise well above that. To generate the highest number of subscribers, continuously test the design, placement, messaging and triggering rules of your opt-in forms. If you have more than 100,000 monthly website visitors, use A/B/n testing to compare 3+ forms at the same time.
6. Personalize your opt-in forms
9 out of 10 consumers enjoy receiving tailored messages from brands, so give your customers what they want by personalizing your opt-in forms. Tweak the design, messaging or triggering rules to show awareness of your customer's interests and on-site behaviors. With Yieldify, Petal & Pup personalized opt-in forms for Facebook customers as part of a strategy that lifted email leads by 116%.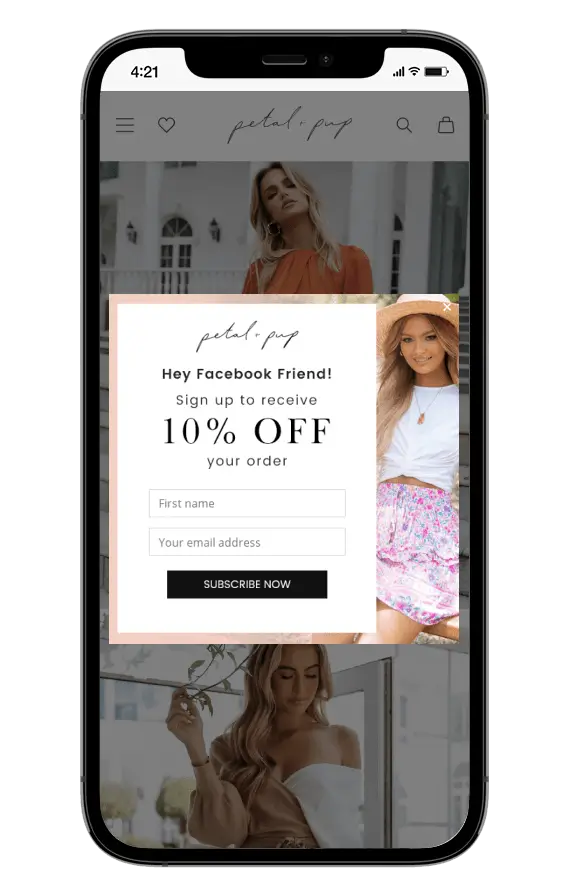 How to nurture email leads
1. Segment subscribers
Subscriber segmentation is the most effective email marketing campaign strategy. Split your email list into segments based on demographic, psychographic, geographic and behavioral data. Then you can send personalized, valuable content that gets readers from their inbox to your site and helps you convert leads into paying customers.
If you're a Klaviyo user, find out how you can use Yieldify's advanced Klaviyo integration to better segment your audience by their on-site behaviors.
2. Be concise
Compression is expression in email marketing. The optimum word count for an email is just 50-125 words, which leaves little opportunity to unleash your inner Shakespeare. Instead, convey your message succinctly and use clear formatting (e.g. bullet points) to structure emails in a digestible way.
3. Write irresistible subject lines
According to OptinMonster, 47% of email recipients decide to open emails based on the subject line. Keep things short with a subject line between 28-50 characters, and A/B test different approaches to see what resonates with your target audience. Spike curiosity, drop a pun and show your human side to get more eyes on your content.
4. Craft compelling CTAs
With an ideal length of just 2-5 words, brevity is key when writing CTAs. Always start your CTA with a verb, and make it visually eye-catching to encourage more readers to click through to your site.
5. Personalize content
Revenue is 5.7 times higher in emails that use personalization techniques. You should always personalize the subject line where appropriate, but that's only the beginning of a broader email personalization strategy. Address your leads by name, attach imagery relating to their location, and tailor discounts and special offers to their interests and browsing behavior.
6. Adopt live content
With an ROI of 56:1, live content is a low-adoption, high-impact technique that will give you a competitive advantage in a crowded market. Rather than populating email content when you hit send, live content is activated when your customer opens the email. For example, you could engage your customers with countdown timers, poll results and real-time stock updates.
7. Use cart abandonment emails
A huge 41% of customers open cart abandonment emails, which is 2.5x higher than the average email open rate. If you're looking for reliable ways to get people back onto your site through email marketing campaigns, send cart abandonment reminder emails to customers who added to basket but didn't check out on a recent visit. In partnership with Yieldify, Lacoste drove a 21:1 return on investment using cart abandonment remarketing and other personalization strategies.
8. A/B test your content
Companies that A/B test email content drive 42:1 ROI compared to just 23:1 ROI for companies that don't. A/B test different aspects of your email content – subject lines, CTAs, copy length, imagery etc – to maximize open and click-through rates.
9. Test the time
There is no consensus on when you should send email marketing content, and the optimum time for your business depends on many factors including your industry and time zone. Find your sweet spot for email engagement by continuously testing different time slots.
---
If you'd like a preview of how you can capture more email leads on your website and send rich customer data into your ESP with Yieldify's full-service personalization platform, schedule a discovery call now. One of our advisors will be delighted to share more.