BLOG
How To Increase Ticket Sales for Events: 15 Fail-Proof Strategies
Published: Oct 31, 2022
Are you under pressure to increase event ticket sales? Are you struggling to spread the word about your event? Are you looking for better technology to convert website visitors into customers? Whatever your reason for landing here, I'm here to guide you through 15 strategies that'll boost ticket sales for your events.
There are 4 industry-standard tactics almost every company uses to sell tickets online. But if you want to truly enhance your online sales funnel and stand out from your competitors, you need to go beyond those tactics by optimizing your website too.
With Yieldify's personalization platform and services, you can deploy 11 powerful tactics to increase online ticket sales.
Our 15 recommendations fall into four categories:
Collect more email and SMS subscribers
Increase conversion rates
Build a winning brand
Apply industry-standard tactics
Together they offer a holistic, multichannel approach to increasing ticket sales for events.
If you're looking for a tool focused specifically on increasing website conversion rates, then check out our post covering 12 of the best CRO Tools on the market.
15 surefire tactics to increase ticket sales online
Collect more email & SMS subscribers (1-3): A strong email & SMS remarketing database will help you spread the word about upcoming events, build hype and boost ticket sales. Drive more subscribers into your database with these three tried-and-tested lead generation tactics.
Build a winning brand (9-11): In the face of increasing competition and PPC ad costs, it's vital to strengthen your brand. Prove you're a trusted ticket-selling platform with these three tactics.
Collect more email and SMS subscribers:
1. Run on-entry and on-exit overlays
Email remarketing is crucial for ticket sales – but a strong remarketing strategy is nothing without a substantial list of subscribers.
To drive more email and SMS sign ups, start by showing opt-in forms to your customers on website entry and exit. Your customers are unlikely to add to their already cluttered inboxes without good reason, so include one of these incentivizes in your signup forms:
Discount code – e.g. offer subscribers 10% off on their first ticket purchase
Referral code – e.g. offer subscribers a 25% off ticket code when they refer a friend
Downloadable content – e.g. send subscribers a guide covering the best events happening in 2023
Competition entry – e.g. enter subscribers into a prize draw for free event tickets
Resale updates for sold out events – e.g. send subscribers updates on ticket availability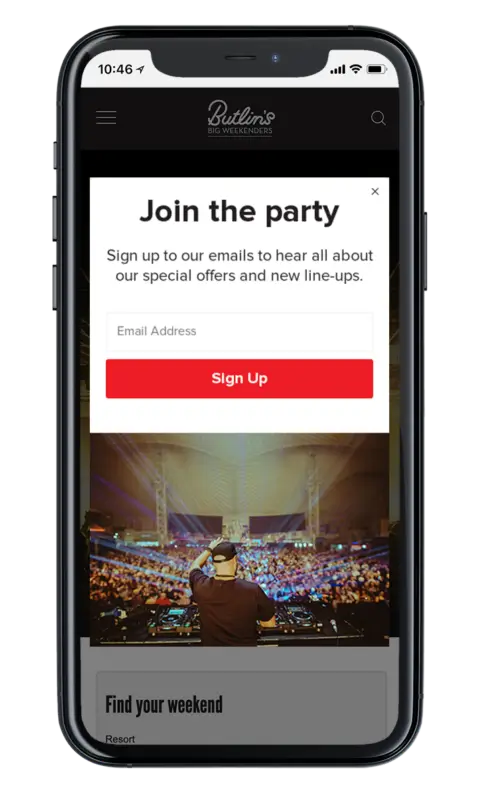 If you're in the market for a list building tool to attract new subscribers, read our post covering Yieldify and 16 of the best email list building tools on the market.
2. Display opt-in forms throughout the journey
With Yieldify's layered lead capture, you can target customers at every touchpoint from entry to purchase. Embed subtle CTAs and trigger overlays throughout the customer journey to keep your opt-in form top-of-mind. Yieldify clients use these core strategies to increase email and SMS sign-ups:
Floating notifications
Embed on product pages
Slide-out (toaster)
Sticky bar
Embed at checkout
All five campaigns improve UX, give you more opportunities to collect email and SMS subscribers, and attract higher quality leads. The logic is simple: customers who subscribe deeper in the journey are more engaged with your event and therefore more likely to buy a ticket.
3. Use basket abandonment technology
When your customer adds a ticket to their basket, you know they have genuine purchase intent. But with concerns over pricing, availability for the event and reliability of your site, many customers abandon their basket before checking out.
To tackle this problem, many Yieldify clients ask customers to save their basket by submitting their email and SMS details when they display exit intent. This is a critical junction in your customer's journey – they're unlikely to return to your site if you don't add them to your database now.
Once they've subscribed, add them to your remarketing flows about the event they're interested in. Be strategic with your messaging, providing updates on ticket availability and offering discounts to convert their interest into a sale. 

Increase conversion rates
4. Social proof messaging
Social proof is a game changer for ticket sales. It's an incredibly powerful tool that, when used well, will all but guarantee an increase in your website's conversion rates: Yieldify clients have lifted conversions by up to 31% using social proof.
When we see our friends and celebrity idols at iconic events like the Super Bowl, Burning Man or Oktoberfest, it makes us want to attend too. To sell more tickets, drive interest in your event by showing how popular it is.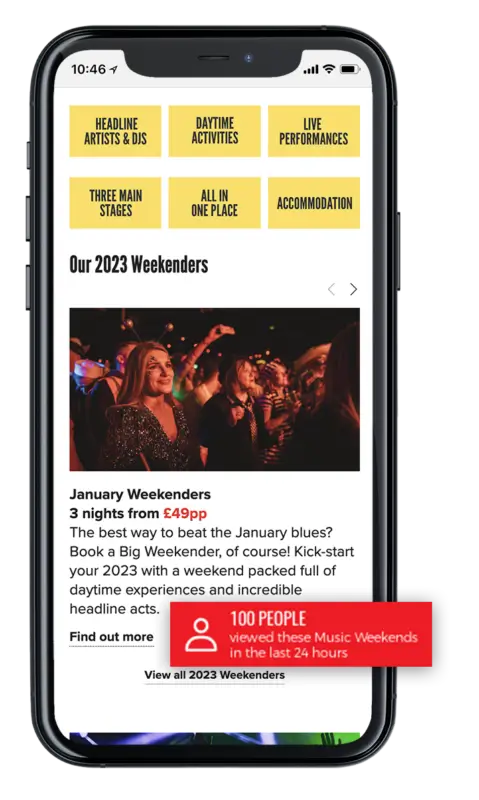 For example, with Yieldify you can spotlight how many tickets you've sold in the last 24 hours, show customers how many people are viewing tickets right now, and use other social proof tactics to validate your customer's interest and increase sales.
5. Urgency messaging
Some events are guaranteed to sell out in minutes, if not seconds. But for many events, tickets will be available right up until a few days before it starts – so how do you convince customers to purchase now, not later?
Tell customers what % of tickets are left to purchase
Tell customers how long they have left before prices increase
By highlighting stock scarcity, you'll remind customers that they could miss out altogether if they don't act quickly.
6. Welcome back messaging
When a customer returns to your site, it's safe to assume they're considering buying a ticket for an event. At this stage in the funnel, it's important you give them a website experience that acknowledges what they were looking for before.
For example, if your customer viewed Dua Lipa concerts on their last visit, ask them to pick up where they left off by redirecting them to the relevant ticket sales page. To incorporate welcome back messaging into your ticket-selling strategy, consider using an ecommerce personalization tool like Yieldify.
7. Improve user navigation
Subtle yet effective tweaks to website navigation can significantly reduce bounce rates and increase conversions – which is why it's a key part of many Yieldify clients' CRO strategy.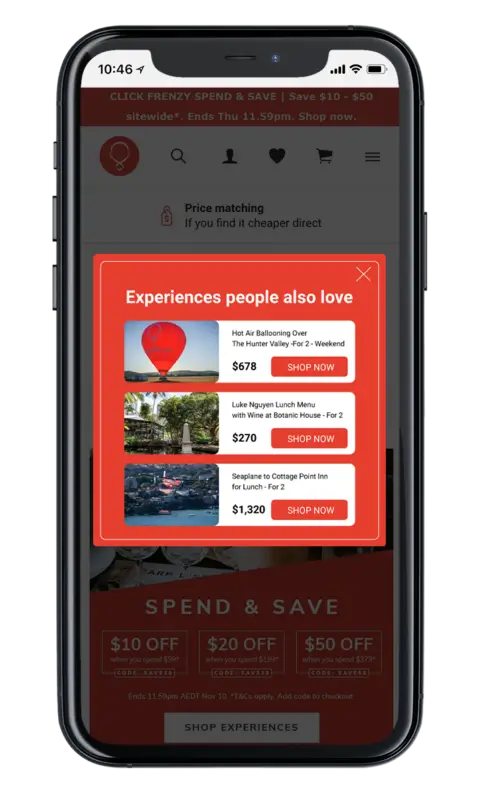 Seamlessly guide your customers through the purchase funnel by recommending pages for them to visit based on their browsing behavior. For example, if your customer views tickets to see The Sound of Music, help them take a logical next step in their journey by redirecting them to the Musicals category.
8. Exit intent technology
Zenreach data shows that 70% of visitors never return once they leave your site. We've already touched on how to drive email and SMS sign-ups when customers show exit intent, but how about conversions?
With Yieldify, you can re-engage customers with campaigns that trigger in response to exit intent behaviors. For example, when your customer moves their cursor above the navigation bar, you can surface overlays that encourage them to continue browsing, including:
User navigation experiences
USP messaging
Customer testimonials
Build a winning brand
9. Use customer testimonials
There are few tools in a marketer's armory as effective as customer testimonials.
When it comes to brand building, testimonials are more impactful than your own marketing material – so embed them generously across your website.
The glowing words of unbiased, real-life people will create hype and show potential customers why they'll have a great time at your event.
10. Brand reassurance messaging
Many of your customers will be afraid of getting scammed, so you need to highlight you're a legitimate seller and your website is safe.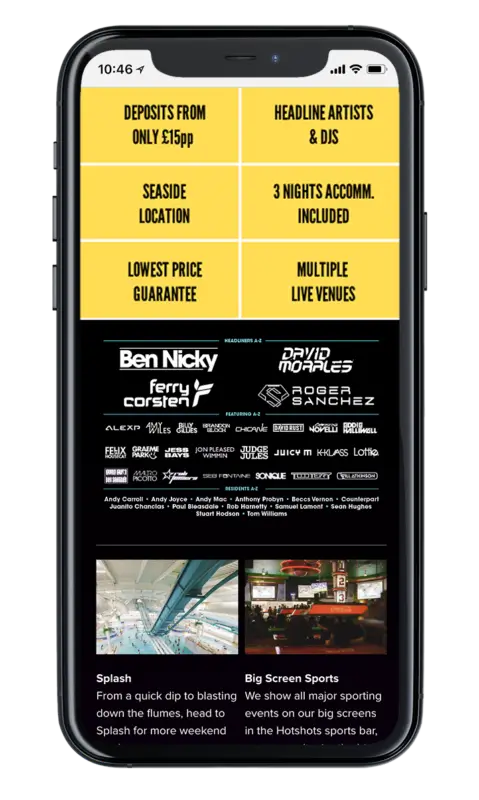 Put potential event-goers at ease with brand reassurance messaging, for example:
Review platform ratings – Trustpilot, Reevo etc
Accepted payment trust badges
Money-back guarantees
USP messaging
Third-party endorsements
11. Embed video content
Video content is an event marketer's dream. It's an excellent way of showcasing your event and venue online, so give customers a taste of your event with embedded videos.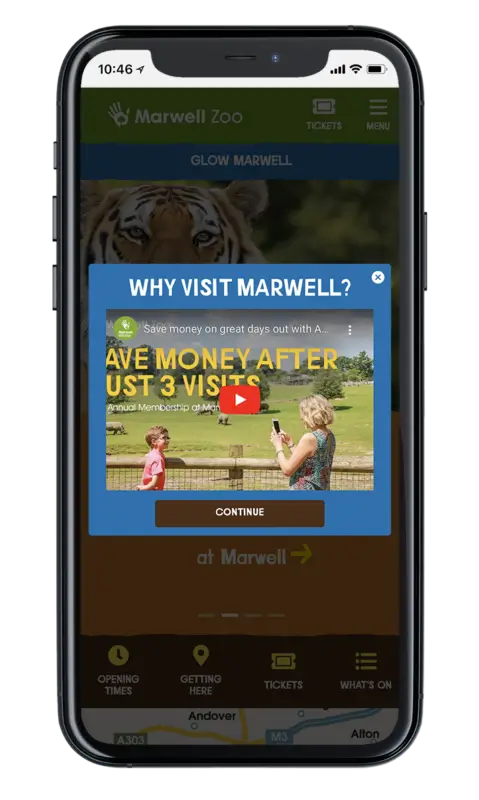 With Yieldify, you can embed video snippets from YouTube, Instagram, TikTok and any other social media platform.
Apply industry-standard tactics
12. Nail your pricing
Your ticket prices will determine if your event is a sellout or a washout, so it's imperative you get it right.
Our recommended steps are as follows:
Calculate the minimum ticket price to break even
Research how much your competitors' tickets cost
Make a sales forecast
Use tiered pricing
Incentivize sales during the lull period
Your first priority is to bring in enough ticket revenue to break even. Start by calculating the minimum price you'll need to charge to break even using this simple formula: Total event costs / expected number of attendees.
You should also analyze your competitors and the success of your previous events when setting ticket prices. Once you've taken these steps, you'll be in a position to make a realistic sales forecast.
Once you've worked out your minimum ticket price, build a tiered pricing model to boost profits. For example, let's say you need to sell 300 out of 500 tickets at $20 to break even. Once you've sold 300 tickets at $20, you can increase prices for the remaining 200 tickets in tiered batches to maximize profits.
Bear in mind that demand for tickets will spike when you release tickets and during the two-week period prior to the event. There will be a lull in the interim, so incentivize sales during this period with promotional experiences, flash sales and competitions.
13. Use email remarketing
With an ROI of 32:1, email marketing is the most valuable event marketing tool.
If you don't yet have a large and engaged subscriber base, start collecting emails using a lead generation tool like Yieldify. Our clients have driven up to 116% more leads using layered lead capture – which targets customers with customized and device-optimized forms throughout the purchase funnel.
Once you've maximized your database, send emails to drive ticket sales, communicate updates and increase audience engagement. Research suggests open rates and engagement are highest on emails sent between 8pm-midnight on weekends.
A good email to drive ticket sales will:
Be concise
Have a catchy subject line
Include visuals – GIFs, videos & images
Drive urgency
Target different audience segments
Include a CTA
14. Promote on social media
There's a reason why 58% of marketers promote on social media before, during and after their events – because it creates excitement, builds communities and sells tickets.
Before you create a content calendar, you'll need to do market research to build customer personas and understand the content and social media platforms they engage with.
Use your customer personas to guide your social media schedule, but also factor in your industry. If you're organizing an event for music, fashion, beauty or fitness, then use Instagram to boost ticket sales. For B2B events, LinkedIn is your platform of choice.
An end-to-end social media calendar should incorporate these 9 tactics:
Pre-event:
Influencer marketing
Paid social promotions
Announcements, reminders & deadlines
Contests and giveaways
Mid-event:
Leverage hashtags
Live event videos & images
Product demos and videos (B2B)
Post-event:
Repackage and repurpose content
Engage attendees and build a community
15. Start a referral program
Event organizers believe word-of-mouth or referral marketing is the third-most effective event promo tactic after email marketing and social media – a theory backed up by these stats:
Average cost per customer acquisition is just $1.40
92% of people trust referrals from people they know
Customers are 4X more likely to buy tickets through referrals than organic event discovery
The best reward programs incorporate a high-threshold, high-reward system – a desirable reward to motivate referrals with a threshold that is difficult to attain (3-5 referrals).
To maximize ticket sales from your referral program, use these 3 tactics:
Provide unique referral links to customers on the purchase confirmation page
Integrate referral links into your pre-event email marketing schedule
Add a page to your website outlining how your referral program works
3 Potential Reasons For Slow Ticket Sales
1. Your pricing strategy is wrong
As we shared earlier in this blog, smart pricing is the bedrock of any successful ticket-selling strategy. Start by establishing the minimum ticket price to break even for your event, then use a tiered model to maximize profits.
Remember that you're bound to experience a dip in sales when the initial scramble for tickets fades. When demand is low, run promotions, giveaways and competitions to renew interest in your event.
2. You haven't considered the competition
When you set ticket prices for your event, use your competitors as a guideline for what customers are prepared to pay. If you fail to take your competitors into account and outprice your customers, don't be surprised if you struggle for sales.
You should also consider when your competitors are running their events. After all, your customers can't attend two events at the same time.
3. You're not pushing sales during the lull
You've probably experienced the quiet period that occurs between your ticket release date and about two weeks before your event. But you can overcome this.
This is the time where event marketers need to get creative with email marketing and social media content.
Boost event ticket sales online with Yieldify
Using Yieldify's personalization software and services, you can streamline customer journeys to ensure you're maximizing ticket sales for your events. To find out more about Yieldify's capabilities, check out our post covering 10 of the best website personalization tools on the market.
---
Avoiding slow ticket sale FAQs
How to increase ticket sales?
You can increase ticket sales using a sound pricing strategy, email remarketing flows, social media and referral programs. To improve conversion rates and maximize ticket sales, consider using a website CRO tool. See our full list of 15 tactics to boost ticket sales here.
How do you avoid slow ticket sales?
Every event organizer is likely to see a dip in sales when the initial spike in demand from release fades, but there are many tactics you can use to tackle this problem, including: 

– Use personalization tools to optimize site performance 
– Run competitions and giveaways 
– Build awareness on social media 
– Offer incentives through email remarketing 
How can I sell event tickets quickly?
There is no one-size-fits all strategy to sell out an event quickly, but all 15 tactics in this blog will help you create excitement, build your subscriber lists and convert interest into more ticket sales. Some core tactics include: 

– Smart pricing 
– Email remarketing 
– Personalization
– Social proof
– Brand-building