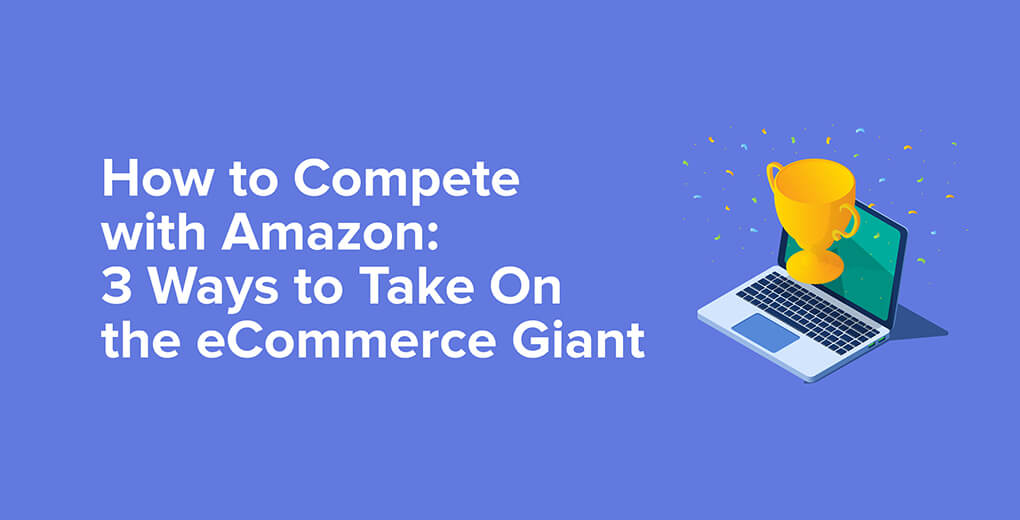 Are you an eCommerce SMB wondering how to compete with Amazon? Then this article is for you. We look at 3 ways even small and medium retailers can take on the eCommerce behemoth.
From a bookstore outside of Seattle to an eCommerce giant, the story of Amazon is both fascinating and inspiring. That is unless you're an eCommerce entrepreneur trying to cut a piece of the market share for your business…
The platform that controls 45% of the eCommerce market share in the US (expected to reach 50% in 2021) can seem impossible to surpass and, frankly, quite intimidating to most.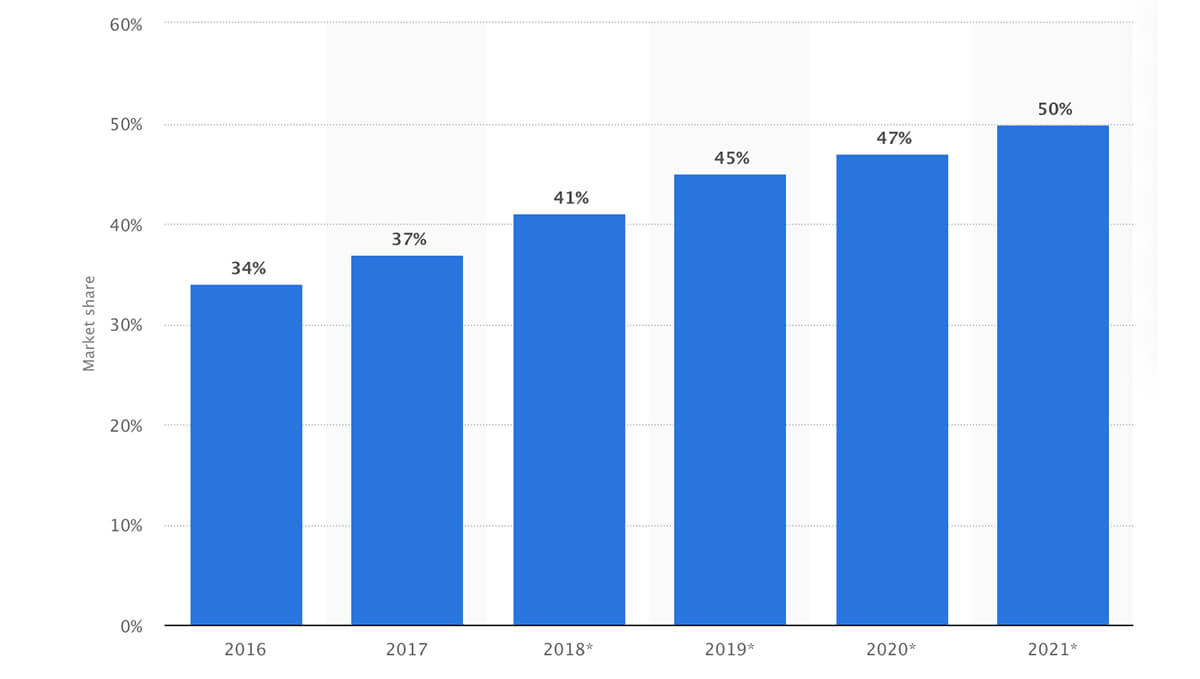 Given its size, everyone who sells physical products through an online store is essentially in competition with Amazon. The niche, industry, or the size of your business don't really matter since this is a platform that boasts about easy access all over the world, fast shipping, and extensive product diversity.
So how do you compete with Amazon in the already highly saturated world of eCommerce? You learn from its competitors!
A behemoth like Amazon attracts the strongest competitors and there's a lesson to learn from their clash. Today we'll discuss three strategies that proved successful in the fight for customers' attention and engagement, even when acting in the shadow of a giant.
1. Build the best possible user experience
Content marketing creates a personal connection with shoppers, but they must feel at ease on your site for the connection to be built. What does this mean?
Page speed matters
The attention of consumers is a priceless commodity these days. And they know this! According to a 2019 Retailer Website Performance Evaluation, 90% of respondents said they had left an eCommerce site that seemed slow to load. If this isn't enough, 57% of the ones that leave, go to a competitor and 40% go to Amazon!
Google also supports the idea that slow pages make you lose customers and released the below graphic depiction of how fast this happens: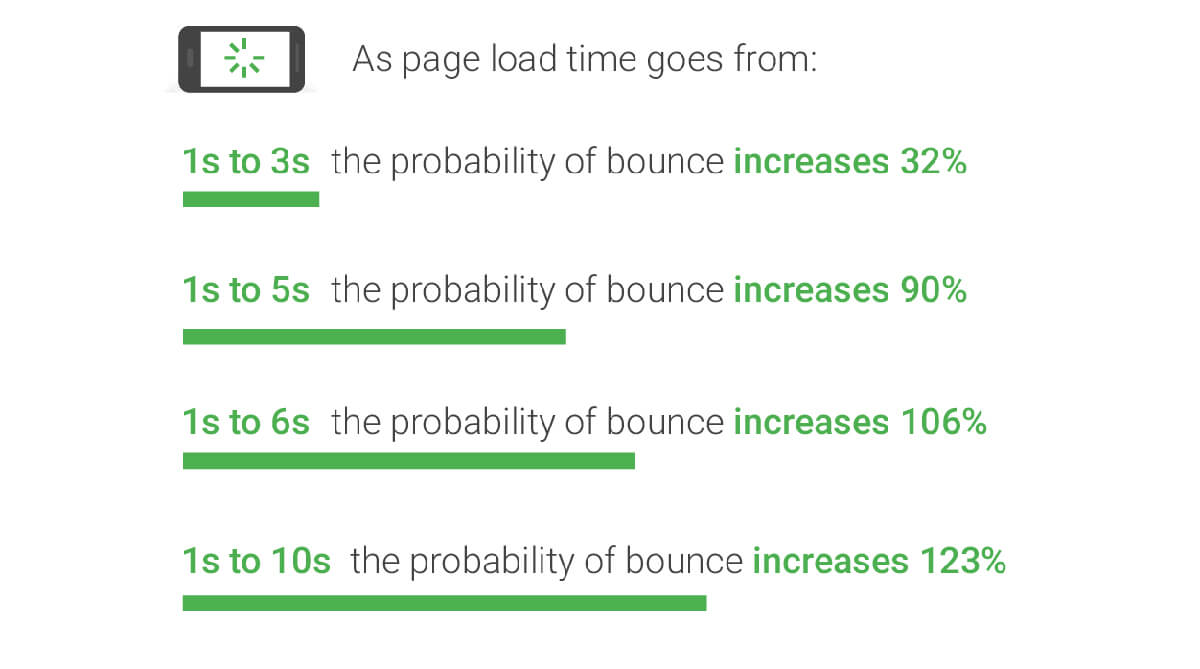 Pay attention to mobile shoppers
Another issue that could keep customers away from your online store is a lack of compatibility between desktop and mobile devices.
According to Business Insider Intelligence, in the US alone, there are over $170 billion in smartphone sales and over $34.7 billion in tablet sales in 2020. As such, the m-commerce market (online shopping using a mobile device) is expected to reach 32% of the entire eCommerce market share.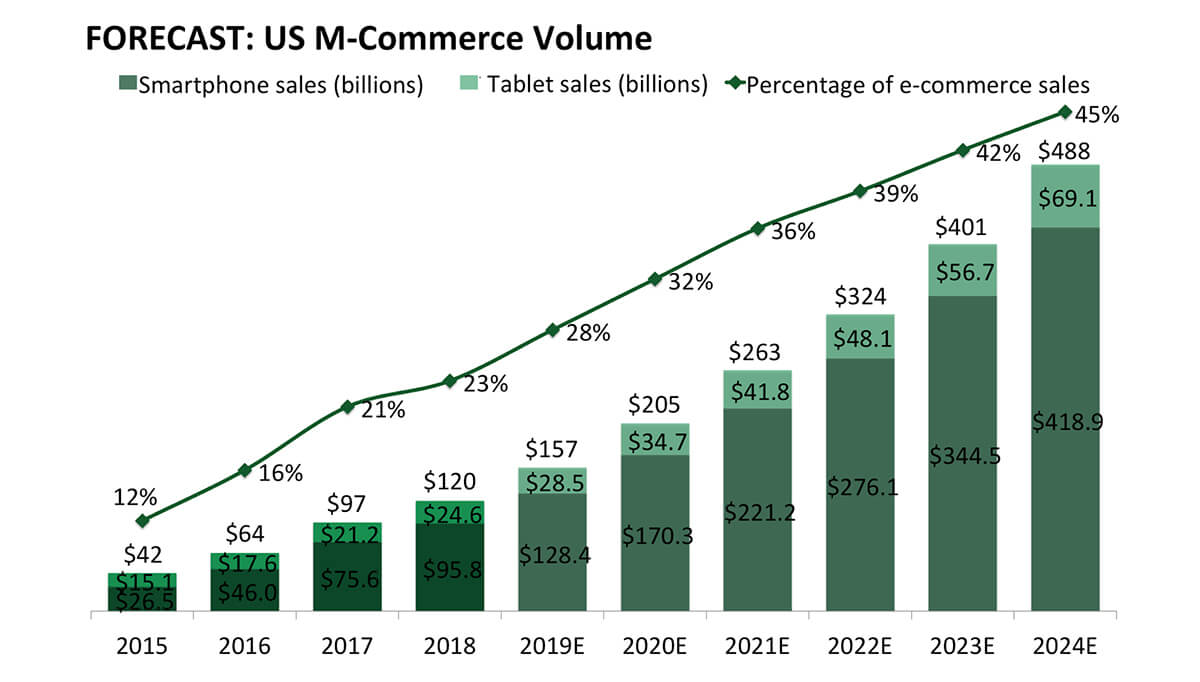 Essentially, if your site is not performing well on mobile devices, you could stand to lose a lot of customers!
Amazon might not be the best when it comes to user experience (it's difficult to create flawless user experience when you have so many things to organize). But still, they're constantly improving their page speed and have a mobile app that encourages mobile users to shop.
Build a mobile app for your store
A mobile app comes with lots of benefits, among which are: better communication with customers, better engagement due to social media sharing possibilities, and convenience.
But you can take it one step further and use Augmented Reality (AR) technology to improve user experience. Brands like IKEA, HomeDepot, Sephora, and others use AR in their apps to combine online shopping with in-person shopping by allowing users to run a virtual test trial.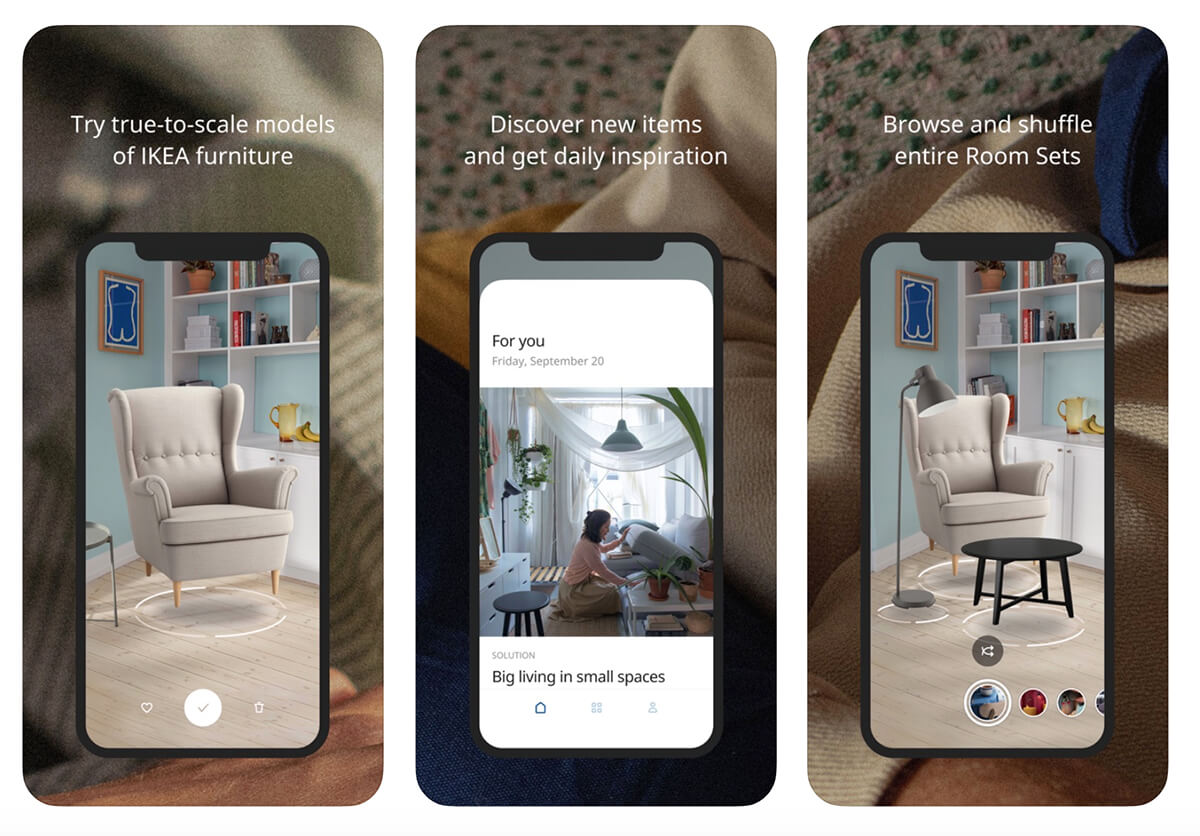 While it may seem a bit futuristic, AR is not a new technology and modern mobile devices support it. Furthermore, if you're a tech-savvy entrepreneur, it's a good idea to learn React Native, the main programming language used to implement AR features. It will help you understand how the technology works and how to communicate your needs to developers.
2. Focus on a niche
There's no doubt that Amazon knows how to provide customers with what they want and need.
The company uses a blend of fast delivery, low prices, and increasing product diversity to position itself at the top of online shoppers' preferences. In fact, for many Americans, Amazon is the go-to store for everything.
This is their strength, however, it's also their weakness.
eCommerce can be a soulless world where uniqueness and authenticity are swallowed by a sea of mass-produced generic brands. The fact that you can buy socks, lawnmowers, and inflatable boats from the same eCommerce store tells a story to anyone who wants to listen.
So, how to compete with Amazon, the "buy everything" eCommerce giant? You start by carving a narrow niche for yourself and care for it like it was your baby!
The biggest strength of small and medium-sized eCommerce stores stands in their select list of products that cater to a very specific niche.
Let's take Beardbrand as an example. This is an online store that sells all things beard-related. From oils to combs, scissors, and trimmers, you can find anything you need to maintain and style your facial hair.
But this is nothing new. After all, you can find all these products on Amazon as well as in other stores. However, Beardbrand is thriving.
The reason behind this success stands in the fact that they provide beard aficionados all over the world with a strong sense of community and valuable information. Through engaging and useful content marketing, as well as an exclusive Alliance membership, they positioned themselves as an authority in the niche that offers their customers a unique buying experience.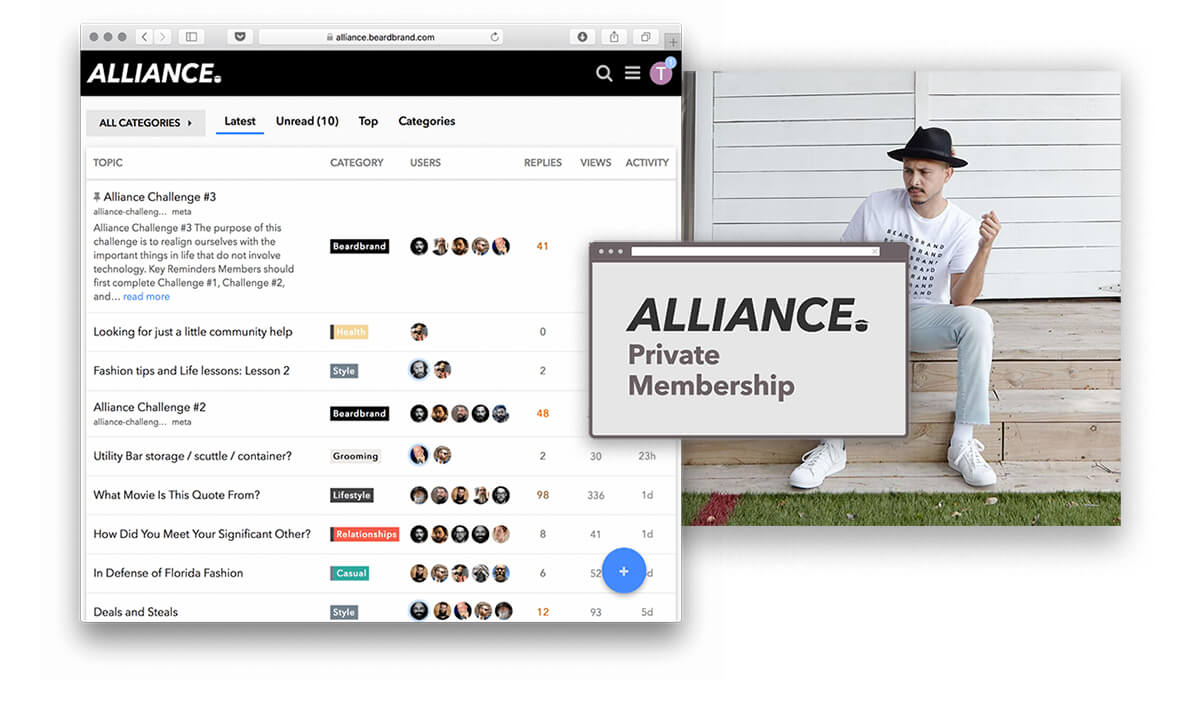 You don't go to their store just to buy stuff. You go to learn and connect with other bearded men who are proud of their looks.
Use content marketing to your advantage
Content marketing helps brands connect with their audience and create a personal experience that lacks in Amazon's online marketing campaigns.
Of course, since Amazon is so big and popular, they don't really need a content marketing campaign and they can promote their products using their newsletter system and regular ads.
But smaller brands, without access to such large audiences and marketing budgets, can use content to attract niche customers who want more from the shopping experience (as stated in the Beardbrand example).
Due to the plethora of platforms available right now, companies can create a wide array of diverse content, in different formats, for different audiences. The secret is to find relevant topics that get the target audience engaged and interested.
For instance, if your online store sells clothes, your customers will be interested in learning about which materials are best for their needs or how to select the right fit for their body shape. In many situations, blog articles, eCommerce video content, or even short descriptions are extremely useful in promoting your products.
Think of brands such as Glossier or Away that have started their own online magazines – Into the Gloss and Here Magazine respectively – to provide their customers with fresh, useful, and engaging content that goes beyond their products and taps into their values and the lifestyle they're selling.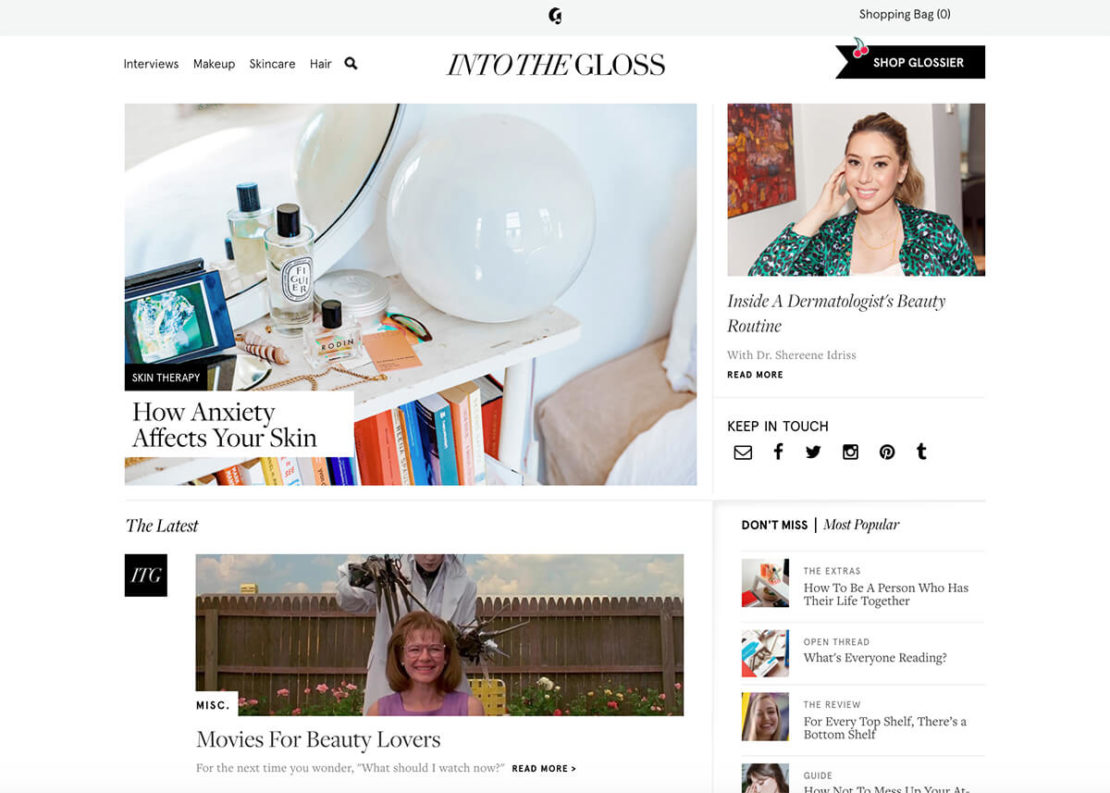 There's also the option of engaging with influencers who are relevant to the brand. This solution is helpful when everyone creates content on the same topics and you want to stand out from the crowd. Furthermore, influencers expose your brand and products to a prime audience, that's happy to be provided with recommendations.
3. Don't give up your brick-and-mortar store (just yet)
If you know Amazon only as a giant eCommerce retailer, you'll be surprised to learn they also have physical stores all over the US. It may seem counterintuitive, especially now when more and more brick-and-mortar stores are closing their doors in favor (or because) of online shopping.
But maybe it's time to learn a lesson from Walmart, one of the biggest competitors Amazon has on the global market.
Walmart makes most of its revenue ($514.41 billion in net sales per year) from classic retail that takes place in physical stores. But they also have a strong online presence, coming in second after Amazon.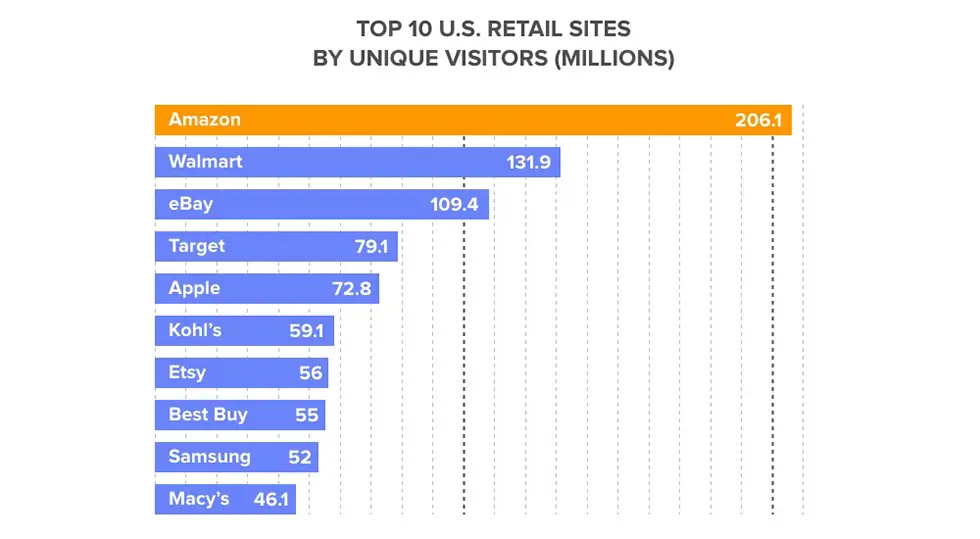 Now, you're wondering how to compete with Amazon when even Walmart couldn't, right?
The trick is to understand that brick-and-mortar stores still have value from a customer's point of view. But you must take a different approach and combine the offline experience with the online one (like Walmart did).
Again, your strength stands in a smaller size and a more select audience. A physical store provides a way to interact with customers directly, which can only enhance the overall experience.
In addition, a well-designed physical store can be a fantastic way to engage your shoppers' needs to share on social media. Encourage your visitors to post selfies in your store and with your products, and get the word of mouth going.
Lastly, a fixed location is something that can help trigger your campaigns in Google Merchant Center. Your ads will be displayed to locals interested in the type of products you sell, which is likely to bring more people into the store.
In conclusion
Ultimately, it doesn't really matter if one of your biggest competitors is Amazon. They are already established on the market and there's no way you could beat them.
But this shouldn't be your goal.
Your goal should be to learn from them and their competitors in order to build your own unique and authentic brand. Amazon is a fantastic teacher as they were pioneers in many areas of eCommerce and they continue to innovate and grow even now. Their journey speaks of the power of determination and attention to details, but most importantly, it shows that good customer service can take you a long way.
In conclusion, if you want to succeed, you must build your eCommerce empire around your customers' needs, not the other way around. The moment you forget to care for your audience is the moment your strategies will fail. So, before anything else, use the technologies at your disposal to understand who will buy from you and why.