BLOG
10 Proven Ecommerce Strategies to Maximize Sales and Growth + Examples
Published: Feb 14, 2023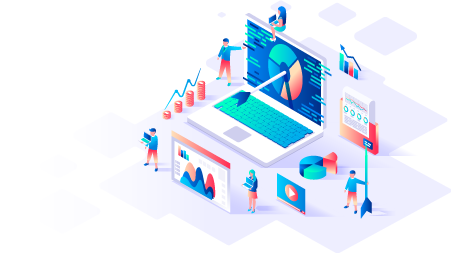 If you're feeling the pressure right now, you're not the only one.
It's a tough time to be an ecommerce manager, especially if you're lacking in-house expertise and the sweet, precious time you need to get results. The economy is unpredictable and budgets are tight, but growth expectations remain high.
Under these circumstances, it's only natural you're looking for ways to increase your revenue.
I can't solve all your problems, but I can walk you through 10 proven strategies that'll help you grow your ecommerce business:
You'll see I've also included insights from some of my Yieldify colleagues, Margot Rebeyrol, Digital Campaigns Consultant; Mike McNally, Director of Services (NA); and Jacob Buckland, VP of Sales and Services (EMEA).
Margot, Mike and Jacob are all richly experienced in the world of ecommerce, so you're in safe hands.
Let's dive into the ecommerce strategies.
Note: If you'd like a preview of how you can improve your sales and growth with Yieldify's fully managed, personalization platform, feel free to schedule a discovery call here. One of our advisors will be delighted to share more.
Considerations to make before switching to a new strategy
Margot, Digital Campaigns Consultant, has met hundreds of ecommerce marketers and brand managers looking to grow revenue. Each comes with a unique set of industry-specific challenges holding them back.
Regardless of the size of their ecommerce business, Margot tells customers they need to ask themselves six important questions:
Have you assessed your internal capacity?
Have you clearly defined who your customers are?
What is your priority – customer acquisition or retention?
Have you built a fast, seamless and UX-optimized website?
Is your website optimized for mobile?
Do you need a software solution or a new hire?
You'll only be ready to define and run with your new strategy once you've answered all six.
10 Effective ecommerce strategies that drive sales
1. Segment your customers
Market segmentation is the process of dividing your customers into subgroups based on shared characteristics. The aim of segmentation is to tailor marketing efforts to your target market, i.e. the customers most likely to buy your product or service.
"The process of segmenting your audience makes you more competitive in the market. Through market segmentation, you can better understand your customer's needs and spending habits, increase the likelihood of repeat purchase and optimize your pricing to always hit the sweet spot."

Jacob Buckland, VP of Sales and Services (EMEA)
Jacob gets to the crux of why segmentation is such an important ecommerce marketing strategy: it helps you better understand who your customers are, what they want and how much they're willing to pay for it.
Armed with that knowledge, you'll be able to create more targeted marketing campaigns and drive more sales. That's why 77% of marketing ROI comes from segmented, targeted and triggered campaigns.
Use these four market segmentation techniques to split your customers into highly targeted subgroups:

1. Demographic (the who)
Information such as your customer's age, gender or salary.
2. Psychographic (the why)
Information such as your customer's personality, social status and values.
3. Geographic (the where)
Information on where your customers live, their language and cultural background.
4. Behavioral (the how)
Information on how your customers engage with your ecommerce brand including spending habits, browsing habits and brand loyalty.
2. Invest in PPC (pay-per-click) advertising
PPC is a digital marketing channel where you pay for your website's advert to appear on a search engine or social media channel. You bid against other companies to rank for a chosen keyword or phrase, then pay a fee every time someone clicks on your ad.
"If you're new to the market, the first step to raising brand awareness is to acquire as much traffic as possible, and investing in PPC ads will drive more people to your site."

Margot Rebeyrol, Digital Campaigns Consultant
PPC is nothing less than a must-use channel if you're looking to grow brand awareness, customer loyalty and sales.
Not only do ecommerce businesses drive 46% of their total revenue from PPC campaigns, it's cost-effective too with 200% ROI.
So why is PPC such an effective channel for ecommerce marketers?
It helps you find customers you haven't reached organically
It drives results quickly – you don't have to wait to build domain authority (unlike SEO)
It lets you compete side by side with your direct competitors 

PPC takes time to master like any digital marketing channel, but these steps will form the foundation of a solid PPC strategy:
Set a PPC budget
Pick the keywords you want to rank for
Pick the negative keywords you don't want to rank for
Optimize your product pages and landing pages for conversions
Launch your campaigns
3. Reach customers through SEO (search engine optimization)
"Start working on SEO now if you haven't already, because you'll typically see your site ranking for product keywords in around 12 months. On a cost-to-revenue basis, SEO is one of the cheapest channels – once the ship is moving, the ROI curve can be parabolic."

Mike McNally, Director of Services (NA)
As Mike rightly points out, you need to be patiently proactive to drive growth through SEO.
Competition is rife and it takes time to build your domain authority, but SEO is a great way to acquire new customers because 81% of online shoppers start their search on Google.
The result of Google's popularity? Ecommerce marketers drive 27% of their overall revenue from organic traffic – which makes it the second-highest source of revenue after paid search.
To climb Google's rankings and drive more target customers to your site, you need to:
Select the keywords you want to rank for
Produce website content for your chosen keywords
Build backlinks to improve your domain authority
Optimize your product descriptions
Use high-resolution images
Increase page loading speed
Optimize your website for mobile
4. Grow your social media presence
If you want to meet both current and potential customers where they are, then look no further than social media.
There are 4.6 billion social media users worldwide, and the average person spends 2.5 hours scrolling through social media every single day.
While platforms like Facebook, TikTok and Instagram weren't invented to help ecommerce businesses reach new audiences or increase sales, the statistics show that's been a byproduct of the digital revolution:
27% of customers go to social media to discover new products
77% of customers prefer shopping with brands they follow on social media
36% of US customers made a social commerce purchase in 2021
Social media can also help you:
Build hype for your products
Communicate directly with your customers
Assess customer appetite for your products
Understand how your customers describe your brand
Drive more email and SMS subscribers
And before you get started, remember these golden rules for social media marketing:
Define your goals
Post regularly
Use a consistent tone of voice
React to key events
Publish video marketing content
Show your personality
Stick by your brand values
Aim to connect with your community – not sell to them
5. Build an email marketing strategy
With an ROI of 45:1, email marketing is a staple of any successful marketing strategy.
It's an excellent channel for attracting and nurturing customers, which is why 89% of marketers use email as their top lead generation and customer acquisition channel.
What's at the core of a successful email marketing strategy? Building and expanding a database of high-quality leads.
At Yieldify, we use a layered lead generation strategy to acquire leads throughout the entire customer journey. It's seamless, highly targeted, personalized, and drives results.
For example, The Sill increased email leads by 65% with our layered lead generation. They embedded user-friendly opt-in forms throughout their ecommerce website – including homepage, category pages, product pages and checkout – to incentivize sign-ups.
The Sill also improved lead-to-customer conversions by 126%, showing Yieldify's layered approach drives more leads and higher quality leads.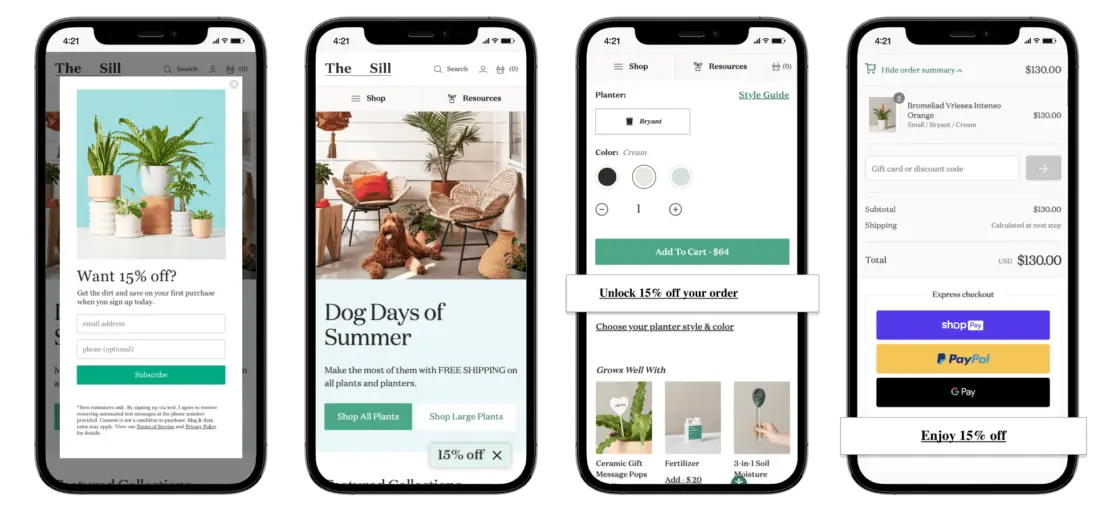 6. Build an SMS marketing strategy
SMS marketing is up-and-coming.
It's only used by 47% of marketers right now, but the stats prove it's becoming an important channel for marketers to communicate with their customers:
SMS marketing is expected to grow 20.3% every year until 2025
SMS marketing has an ROI of 71:1
SMS campaigns have a 29% conversion rate
The outlook is good from a marketer's perspective, but crucially SMS is also very popular with consumers:
91% of consumers are interested in signing up for SMS
70% of consumers opted in to receive texts in 2022
75% of consumers prefer offers via SMS
The main advantage of SMS – for marketers and consumers – is that everyone carries a smartphone, so you can reach your customers in a matter of seconds, regardless of whether they're connected to the internet.
Naturally, you'll need to generate leads before you start texting your customers.
With Yieldify, you can drive SMS sign-ups by displaying website opt-in forms and feeding your subscribers' details back into your SMS platform.
Once you've built a strong base of SMS leads, make sure you:
Segment your subscribers
Personalize content
Communicate with your customers regularly
Incentivize purchases
A/B test your messaging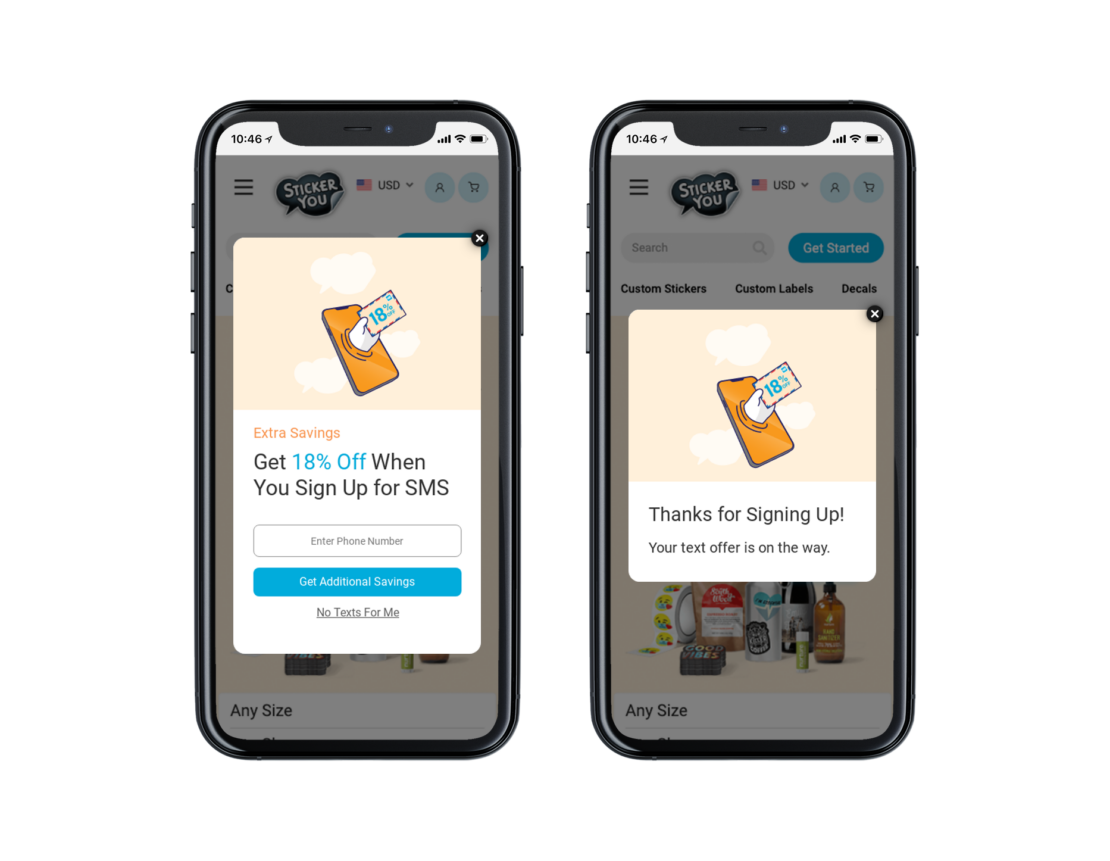 7. Streamline on-site navigation
First impressions count in ecommerce.
48% of customers say a website's design is the number one factor in determining a brand's credibility. Design a site that's pleasing to the eye and easy to navigate and watch your customer base grow. Design a clunky, unintuitive site and watch your conversion rates drop.
To keep your customers engaged, you need to create a seamless shopping experience from website entry through to exit.
You can do this by:
Building a UX-optimized navbar
Making your website device-responsive
Accurately categorizing your products
Maintaining consistent design throughout your website
Making it easier for your customers to find products
For example, Clarins used our platform to streamline the path to purchase.
They guided customers to an online skin consultation that recommended products based on their specific skincare needs. The result? An 11% increase in conversions.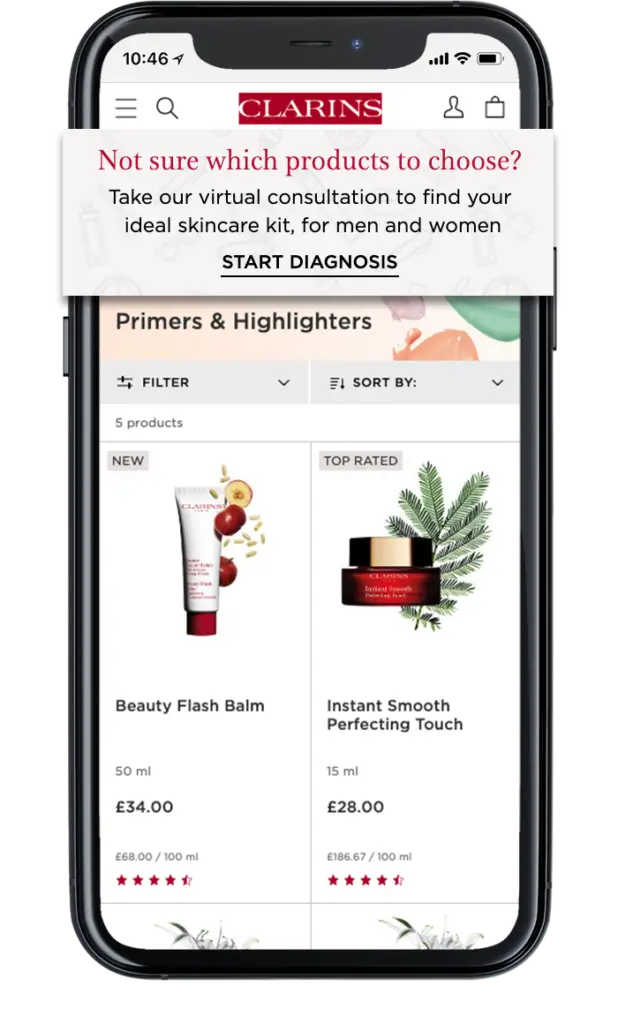 8. Leverage social proof & testimonials
"Social proof makes shoppers feel compelled to buy the item they're interested in. The presence of social proof on product pages in particular gives shoppers the reassurance they need to complete their purchase."

Mike McNally, Director of Services (NA)
Mike speaks to one of the main benefits of social proof: it reassures customers about their choices.
That reassurance stems from our innate desire to belong to the tribe. We instinctively look to what others are doing to validate our decisions, which is why 92% of customers trust non-paid advice over paid ads.
In effect, your existing customers are your most prolific marketers – so use the power of social proof to your advantage.
Show shoppers that your products are in high demand and loved by your current ecommerce customers. Then watch your conversion rates rise.
For example, with Yieldify you can increase conversions with social proof by:
Spotlighting customer testimonials
Driving urgency with stock scarcity messaging
Highlighting product popularity
Leveraging case studies and success stories
Embedding trust badges
New Balance used the power of social proof to make their products more desirable to online shoppers, driving a 10% increase in conversion rates.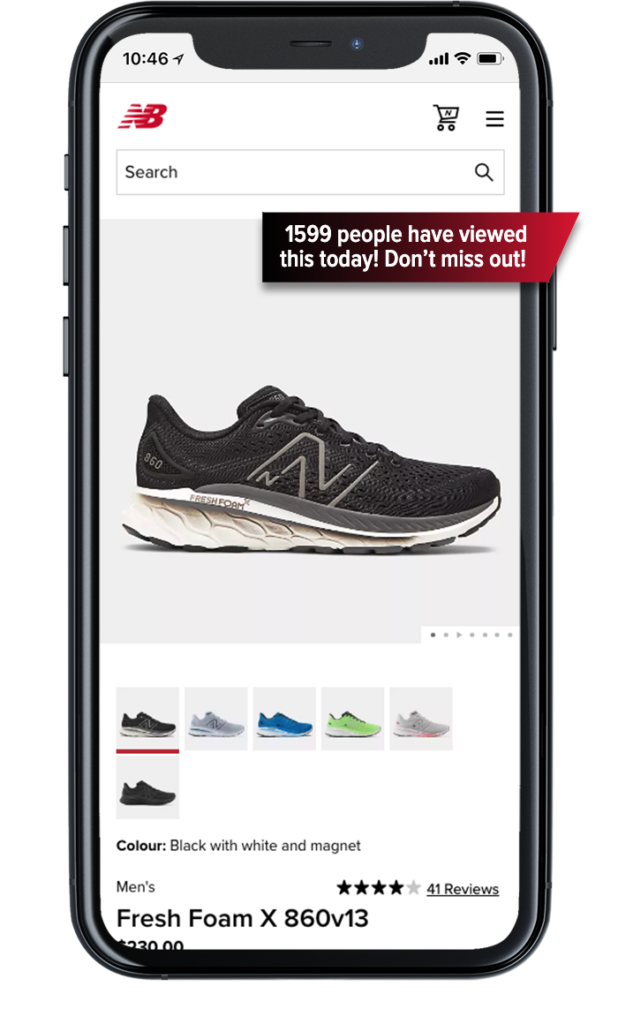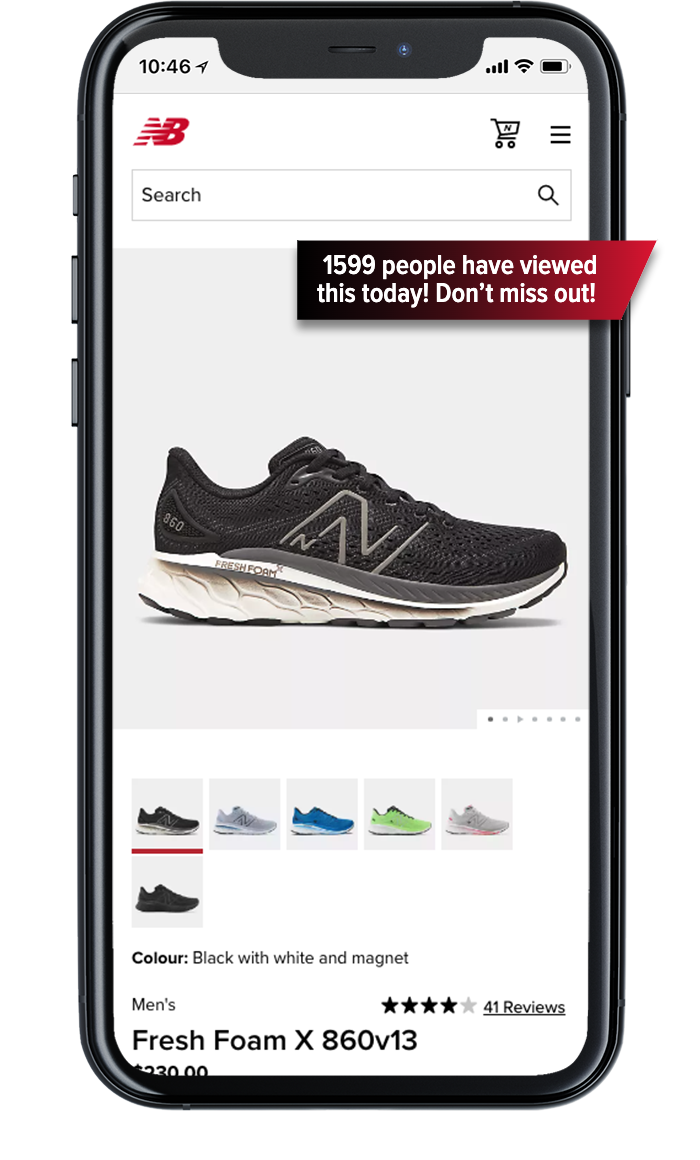 Need help running social proof on your ecommerce site? Check out our post covering 14 of the best
social proof software
solutions on the market.
9. Save abandoned carts
Across all industries, 7 in 10 customers abandon their cart before checking out – costing ecommerce stores $18 billion every single year.
Shopping cart abandonment is a complex problem for ecommerce marketers, but there are many reasons why customers fail to checkout:
They were just window shopping
They weren't ready to buy
They were forced to create an account
They didn't want to pay for shipping
They wanted to compare prices
They didn't have a discount code to redeem
At Yieldify, we reduce cart abandonment for our customers using a wide range of ecommerce strategies, including:
Sending basket reminders
Spotlighting buy now, pay later options
Sending discount reminders
Using delivery incentives
Dynamically scraping images from cart
Check out this example from BYLT Basics below.
The California fashion brand used our personalization technology to send cart reminders to returning customers, increasing conversions by 7%.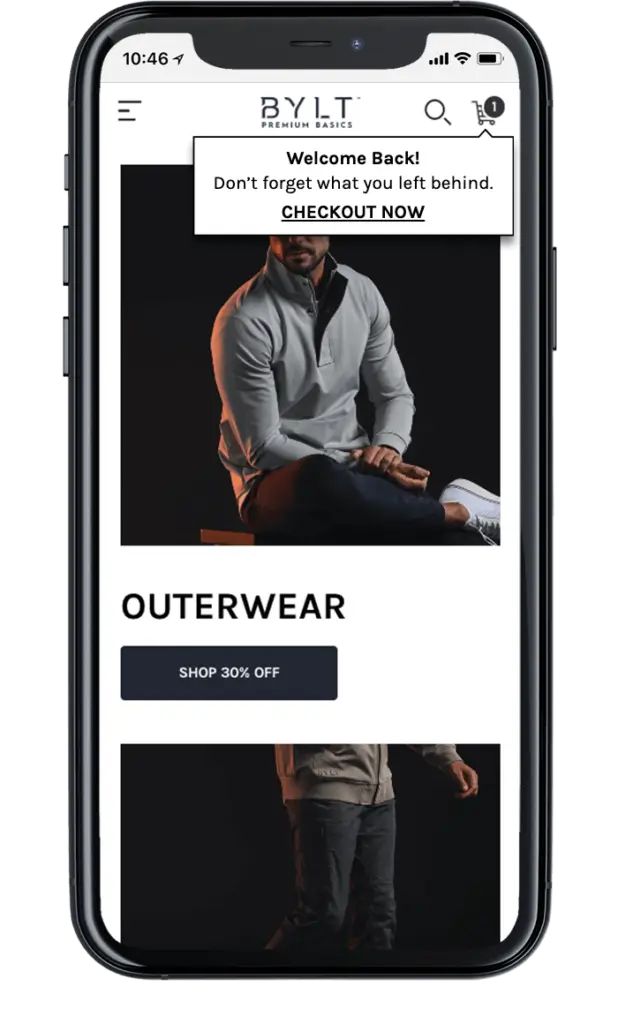 10. A/B test everything
A/B testing is the process of measuring two different variants of something – e.g. a web page or email subject line – to find out which one drives the most positive outcome.
"You cannot solve all your issues with A/B testing, but it's one of the key ingredients in the recipe that will make your website successful. If you focus on optimizing your site through A/B testing, and bring in high-quality traffic, you'll have the perfect combination to take your brand where you want it to go."

Margot Rebeyrol, Digital Campaigns Consultant
A/B testing may not be a silver bullet to ecommerce success, but Margot has seen its value first-hand working alongside Yieldify customers.
Using Yieldify's A/B testing technology, thousands of ecommerce brands – ranging from SMB to enterprise – across all major industries have lifted conversion rates by up to 144%.
Despite its game-changing value, 23% of companies still aren't using A/B testing to compare how website changes impact conversion rates. Worse still, 41% of email marketers aren't using A/B testing to measure the performance of their email content.
If you're in either of these boats, it's time you put A/B testing at the heart of your ecommerce strategy.
And if you have more than 100,000 monthly site visitors, with Yieldify you can use A/B/n testing to test up to 5 different variants at the same time.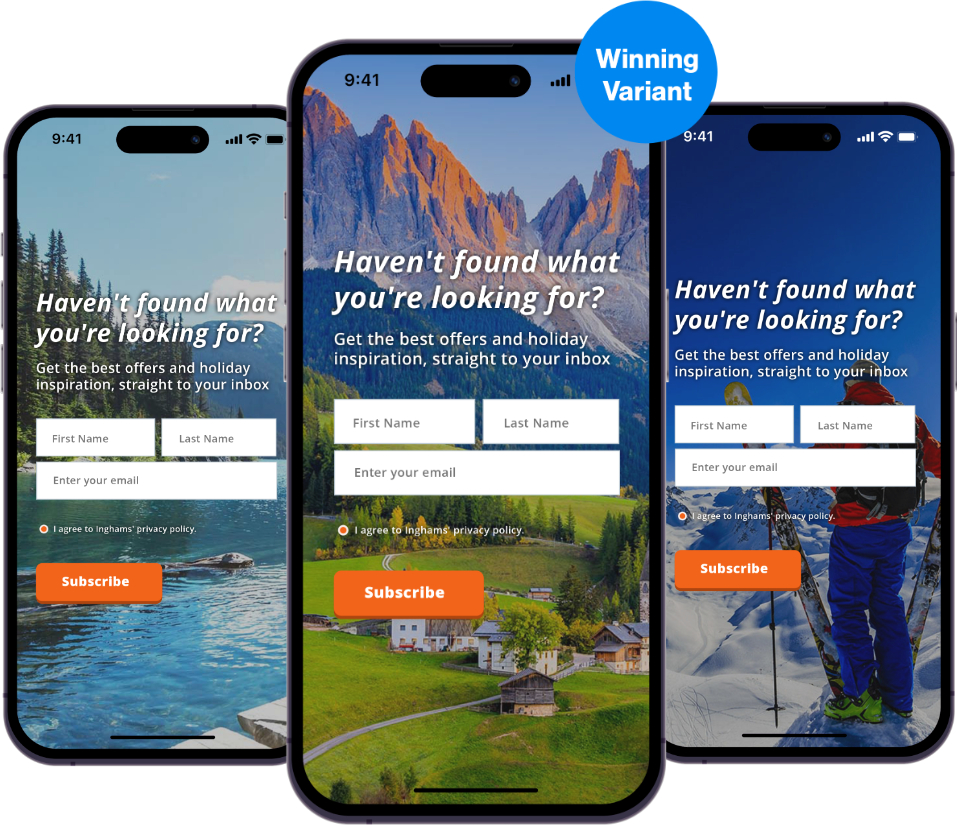 How to create a winning strategy for your online store
Prioritize what's important
Start by tying your ecommerce marketing strategies to your broader ecommerce business goals. For example, are you looking for quick-wins you can get from PPC advertising, or do you want to build a community of loyal brand ambassadors on social media?
Assess your internal expertise
Understand if you've got the internal expertise to achieve your goals. If you don't have developers to run an effective conversion rate optimization strategy, then you should consider using a fully managed personalization platform like Yieldify.
Identify a solution
The solution will typically be one of three things: upskill your team, hire more personnel or invest in new software. If you've done steps one and two properly, then you'll already have your answer.
Ask for budget
This is the tricky part. You'll need a compelling case to get more resources for your team, so make sure you can prove your new strategy will drive a healthy ROI.
Test, iterate, repeat
Don't give up if your new strategy isn't immediately successful. Test new approaches, measure your results and adjust.
Conclusion
I hope this blog has given you some fresh ideas on how you can navigate this challenging economic climate. I'm sure you're up against it right now but, when executed well, these 10 ecommerce strategies will help you grow your revenue and lay the foundation for a successful future.
If you'd like a preview of how you can improve sales and growth with Yieldify's fully managed, personalization platform, feel free to schedule a discovery call here. One of our advisors will be delighted to share more.
---
FAQs
What are ecommerce strategies?
Ecommerce strategies are the combination of techniques ecommerce brands use to increase their brand awareness, attract new email and SMS subscribers, and maximize online sales. They typically fall into one of these categories: 

– SEO (search engine optimization)
– PPC (pay per click) advertising
– Social media marketing
– Email marketing
– SMS marketing
– CRO (conversion rate optimization)
How can I improve the customer experience on my ecommerce website?
The best way to improve the customer experience is by improving the path to purchase. To achieve this, design your website in accordance with UX principles, categorize your products properly and streamline navigation with the help of CRO tools.
How can I increase website traffic and sales for my ecommerce store?
SEO and PPC are two of the most important channels for driving traffic to your ecommerce store. Once you've got customers on your website, CRO techniques and tools – such as social proof and cart abandonment messaging – will help you lift conversions and sales. 
What are the five 5 success factors of ecommerce businesses?
The success factors of your business will depend on your industry, but broadly speaking all thriving ecommerce sites will have: 

– Strong branding
– High SEO traffic 
– Seamless website navigation
– Personalized customer experiences
– 3%+ conversion rate