BLOG
How to Increase Online Sales: 17 Most Effective Strategies to Try in 2023
Published: Mar 8, 2023
Ecommerce marketers typically face three key problems when they try to increase online sales:
They don't fully understand their customers' on-site behavior
Their website conversion rate is too low
They don't have enough returning customers
To tackle these problems, you've probably tried increasing increasing your paid ads spend, optimizing your SEO content, launching a creative social media campaign, or investing in new software. But these solutions can only take your online store so far.
What you need is a proverbial north star – a broad objective that defines your entire marketing strategy. In this case, your objective should be to upgrade your customer experience.
80% of marketers think they're already delivering a superior experience, but just 8% of customers agree. This disparity shows that, as marketers, we need to deliver better experiences for our customers if we want to drive more sales.
You need to do three key things to improve customer satisfaction and boost online sales:
Across these three themes, I'll outline 17 core strategies.
You'll see I've also included insights from some of my Yieldify colleagues, Margot Rebeyrol, Digital Campaigns Consultant; Mike McNally, Director of Services (NA); and Jacob Buckland, VP of Sales and Services (EMEA).
Let's dive in.
Note: If you'd like a preview of how you can drive more sales and growth with Yieldify's fully managed, personalization platform, feel free to schedule a discovery call here. One of our advisors will be delighted to share more.
---
Gather and analyze more customer data
1. Analyze Sunburst charts
Clients who use Google Analytics often tell us they're struggling to increase online sales. While GA is great for understanding topline numbers, it doesn't show you which pages your customers visited and in which order.
Of course, you could manually map user behavior flows to get a fuller picture of your customers' journeys, but that's a painstaking process most marketers simply don't have time for.
To give our clients a complete understanding of what's happening on their site, at Yieldify we provide an automated, deeply visual and 360-degree view of customer journeys with Sunburst charts.
That way we help clients identify where, when and why their customers are bouncing, and then make optimizations at every stage in the customer journey to increase sales.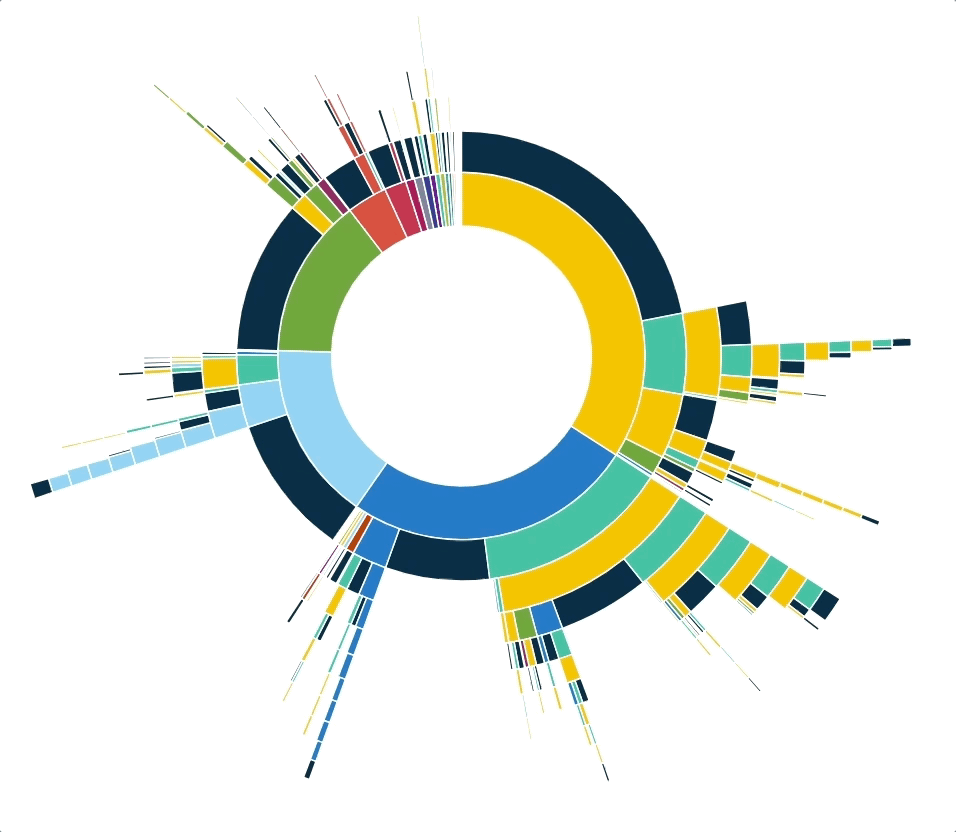 "I view Yieldify as a data analytics company as much as a lead generation and personalization platform. It sets them apart."

Ben Bolognini, Head of Marketing and Ecommerce, BYLT Basics
2. Use heatmaps
Heatmaps are an excellent supplementary tool to Sunburst charts.
Like Sunburst, heatmaps represent data in a highly visual way, which makes them ideal for marketers who aren't comfortable analyzing large sets of data.
The purpose of heat maps is to give you a color-coded view of how your customers navigate your website – providing insight into what customers click on, what they ignore, and how deep they scroll.  

Armed with that insight, you'll be in a stronger position to make UX changes – such as changing the placement of a CTA on your product pages or pricing page – that improve click-through rates and increase online sales.
3. Conduct customer surveys
Firstly it's important to make the distinction between surveys and questionnaires (which I'll discuss next):
Surveys: Help you gather large sets of data to evaluate customer experiences on a macro level
Questionnaires: Help you gather specific information about individual customers so you can better understand their needs and personalize their experience
One of the fastest ways to shine a light on what your customers really think about your brand is by conducting customer surveys.
Surveys provide anecdotal feedback to help you uncover your customers' pain points, desires and unmet needs. In an era where so many decisions are made based on numbers alone, it's important to get a human perspective to support – or disprove – what your data says.
Before you craft your first survey, remember that your customers' attention spans are short. As you can see in the graph below, the data shows that the more questions you ask, the higher the drop-off rate.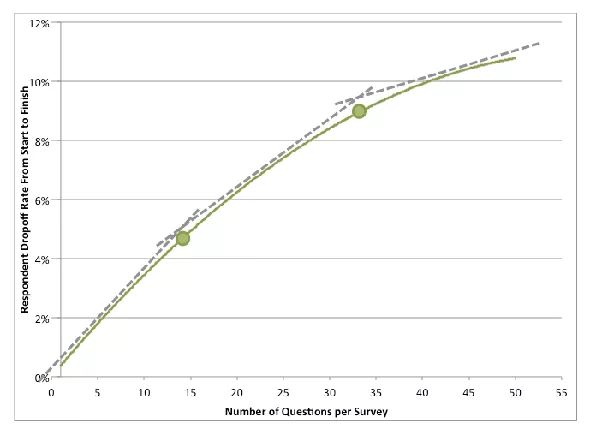 Don't expect your customers to write a short novel about your ecommerce business. Instead, ask them 3-5 focused questions and keep the survey to one page.
Take this example from Nautica, who used Yieldify to gather customer and competitor insights while increasing email leads by 93%.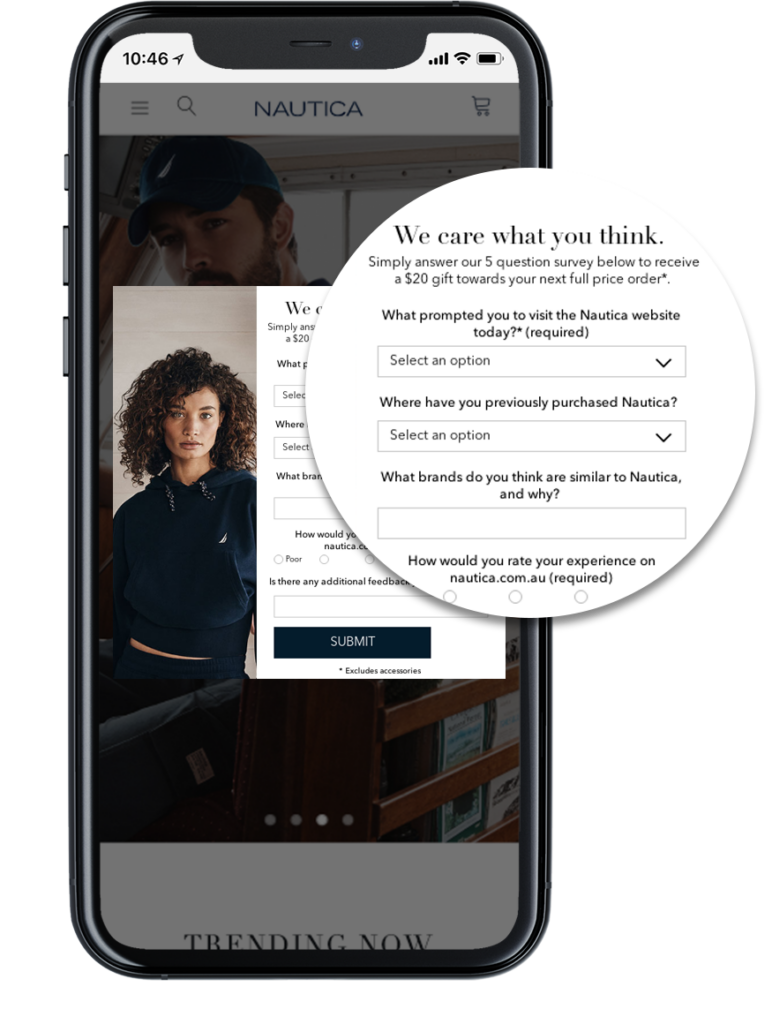 4. Run customer questionnaires
Many of the brands we work with are lacking the rich, first-party data they need to personalize their customers' on-site experience.
After all, there is only so much you can learn from numbers alone. To bridge this information gap, we help our clients launch on-site questionnaires that help them develop a deeper understanding of their customers' needs.
For example, when Pureology partnered with Yieldify, their goal was to provide personalized product recommendations to more customers.
With our technology, they used journey shaping experiences to guide traffic to their online hair quiz as part of a strategy that increased participation by 34%.
And they also asked these customers to receive their recommendations via email, which drove a 4X increase in lead generation.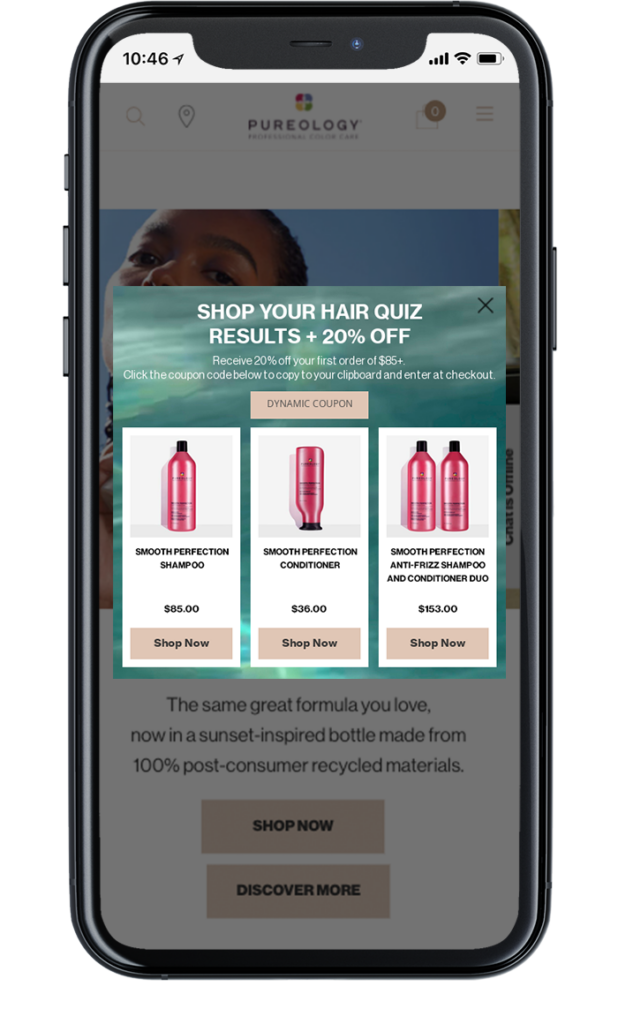 5. Segment your customers
Market segmentation is the process of dividing your customers into subgroups based on shared characteristics. The aim of segmentation is to tailor online marketing efforts to your target audience, i.e. the customers most likely to buy your product or service.
For Jacob Buckland, our VP of Sales and Services, market segmentation techniques help you understand five key things:
Who your customers are
What products and services your customers want
How much they're willing to pay for it
The likelihood of repeat purchase
How to set your pricing strategy
We've seen the importance of segmentation first-hand through many of our client collaborations, and Laithwaites are a prime example.
They came to Yieldify with highly detailed buyer personas, complete with age and salary ranges, lifestyle habits and purchasing preferences, and drove 79:1 ROI using our platform.
The problem is that most ecommerce brands don't have the internal expertise or technology to create buyer personas and segment effectively.
But with Yieldify's personalization technology, you can reach pre-built or custom segments to target specific types of visitors – including different experiences for new vs returning shoppers, mobile vs desktop and Facebook vs Instagram.
6. Run A/B tests
A/B testing is the process of measuring two different variants of something – e.g. a web page or email subject line – to find out which one drives the most positive outcome.
"You can't solve all your issues with A/B testing, but it's one of the key ingredients in the recipe that will make your website successful."

Margot Rebeyrol, Digital Campaigns Consultant
A/B testing isn't a shortcut to overnight success, but it's a must if you're looking to increase online sales.
Using our A/B testing technology, we've seen clients across every industry lift their conversion rates by up to 144%. And the beauty of A/B testing is that subtle changes can drive these game-changing results.
So, if you're serious about increasing online sales but belong to the 23% of companies that aren't using A/B testing, it's time to invest in an A/B testing tool.
If you're driving more than 100,000 monthly visitors, you can also test up to 5 different variants with Yieldify's A/B/n testing technology.
Simplify the path to purchase
7. Streamline navigation
Most ecommerce marketers come to us with sleek websites that are great to look at. They've invested a huge amount of time and money into their website, but it's not helped them increase online sales.
It goes to show that a beautifully designed website is useless if your customers can't find the products they want. Imagine you walked into a brick-and-mortar store with thousands of items, yet nobody was on hand to point you in the right direction. Frustrated, you'd probably leave without a second thought – and your customers will treat your ecommerce site in much the same way.
To keep your customers engaged, you need to create a seamless experience that guides them to the right products.
Here are three must-haves to improve navigation on your ecommerce store:
Build a UX-optimized navbar
Accurately categorize your products
Embed journey shaping experiences
For example, Clarins used Yieldify's technology to help guide customers to their online skin consultation as part of a strategy that helped them increase conversions by up to 20%.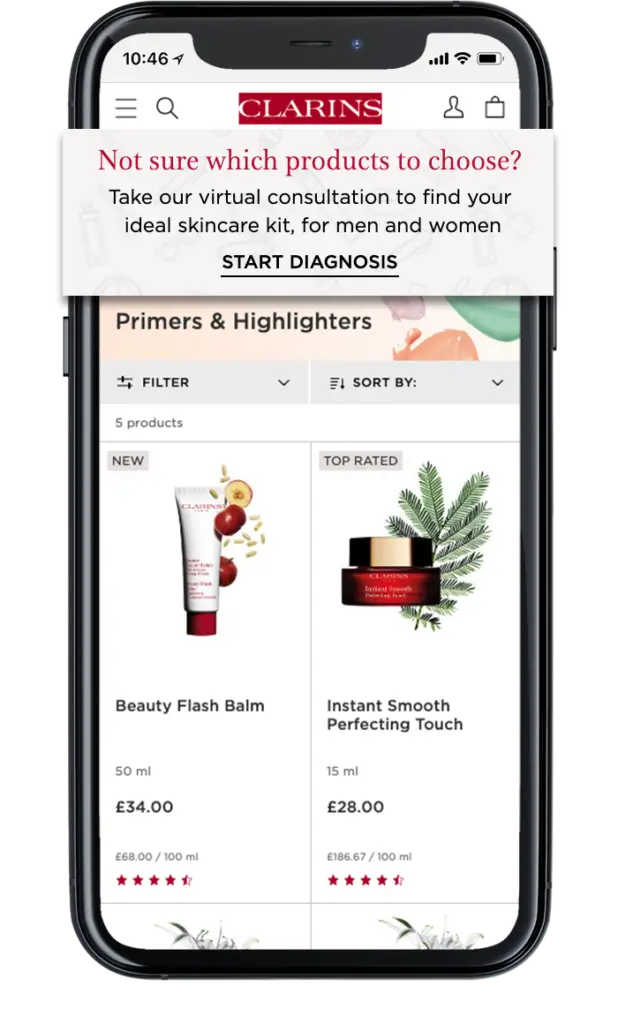 8. Reduce cart abandonment
Ecommerce brands lose $18 billion every year from cart abandonment.
And the problem is particularly pronounced on mobile, where 86% of shoppers abandon their carts.
Why is cart abandonment such a key challenge for ecommerce marketers?
Diminishing attention spans and window shopping both play their part. But factors within your control could also be holding you back at a crucial stage in the ecommerce sales funnel.
These are three key reasons why customers abandon their carts:
They were forced to create an account at checkout
They had to pay for shipping
There was no discount for first-time buyers
So, if you're struggling with cart abandonment right now, incentives like offering free shipping and new customer discounts will help you increase online sales..
At Yieldify, we help ecommerce marketers reduce cart abandonment by:
Triggering basket reminders in response to exit intent
Providing on-site discount reminders
Spotlighting buy now, pay later options
Sending cart abandonment emails
Check out this cart abandonment email from Lacoste.
They used Yieldify to send multi-stage cart abandonment emails as part of a wider strategy that drove 21:1 ROI.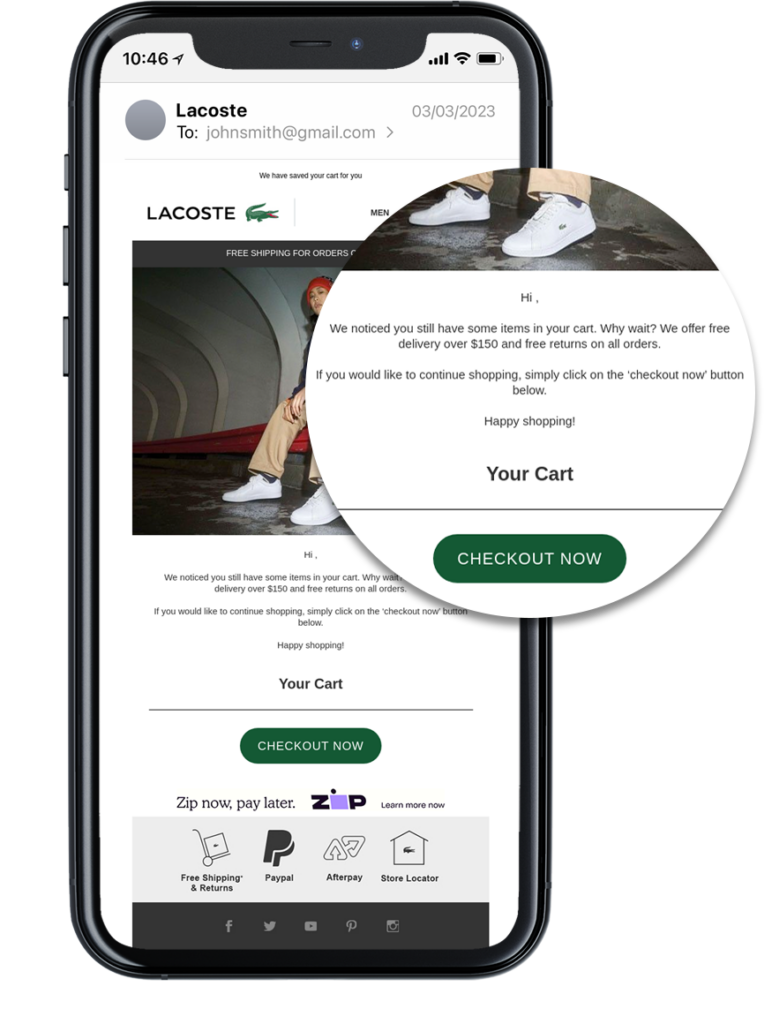 9. Tackle browse abandonment
The reality is that 95% of website visitors don't buy anything.
Most online shoppers are simply looking around, comparing prices, and getting a feel for what they want.
They're assessing many different options, and that goes some way to explaining why 70% of first-time visitors never return after abandoning your website.
This makes it both difficult and time-consuming to build a strong base of loyal, returning customers. But there are steps you can take to accelerate the process.
To get maximum value from your website traffic and increase online sales, ask your visitors to subscribe to your email list just before they leave. That way you can keep in contact and nurture your potential customers into paying customers.
Check out this example from CJ Wildlife. In partnership with Yieldify, they triggered their sign-up form for visitors displaying exit intent and increased email leads by 58%.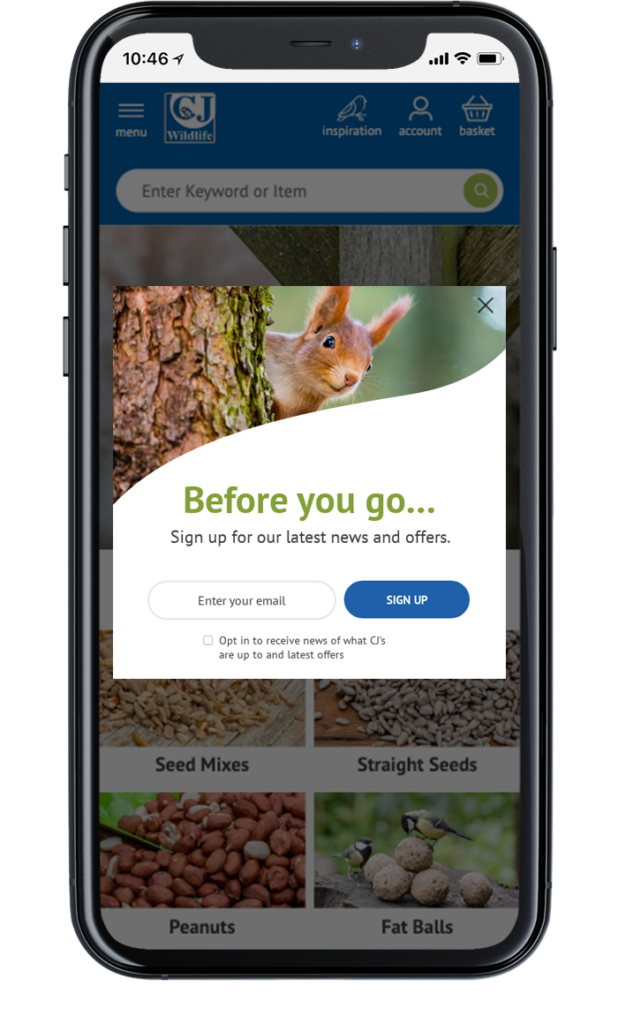 10. Leverage social proof
"Social proof makes shoppers feel compelled to buy the item they're interested in and gives them the reassurance they need to check out."

Mike McNally, Director of Services (NA)
Social proof is a psychologically powerful tool with three core benefits for ecommerce marketers:
It validates your customers' choices
It alleviates your customers' doubts
It drives a sense of urgency
Because of our deep-rooted desire to belong to the tribe, we instinctively look to our friends, peers, mentors and idols for reassurance when we make a decision. That's why social proof is a core strategy Yieldify clients use to increase online sales.
So how can you leverage social proof to drive sales?
At Yieldify, we help ecommerce marketers ramp up their conversion rates by:
Highlighting which products are low in stock
Highlighting customer testimonials from existing customers
Highlighting how many people have viewed your products
For example, New Balance spotlighted how many customers had viewed in-demand products over a 24-hour period, leading to a 10% increase in conversion rates.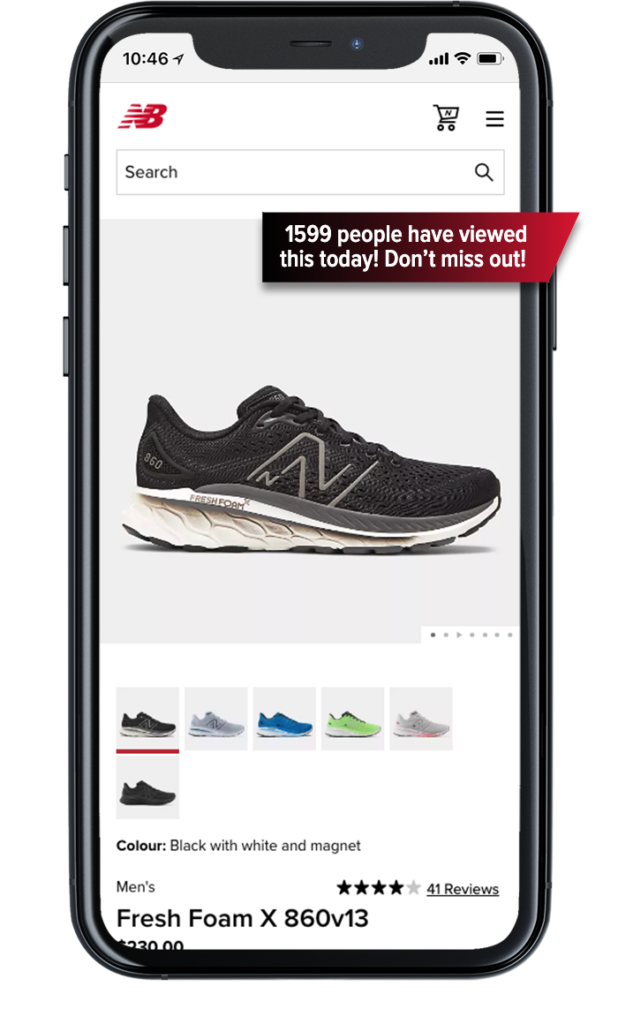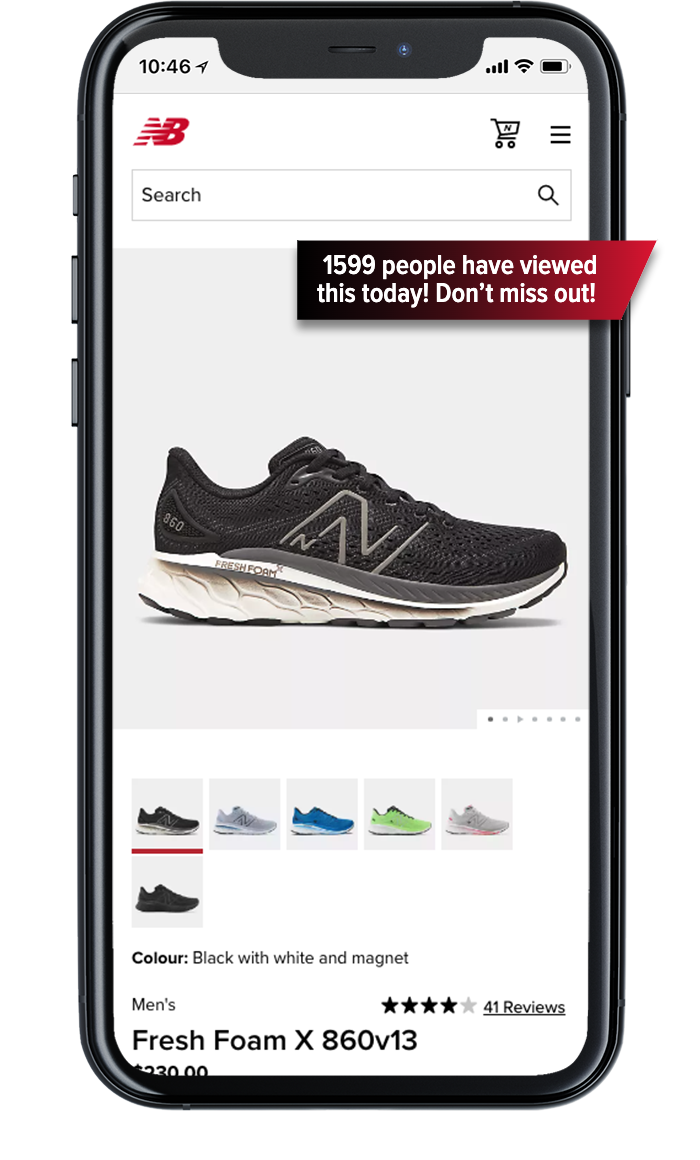 11. Spotlight recently viewed products
Most of your customers weave in and out of tabs – comparing brands and products – in the search for the perfect item.
During that process, it's inevitable they'll forget where they found everything on their mental shopping list.
To jog your customers' memories when they return to your site, add a personal touch by showing them their recently viewed products.
See how Sockwell used Yieldify to spotlight recently viewed items and lift conversions by 12%.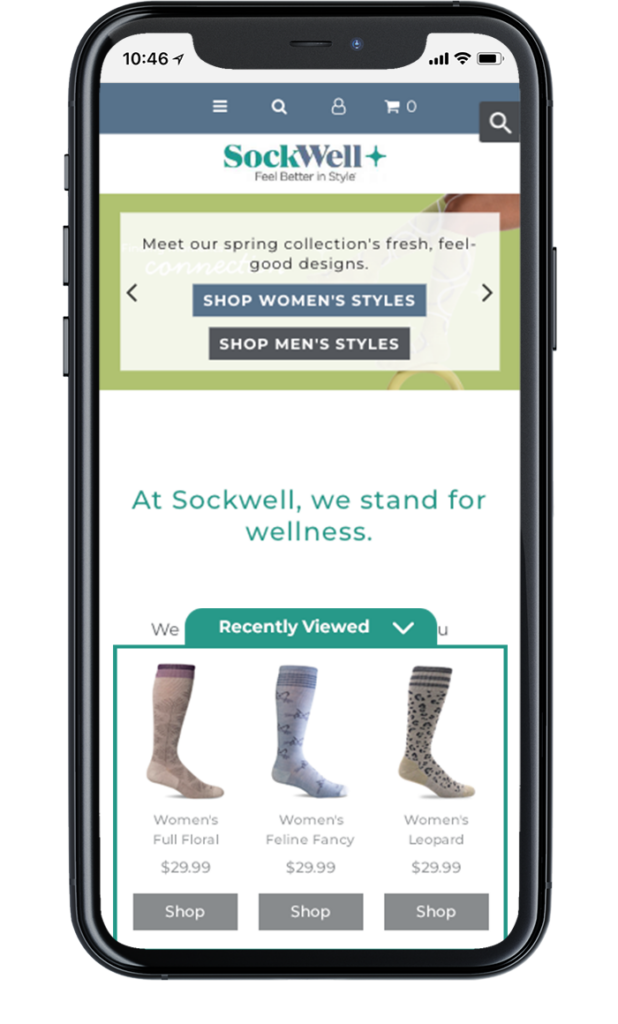 12. Provide product recommendations
When you walk into a good brick-and-mortar store, a retail associate will be on hand to offer their advice. Typically they'll ask you questions about your reason for visiting the store and recommend products based on your specific needs.
In ecommerce, product recommendation technology aims to replicate that in-store experience by anticipating customer's needs – and it's a big hit with customers.
49% of customers bought a product they didn't intend to buy after receiving a recommendation
54% of retailers says product recommendation are the key driver of average order values
31% of ecommerce revenue is driven by product recommendations
At Yieldify, we help our clients build product recommendation experiences to show potential customers their trending products, best sellers and new releases.
Make customers loyal to your brand
13. Highlight customer testimonials
Your customers get marketed to wherever they go. As a result, they're becoming desensitized to marketing messages, and the vast majority trust non-paid, word-of-mouth advice over paid ads (as I discussed earlier).
But what may come as a surprise is that word-of-mouth advice doesn't have to come from someone your customers know. According to Oberlo, almost 1 in 2 shoppers trust online reviews as much as personal recommendations.
The problem for ecommerce marketers is that your customers typically need to leave your site to find reviews.
This threatens your conversion rate, but with Yieldify you can spotlight rave reviews from external platforms within your site.
Take this example from Spongelle, who drove a 14% increase in conversions by strategically leveraging customer reviews across their website.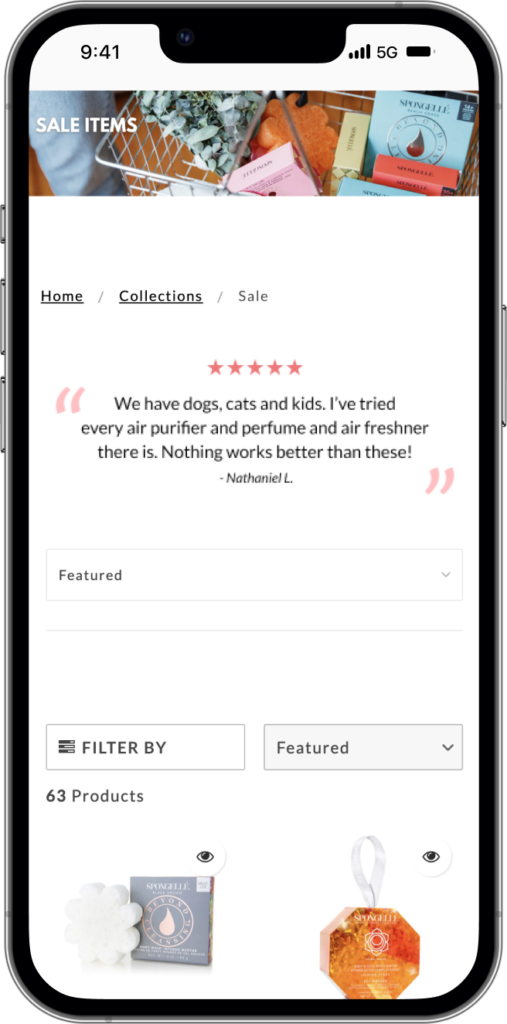 14. Display on-site video content
The human brain processes images 60,000 times faster than text. So no wonder most people opt for a Netflix binge over a Russian literary classic.
Simply put, we're wired to process visual information – which explains why 91% of customers want to see more online video content from brands.
You don't need a thriving YouTube channel with thousands of subscribers to quench your customers' thirst for video content. All you need is to share a handful of videos (even one will do) on your website showcasing your brand's core values to increase online sales.
With Yieldify, you can embed video snippets from YouTube and every major social media platform into your site. Check out this example from Marwell Zoo, who displayed a brand video to customers showing exit intent at checkout.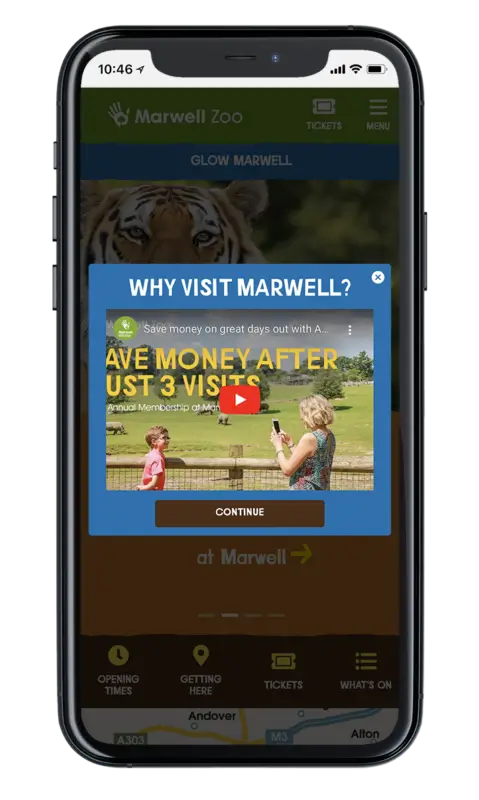 15. Be smart with your email marketing
With an ROI of 45:1, the value of email marketing is undeniable.
There's a good reason why it's stood the test of time, surviving wave after wave of technological innovation.
While it's undoubtedly a great channel for driving sales and nurturing customers who aren't yet ready to buy, it's also an excellent word-of-mouth marketing tactic.
Unlike your social media accounts, where you're at the mercy of Instagram, TikTok and Facebook algorithms, you're in complete control of your email marketing channel.
You have a direct line of communication to your customers, so use it wisely. Don't alienate your subscribers by going gung ho for sales.
Instead, drive your open rates up by:
Educating your customers – pitch yourself as an industry expert
Inspiring, entertaining and motivating
Segmenting your email lists
Writing short, compelling subject lines
16. Signpost your brand USPs
As customers increasingly choose brands based on their mission and core values, it's no longer enough to simply offer a great product or service to the market.
That's why most ecommerce marketers we work with are focused on brand-building.
If they want to increase online sales in the current market, you need to create a clear value proposition and tell your customers more about who they're buying from.
To achieve this, we help our clients spotlight their USPS across their site with embedded in-page messaging.
Check out how Fireclay Tile, a B Corp tile company founded in California, used Yieldify to build awareness of their core USPs with embedded banners, increasing conversions by 9%.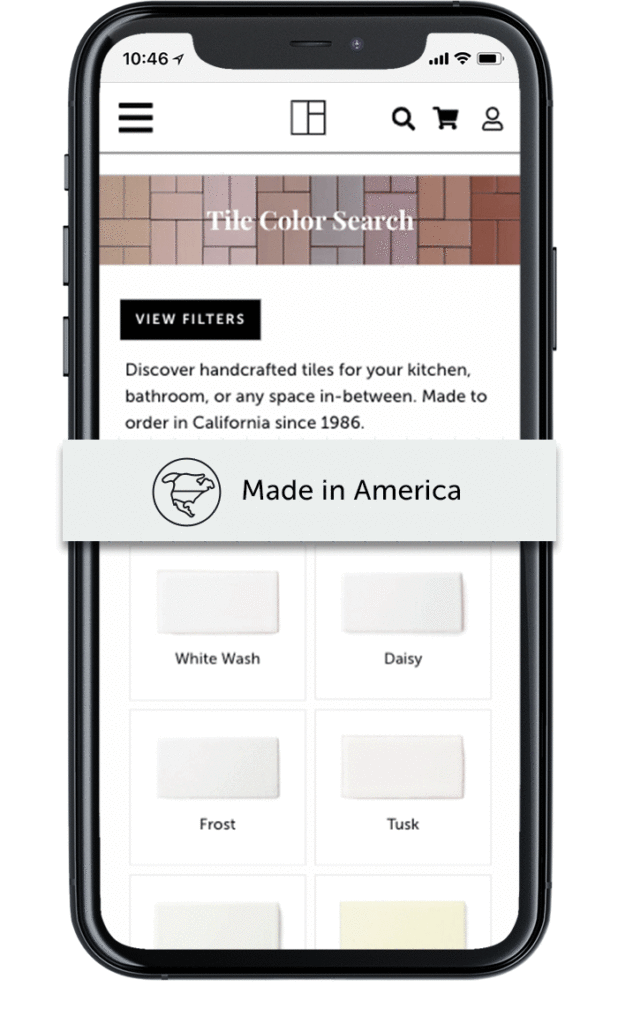 17. Start a referral program
Referral programs are a cost-effective, word-of-mouth marketing tactic that can help you build an army of fiercely loyal customers and increase online sales..
The reason referral programs are so effective is, as I've mentioned, people deeply trust the opinions of their friends, family and peers. Indeed, potential customers are 4 times more likely to buy if they're referred by a friend.
In effect, referral programs are another way to leverage the power of social proof to acquire new customers. At the same time, the process of rewarding your existing customers will encourage them to keep buying from you and make them more loyal to your brand.
Before you get started, consider using a referral marketing tool like CrewFire or Referral Factory.
Whether you decide to use a tool or run your referral marketing in-house, make sure you:
Outline your goals: do you want new customers, to increase CLV, or both?
Pick an incentive: will you offer points, discounts or hard cash?
Choose the channel/s you're going to promote it through
Thank your customers for referring their friends and family
Measure your success: are you hitting the goals you outlined at launch?
Conclusion
I hope this blog has given you a holistic view of how you can improve your customer experience and increase online sales. It's a difficult time for ecommerce marketers, but all 17 strategies can help you navigate this highly challenging market.
If you'd like a preview of how you can improve your sales and growth with Yieldify's fully managed, personalization platform, feel free to schedule a discovery call here. One of our advisors will be delighted to share more.