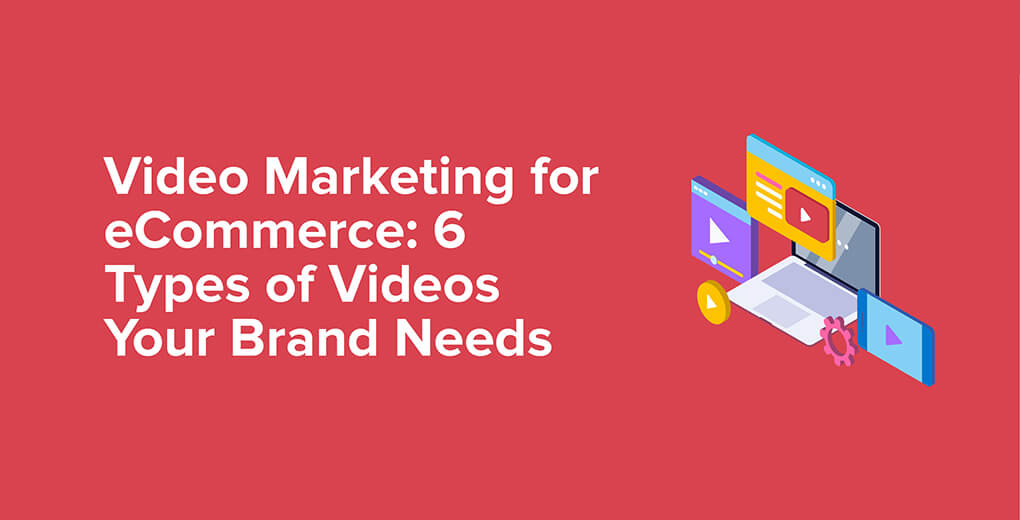 Video is known to build trust and increase engagement levels. But what kinds of videos does your eCommerce business need in order to see a revenue uplift? Here, we look at six types of eCommerce videos known to boost sales.
An eCommerce marketing strategy is dynamic and often made up of many separate elements. You're running ads on social media. You're writing emails. You're promoting your product store…
Having an omnichannel marketing strategy is key to success, but you may still be struggling to create the type of content your audience wants to consume. Look no further than online video marketing.
In this post, we're going to cover the reasons why you should create an eCommerce video marketing strategy and give you a variety of video ideas to choose from.
Let's dive in!
4 reasons why your business needs a video marketing strategy
1. Video converts viewers into customers
Your customers are more likely to buy your product if your eCommerce marketing strategy leverages the content medium they prefer.
Wyzowl found that two-thirds of people (66%) said they'd prefer to watch a short video to learn about a product or service, which is over 3 times higher than people who said they'd prefer to read a text-based article (18%).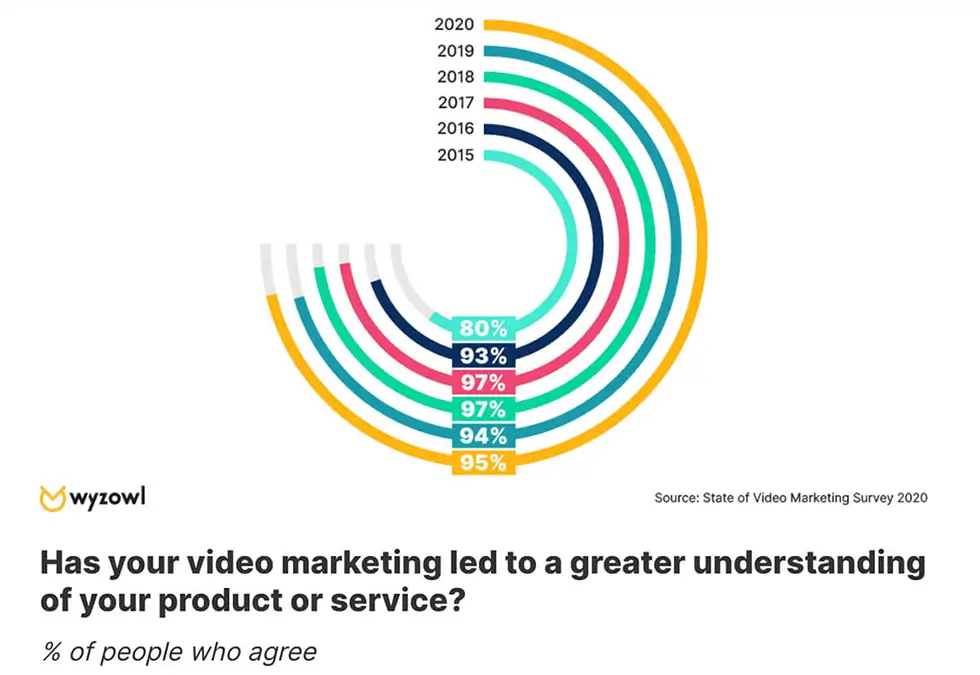 Product videos and video content marketing are the tools you should use to sell your products. But that's not all Wyzowl discovered in their survey.
Turns out, 80% of video marketers say video has directly helped increase sales.
In return, 84% of consumers say that they've been convinced to buy a product or service by watching a brand's video.
2. Video builds trust between you and your audience
In 2019, Stackla conducted a survey of over 1,500 consumers and marketers in the US, UK, and Australia. The study revealed that 90% of people say authenticity is important when deciding what brands they like and support. This is even more true for younger generations.
Video is the most human form of digital communication.
It displays your voice, your face, your eyes as if you're standing in front of your customers. It lets you show off your personality. And it demonstrates confidence in your brand and products. All of which can create a strong bond between you and your audience.
3. Mobile users crave video
If you would rather read text or watch a video on your smartphone, which one would YOU rather do? The answer seems obvious, and you probably assumed your audience prefers video, too.
Well, YouTube confirms it. More than 70% of YouTube watch time comes from mobile devices, according to YouTube's own research.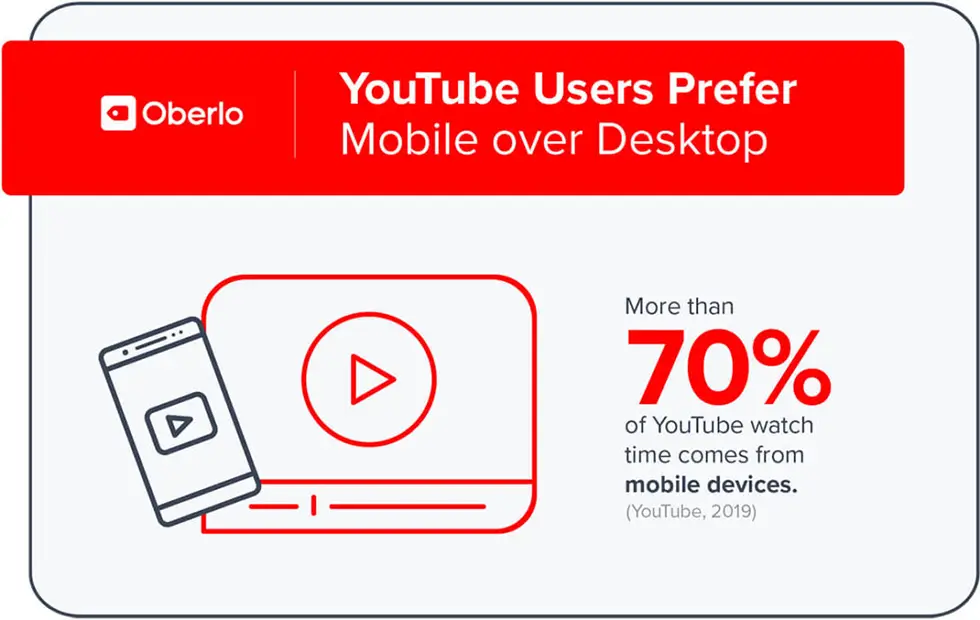 The best part? Consumers who watch your video content on their mobile devices are nearly 2x more likely to feel a personal connection to your brand and 1.3x more likely than desktop users. This is super important to keep in mind. Make videos that cater to mobile users first.
4. Video is the best content for social media
From ads to tutorials, videos perform better on social media and get higher engagement more than virtually all other forms of content. So make sure you create a video that grabs attention.
On Twitter, for example, Tweets with videos are ten times more likely to 10x more engagement than Tweets without video. Facebook videos have an average engagement rate of 6.13% compared to just 3.6% for Facebook posts in general.
The newest video platform, TikTok, has the highest average engagement rate posts of any social media platform. And 90% of people say they have discovered a brand or product on YouTube.
It should be obvious at this point that eCommerce success is closely related to having a strong video marketing strategy in place. What you have to figure out now is, what type of videos should you create?
6 types of eCommerce videos you need in your marketing strategy
1. Product close-up
Buyers want to see videos of your product that make them feel as if they are holding it themselves. Product close-up videos zoom in on your product and display specific features viewers may not see in pictures, or demonstrate a function that has to be observed very closely, or simply show off your product from multiple angles.
Product close-up videos leave nothing to the imagination. You should try to capture as much detail as possible so customers will have a clear understanding of what they're buying.
Here's a product close-up example from Truwood watches, showcasing their product in various environments and angles.
2. Product overview
A product overview video goes in-depth into the features and benefits of your product. This type of video usually features a speaker demonstrating how the product works and why your audience should consider buying it. This can also help build excitement for your product, especially when leading up to a product launch date.
Here's a product overview example for the Olympus' OM-D E-M5 Mark III camera.
You'll notice he describes many of the top features of the product, how to use those features, how this camera differs from previous versions, and why photographers should buy it. You'll want to describe your product in a similar way.
3. Video testimonials
Social proof is one of the most powerful and persuasive motivators to get people to buy your product, and it's essential to include in your eCommerce marketing strategy.
Nielsen surveyed more than 28,000 people in 56 countries and found that 92% of consumers around the world trust recommendations from friends and family above ALL other forms of advertising, which represents an increase of 18% since 2007. And Brightlocal found that buyers prefer to read an average of 40 online reviews before believing a business's star-rating.
Here's a great example of a video testimonial for the Roku device. The goal is to have your customers describe specifically what they like about the product, how it helped them, and how it improved their life or solved their problem.
4. Product tutorial
While the product overview shows off the features and benefits of a product in broad strokes, a product tutorial video demonstrates how a customer can perform specific tasks using the product through step-by-step instructions.
These types of videos are super important for skeptical buyers who are wary of being disappointed by big marketing claims. Showing them how to achieve a particular goal with your product is a powerful way to convince them to buy it.
Here's a product tutorial example demonstrating how to use the Milk Makeup Kush liquid eyeliner.
The other reason product tutorials are a crucial piece of any eCommerce video marketing strategy is because you want your customers to succeed when using your product.
If they buy it but don't know how to use it, or use it poorly, they won't remain your customer for long. But if you set them up for success with easy-to-follow product tutorials, they're much more likely to stick around.
5. Message from the Founder/CEO
A message from the Founder of the CEO video is not used by many companies, but when executed well, it can be a powerful tool to add to your eCommerce video marketing strategy.
Featuring your company leader in a video is one of the best ways to personalize a brand and develop a deep connection with your audience and customers. A study by Ace Metrix revealed that ads featuring CEOs performed better, on average than ads without a CEO.
This type of video has many different uses. The CEO of Mancrates created a video where he tells the story of their company and expresses gratitude for what they've been able to accomplish thanks to their loyal customers.
One of the most famous examples is the Dollar Shave Club video ad featuring the founder, Michael Dubin, mocking their competition and positioning their razors as a cheaper, superior option.
There are many ways to make a message from the CEO video. In fact, you could produce the other videos on this list, but instead of an actor or other associate in your company, your CEO is in the video. The only requirement is that your CEO is good on camera, authentic, and charismatic. If they check those boxes, then you should definitely produce this type of video.
6. Explainer video
Explainer videos are very popular and widely used to explain your product in a short period of time. They usually tell a story about a customer journey optimization done right, from a customer dealing with their problem, finding your product as the solution, and achieving outstanding results with the product. 
Many explainer videos are animated but they can also be live-action. They're usually 30-seconds to a minute in length. These videos don't necessarily show off all the features of your product but hit on the emotional reasons why your customer needs a product like yours and shows the outcome of having your product.
Here's a great example from Tommy John undershirts. They open with a central problem they know their audience deals with and position their undershirts as the perfect solution.
How to start incorporating video In your eCommerce marketing strategy
By now you should know why it's important to use videos in your eCommerce marketing strategy, and what type of videos you can use in different stages of the customer journey.
But where do you start if you want to make the most use of your eCommerce videos? There are a couple of no-brainer steps, such as:
1. Post these videos on your social media channels: YouTube, Facebook, Instagram, TikTok, etc. Make sure to match the dimensions, length, and other technical parameters of each platform. Consider adding subtitles to your videos for people who don't like to watch with sound. Also take into account what time you are posting, for example, the best time to post on Instagram may be different to the best time to post on Twitter.
2. Use them in your lead generation and retargeting ads. Video ads allow you to build an audience of engaged people because you can track their video view statistics. Combined with static image ads and served at the right moment, video ads can generate huge ROAS.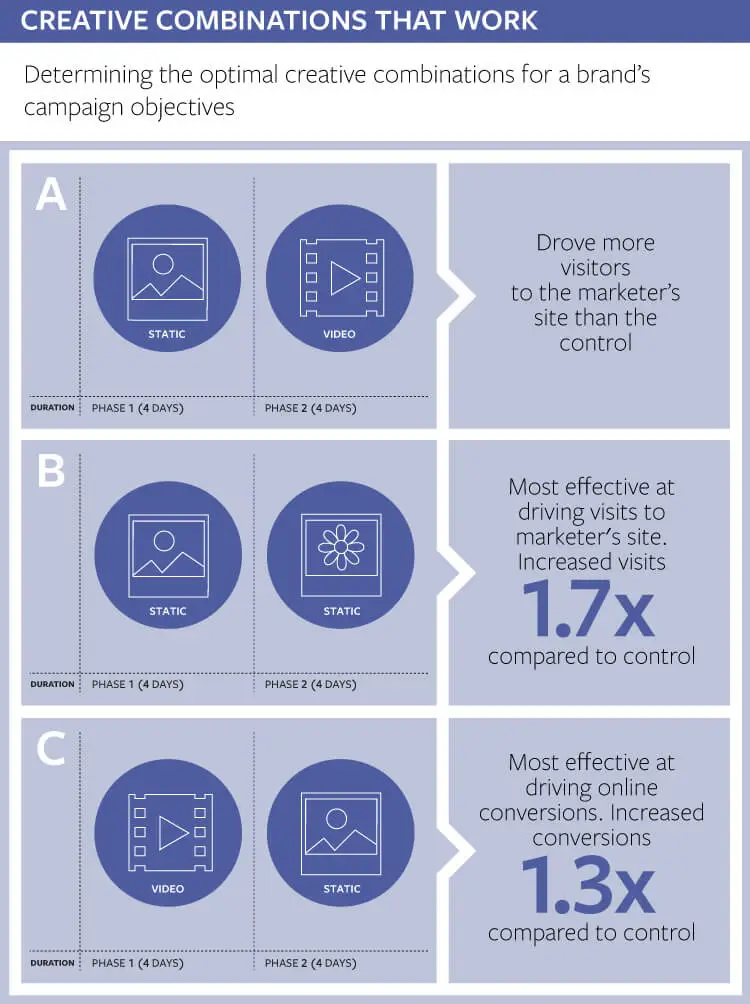 3. Embed these videos on your website: homepage, about pages, product pages, FAQ pages, etc. Having videos on these pages will boost average time spent on the site and will likely improve the customer experience by providing answers on the most relevant questions.
4. Serve them across the entire customer journey: from lead capture forms to exit-intent overlays, etc. At Yieldify, we built multiple campaigns for our clients across various eCommerce industry verticals.
For instance, direct-to-consumer sportswear brand HYLETE ran a cart abandonment campaign highlight free shipping and returns to see which type of content – still image overlay or a video overlay – would generate more engagement. The results revealed that video was more effective at driving conversions, with 42.2% uplift versus the control group.
In another example, Yieldify helped France's leading home shopping network, M6 Boutique, reinforce its core brand values using video. To visitors browsing the M6 Boutique website, Yieldify showed a live stream of M6 Boutique's TV channel in a corner Notification. As a result, the M6 Boutique live stream gained 150,000 additional views in just a month.
Lastly, we teamed up with the award-winning festival operator We Are FSTVL to create an exit-intent overlay with an embedded highlight reel from the previous year's event. The brand split-tested click-to-play video with sound against a video that autoplayed without sound. The results showed that an auto-playing video created greater engagement, achieving a +33% uplift in customers clicking through to get tickets.
Click here to see how Yieldify can increase your conversions and show you a better way to use video in your eCommerce marketing strategy.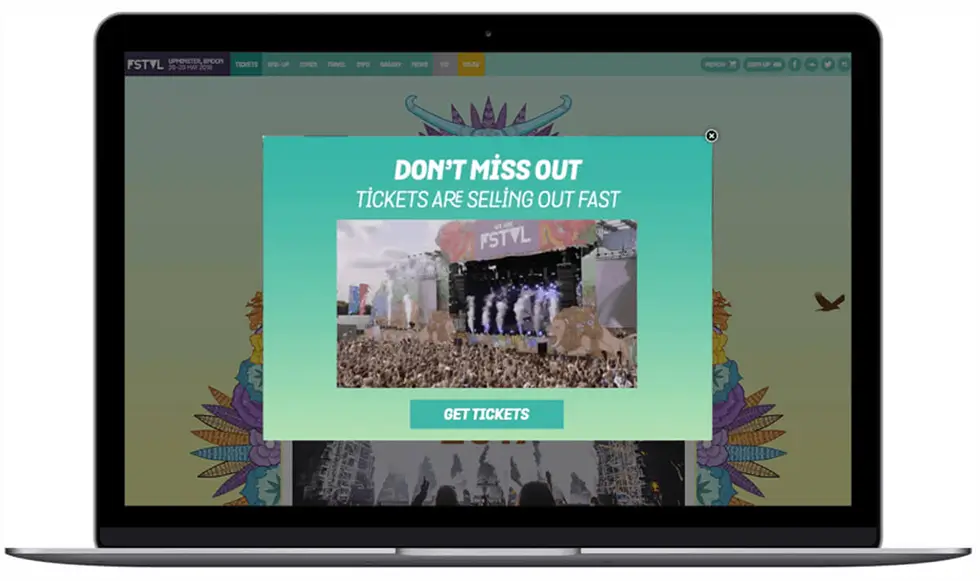 ---
This article was written by Joe Martin from CloudApp.
Joe is CloudApp's GM and VP of Marketing. With more than 13 years of experience in the industry, he provides strategic guidance on how to build and use the right stack for businesses. Formerly Head of Social Analytics at Adobe, Joe believes marketers need smart training and leadership to scale company growth. Connect with Joe on LinkedIn and follow him on Twitter @joeDmarti.