BLOG
How to Grow an Online Business: 12 Money-Making Strategies
Published: Feb 6, 2023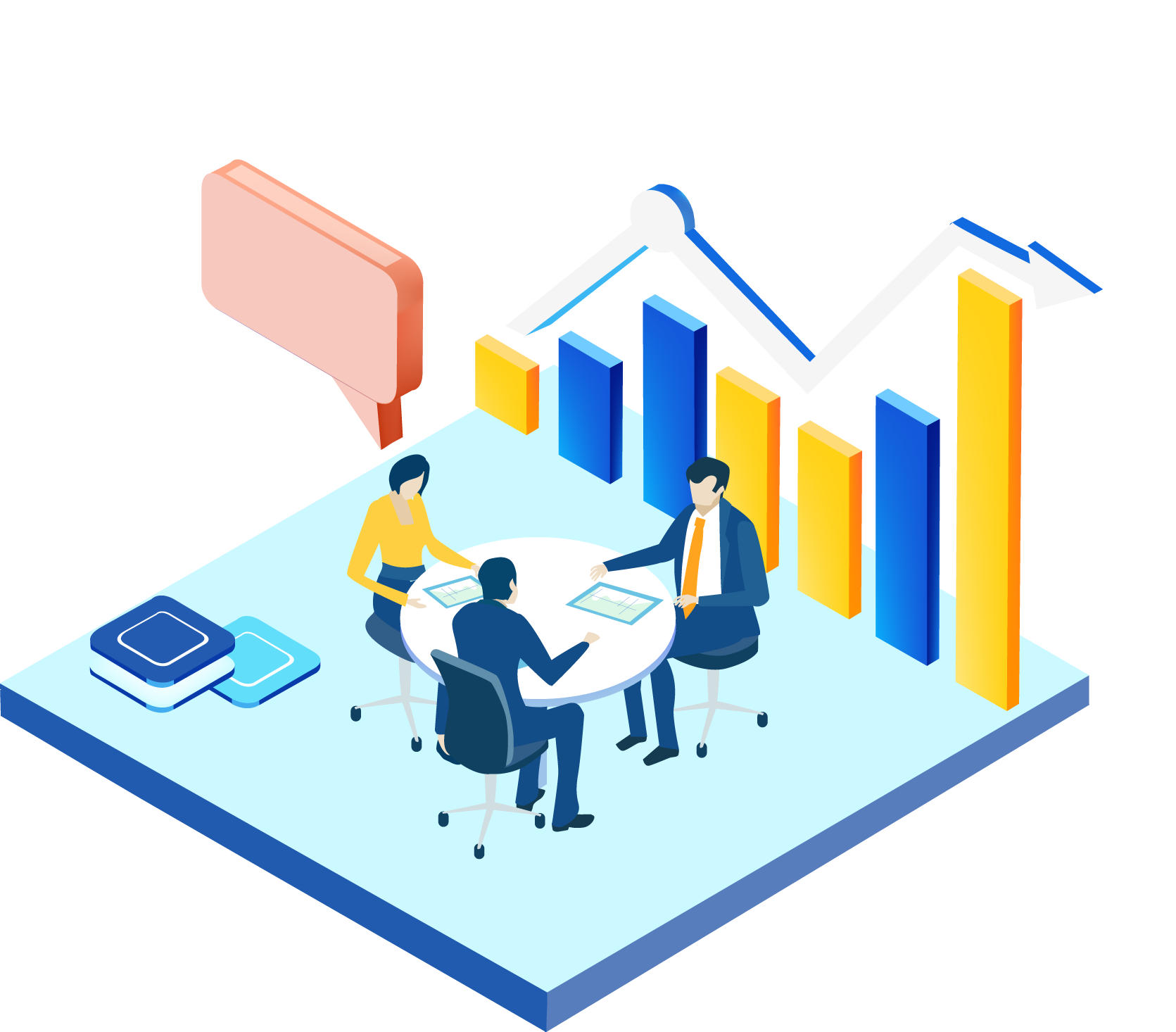 A staggering 90% of ecommerce startups fold within 120 days.
Whether you've just breached the 120-day mark or been running a business for several years, congratulations on your work so far.
You've all cleared at least one significant hurdle, so let's accelerate this upward trajectory you're on.
If you're about to launch and don't want to be part of the 90% that fail, it's time to read carefully.
Whichever camp you're in, the 12 strategies in this blog will help make your online business a success.
My 12 strategies fall into three categories:
How to create a winning brand
How to convert more visitors into customers
How to nail your email & SMS strategy
I'll also lean on the insight of my Yieldify colleagues, Margot Rebeyrol, Digital Campaigns Consultant, and Mike McNally, Director of Client Services (NA).
Call me biased but Margot and Mike are experts in growing online businesses.
If you're looking specifically for solutions and tools to grow your online business, check out our post covering 15 of the best website optimization tools.
Otherwise, let's crack on with the 12 strategies.
Reasons your online business isn't making money
If you're struggling to make money in this tough economic climate, you're not alone.
Every business goes through peaks and troughs, and factors beyond your control do play their part.
But you can't always blame low revenue on market conditions.
Here are five reasons why you might be struggling to make money:
You don't have product market-fit
35% of businesses fold because they don't have market-fit for their product or service. Gather user feedback, analyze data and speak to your customers and target market regularly to address their pain points.
Your pricing is wrong
29% of ecommerce businesses that go bust shortly after launch say their failure was pricing-related. Price your products too high and demand will plummet. Set the bar too low and you'll cut deep into your margins. 

Your website is poorly designed
Your customers make snap decisions when browsing online. 42% of customers decide whether to stay on a website within 10 seconds of landing, and 60% will leave due to poor UX. Build a website that's easy to navigate, pleasing to the eye and quick to load.
Your brand isn't visible enough
Are you prioritizing your SEO, social media and PPC channels to increase growth? 48% of customers start looking for products on search engines, and 59% of customers prefer to buy from brands they already know. Invest in digital marketing to grow brand awareness and reach potential customers.
Your competitors are dominating the market
There are an estimated 12-24 million ecommerce businesses worldwide, but the reality for SMBs is that 63% of shoppers start their search on Amazon. Use your brand story and product USPs to stand out in the sprawling ecommerce industry.
12 Effective ecommerce strategies that drive sales
How to create a winning brand (1-4): Your brand is so much more than a name, logo and slogan – it defines who you are, shapes your customer base and makes you unique. Follow these strategies to build a prestigious brand identity that commands customer loyalty.
How to convert more visitors into customers (5-10): Getting visitors to your website is only half the battle – now you've got to convince them to buy something. Use these strategies to reduce website bounce rates, increase customer engagement and accelerate sales.
How to nail your email & SMS strategy (11-12): Unlike SEO, social media and PPC, your email and SMS channels are completely under your control. Use these strategies to humanize your brand, increase loyalty and grow revenue through expertly curated email & SMS campaigns.
How to create a winning brand
1. Invest in SEO (Search Engine Optimization)
As I explained before, I sought the insight of my colleagues Mike and Margot before writing this blog.
Mike has worked closely with ecommerce brands for several years and knows the long-term value of SEO.
"Remember that SEO is a long-play ecommerce marketing channel. That means start now if you haven't already, because you'll typically see your site ranking for product keywords in around 12 months. If you're already ranking for revenue keywords, ask yourself if you can increase your investment. On a cost-to-revenue basis, SEO is one of the cheapest channels – once the ship is moving, that ROI curve can be parabolic."
After all, what do you do when you buy something online? Like 81% of shoppers, you probably start by heading to Google and typing in the name of the thing you're looking for.
The vast majority of online shopping journeys start on Google, which explains why organic search is responsible for 33% of overall revenue and traffic – making it the joint-highest traffic-driving channel for online businesses alongside paid search.
To climb the search engine results pages (SERPs) and drive organic traffic to your website, you should:
Look at Google Analytics to identify your high-performing pages and understand why they're driving traffic
Identify the product-focused keywords that best describe what you sell
Compare suggested searches in Google, Ebay, Amazon, Etsy and other major marketplaces
Look at social media to see what language your customers use to describe your products
Monitor your competitors' SEO performance and refine your strategy based on what works for them
Once you've laid the groundwork following the above steps, it's time to reach your target audience by:
Choosing high-ranking keywords you want to rank for – get started with free marketing tools like Ahrefs' Keyword Generator
Producing content to satisfy your audience – not Google crawlers
Writing SEO-friendly product descriptions
Uploading high-quality images
Improving page loading speed
Optimizing your website for mobile
2. Refine your PPC campaigns
Margot has seen the impact of PPC (pay-per-click) ads first-hand.
"Getting more eyes on your site is key to growing an online brand. If you're new to the market, the first step to raising brand awareness is to acquire as much traffic as possible, and investing in PPC ads will drive more people to your site."
For Margot, PPC is a must-have brand-building technique, and the statistics tell the same story. Not only does PPC lift top-of-mind awareness by 80%, it also has an ROI of 200%.
The benefit of PPC is that, as the name suggests, you only pay for the clicks on your ads, not the views. So even if you're not driving loads of revenue, it's still a great channel for building brand awareness.
Lay the foundations of a well oiled PPC machine by:
Identifying keywords that match what your target customers are searching for
Building customized landing pages that are relevant to each ad
Selecting a bidding strategy – it's best to start with manual bids if you're new to PPC
Getting an A/B testing tool to optimize the copy and CTAs of your ads
Setting a budget that guarantees you ROI
3. Build your social media platforms
The average person spends 2 hours and 27 minutes on social media every single day.
All over the world customers are hooked to Facebook, Twitter, Instagram, and now TikTok, which is why stores with a social media presence drive 32% more sales than those without. Social media isn't a nice-to-have for online D2C businesses – it's a brand-building necessity.
Check out our post on the best social media platforms for ecommerce if you can't decide which platform to focus on. But if you're short on time, here are some stats to get you started:
Pinterest drives 33% more referral traffic for shopping websites than Facebook
44% of people use Instagram to shop weekly
78% of Americans say they've discovered products on FB
Social media lets you connect with customers in a way that gets people talking about your brand.
Check out this genius campaign from Specsavers, who scooped the "most effective use of social media" accolade at The Drum Awards in 2021. Specsavers captured the English mood with their "it's coming home" billboard and reached 9.5m people from a £11,000 ($13,500) budget.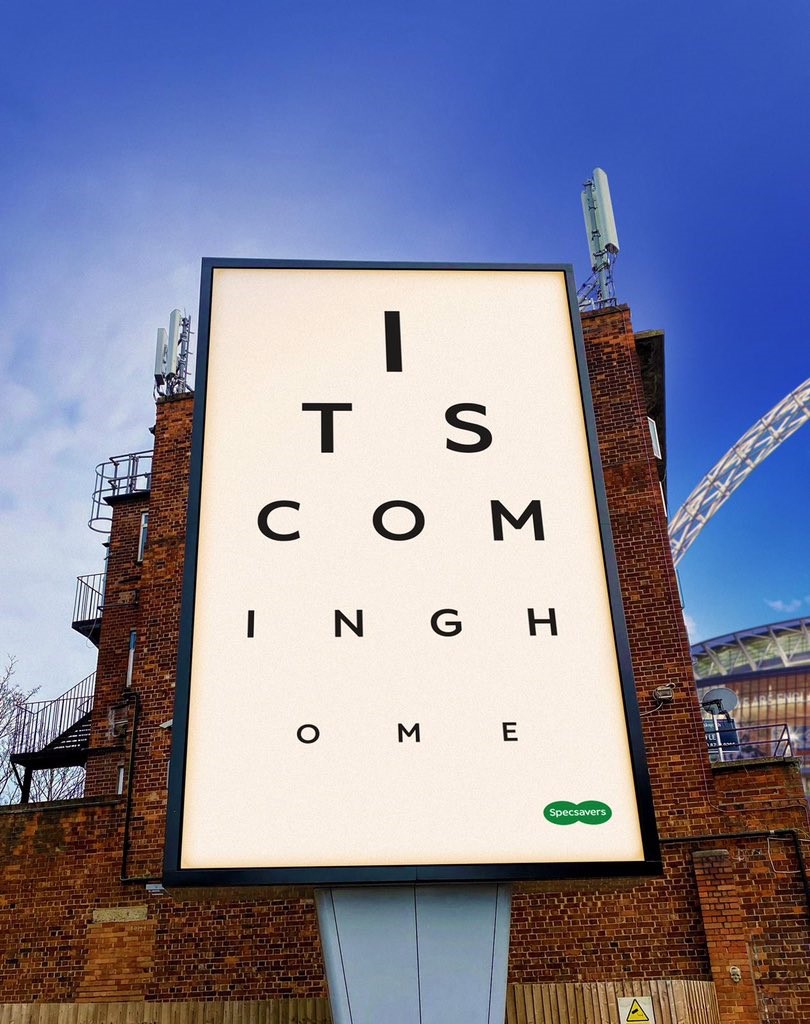 4. Leverage social proof
Your current customers are your most trusted and valuable marketers.
And no, we're not wheeling out another customer-is-always-right platitude: research proves that 92% of customers trust non-paid recommendations over paid adverts.
Social proof is a psychologically powerful tool that does five key things:
Shows you're a trusted brand
Makes your brand more desirable
Validates your customers' choices
Removes your customers' doubts
Gives your customers a sense of urgency
At Yieldify, we've helped our clients increase conversion rates by up to 31% using a range of social proof experiences, including:
Spotlighting customer testimonials
Highlighting product popularity
Driving urgency through stock scarcity messaging
Leveraging case studies and success stories
Embedding trust badges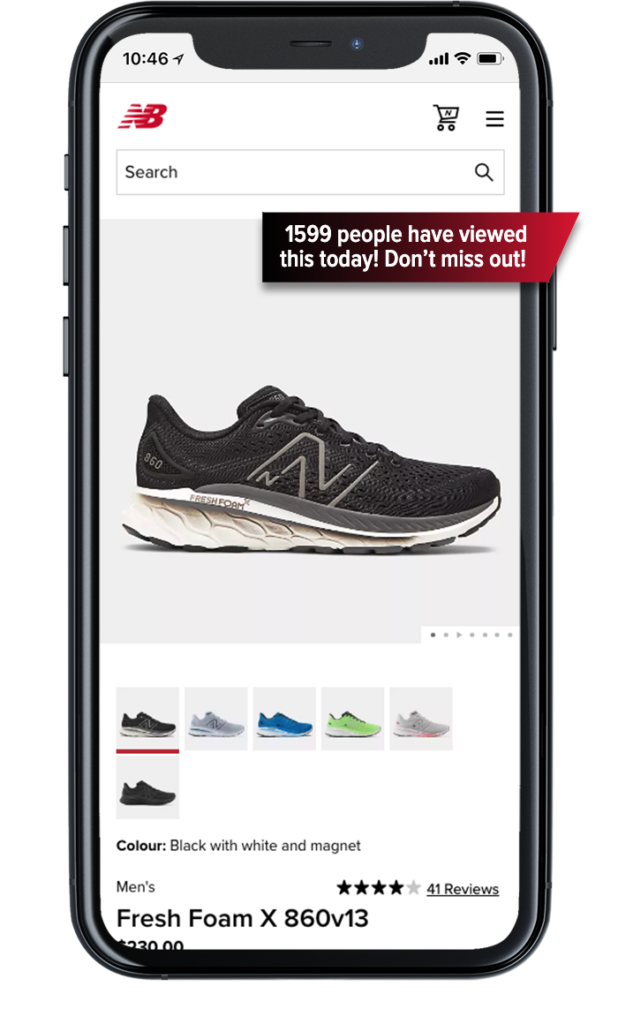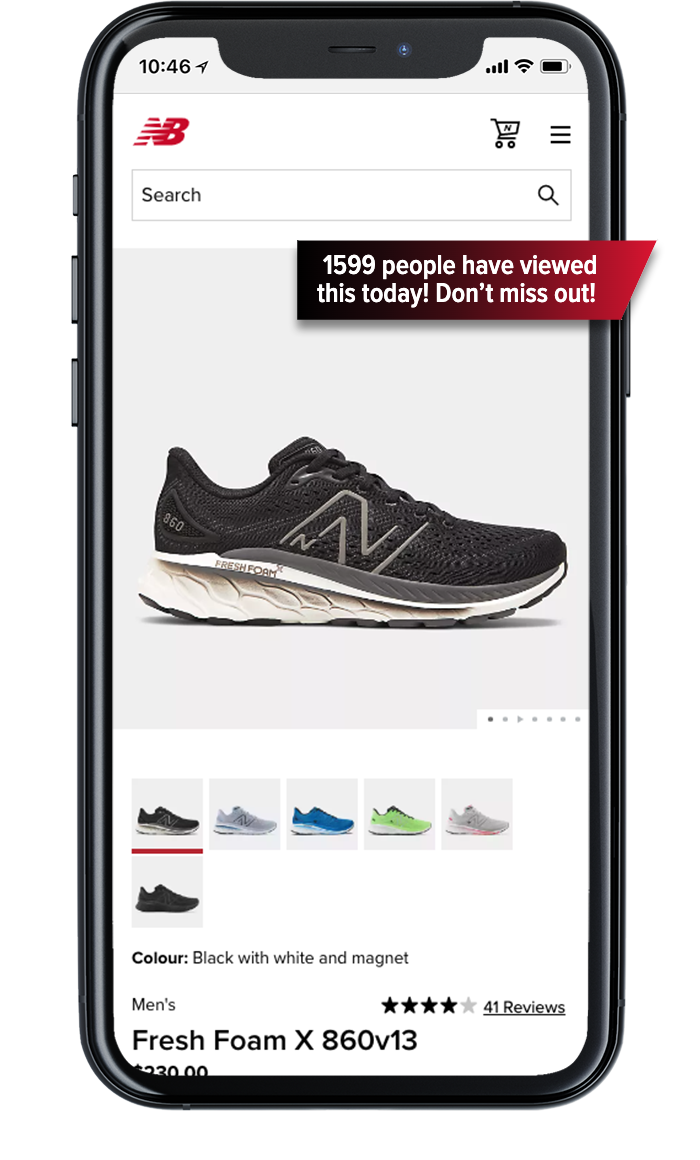 If you're looking for a tool to leverage social proof, read our post covering 14 of the best Social Proof Software on the market.
How to convert more visitors into customers
5. Segment your market
Margot says that brands with clearly defined market segments are the most successful.
So no wonder businesses that tailor strategies to customer segments generate yearly profit growth of 15% vs 5% of businesses that don't.
Use market segmentation techniques to split your customers into subgroups based on shared characteristics. Then tailor your marketing efforts to customers who are most likely to buy your product or service.
To drive more effective segmentation, you should:
Gather customer feedback through on-site polls
Read your customer reviews for patterns and phrases
Analyze customer data in your ecommerce CRM
6. Analyze more data
Many companies come to Yieldify with a simple but significant question: is our traffic or website responsible for our sub-par conversion rate?
That's hard to answer with limited expertise, and the problem is that 99.5% of data is never used or analyzed. You need to go beyond tools like Google Analytics to truly understand what's happening on your website – and, crucially, why it's happening.
At Yieldify, we use Sunburst analysis to help clients improve their conversion rates.
For Margot, Sunburst acts as the elusive link between the what and the why:
"The rich data we analyze in Sunburst helps us evaluate the quality of our customers' traffic. We'll know straight away if the traffic is poor, and we can present this in a highly visual, easily digestible and quickly actionable way. Armed with this information, we'll then implement website experiences that decrease bounce rates and optimize customer journeys."
Sunburst empowers you to make better, data-driven decisions by helping you:
Uncover your customers' pain points
Understand your customers' journeys
Personalize your customers' experiences
Improve your customer service
Forecast demand for your product or service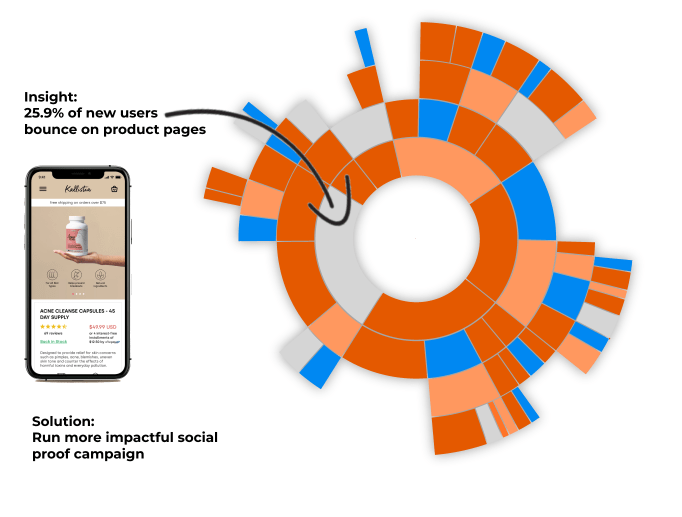 7. Personalize customer experiences
Once you've segmented your market and dived into the data, you're ready to personalize your customers' journeys.
The stats prove just how crucial personalization is for driving sales:
77% of consumers have chosen, recommended, or paid more for a brand that provides a personalized service or experience
83% of consumers are willing to share their data to create a more personalized experience
71% of customers are frustrated when a shopping experience is impersonal.
We know what customers want from online shopping, but the why is less clear.
Enter our in-house expert Margot, who explains customers want personalization for three key reasons:
It saves them time: Personalization helps customers quickly find and purchase the products and services they want
They see more relevant content: Personalization puts customers in contact with content and products that match the unique needs of their market segment
It enhances the customer experience: Personalization replicates the in-store experience and makes customers feel more valued and cared for by brands
Take this example from Petal & Pup, who personalized their website opt-in forms for Facebook customers as part of a strategy that increased email leads by 116%.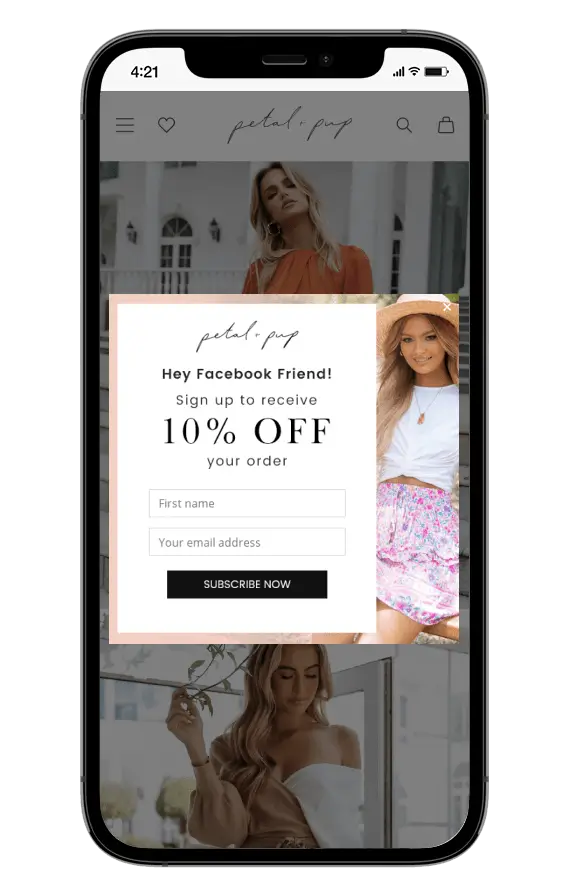 Looking for personalization software to optimize customer journeys? Read our post covering 10 of the best personalization tools on the market right now.
8. Run A/B tests
"You can't solve all your issues with A/B testing, but it's definitely a key ingredient that makes your recipe successful."

Margot Rebeyrol, Digital Campaigns Consultant
Remember I wrote earlier about battling factors beyond your control? Well, the cost of customer acquisition has risen by 60% in the last five years.
Given the state of play, it's wise to focus on retention and find ways to make every website visit count.
One of the best ways to do that is through A/B testing.
77% of companies run A/B tests to compare how website changes (often very subtle changes) impact their conversion and lead generation rates.
For example, you could test these different aspects of your website opt-in forms:
Messaging
Design
CTA
Placement
Size
If you have more than 100,000 monthly website visitors, you can unlock deeper audience insights with our A/B/n feature – which lets you test up to five different variants at the same time.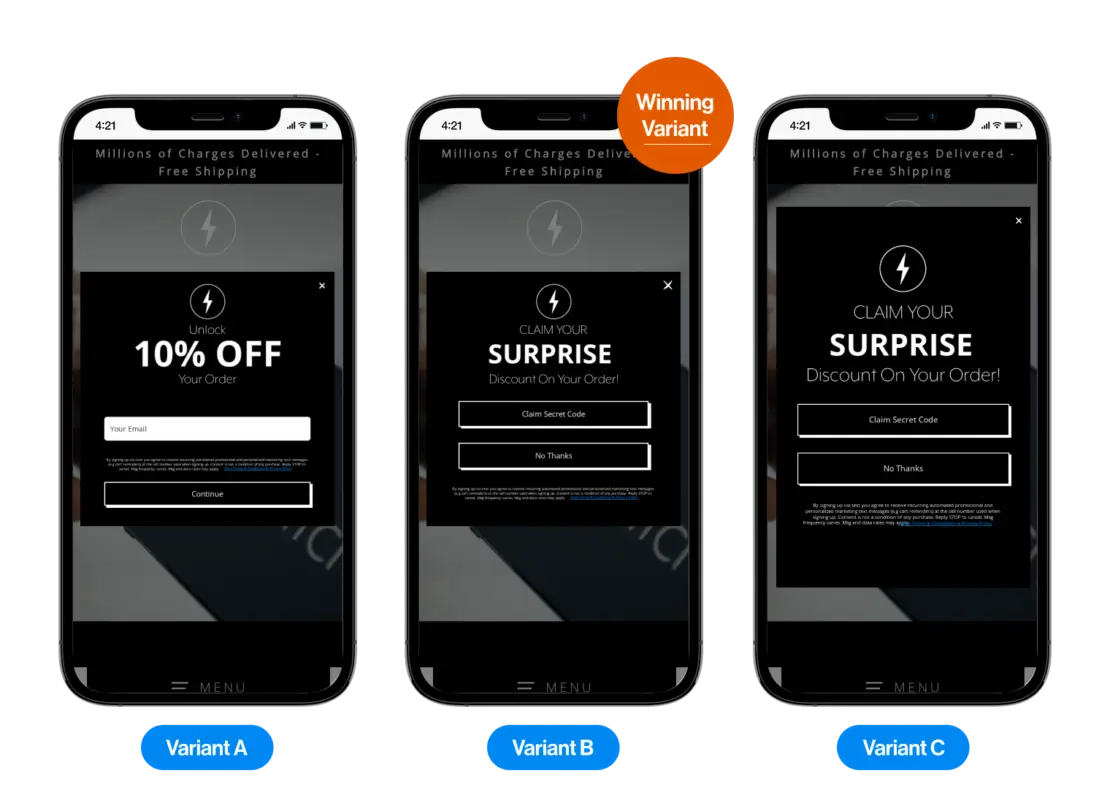 With Yieldify, our clients have lifted conversion rates by up to 144% and email leads by up to 580% using A/B and A/B/n testing.
9. Use chatbots
Very few online businesses have the budget or time to build a well-trained team of customer service agents – but that's no reason to neglect your customers.
For a fraction of the price, you can respond to every customer worldwide using chatbots.
A human touch is still highly valuable in customer service, but 69% of consumers prefer to use chatbots because they can answer questions instantly.
Chatbots are ideal for fast-growth businesses because they:
Reduce costs: One chatbot is significantly cheaper than hiring a single customer service agent
Save time: Chatbots can have thousands of conversations in different languages at the same time
Collect customer data: Chatbots help you better understand your customers' pain points
10. Create landing pages
Customers who land on a product page are 72% more likely to bounce than those who arrive on a landing page.
The key distinction between a landing page and a product page is that a landing page has a specific purpose – i.e. drive a sale or lead – and a single CTA, which is directly tied to the search terms.
You should think of your landing pages as digital storefronts. Brick-and-mortar retailers carefully curate their shop front, so you should apply the same meticulous attention to detail with your landing pages.
To create a high-converting landing page, make sure you:
Improve speed: Every additional second of load time reduces a websites conversion rate by 4.42%
Include a customer testimonial: 36% of top landing pages feature customer testimonials
Personalize: Personalized CTAs drive a 202% uplift in conversions
How to nail your email and SMS strategy
11. Generate more email leads & remarket
New technologies come and go, but the humble email remains a bastion of our ever-evolving digital world.
Not only is email surviving, it is thriving too: 89% of marketers use email as their top lead generation and customer acquisition channel.
Email marketing endures because it generates 45:1 ROI on average. You'll struggle to drive that ROI with any other channel (except SMS, which I'll discuss shortly).
You need to build out your email list building strategies before you can drive this level of ROI, so display website sign-up forms to get more customers to subscribe.
Then follow these best practices to increase your email open and click-through rates.
Segment your subscribers
Keep your email length between 50-125 words
Write open-me-now subject lines
Design compelling CTAs with UX principles front-of-mind
Personalize, always
Send cart abandonment emails
Use A/B testing to optimize open and click-through rates
If you're looking specifically for a solution to help you drive more email subscribers into your database, check out our post on the 12 best B2C lead generation tools.
12. Generate more SMS leads & remarket
Email marketing's younger sibling, SMS marketing, is fast becoming the new kid on the block.
Why? Because it's a certified revenue generator with 71:1 ROI. Despite its money-making potential, only 47% of marketers use SMS to reach their customers.
So if you're in the 53% of marketers without an SMS strategy, it's time to add it to your repertoire.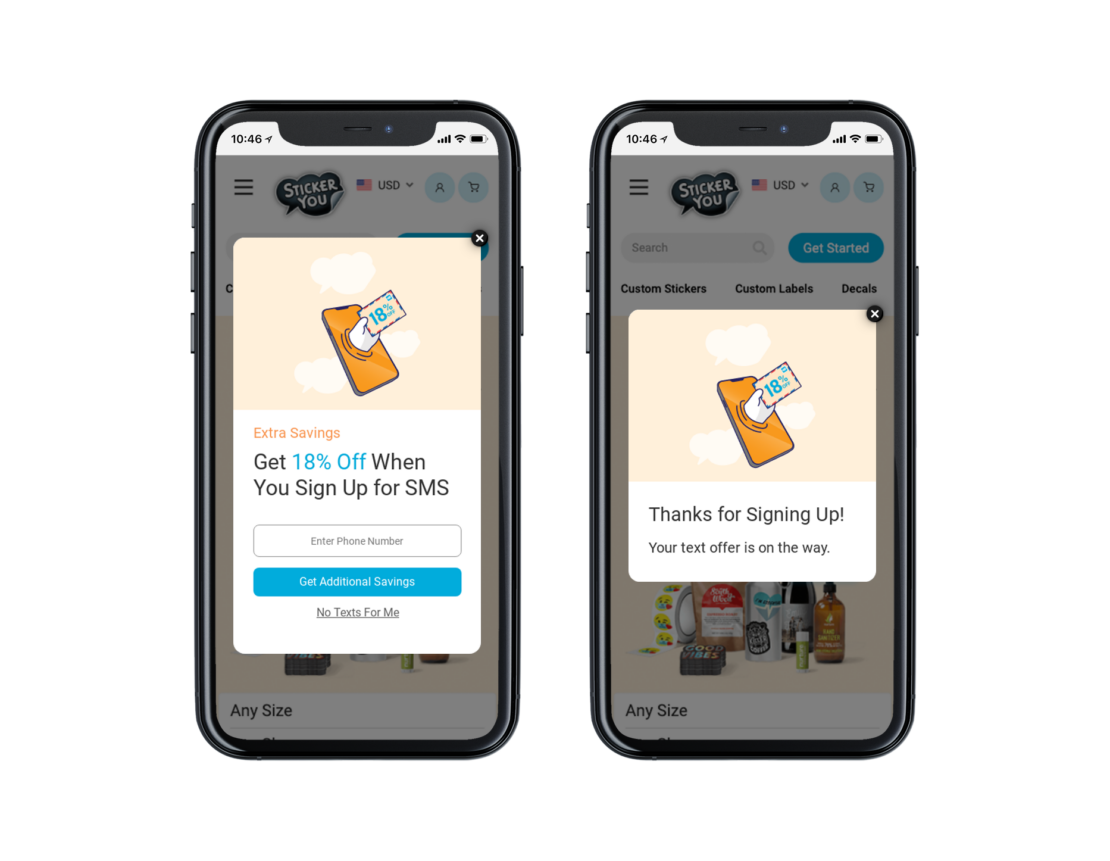 The great advantage of SMS marketing is you can reach your subscribers in seconds – regardless of whether they're connected to the internet.
On the flip side, SMS is up-and-coming and your customers have concerns about privacy. Many won't quite know what they're signing up for, which makes it hard to generate leads.
To generate more SMS leads, you can:
Run website sign-up forms
Ask your email subscribers to opt in
Create a referral program
Incentivize your social media followers
Then follow these best practices to drive the highest impact:
Segment your subscribers
Create drip campaigns
Personalize, always
Run promotions
Use visual content
A/B test your messages
If you want more information about growing and nurturing your SMS database, check out our blog on SMS lead generation.
Summary
In the hyper-competitive ecommerce landscape, growing an online business is hard. The road to success is paved with big challenges, but these 12 strategies will help you navigate them and create a winning brand that your customers love.
If you'd like a preview of how you can grow your online business with Yieldify's fully managed, all-in-one personalization platform, feel free to schedule a discovery call here. One of our advisors will be delighted to share more.
---
FAQs
What is the best way to grow your business online?
The best way to grow your online business is through a combination of brand-building and conversion rate optimization techniques. It's vital that your brand tells a compelling and unique story to command genuine customer loyalty. You'll also need to use A/B testing and other CRO tools to make every website visit count.

How can I improve my small online business?
You can improve your small online business by building a coherent digital marketing strategy that incorporates SEO, PPC and social media. Not only will these strategies build brand awareness, they'll drive more sales and revenue for your business. 

How do you grow an online store?
Growing an online store is an undertaking that requires a solid product-market fit, a thriving digital marketing strategy and a website that's designed with customer journeys in mind. If you're looking to accelerate growth, website optimization tools can help you improve your conversion rates, UX, page speed and SEO performance. 

How can I get more customers for my online business?
You can generate more customers for your online business through a combination of SEO, PPC and social media advertising. Once you've got new visitors on your website, ask them to subscribe to your email marketing with eye-catching sign-up forms. If you need help generating more email & SMS leads, check out our post on the best B2C lead generation tools.