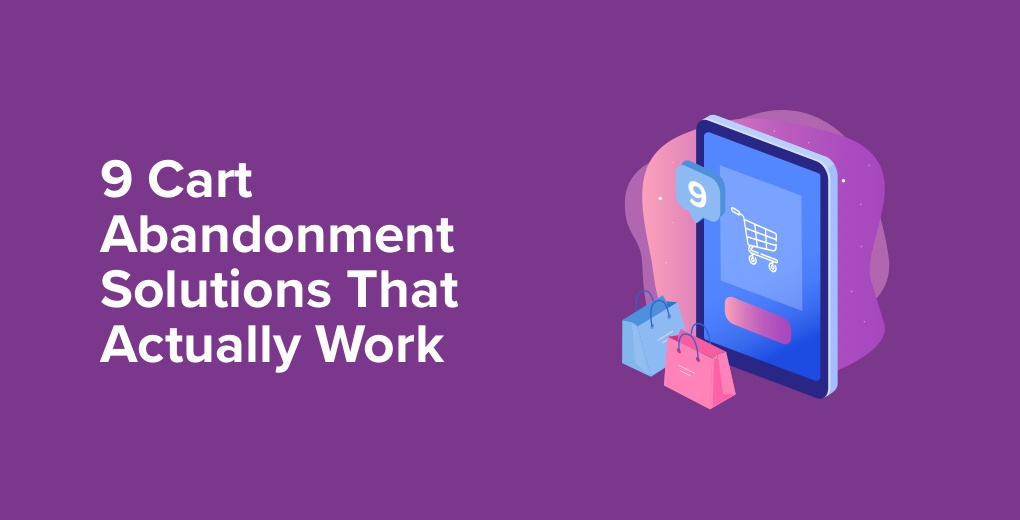 Shopping cart abandonment accounts for $4.6 trillion lost eCommerce revenue each year. We look at nine cart abandonment solutions that will help you reclaim those lost sales and increase return on marketing investment.
Shopping cart abandonment (or basket abandonment) is when an online shopper adds items to their cart but leaves the site before they can complete the purchase. The average cart abandonment rate across all industries is 75% – that means 3 out of 4 visitors on your eCommerce site never turn into customers.
For eCommerce retailers, this represents a huge lost opportunity, especially when you consider the costs and the effort it takes to get people interested in your product or service in the first place.
Pouring money into branding, content creation, social advertising, referral marketing, SEO and SEM just to get those potential customers on your site… Then optimizing their journey with smart UX and CRO strategies… All of this has a huge toll on your bottom line if you let 75% of visitors leave without making a purchase.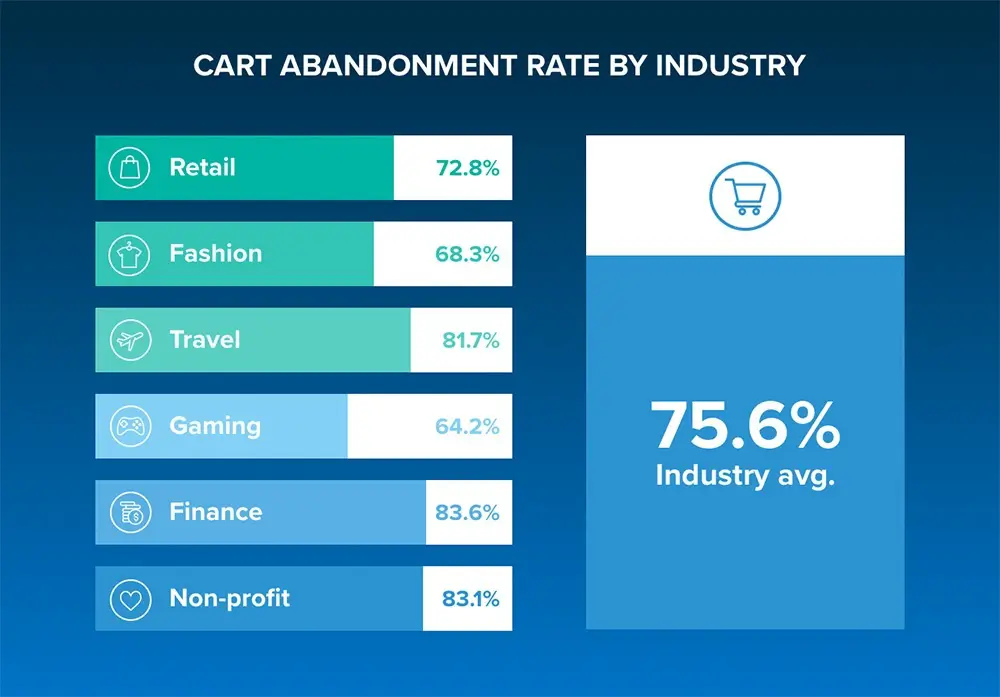 The top reasons for shopping cart abandonment
Customers abandon their carts for many reasons, but numerous studies have shown there are some consistent and common reasons that consumers always site.
Barilliance has analysed these data sets and ranked the top 10 cart abandonment causes by both probability (how likely will your visitors be effected) and impact (how much does this cause matter).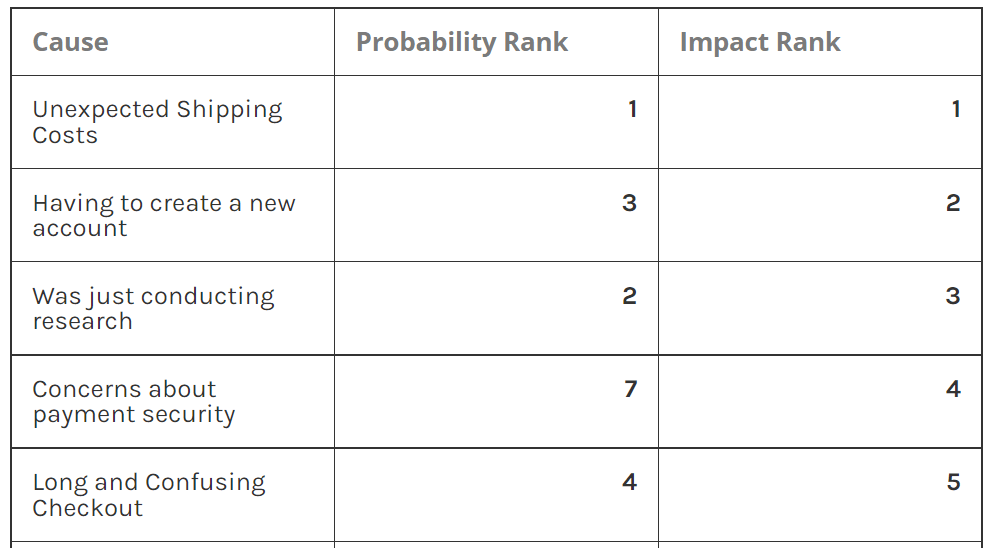 So with those issues in mind, what solutions can eCommerce stores implement to combat abandoned shopping carts?
Solutions that can help stop shopping cart abandonment
You might think there's nothing that can be done to prevent someone from leaving their basket – that once a customer has left, they've left. But luckily there are a number of cart abandonment solutions and strategies available to turn a significant number of abandoned carts into purchases.
In fact, Business Insider has reported that approximately $2.75 trillion of the lost $4.6 trillion may be recovered through checkout optimization. Here we look at the ten best cart abandonment solutions to help you reduce abandonment rates and reclaim some of those lost sales.
What we'll be covering:
1. Exit-intent Overlays
2. Email Remarketing
3. SMS Remarketing
4. Retargeting Ads
5. Live chat or chatbot service
6. Social Proof & Trust Badges
7. Transparent Checkout
8. Payment Options
9. Guest Checkout
10. Free Shipping

1. Exit-intent overlays
One of the most reliable ways to prevent shopping cart abandonment is in response to exit intent. This sophisticated cart abandonment technology identifies when a visitor is showcasing exit behavior and serves a strategically timed overlay with a message that encourages them to stay.
For example, if a customer who has already reached the checkout page exhibits exit intent because the shipping costs are too high, a timely message offering free shipping for purchases over a certain amount might not only save the purchase, but also increase the average order value.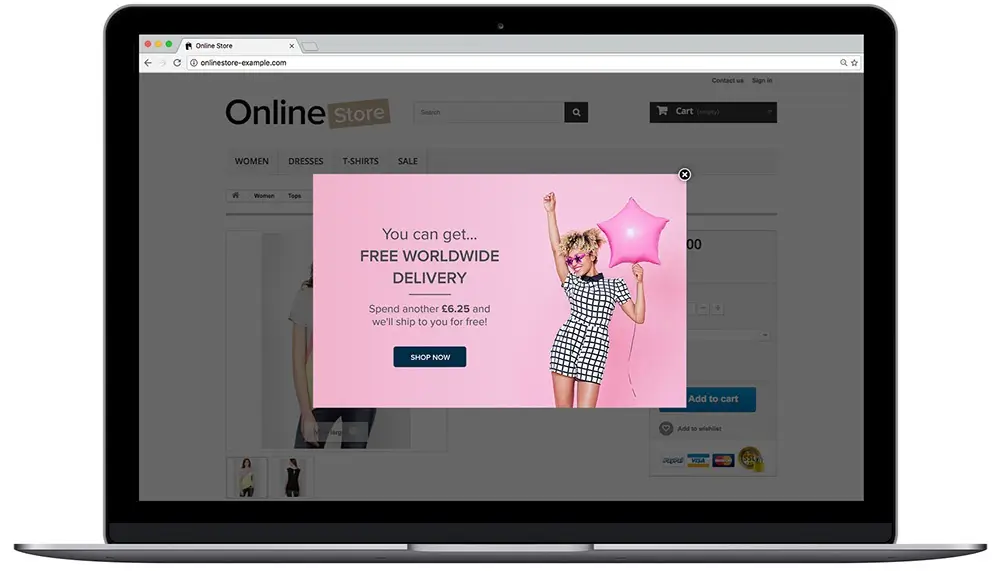 Similarly, certain onsite behavior might indicate that the customer wants to compare prices with a competitor. If that happens, the exit-intent overlay might suggest a discount on the particular items they added.
It's essential however that this technology is deployed subtly and based on a data-driven understanding of customer behavior, otherwise, it can backfire, irritating the customer and causing them to leave for good.
2. Email remarketing
If a customer has put items in the cart or begun the checkout process but doesn't complete it, a highly effective way of reminding them to come back is to email them.
Email remains one of the most effective marketing tools, but customers expect more than just a mass marketing mailout. It needs to be deployed in a personalized, relevant way that makes the customer feel like they're not being spammed, but looked after. Once they're back onsite, you can welcome them and guide them seamlessly back to where they left off.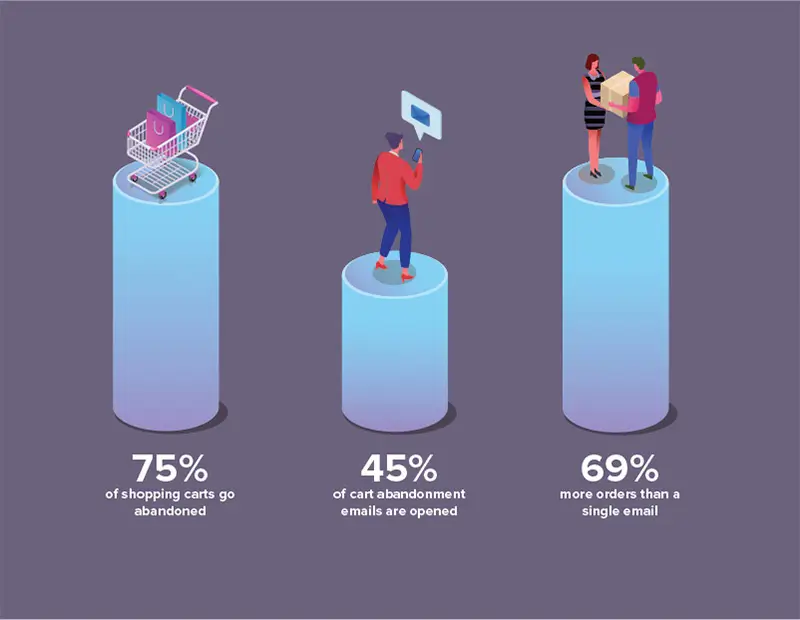 For example, capturing their email through an exit-intent overlay before they leave in order to save their basket means that you can use it for email remarketing once they've left the site. Your purpose is to remind them that something they want is awaiting them in the abandoned basket, and create a sense of FOMO – creating the perfect follow-up email is an essential way to tailor the message to the customer.
Cart abandonment emails increase purchases 19 times more than standard marketing emails, so there's a lot to gain for eCommerce retailers.
3. SMS remarketing
SMS communications have an immediacy that emails may not – one study found that 95% of texts will be read within just 3 minutes of being sent. And with more and more shopping being done on mobile, it makes sense to target people's attention while they're potentially still holding the device they were shopping on, to refocus their attention to completing the sale.
If mobile browsing and sales account for a large proportion of your traffic, it might be time to consider implementing SMS remarketing (a soon-to-be feature of Yieldify!) to remind customers that their cart is waiting for them.
To do this, you'll need to introduce phone number capture in your overlays and guest checkout, but also ensure that your customer journey is optimized for mobile checkout, as this could be a factor in mobile cart abandonments.

4. Retargeting ads
Did you know an advert retargeting someone is 76% more likely to be clicked on than a standard display ad? That's because customers are being reminded of something they already want, not something they might possibly want in the future (or not want at all).
They're also 10 times more likely to click on a retargeting ad than a standard one, with brand recognition and targeted content or offers also playing an important role in this.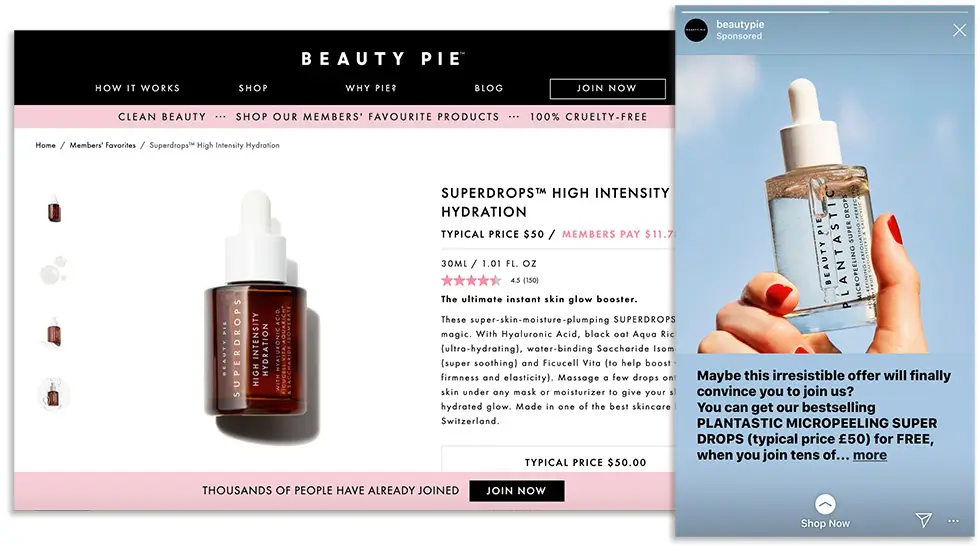 There are many providers of ad retargeting software, which will simply require you to install a burn pixel on your site. From there, you can segment abandoners to personalize the kind of advert they see. Some examples include first-time vs return shopper, value of the cart or product in the basket, locations, and the search terms that led them to the site in the first place.
5. Live chat or chatbot service
If shoppers have questions or doubts, they might hesitate and ultimately leave the checkout process if they aren't able to find answers to those problems. One way to get around this if you don't have a 24/7 customer service facility is to offer customers a live AI chat service to help them.
Chatbots, or conversational bots, can be effective at a number of points in the customer service journey – from welcome messaging to serving as lead capture software to appointment setting.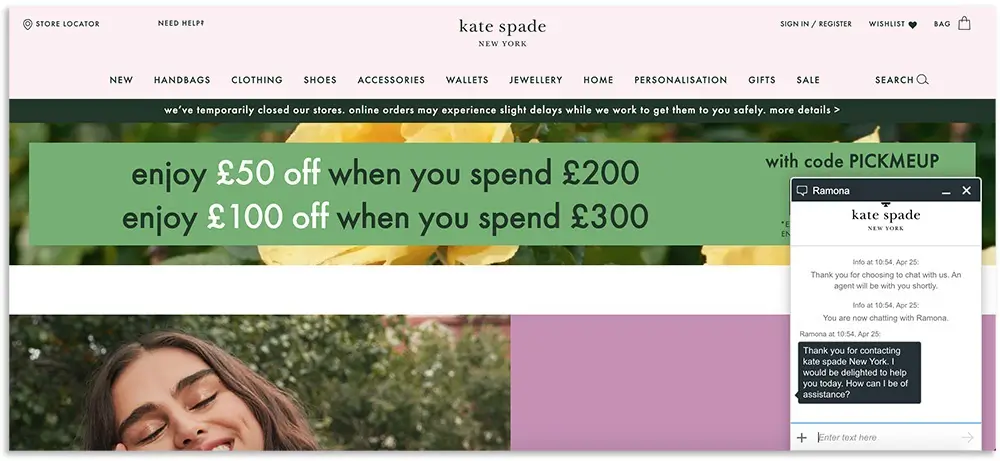 They can also be extremely useful for FAQs: since many customers in the checkout process will have similar questions about returns, shipping times, sizing or delivery options, installing a live chat app will help customers feel taken care of, giving them the clarity they need to complete the purchase with confidence. The best part is that a good chatbot builder can help you create chatbots like these in a matter of minutes!
Chatbots can cross-sell and upsell, or serve offers and discounts, creating even more incentive for your customers to stay and complete the purchase. Chatbots can also cut operational costs by 30%.
6. Social proof and trust badges
If a customer is hesitating about a purchase – for example, if it's a big purchase or from an unknown brand — creating trust is a significant way to remove the uncertainty.
61% of customers read reviews before making a purchase, and 66% said they were more likely to make a purchase when it's accompanied by social proof. By choosing a well-known trust symbol, you will help customers feel more confident in making a purchase.
Social proof is one of the biggest factors in making any purchase – so providing verified reviews from other customers, for example through a star rating or testimonials – is a great way to create the security that social proof provides for shoppers.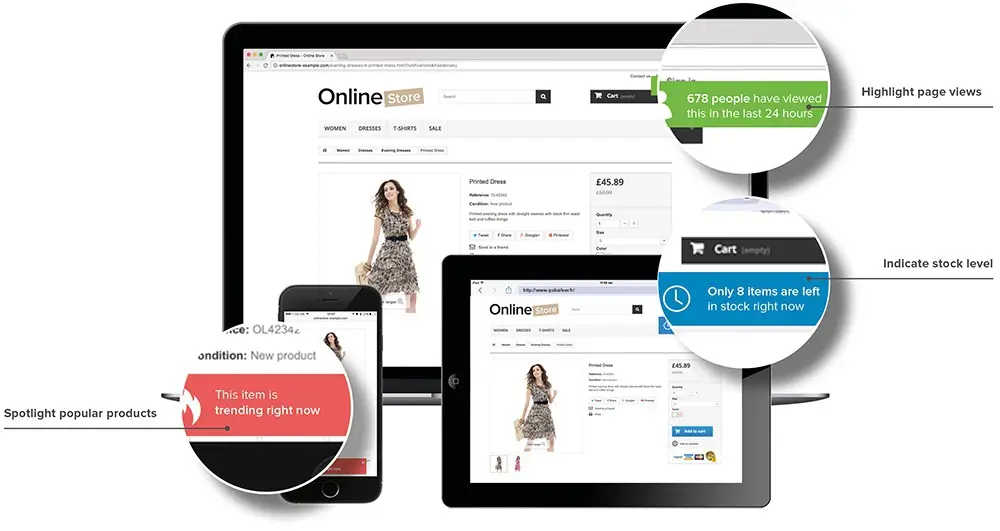 To help create this trust, ensure that the trust badges and certificates are prominently displayed close to the payment details and in the header or footer of the website – using these symbols throughout the customer journey creates trust from the start.
Ratings and reviews can also be served at key points of the customer journey – for example, if people are comparison shopping, an exit overlay might help them return to complete the purchase.
Having a multi-step checkout process – the length of which is unknown – can create uncertainty and confusion, which is kryptonite for customers. To help them feel secure in the knowledge of what step is happening when, show them a progress bar indicating where they are in the process.
According to Tidio, 21% of shoppers who abandon basket felt that the checkout should be simpler. For example, they might be concerned there's no chance to review the purchase or make changes, so having a step marked 'Review' may help to ease concerns.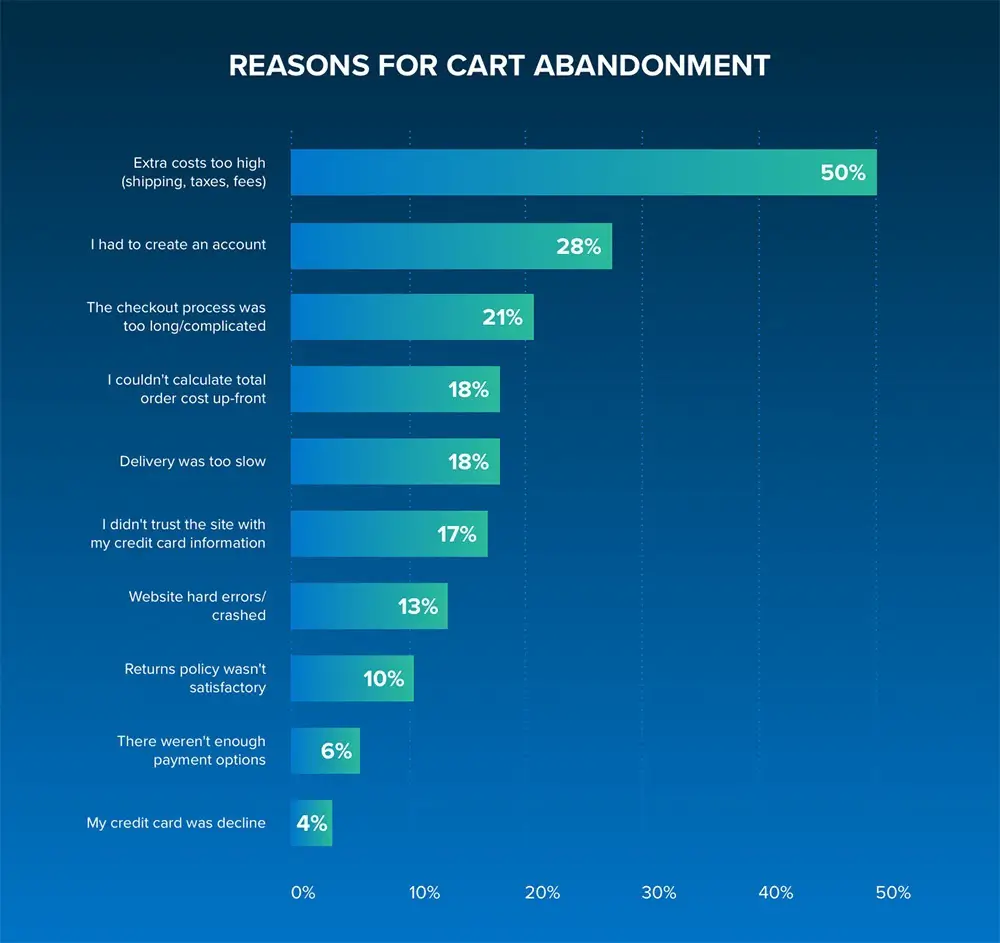 On top of this, the length of checkout is a significant factor in basket abandonment. A lengthy process might cause the customer to give up or get irritated, so letting them know how fast they are moving through the checkout process is important.
Patch Plants, a plant delivery company, clearly outlines a 4-step process with its prominent progress bar at the top of the checkout. On this site, the order summary is visible throughout, so customers can be sure they haven't made any errors in their order.

8. Payment options
Sometimes, upfront payment can be daunting or prevent some customers from being able to make a purchase at the point in their customer journey when they most want to.
Recently, a number of third-party checkout partners have entered the market to allow customers to delay, split or spread payments out. Options include Klarna, Clearpay, Laybuy, Payl8r and several others.
Fashion retailer Boohoo makes these options clear at the point of browsing to allow the customer to shop with peace of mind. A prompt to use payment options could also be used for any customers who appear to be hesitating at the payment point of the checkout to ease concerns over affordability.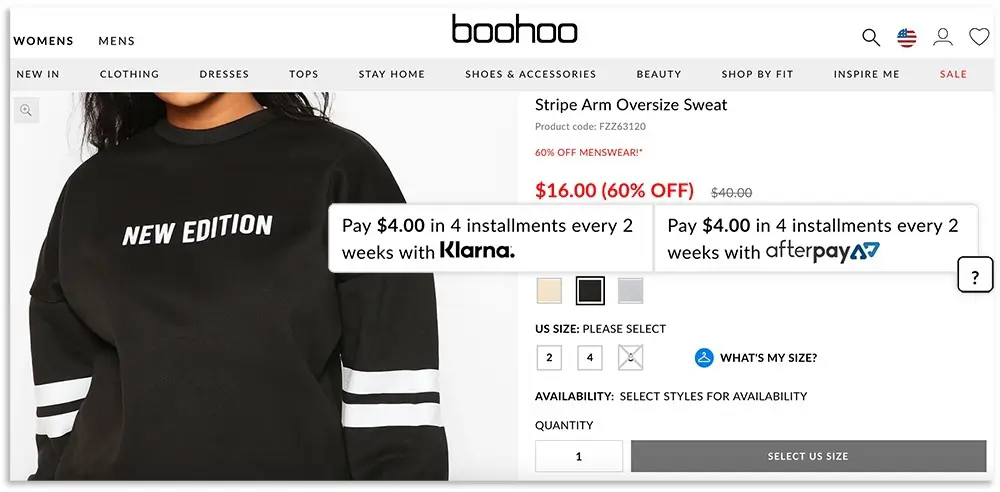 These options are largely aimed at millennials who want flexibility in how they pay, many of whom (up to 63% in the US, according to one study) do not own a credit card. Therefore, making big purchases can be tricky, with many millennial shoppers preferring debit over credit.
So offering these shoppers access to shorter-term credit could be a highly effective way of attracting these customers. Doing so could also be highly beneficial for eCommerce brands. 56% of shoppers surveyed in the Klarna Confidential Report reported that they were more likely to buy more if more varied payment options were available.
9. Guest checkout
If your customers are dropping out of the payment process at the point of having to create a new account, consider adding the ability to check out as a guest. According to the Baymard Institute, 28% of customers abandon carts because the site required them to create an account.
This happens for a number of reasons: they're only buying from the retailer once, they don't want to share personal details, or – the biggest factor – they don't want to be signed up for emails.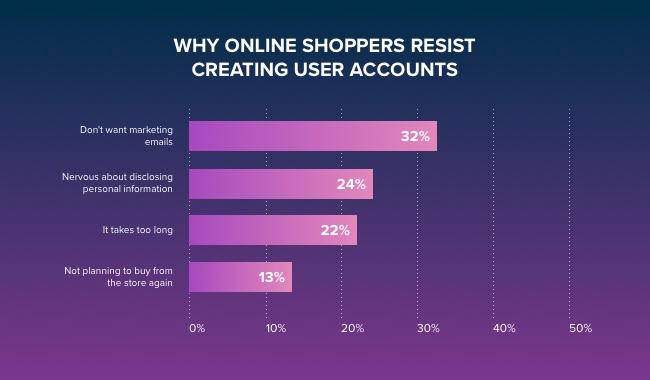 Another reason is time – they just want to buy what they came for and go – so the ability to check out swiftly, with just the bare minimum of information, is ideal.
This means that you can still collect an email address, name and phone number (essential for email remarketing as well as staying in contact with the customer for delivery persons) in a GDPR compliant way, and then clear the way for them to make a rapid purchase with the option to sign up for an account later.
10. Offer Free Shipping
As we mentioned at the start, there is no shortage of statistics proving the negative impact that no having free shipping can have on an eCommerce store.
Here are two just to prove it: 60% of consumers will abandon their carts if the price of shipping is too high, 39% will abandon their carts if free shipping isn't offered.
That quickly adds up a lot of potential lost sales. Whilst free shipping may not be feasible due to costs and other factors, it doesn't mean you leave this solution dead in the water.
You can instead look to offer reduced shipping costs where possible, this could be on specific SKUs or once a certain spend threshold has been met.
If we look at the example below from Wayfair you can see they offer free shipping on orders over £40. This works twofold. First, you offer free shipping to some customers, those who are potentially spending big. Second, you may find this helps boost your average order value as those who are just under the £40 mark add a few extra things to qualify.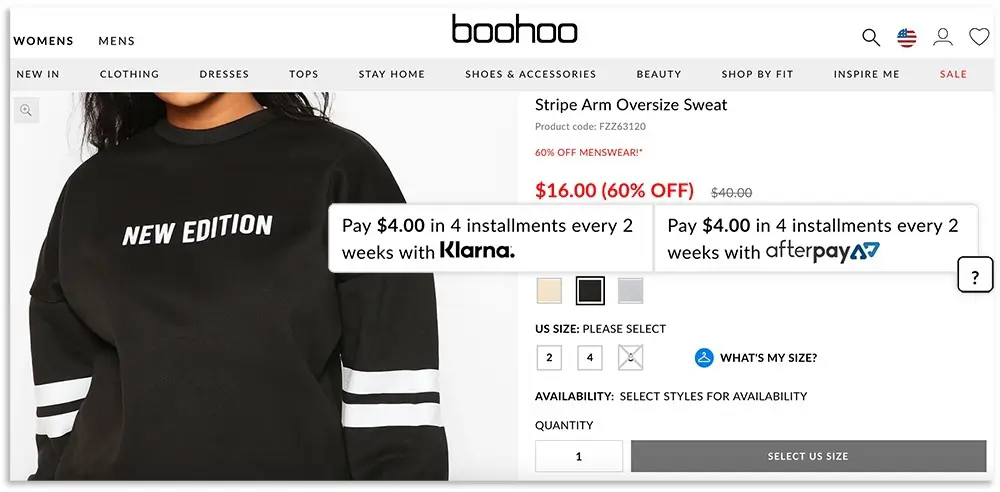 In conclusion
While you might never recapture all the customers who abandon their carts, the numbers prove that it's worth the relatively small investment it takes to reclaim those potential sales.
As always, at the heart of improving conversions is improving customer journey. By successfully anticipating the customer's thoughts, customizing your communications, offering transparency and help when required, and giving people options to complete a purchase in the way they'd like to, you'll see a corresponding decrease in abandonment and an uplift in recovered carts.
Shopping Cart Abandonment FAQs
How can you stop abandoned checkouts?
You can help reduce the number of people who abandon their shopping cart on your site by using exit intent overlays, email remarketing, SMS remarketing, retargeting ads, live chat, and analyzing your current checkout funnel.
What percentage of shopping carts are abandoned?
The percentage of abandoned carts is different across industry, but it ranges from 60% to 81%. The average basket abandonment rate is 75.6%.
Why does Cart Abandonment happen?
Cart abandonment can happen for many reasons. The most common being hidden delivery costs, having to create an account or a complicated checkout process.