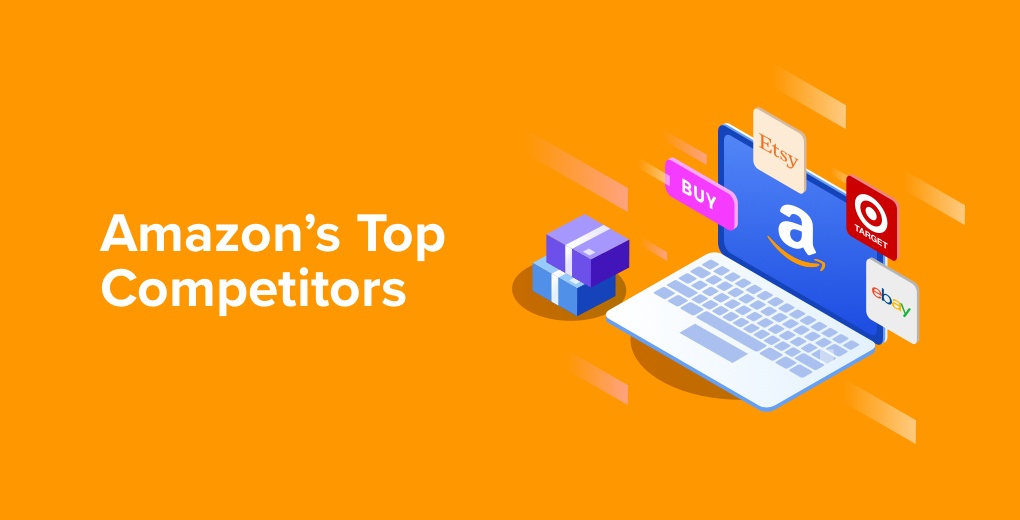 As the world's leading eCommerce marketplace, Amazon faces harsh competition. Let's look at four types of Amazon competitors giving it a run for its money.
Amazon, a titan in the business world, started as an online bookstore operating from a home garage. Within 25 years, it has become a global behemoth that offers products and services across myriad industries.
While mostly known as an eCommerce marketplace, Amazon is much more than that. The company offers over 175 different services, with its biggest markets being food, fashion, entertainment, web services, and on-demand services.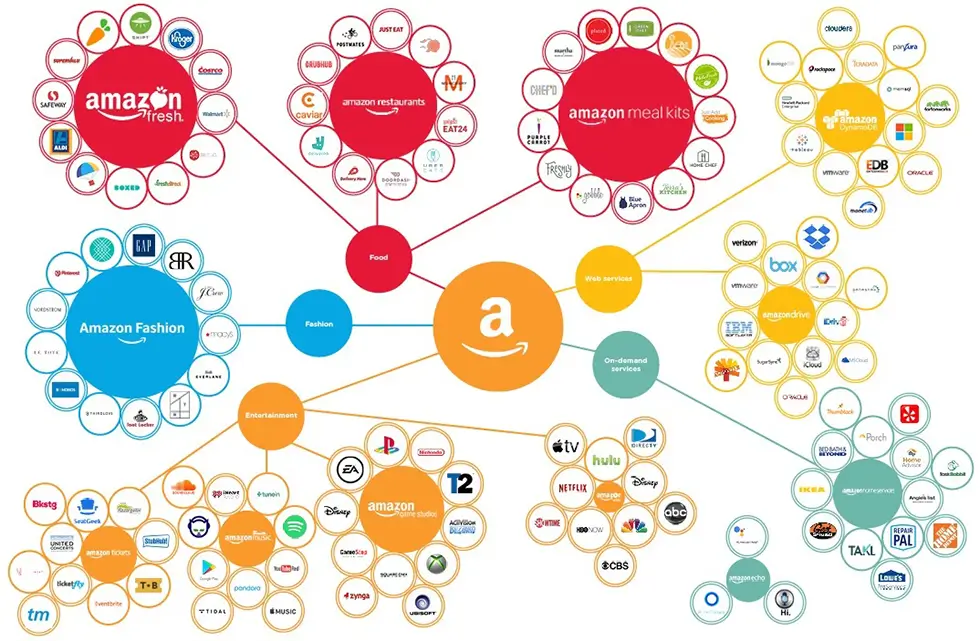 ❓ Who are Amazon's biggest competitors?
Amazons' main competitors globally are Alibaba, eBay, Walmart, JD.com, Flipkart, Rakuten, Etsy & more. Check out our competitor comparison chart below.
?? Who are Amazon's competitors in the UK?
Some of the biggest players in the UK's online retail market include Tesco, eBay, Esty, Asos, Argos, Play.com, Next, and John Lewis.
❓ What is the best alternative to Amazon?
The best alternatives to Amazon are Alibaba, eBay, Flipkart, JD.com. Different countries online retailers will are also good alternatives such as Walmart, BestBuy , Argos & John Lewis.
Amazon has positioned itself as the world's largest online marketplace with over $280 billion net sales in 2019. Jeff Bezos, the founder of Amazon, stated that its success was built on three customer value propositions: low prices, fast delivery, and extensive selection.
With a market share of almost 40% of US eCommerce sales, Amazon has been on an unstoppable run. However, even Amazon has strong competitors. While the company is likely responsible for a rise in customer expectations for eCommerce stores, the best thing you can do for your business is to learn from your competitors.
4 types of Amazon competitors in the eCommerce field
On top of its array of services, as an eCommerce platform Amazon sells almost everything imaginable. It's not hard to see why they would have their fair share of fierce competitors.
In this blog post, we'll explore 4 main types of Amazon competitors that operate in the eCommerce field, as well as look at individual brands and what contributes to their competitive advantage. (See the full comparison table below)
1. Online marketplaces
Online marketplaces have many different buyers and sellers trading through the same website. According to DigitalCommerce360, sales on marketplace sites accounted for more than half of global online sales in 2019.
Online marketplaces are convenient for sellers that don't want to – or can't – invest in their own platform. What's more, shoppers prefer online marketplaces for repeat purchases and they may even start to take away first-time purchases from individual retailers and brands.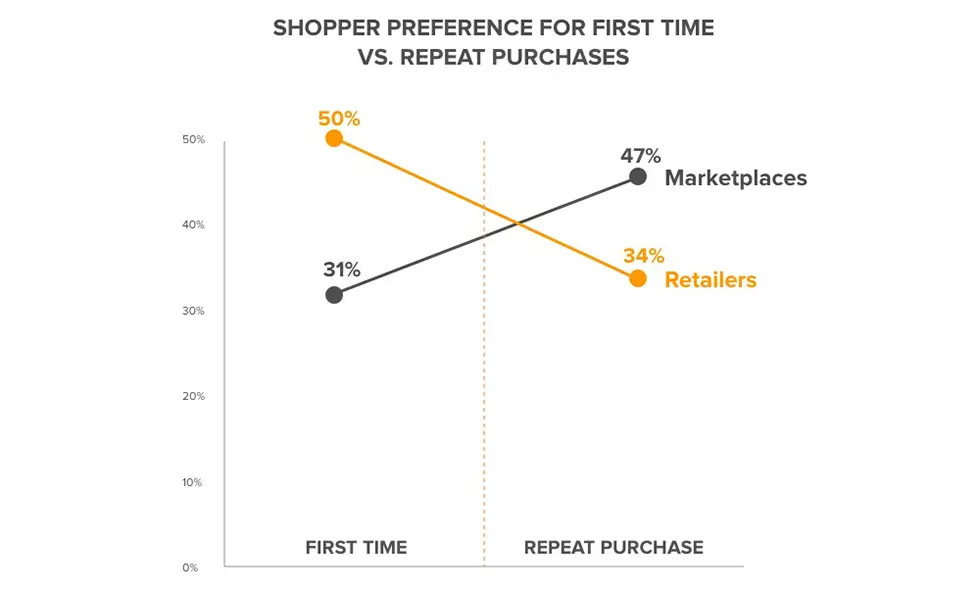 In 2019, the top 100 marketplaces sold $2.03 trillion worth of merchandise, or 58% of global online retail sales. Even though most will have heard of the biggest ones such as Amazon, eBay, Alibaba, Google Express, or Etsy, there are hundreds of other options. Many of these large marketplaces remain quite niche, such as Zalando for fashion or AirBnb for tourism and lodgings.
Let's look at two eCommerce marketplaces – Alibaba and eBay – that give Amazon a (slight) run for their money.
Alibaba
Alibaba is a Chinese eCommerce dragon that connects wholesalers to businesses around the world. Over the years they have expanded their services to include Taobao (a site similar to eBay), Tmall (a site similar to Amazon), and Aliexpress.
Unlike Amazon, which sells products directly or serves as an intermediary in the process while taking a cut of sales, Alibaba is the middleman between buyers and sellers. Alibaba's business model has left them with hundreds of millions of users and a revenue of almost $72 billion.
While Alibaba is often called the 'Amazon of China', with the growth to back it up, it is still lagging in market share. Only time will tell whether the eCommerce world is big enough for both these giants.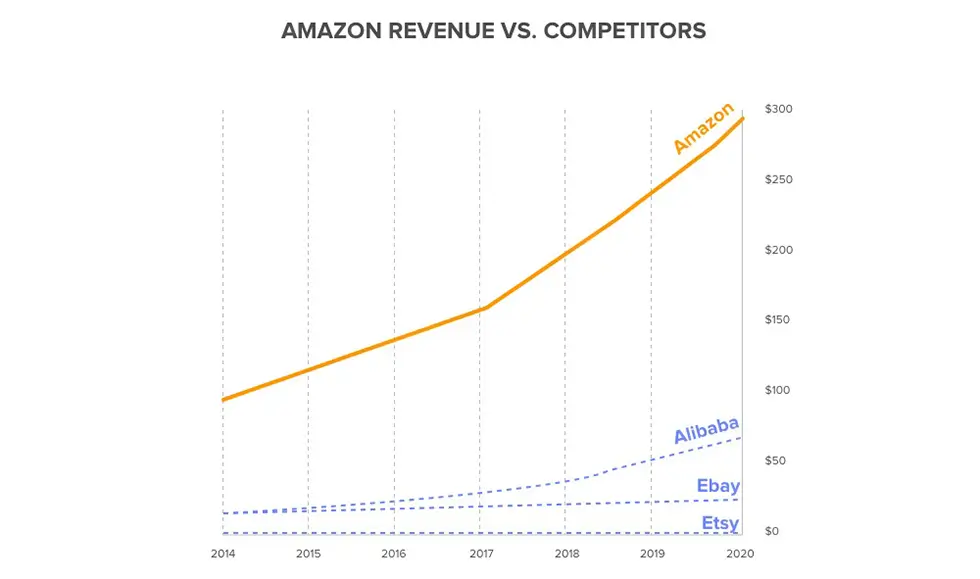 eBay
eBay is an online marketplace that enables buying and selling between businesses and individuals. According to eBay, there are over 170 million sellers on the site, which is reflected in their revenue of $10.8 billion in 2019.
eBay has positioned itself as one of Amazon's top eCommerce competitors in the US. The platform is dwarfed by Amazon's size and profitability, but it is still preferred by a majority of online sellers in the US.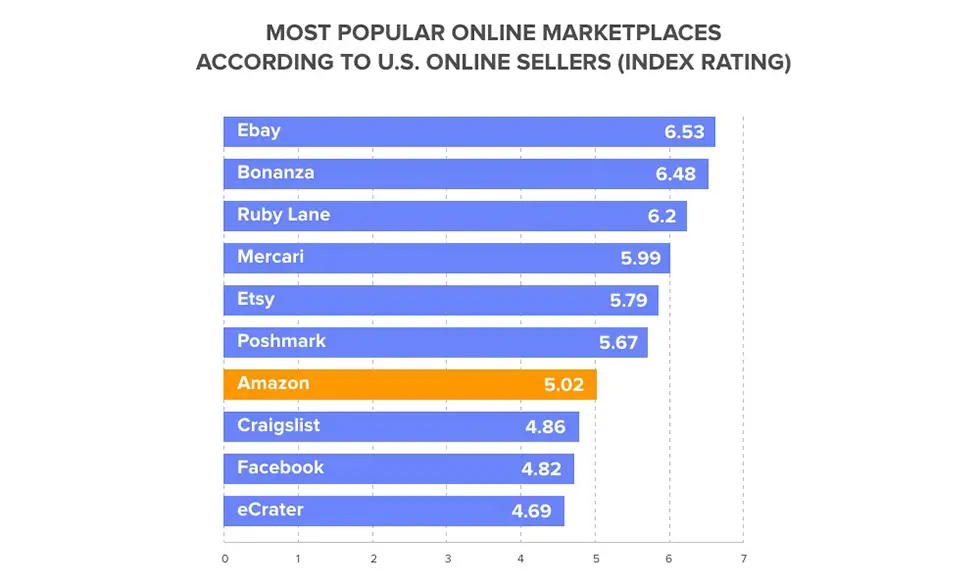 2. Click and mortar retailers
The global eCommerce industry reached an astounding $25 trillion value in 2019. Even though there are more than 20 million online stores in the world, much of the growth can be attributed to Amazon.
However, when it comes to online retail, the revenue is more dispersed. Most of Amazon's online retail competitors also have brick and mortar (hence the click and mortar) stores, which gives them an upper hand in the physical market.
Let's take a look at two Amazon competitors – Walmart and Apple – that are a force to be reckoned with due.
Walmart
While Amazon is trumping Walmart in online sales, they lack in physical presence. Almost 90% of Americans live within 10 miles of a Walmart store. The company's total revenue is almost twice that of Amazon's at an astounding $523 billion.
Most of their profits come from their physical department stores, but they have started putting in the necessary work to position themselves as an eCommerce store as well. In the US, they hold a strong second place for the most popular online store. With 207% growth in its eCommerce customer base, Walmart may be giving Amazon a run for its money.
What's more, on June 15, 2020 Walmart announced a partnership with Shopify. In a nutshell, the industry giant is adding 1,200 Shopify sellers to its online marketplace this year. The partnership focuses on adding small- and medium-sized U.S. businesses.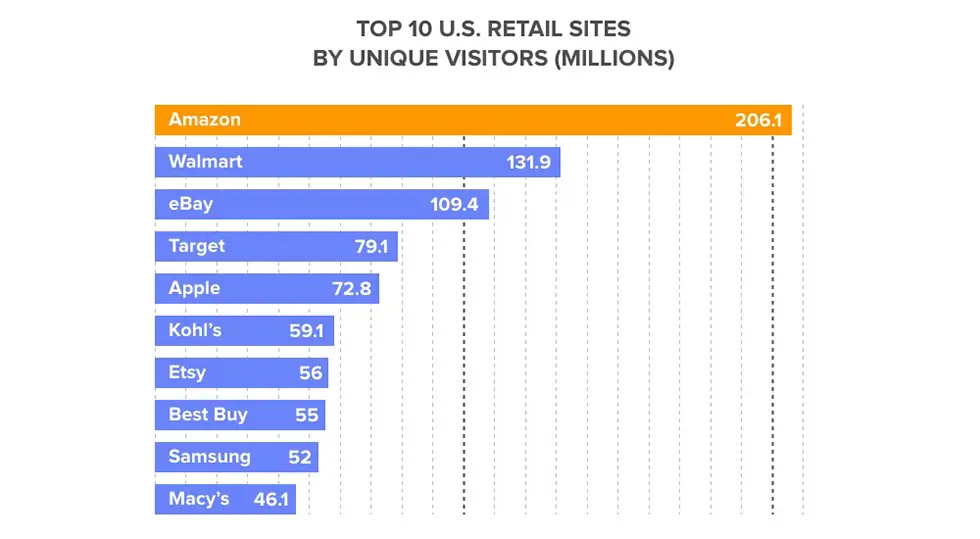 Apple
Amazon and Apple are a part of the Big Four tech companies whose value has exceeded $1 trillion. Apple was the first US company to surpass the $1 trillion mark.
Similar to Walmart, Apple's success can mostly be attributed to brick and mortar stores, but also their premium branding. Coming in at $27 million net sales in 2019, Apple has proven that a brand that sells only a specific category of products can still compete with an online marketplace giant.

3. Social media marketplaces
Social media marketplaces are where eCommerce meets social platforms to create a seamless shopping experience. Almost 90% of shoppers claim that social media influences their purchase decisions. It's no surprise, therefore, that social shopping is on the rise.
The shifting eCommerce landscape has pressured social media sites to modify how their platform interacts with potential shoppers. Most of the major social media platforms, such as Facebook (38.82%), Pinterest (2.13%), and Instagram (2.07%), have hopped on this bandwagon.
In 2019, Facebook listed Amazon as a competitor in the digital advertising space for the first time, marking a new era in eCommerce. In the last five years, all major social media platforms such as Facebook, Instagram, and Pinterest introduced the option of in-platform shopping, which has dramatically changed the eCommerce market.
Let's take a look how Facebook and Pinterest compete with Amazon for customers' attention.
Facebook Marketplace and Facebook Shops
Facebook's online Marketplace launched in 2016 as a place where people could buy and sell in their local communities. It is used in 70 countries by 800 million people each month. These numbers aren't surprising since Facebook is used by almost every other person on the planet.
Even though selling on the platform is free, Facebook has partnered with a number of eCommerce platforms including ChannelAdvisor, Shopify, and BigCommerce to ensure profit from smaller eCommerce vendors.
In 2020, Facebook launched a new feature that put it in direct competition with Amazon – Facebook Shops. This venture is the most significant step Facebook has taken in eCommerce to date as it enables users to shop directly on the platform instead of simply redirecting them to other websites with ads. Many businesses are compelled by the idea that they can market and sell on a single platform, and Facebook may pose a significant threat to Amazon in the future.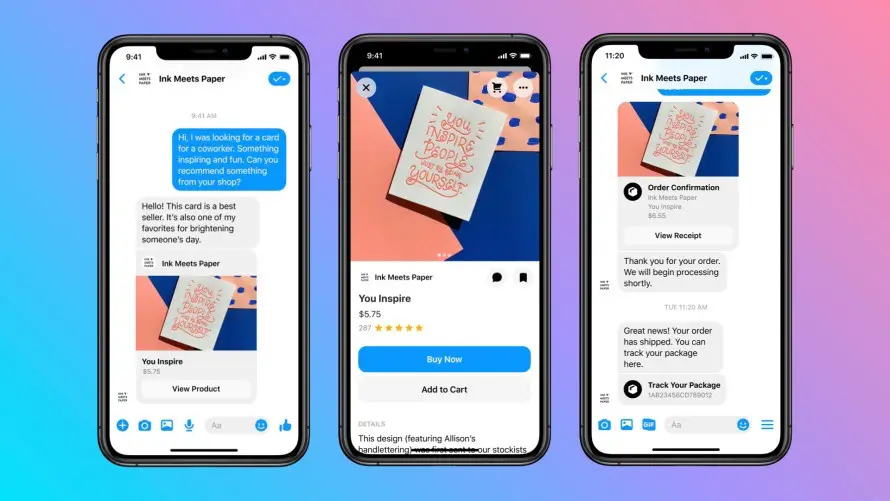 Pinterest
The rivalry between Pinterest and Amazon began in earnest in 2018. With the introduction of Shopping Ads and Shoppable Pins, Pinterest enabled shoppers to make a purchase without ever leaving the social platform. The new feature was good news for shoppers and businesses alike, as it streamlined the shopping experience without charging a commission to the companies.
Pinterest has also adopted the business model of partnering with massive eCommerce platforms. With specific features targeting iPhone users and enabling a personalized shopping experience, Pinterest is considered to be one of Amazon's growing online competitors.
4. Niche eCommerce vendors
Niche stores have managed to exploit unexplored market space which makes it possible for them to compete with giants such as Amazon. With very specific products and services, niche vendors can thrive by existing outside of oversaturated markets. They rely on a loyal customer base and the idea that customers would rather shop with a specialist company than a large marketplace.
It's hard not to feel discouraged after reading about these eCommerce titans. How are smaller stores ever meant to compete? The simple answer is that they don't need – not directly, at least. Small vendors should learn from Amazon and its online competitors. We've put together some of the key takeaways that eCommerce companies can start implementing straight away.
Amazons biggest competitors comparison table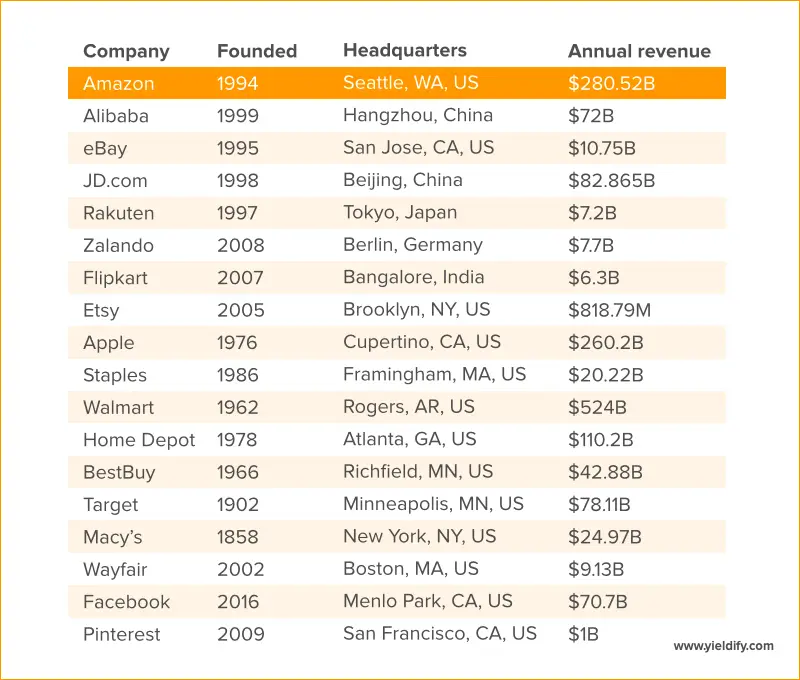 How can niche brands compete with Amazon
1. Leverage branding
Simply put, successful branding and identity are what makes most products sell. While almost 77% of consumers don't feel like they have relationships with brands, brand awareness remains crucial for success.
In a sea of products on Amazon, most aren't branded. A niche eCommerce store, on the other hand, has the opportunity to tailor the experience to their target audience. Demonstrate your expertise and what you stand for through content, social media, and personalization!
2. Rely on customer data
Amazon's competitive edge comes from knowing their customers inside-out. By collecting and analyzing data, they not only track what customers are buying but also predict what they might want to buy.
Data-driven marketing can help you do the same without investing millions of dollars as Amazon does. Understanding your customers can help you improve customer acquisition, retention, and conversion.
3. Focus on customer experience
Amazon has set high standards for customer experience with fast delivery, simple returns, and great customer service. A Walker study found that customer experience will be the key brand differentiator.
As an online store, focusing on making websites user-friendly, fast, and appealing should be a top priority. In addition to working on websites, companies should facilitate the shipping and returns process.
The latest statistics show that 92% of customers will buy again if the returns process was easy. Free and fast shipping has become the norm, with almost half of retailers offering it as standard.
4. Advertise on marketplaces
Advertising on Amazon could result in brands being lost in a sea of unbranded products. However, social or niche marketplaces may be the right solution for smaller businesses.
As 90% of people buy from brands they follow on social media, growing a company's presence on a social media marketplace can be a great strategy. Instead of relying solely on websites, companies can find out where their target audience shops already and meet them there.
For more tips and tricks on how to compete with Amazon, check out our blog post by Stewart Dunlop from Udemy!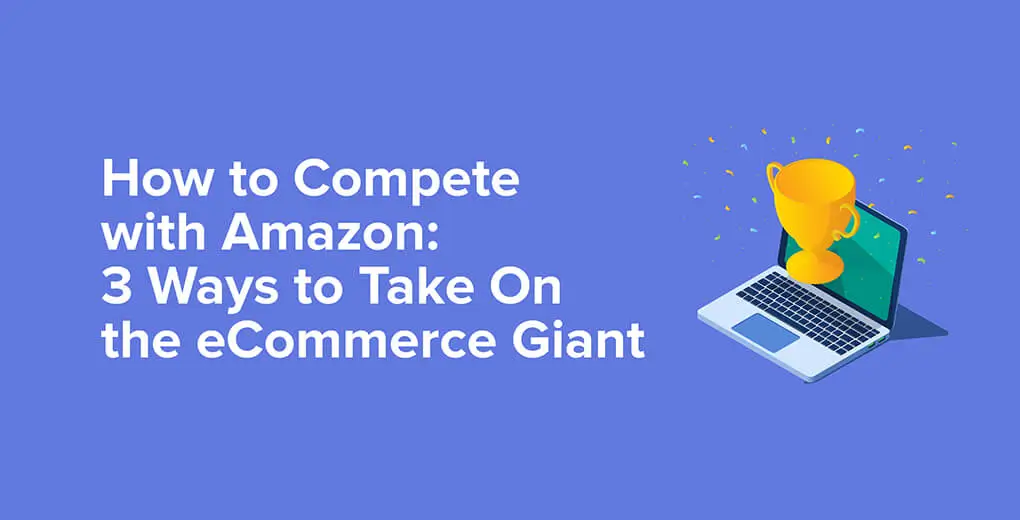 In conclusion
Amazon has utterly transformed the global online retail landscape with its ubiquity, quality, and ease of use. Due to its size and success, virtually every online store has to compete with Amazon.
Beating Amazon at their own game will require amazing customer experience and support, high-quality products, fast shipping, easy returns, and a good deal of customer-resonating branding.
If companies can give people a unique experience and tremendous value on top of the products, they might just creep out from Amazon's shadow and become a serious competitor.