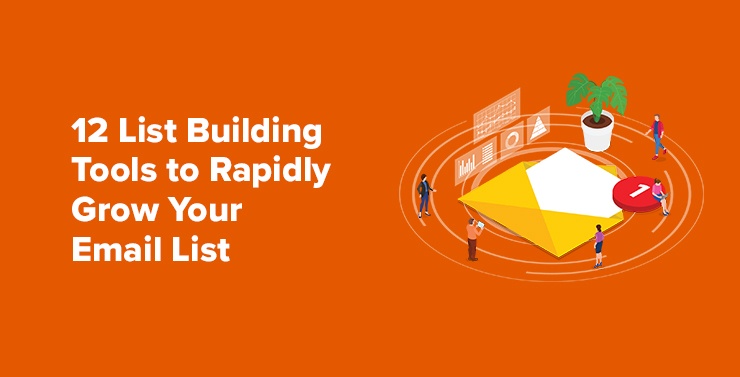 Introduction
Building an active and engaged email list should be a top priority of every website owner. But how do you do it? When it comes to email list building, there are several tools out there that can help you do this. We've analyzed the top 12 and how you can use them.
Never underestimate the power of building an engaged email list. This list will be the first to receive special offers, blog posts, webinar invitations, new product launches. They will be loyal fans, brand advocates and therefore highly likely to convert.
If you're actively sending traffic to your website it could be argued that this is of little value if they aren't transacting with you or at least giving you their contact information.
From pop-up customizers, to lead magnets and even marketing automation software, it's never been easier to quickly build an email list.
You just need the right tools to do so. Here are our top picks.
Why You Need To Build Your Email List
With over 3.9 billion daily email users registered and 47% of marketers stating that email marketing is their most effective marketing channel, it's obvious that email list building is now an essential requirement for any modern business.
In a study by DMA, they found that 91% of marketers rated email marketing as an important part of their marketing strategy.
By actively building your email list you're building an audience that wants to find out more about you and stay up to date with your latest offers and news. These are essentially "warm" leads that have a much better chance of converting than a brand new click from a Paid Search ad.
When you build your email list you'll be able to consistently find new leads, nurture prospects, and eventually convert visitors to customers.
While building an audience on Facebook or LinkedIn is a quick way to get in front of potential customers you're essentially "renting" the audience. But by building your email list they are yours and can become one of your greatest fixed assets.
This is because email marketing is one of the best ways to nurture an engaged audience. This engagement is what boosts business revenue through increasing customer lifetime value.
Research shows that for every $1 spent on email marketing, expect an average return of $42. This is the highest return on investment for any digital marketing channel.
Added to this, further research has shown that almost 50% of customers actually want to hear from their favorite brands every week.
So to summarise:
Building an email list gives you an engaged audience that's fixed. They will always be there ready to receive product updates and special offers.
They do want to hear from you
You will likely get a positive ROI on email marketing activity
So the next question is, how do you go about building your email list?
Give Them a Reason to Sign Up & Stick Around
If you're a well-established brand customers may willingly sign up to get the latest news and offers from your brand. If you're a smaller business you may need to incentivize them a little bit.
It's important to show visitors a reason to sign up, and this could come in many forms. Research from GetApp has shown that 22% of newsletter subscribers do so to get deals or special offers, 21.4% to get news updates and 21% do so to get interesting articles or content.
Offering discounts to new subscribers is a common way of incentivizing visitors to sign up for your newsletter. And it works.
We recently ran this type of campaign for our client Daily Steals which resulted in a 28% uplift in lead capture.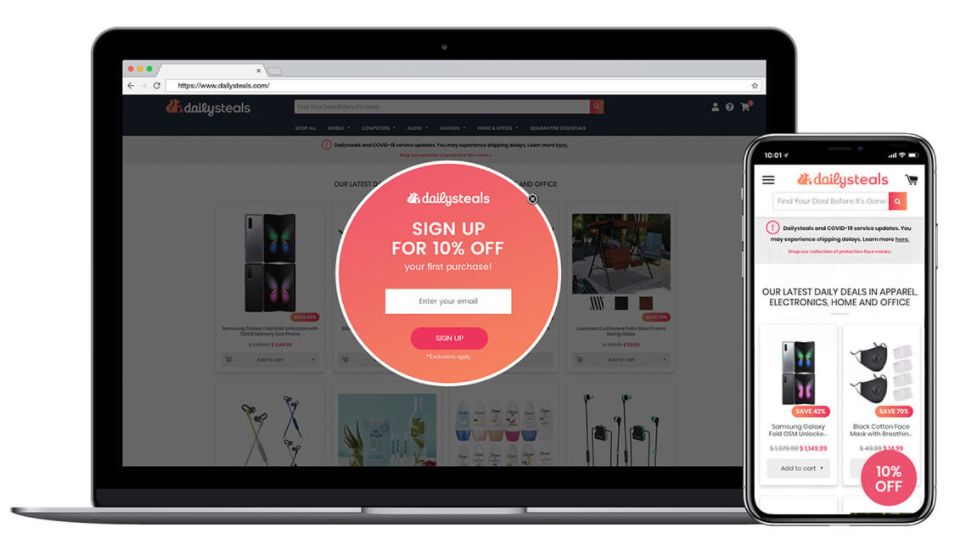 It will be important to decide on what incentive you want to offer before you start creating your list building strategy. But you're not done there.
Once you've given them a reason to sign up, you need to consistently give them reasons to stick around. This is where nurturing your audience so it's as engaged as possible is vital.
Statistics show that out of 14.5 billion emails sent per day, 45% of those are spam emails and further data suggests 73% of all emails are unwanted promotions for sales or products.
Added to this in 2019 Americans were estimated to have lost around $703,000 by falling victim to email scams. So, when you do start collecting emails make sure you do it in a compliant way and adhere to any legislation such as GDPR.
You don't want to be sending emails to people who don't want them, or that are completely irrelevant to their needs.
So once they are in your database what are the next steps? Do you have a welcome email sequence set up? Do they go into a specific segment purely for offers? Do you introduce other product categories they may be interested in? You'll also want to make sure these emails are valid.
Having these next steps laid out will make sure you're on the path to an engaged audience.
Once you have your strategy nailed down you're going to need a tool to help implement it effectively and help you grow your email list.
16 Of The Best Email List Building Tools
If you're a budding entrepreneur or business owner it can be hard to know which list building tool to choose from with so many available.
We've comprised a list of our best-rated list building tools and an overview of their features to help narrow down the selection when it comes to growing your email list.
Yieldify
Lead capture is one of our core product offerings, and we consistently get our clients more signups, grow their customer database and revenue.
Yieldify offers on-site behavior segmentation that allows you to gauge customer intent for optimal levels of engagement.
Whether your message is a discount code, your unique value proposition, or value-added services, it triggers at the perfect time to deliver a high impact.
As a fully managed service, our team will lay out a complete email list building strategy for you. A team of designers will also ensure you have an eye-catching sign up that sticks to your brand guidelines.
Some of our results:
Email Marketing Software
Mailchimp
It's estimated that on average, out of 306 billion emails sent a day, 1 billion of those are sent using Mailchimp. It's an impressive stat for an equally impressive platform.
Mailchimp contains many different features that make growing your email list easy.
Mailchimp allows for complete customization and personalization of the emails you send to subscribers and has easy segmentation features that mean users can be categorized into relevant campaigns based on their behavior.
Crucially though it features integration with WooCommerce and other eCommerce platforms.
The plugin allows you to create targeted landing pages, overlay popups, and embedded sign up forms within your eCommerce platform and automatically integrates the designs with the brand theme.
Mailchimp even optimizes all of its user-created landing pages, popups, and sign up forms to be of the highest quality to maximize conversions, and pre-personalizes the emails in advance once the email addresses have been captured.
Klaviyo
Klaviyo is an email service provider with a focus on marketing automation and is a tool specifically designed for eCommerce businesses.
Klaviyo also offers A/B testing tools as well as segmentation that groups users by their behavior, open or bounce rates, and even their demographics like age or location.
Due to Klaviyo being designed with eCommerce and online business in mind, it also seamlessly integrates with Facebook to maximize social media marketing.
Segments or email lists can be transferred into Facebook as pre-designed Custom Audiences. Once a Custom Audience is inputted it can be targeted on the platform with relevant adverts.
Segmentation was a key element for Yieldify when working with travel and transport website BusBud.
We identified that a substantial fraction of new visitors were not progressing past the top of the funnel. Off the back of this, we developed a strategy aimed at optimizing lead capture. This would allow Busbud to continue to engage abandoning visitors via email until they were ready to make a purchase.
Upon exit, new visitors were shown a lead capture overlay offering messaging that was hyper-personalized to that singular user. The message included route, price, and market appropriate translations, all triggered in real-time.
This strategy allowed us to increase BusBuds' email marketing revenue by +40% and due to the personalized approach, we achieved +100% higher email open rates than the industry average.
Contents & Giveaways
Rafflecopter
Rafflecopter is a unique email list building tool that is entirely focused on the creation of contests and giveaways across your website, social media pages, and blogs.
Giveaways work especially well in list-building strategies because users must either enter an email address to participate or enter one to claim their reward should they win.
Rafflecopter contains features like custom theme designs, email list integrations, and abilities to track metrics such as the number of entries originating from social media networks.
Whilst these are limited to paid accounts only, free accounts can still set up and run a giveaway which is a useful feature to determine whether that particular type of campaign would work for the business.
Landing Page Builders
LeadPages
Landing pages or squeeze pages are dedicated pages that place the reader's entire focus on your email opt-in. However, to create landing or squeeze pages that convert and grow your email list, the pages must be correctly designed.
LeadPages is a landing page and squeeze page builder that doubles up as a comprehensive list builder.
Its emphasis on good user experience means it packs features like optimized UX templates, dynamic copy tools, offer overlays, and a checklist of tactics to include like the Fear of Missing Out (FOMO), and social proof.
As well as landing pages, there is the option to create opt-in forms designed for specific campaigns like loyalty programs or pre-sale notifications, as well as alert bars, and popups like welcome popups and exit-intent popups.
One of the best selling features of LeadPages is its ability to also supply detailed analytics reports which offer real-time conversion optimization tips.
Overlay & Pop Up Builders
Hello Bar
Another list building tool that can speed up the growth of an email list is Hello Bar. HelloBar is a popup tool that creates exit-intent popups, timed popups, and floating sign up bars.
Exit-intent pop-ups are especially important for retaining visitors who could be about to leave your site without converting.
For eCommerce retailers, exit-intent popups recapture visitor engagement by offering value. Exclusive discounts, access to pre-sales, or free content giveaways like gift guides, meaning you can prevent abandonment and instead secure an email address.
Alongside deploying exit intent technology to correctly time popups, Hello Bar also recognizes the importance of great copy.
Even when offered value, visitors still need to engage with the messaging they're greeted with. HelloBar takes this into account by giving users access to a team of dedicated copywriters who will review the website's goals and suggest optimizations geared for high conversion rates.
Exit-intent popups helped Yieldify boost French home retailer M6 Boutique's conversion rate by 13%.
Yieldify targeted visitors predominantly on the cart page and triggered exit-intent popups when the visitor showed abandonment intent.
The copy offered enticing free delivery carts with just one item and a singular delivery charge for carts with two or more items. This incentive helped reduce cart abandonment and increase conversions simply by offering value.
Thrive Leads
Thrive Leads is a list building tool that is designed primarily for integration with WordPress and WooCommerce.
In a single plugin, Thrive Leads collates multiple variations of signup forms. A drag and drop editor means that each form can be designed and optimized depending on the campaign that it relates to.
Thrive Leads offers ten types of signup forms and alongside traditional options such as embedded and inline forms, Thrive Leads also provides Screen Filler Overlays, Content Locks, and Scroll Mats.
Overlay options such as Screen Filler Overlays, Content Locks, and Scroll Mats cover entire pages to remove distractions, focusing your visitors' attention solely on acting like subscribing. You can view all the different options you have here.
Online retailers can deploy entire page overlays to encourage access to exclusive content like loyal customer programs or exclusive sales.
To support the multiple signup forms, Thrive Leads also includes a dashboard that reports important metrics. This lets you track the performance of campaigns over time and subsequently identify where your most valuable traffic originates from.
Sumo
Sumo is a list building tool that prides itself on being exactly that. Sumo provides a variety of concise, effective list building popups.
What makes Sumo unique from other list builders is the technology built into each type of popup. Its popups contain technology such as Smart Mode, a feature that detects when a user hovers the address bar and thus looks to be leaving.
Smart Mode popups then recapture the abandoning visitors' attention by overlaying the entire screen with a shaking animation.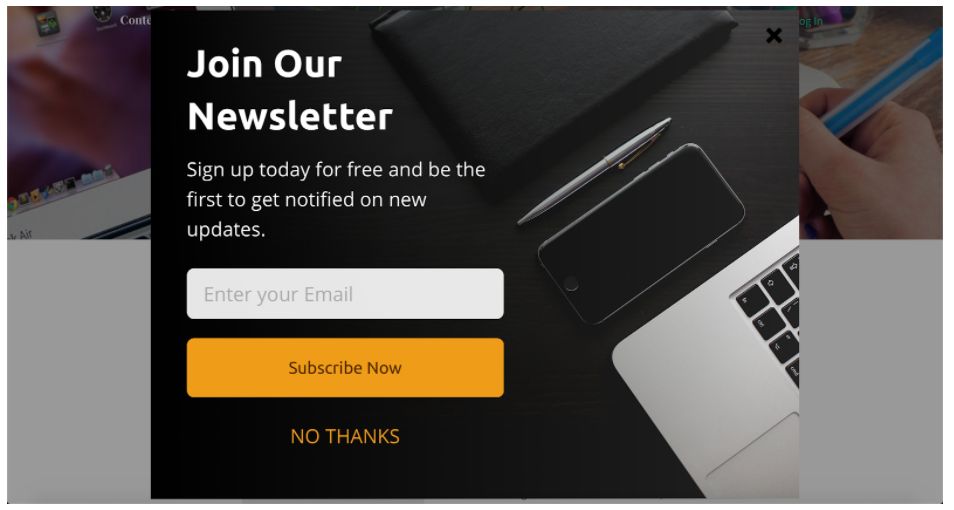 As well as Smart Mode popups, Sumo provides other nonintrusive options such as a scroll bar popup. Upon a visitor scrolling through a percentage of the page, a popup will appear in the bottom right corner.
This form of popup works at its optimum when coupled with pages containing engaging content, or that can help identify user intent.
For example, a user scrolling through a seasonal fashion trends guide is displaying clear user intent that they are interested in owning a seasonal piece. In this scenario, a scroll bar email capture popup with a CTA offering to be informed once a presale begins, or to be sent personalized recommendations could provide an easy and effective email capture.
Quiz & Survey Builders
Interactive content may not seem like one of the most essential list building tools, but it truly is underrated when it comes to lead generation.
Interactive content allows for effective engagement with your audience. Opportunities to share competitions, giveaways, and contests on social media platforms can result in more subscribers – especially if the interactive content is gated to require an email address before entering.
Typeform
Typeform is a web-based platform you can use to create anything from surveys to apps, without needing to write a single line of code. It helps make collecting and sharing information comfortable and conversational.
Typeform will allow you to create engaging quizzes and surveys for website visitors that can be used for email capture.
Typeform also integrates with popular email marketing software such as Klaviyo, ConstantContact, MailChimp, and more.
Outgrow
Outgrow is a content creation tool that allows you to make contests, surveys, giveaways, and quizzes. These can be customized to almost any brand and campaign.
Interactive content like quizzes and calculators can help eCommerce retailers with their personalization strategies.
For example, by creating a quiz that matches a visitor with their best-suited fall look, retailers can then implement a signup feature to be notified of outfits or products the visitor would be interested in.
Other worthy mentions
VoilaNorbert is an easy to use email finding tool. If you have your prospect's name and the company URL that's all you need to find their potential email address. They even have an API you can use to do this at scale. You can find up to 50 free emails per day, but paid plans are available.
You'll just have to be careful what types of emails you're sending to these emails as they are most likely not opted in.
Whilst building your email list using your website visitors will always be important there are offline methods that shouldn't be overlooked. One of which is QR codes.
SignUpAnywhere allows you to easily create simple and engaging forms that can be accessed from QR codes.
These QR codes could be placed in-store, on menus, in magazines, or in any form of print advertisement.
SignUpAnywhere will allow you to easily export this data into a spreadsheet or if you use MailChimp or Campaign Monitor data can be sent automatically to your account.
ChatBots
ChatBots also present another way to build your email list. You'll still have to come up with a strategy here that takes into account timing and the incentive used.
However, as your visitor is already actively engaged with you in chat you have a slight advantage here as you may know what they are looking for.
In the example below electric bike builder COWBOY uses a chatbot to ask the user for their email once it knows that they are interested in the brand and when their bikes will become available in their city.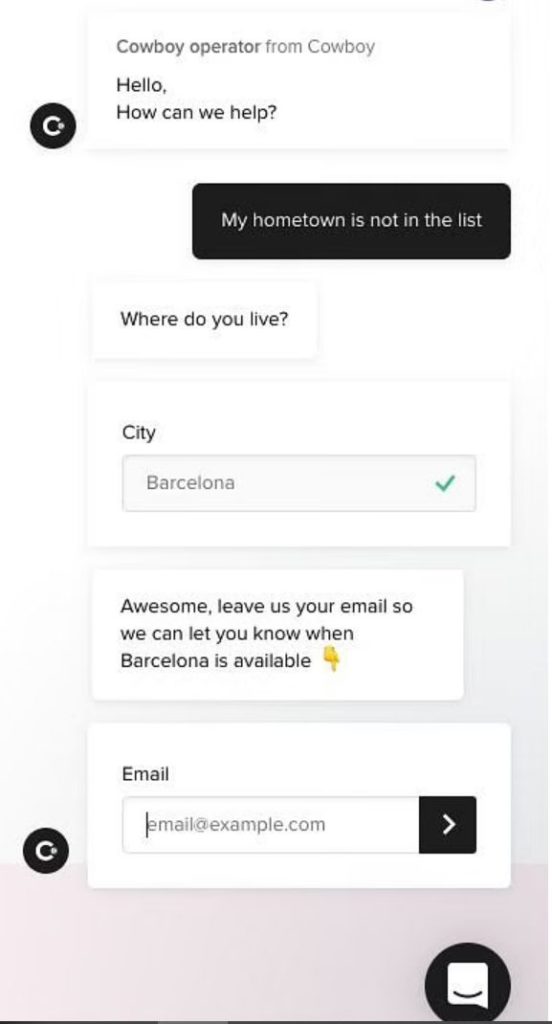 In Summary:
To summarise, email list building tools are necessary for growing eCommerce email subscribers.
The right tools enable retailers to engage with their visitors, driving and converting new business.
Enticing new subscribers couldn't be easier with easy, incentivized sign up opportunities.
Overlays, pop up and sign up forms can all display the right messaging to the right people at the right time, effectively growing your email list.