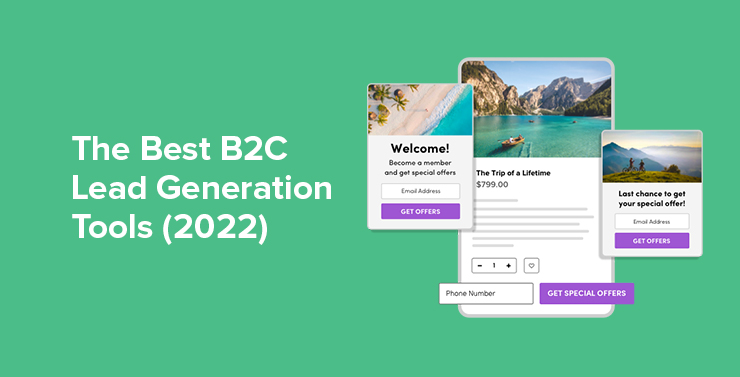 Online lead generation is never easy, but thanks to intuitive lead generation tools, it's less complicated than ever before.
Unlike the shopping experiences of the past, consumers have an infinite number of options at the tips of their fingers, literally. And while that's great for consumers, it means that you're fighting to be the business that gets their attention and generate leads..
Ensuring that your lead generation strategy is set up for success has never been more important for your business's growth.
In this blog we're going to cover the following:
1. The Lead Generation Process
2. What makes a good lead generation tool?
2.1 Yieldify
2.2 Hunter
2.3 HubSpot
2.4 Leadformly
2.5 OnePage CRM
2.6 Leadfeeder
2.7 Contactually
2.8 Drift
2.9 Keap
2.10 Hellobar
2.11 Nimble
The B2C lead generation process & strategy

We know how important it is for your businesses to have a constant influx of new leads. But what does that look like in the digital landscape? Let's take a look at the basics of the lead generation strategy and process:
Potential customers find your business through one of your marketing channels – think social media platforms, website, blog, or ads.
They click on your call-to-action.
Your CTA directs users to a landing page, or other lead capture page, that is designed to capture leads in exchange for an offer – think newsletter subscription, a 10% discount, a contest, a free download, or free shipping.
To be able to access the offer, the consumer must fill out a lead capture form.
Once they submit their form, you've captured a new lead. Congrats!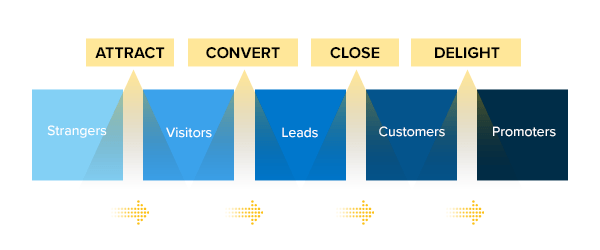 There are a variety of channels you can use to drive traffic to your lead capture page. But the end goal is always the same – use an offer to collect your potential customer's data via an optimized lead capture form.
While the process is easily simplified, a lot goes into a successful lead generation strategy. Make the execution of your lead generation strategy more manageable by using one (or some) of the best lead generation tools on the market.
What makes a B2C lead generation tool good?
Possibly one of the most subjective questions you can ask is what makes something "good". For lead generation software, finding something that simplifies the process of capturing qualified leads without you needing to learn a whole new skill set is key.
It needs to help you achieve your marketing goals better than you could without it. Look for a tool that gets you leads faster, in greater volume, or more cost-effectively than you were in the past.
So let's dig into the 10 B2C lead generation tools you should be using in 2022.

1. Yieldify
If you want to turn website traffic into sales, while still providing the premium user experience your customers have come to expect, Yieldify can deliver. Our b2c lead generation campaigns heighten the quality of your leads with advanced targeting options and enriched user data, making sure you deliver the right message, to the right person, at the right time.
Whether your message is a discount code, promotion of your unique value proposition or value-added services, it will trigger at the perfect time for achieving the highest impact and resonance. Our highly optimized lead capture forms seamlessly blend creative and compliance – all while staying true to your brand identity.
Our forms also include the ability to capture enriched data as well as an email address and have built-in regex data validation so that you can be sure the data you capture is clean and easily indexed.
The big difference is that all of this comes with a secret sauce: an expert consultant. You'll have seen that effective b2c lead generation is part art, and part science – an experienced hand to take you through the process means a much better end result from your lead generation efforts.
2. Hunter
Hunter is a leading tool for cold outreach lead generation. With Hunter tools, you'll be able to automate the entire lead generation cycle: you can easily find and verify prospects' email addresses and send them personalized cold outreach emails from the same place.
Hunter is used now by 3,000,000 professionals working in sales, marketing, human resources, and other industries.
With Hunter you can run your lead generation processes on autopilot. You can find the email addresses of your prospects in several different ways: you can get emails of all of the people working for a specific company, get an email address of a single professional, or author of the article you just read. It's a quick and easy way for your sales and marketing teams to potentially find a qualified lead instantly.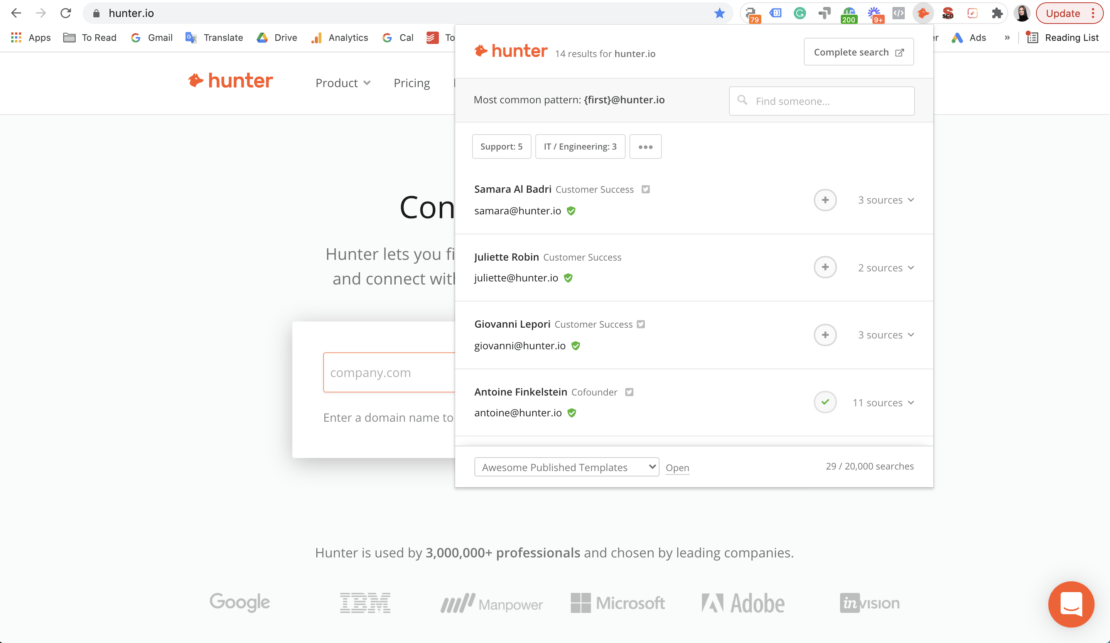 3. HubSpot
Hubspot offers a whole suite of free tools that can be used by marketers for lead generation and management, alongside premium options for those seeking more advanced reporting options. The all-in-one marketing automation tool has a variety of features to help manage your contacts, post to your blog, create landing pages, find new leads, engage with leads, and much more.
With their lead generation software, you can create forms, see how leads arrived to your form, and what they did before filling out the form. To keep your leads engaged, Hubspot also allows you to customize follow-up emails, engage leads in live chat, and log every interaction in a unified team inbox.
4. Leadformly
If you're looking to create conversion-optimized lead capture forms, Leadformly can help. Their optimized forms take away the need for you to agonize over every detail. Should your CTA button be blue or red? Should you have 5 or 10 form fields?
IInstead of spending hours researching the best practices, you can use one of Leadformly's form templates that have already taken over 58 best practices into account. So if you're actively spending money on paid campaigns, or email marketing these templates should help boost your conversion rates and drive more qualified leads.
5. OnePageCRM
OnePageCRM is an action-based CRM solution. Their software transforms static database contacts into a to-do list for sales representatives, allowing sales teams to close more deals, more often.
Contact profiles can be enriched with social data in one easy click to aid relationship management. Get a detailed view of all data related to a single customer, on one scrollable page – from contact info to every logged conversation.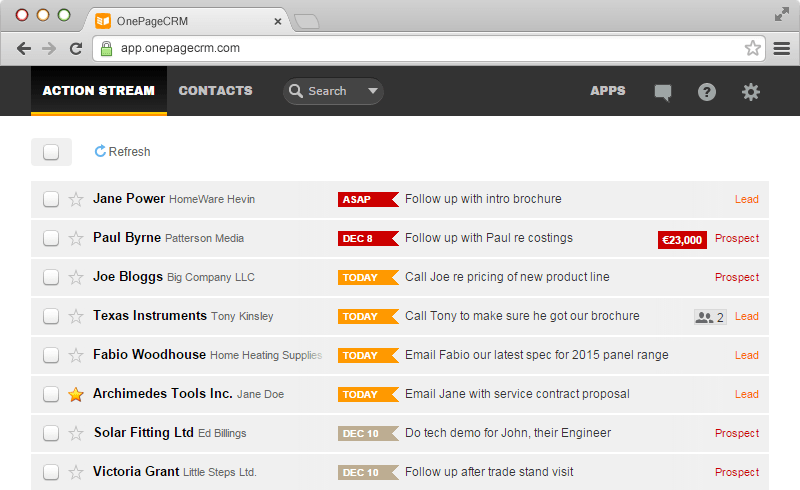 6. Leadfeeder
If you're looking for qualified leads, people who have already visited your website would fall into that category. But how can you find those people who have visited your site without taking action? This is where Leadfeeder can help.
This lead generation software can tell you what companies have visited your site, even if they never filled out a form. It also finds contact information for people at that company so you can follow up with visitors, effectively turning them into leads.
7. Contactually
Contactually allows you to organize your contacts into segments they call "buckets". You can have buckets for active leads, old customers, your sphere of influence, and more.
You can then set parameters on how often you'd like to reach out to those contacts, and Contactually will remind you to reach out when the time is right. They also have a growing selection of AI features that automate and optimize agent workflows.
8. Drift
Qualify your leads in real-time with Drift, a cloud-based live chat app that lets customers speak directly to your team via a chat bubble on your website. The idea is that you can qualify leads, nurture the customer relationship with genuine, personalized conversations, and capture the lead without forcing potential leads to sign up via a form.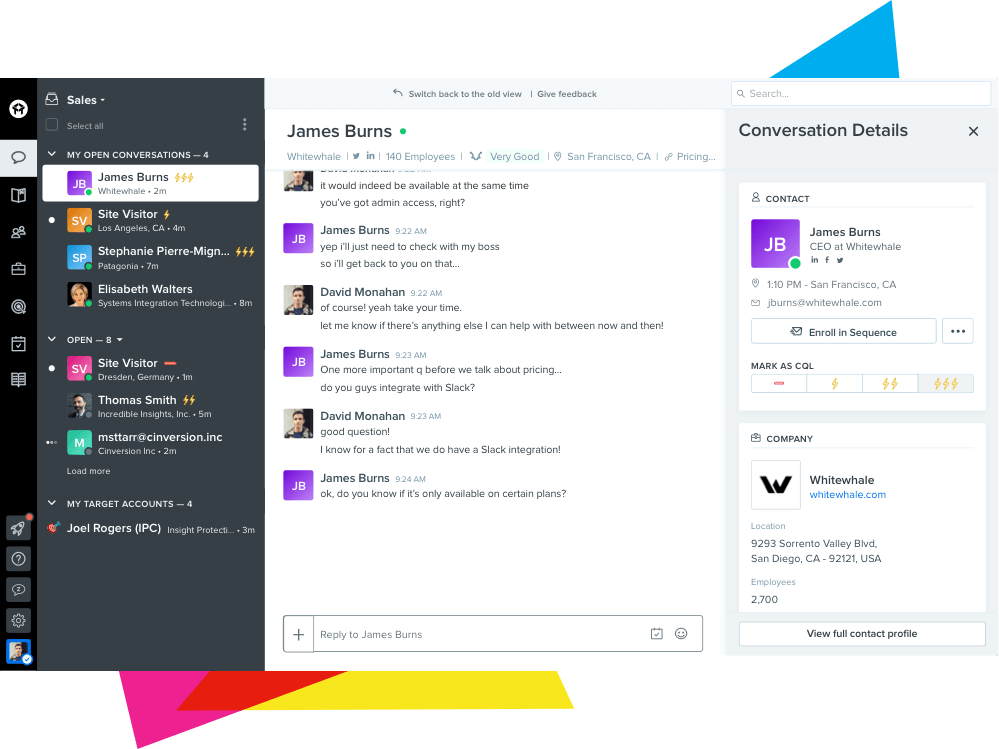 9. Keap
Keap's Campaign Builder functionality can be configured to automatically capture and tag new leads, assign tasks and send emails that will help nurture new leads into paying customers. And the pipeline feature gives you an interactive way to track and manage your leads and clients all in one place.
10. Hello Bar
Hello Bar isn't an all-encompassing lead generation tool, but what it does it does well. And with a free plan, you can't go wrong. Hello Bar allows you to create a sticky banner that appears at the top or bottom of your browser, where you can share updates with your customers (Free Shipping on orders over $99) or present them with a CTA that then leads to a lead generation form.
11. Nimble
Nimble helps simplify lead management by collecting information from online sources, then adding it to a dashboard that provides relationship insights and history relating to leads and customers. It also integrates with over 160 apps, allowing you to bring all of your contacts into one centralized relationship manager.
Which b2c lead generation tool are you going to try in 2022?
So as you can see there are many amazing b2c lead generation tools on the market you could try this year. All these tools can help support your lead generation efforts and marketing campaigns.
Sometimes though having so many options can be overwhelming.
Take a deep breath! You probably won't use every tool we mentioned above. Instead, start out by testing one or two tools that directly correlate with your b2c lead generation goals.
How to choose a B2C lead generation tool
So how do you choose what tool to use?
Firstly, think about what channels are involved in your marketing strategy. How are you getting in front of potential customers?
For example, if you're utilising social media marketing to get in front of prospective customers you may require a tool that can help you build effective landing pages, schedule in a social media post, or even run ads from the tool itself.
Try putting together a list of things that you want as part of your lead generation strategies.
Do you need to create landing pages?
Do you need the tool to integrate with any existing tools?
Will you be running paid traffic campaigns?
Do you wish to capture email addresses and sync this with your CRM?
Try to think of more questions like the above to help you narrow down exactly what you need the tool to support with.
Best of luck generating leads this year!
B2C Lead Generation FAQs
What is B2C lead generation?
B2C Lead generation is the digital marketing process of building and capturing the consumer's interest in your product or service with the end goal of creating a sales funnel. Before this point, the consumer may have never heard of your business, but once they give you their contact details, such as an email or a phone number, they become a lead.
Why is lead generation important in B2C?
Lead generation is important in B2C as it can help grow your customer database and drive transactions. Through clever lead generation strategies, you will be able to turn visitors into engaged prospects and ultimately into happy customers.
How do you generate leads in b2c?
There are many ways you can generate leads in B2C, such as competitions, incentivizing newsletter sign-ups, exit intent pop-ups, content marketing, gated content, using lead capture pages etc